Gaming can be hungry work. All the thinking and strategizing and such can really work up an appetite. It's bad enough when it's just a game about orcs or cities or something, but when a game is about food it's almost impossible to avoid the mid-game munchies. I've played games about salads, pizza, chinese food, and more, but now there's a game about what is probably the best breakfast food: the donut. Design studio Flatout Games (Point Salad, Calico) has partnered with veteran publisher Crafty Games (Mistborn: House War, Storm Hollow) to put one of their first ever designed games up on Kickstarter: Dollars To Donuts. I sat down with the design team from Flatout to chat about the unique and colorful new game.

The Fandomentals: So, right off the bat, why donuts?
Flatout Games: Dollars to Donuts started off as an abstract puzzle game. The thing that made it different than most tile-layers we had played was that we wanted it to be about building complex adjacencies with the tiles. Usually, games will use polyominoes (EN: tiles that aren't limited to a rectangular shape) of different shapes in order to challenge players to fill a board. With this game, we wanted to create matches and mis-matches and use that as a driver for the main mechanics of the game. When we had half-circles we realized that a perfect theme would be making donuts!
FM: Did the theme come first or did the mechanics?
Flatout: Definitely the mechanics were first, but certain aspects of the mechanics, like how the dollar tiles work and the inclusion of customers were heavily influenced by the theme – it was an iterative process.
FM: What were some of the inspirations for the theme?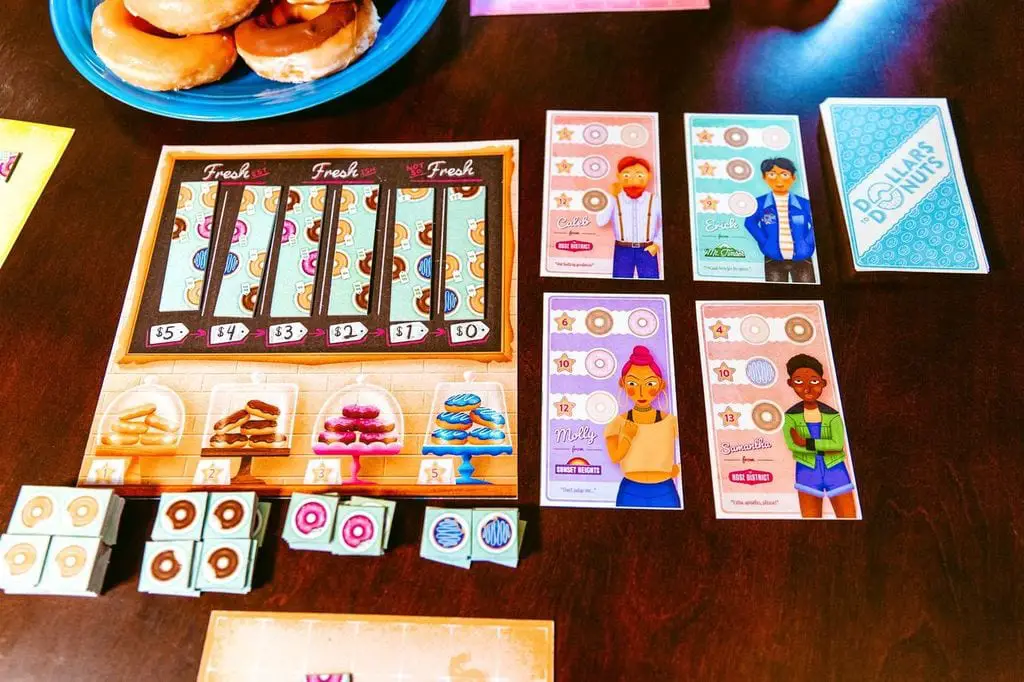 Flatout: When we started working with Crafty (EN: Publisher Crafty Games) on the game, they were really into the idea of a hipster donut shop, and although we won't name any names, there was a particular establishment or two that were the early inspirations for the 'spirit' of the theme. We looked at a lot of donut shop interiors, donut creations, etc. It was a lot of fun!
FM: This is your third food-related game you've published or designed. Are
you hungry a lot?
Flatout: Ha! Well, honestly, we like food themes because we feel they are pretty relatable for our target audience (family/gateway games). Twoof the three of us are really into snacking, but one of us isn't…so… I guess we always win 2 vs 1!
FM: An interesting part of the Dollars To Donuts gameplay is the distinctive lack of rigidity to the tile placement, with plenty of freedom of orientation and ability to hang off. How does this change the gameplay of Dollars To Donuts compared to other tile placement games?
Flatout: Well, honestly, it's mostly because the decision space and different permutations of how you can combine donuts was so massive that we didn't want the tile types to have different shapes – we wanted to keep it simple. But when you're trying to place a bunch of 1X4 'sticks' on a board it means often times you might end up with gaps, or places where you really can't play as well as you want. We quickly realized that players needed the freedom to make the puzzle more interesting. It ended up working well because since there is a 'race' to fill your board the fastest, there is a good cost/benefit analysis puzzle that you need to do as you leave the boundaries of your donut display case!
FM: Who's the intended audience of the game?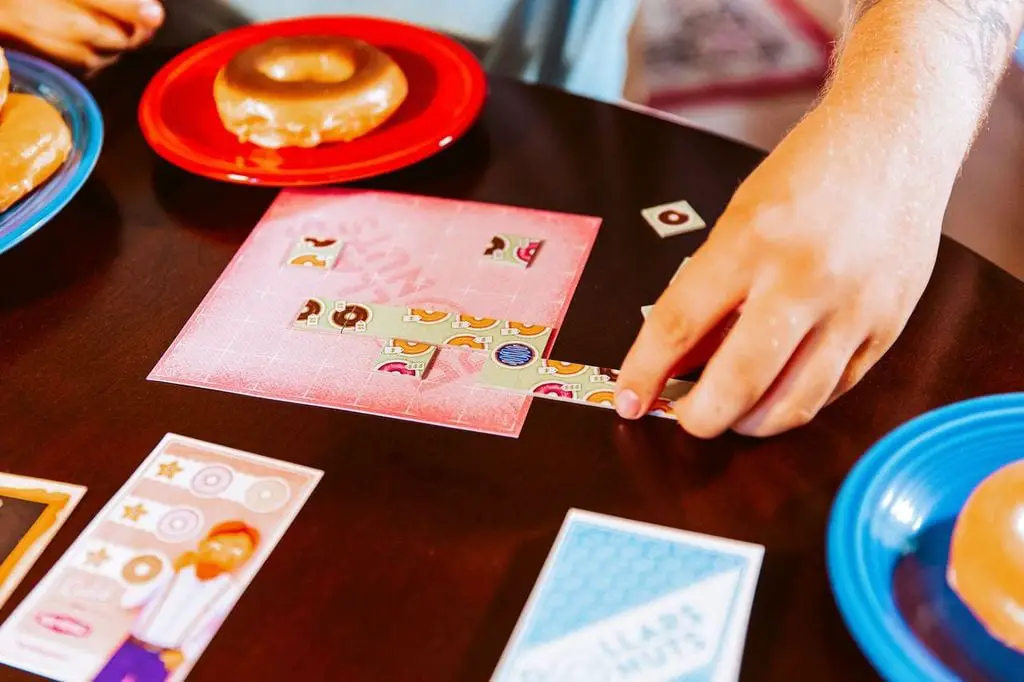 Flatout: Dollars To Donuts is a family/gateway game. It's got super simple rules and anyone can pick it up and play. However, to play WELL, you will need pretty good spatial reasoning and economic balancing (dollars vs. donuts) skills. We really love that about it. Our team has played it hundreds of times and the puzzle is always still challenging, just based on the tiles and customers that are in each particular game. We think this is the type of game that families will get a lot of replayability out of.
FM: How did you decide on the "look" of the game?
Flatout: The look of the game came from those initial discussions about the type of donut feel we wanted. The hipster/modern look was definitely what everyone on the design and publishing team wanted to pursue. Dylan [Manging] ,who did the art and graphic design, did a great job of capturing that feel and testing out some nice abstraction and texturing techniques! We personally aren't huge fans of generic 'cartoony' looking art, so we are really happy with how the game differentiates itself from some other 'cute family-weight games'.
FM: Any strategy tips players should remember?
Flatout: The most important thing to remember is don't box yourself in. That's probably the most common mistake new players make. You always have to be balancing this one good move now, vs. what flexibility it leaves you for later. That's part of the fun of learning and getting better at the game, but remembering that when you first play will give you a leg up! Also, don't underestimate the power of dollars! You're likely not going to want to be stuck with the free donut each round, so make sure you have enough money so that you can better optimize your board.
FM: This is your first game you've designed. What was it like jumping to a different end of the board game publishing process?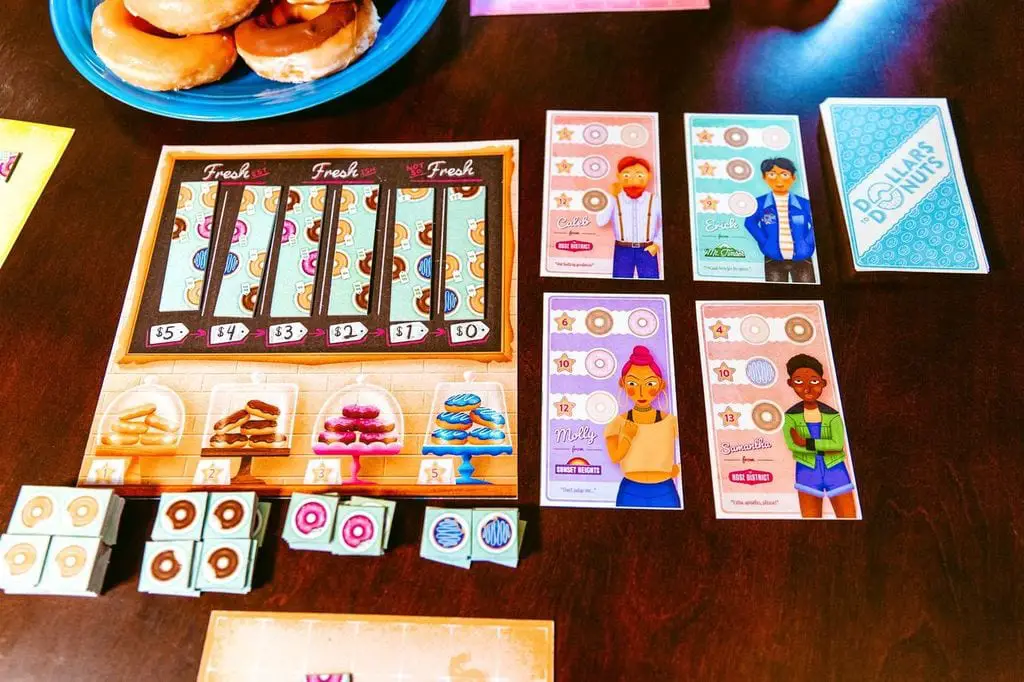 Flatout: So, we designed Dollars To Donuts in early 2017. At the time, Molly and Shawn were doing board game reviews, and then our group decided to form and start designing games. This was one of the first ideas and it was inspired by the tile-laying games that Uwe Rosenberg was doing at the time. Throughout the next few years of designing games, we found our way into publishing other people's games as well, and that's been a really interesting experience. We still really like both ends of the spectrum for sure, since we have a keen interest in everything from playtesting to product design. Board games are a really awesome product in the way that they combine industrial design with programming, marketing, user experience, art, graphics, etc. etc. We are all 'designers' in our fields – and our day job work is mostly really long-term projects. Board games give us a creative outlet to make a thing that can go from idea to published product in around a year sometimes. That's pretty exciting!
FM: Anything you've learned that you'll remember for future projects?
Flatout: Certainly! We already have! Lots of the design lessons learned in
Dollars To Donuts were applied to other projects. Like Public Market, which is a heavier tile-laying game, and Point Salad, which is much lighter, but has some of the same DNA. Basically, we keep learning as we go. One of the biggest lessons learned from Dollars to Donuts as our first game was keep on getting stuff to the table! Rapidly iterating on things and making changes to make your game better is all part of the process. Don't be afraid to just make the prototype and start playing. DtoD wasn't great the first time we played it, but we just kept at it, and it turned into a really tight design! We learned a lot about using intuitive math and feeling out the balance of a game as well.
FM: What are your favorite kinds of donuts?
Flatout: We are all pretty boring on this front – haha – plain glazed is our go-to. It's the purest form of the donut! We all like chocolate quite a bit, too, so chocolate glazed are great as well!
You can still back Dollars To Donuts on Kickstarter, where the base game will run you $29. You can follow Flatout Games on Twitter or check out their website to learn about all of their projects.
Images provided by Crafty Games