Beadle & Grimm's Pandemonium Warehouse has taken us to many places over the years. From the windswept cliffs of Saltmarsh to the fog shrouded darkness of Barovia, they've made a name for themselves as one of the premier purveyors of premium tabletop experiences. More recently they've moved into new places like Golarion and the city of Absalom, adding Pathfinder to their stable of games. But now they've gone somewhere that is, if not unsurprising thanks to the closeness between Wizards and Beadle & Grimm's, certainly curious: the realms of Magic The Gathering.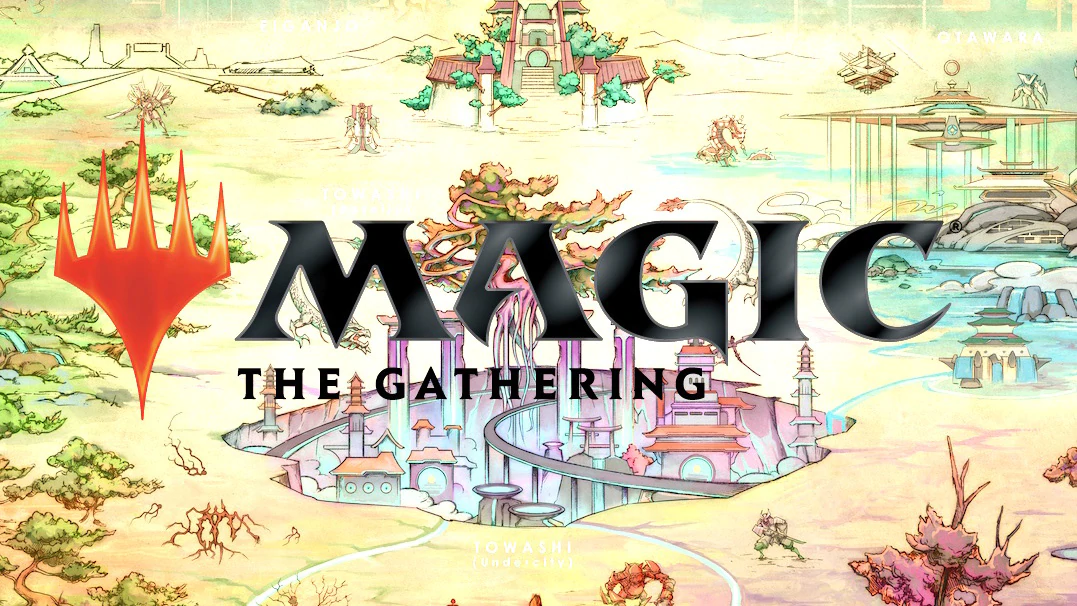 The setting is Kamigawa, a plane that has traditionally had an aesthetic and theme based on Feudal Japan. But in the 2021 set Kamigawa: Neon Dynasty, Wizards took it into an exciting cyberpunk future far beyond anything seen before. Alongside the Kamis and Pagoda there now were cyber-ninjas, neon lights, and huge holographic Noh masks that loom over the dark streets. The reimagining struck a chord with the Magic community, being the fifth set to reach over $100 million in sales. That makes it a perfect entry point for the Beadle & Grimm's Goblins, who put together one of their patented special edition boxes to help enhance the Kamigawa experience and give serious collectors something special they hadn't seen before. And, from what I can tell, they succeeded.
I was went a review copy of the Kamigawa: Neon Dynasty Platinum Edition to check out, and I'll be up front about the fact that I'm definitely on the casual end of Magic The Gathering. I love playing it with friends and doing the odd draft, but I can't easily speak for what the truly passionate fans might think. Luckily, I have a friend who IS a a big Magic player, and he was nice enough to consult with me on this review. So, with that out of the way, let's dig in!
What's In The Box (Bag?)
Exclusive Neon Dynasty-themed Backpack
Sword-Adorned Card Vault
Kami-Themed Neon Pink Deck Box
Demon-Themed Lightning Blue Deck Box
100 Black Dragon Sleeves
100 Gold Dragon Sleeves
Kamigawa Wall Art Poster
5 Lithographic Art Prints
Kamigawa Art Card Folio
Sidekick Plush
Art-Inspired Life Counter
LED Playmat
Kamigawa Metal Counter Set
Demon Mask Necklace
Exclusive Game Log
Kamigawa World Map
In-World Guide to Kamigawa
So, yeah. Let's start here. This isn't a box like their other releases. The Platinum Edition comes in what I can't help but call a luxury backpack. It's a HUGE thing, well padded and built to carry what seems like an entire tournament's worth of cards. The inside is fully modular and padded, though, meaning it can serve as a great backpack for other things as you need them. The pack itself opens 180 degrees, meaning you can pull things out directly, and a stiff construction means it can sit on a table well. It wears nicely and has lots of padding on the shoulders, and the reflective pink accents are great for you midnight riders out there. Little touches like a build in USB port (and connected pocket for power bar) and waterproofed build means it's a selling point entirely on its own. And that hot pink? You'll be turning heads.
Neon Dreams
I don't think I need to reiterate that they spared no expense on this set, but it feels almost next level what they've done here considering they didn't have any sort of adventures or stories to adapt. Even before you open the backpack, there are beautiful art prints, a map of Kamigawa (wouldn't be Beadle & Grimm's without a map), and an elegant print of a procession of Kami that perfectly encapsulates the spirituality that remains at the heart of the setting.
The included game accessories are obviously the biggest highlight here, with 240 card sleeves ("Not quite Dragon Shield, but still very nice"- MtG Expert Jeff) AND a card folio so you can play and display your cards safely. The two deck boxes and card vault feel like true luxury items, weighty and coated in soft pleather. Strong magnets keep them from opening on accident, and the foil decorations pop beautifully.
I'd say my two favorite items were also maybe the most extra in the box. The first is the RBG Playmat, a monster of a thing with a gorgeous Kamigawa cityscape on it and a ring of LED around the edge that lets you pick a color to show off with (blue and pink naturally being the best). The included life counter was a surprise, since I thought the creepy little demon-headed, spider-legged thing would just be about the size of the d20's you usually use to track life. But nope! It was big enough to sit in the palm of my hand, a fantastic way to show off at any Magic game that yes indeed, you DID buy something very, very cool.
They did include one neat bit of in-game storytelling here and that's the "Field Guide To Kami," a little pink booklet "translated" into English and filled with details about some of monsters and spirits inhabiting the land of Kamigawa and how they've adapted to the new status quo. When I review these boxes from B&G, it's always little touches like this which put them over the top.
Should I Buy This?
Obviously, if you're not a Magic The Gathering player, you won't get much value out of this. But if you are, especially one who's a big fan of the Kamigawa set, I'd give this and the Silver Edition a long, hard look. It's a fantastic way to enhance your collection and truly immerse yourself in a vibrant setting. Everything in it has a new level of spit and polish, and I think it's the perfect first impression for Beadle & Grimm's as they make their entry into the realms of the Planeswalkers.
You can pre-order a copy of the Kamigawa: Neon Dynasty Platinum Edition or Silver Edition on the Beadle & Grimm's Website, with the Platinum Edition selling for $500 and the stripped down Silver Edition retailing at $175. Both are shipping out very soon, and there's only 1500 of the Platinum Edition made so if you want in, now's the time!
Images via Beadle & Grimm's
Have strong thoughts about this piece you need to share? Or maybe there's something else on your mind you're wanting to talk about with fellow Fandomentals? Head on over to our Community server to join in the conversation!