It's been a big year of announcements for Beadle & Grimm's Pandemonium Warehouse, and to prepare for all the upcoming boxed mayhem cooked up by the gaming alchemists working at the warehouse…we thought we'd try to pin them down for a chat about their different projects. It took several summoning circles, burnt offerings, and a goat named Jeremy, but eventually we were able to interview Jon Ciccolini about Absalom: City of Lost Omens Gold Edition, their newest collaboration with Paizo and their first deluxe edition within the Pathfinder system.
This isn't your first rodeo with Paizo, but it is your first time working with their direct content. Were you approached by them or did you make the approach, and what made you want to do more work with them. 
Working with Paizo is exceptionally rewarding. The team is just so collaborative and open to ideas. We had been talking with them about their upcoming releases, and what might be the best fit for us, and Absalom: City of Lost Omens just seemed so rife with opportunity for a premium edition. It's timeless, and it can be used in any Pathfinder campaign (or any 5e campaign for that matter). Not to mention it's gargantuan in scope and ambition, which lends itself to GM aids.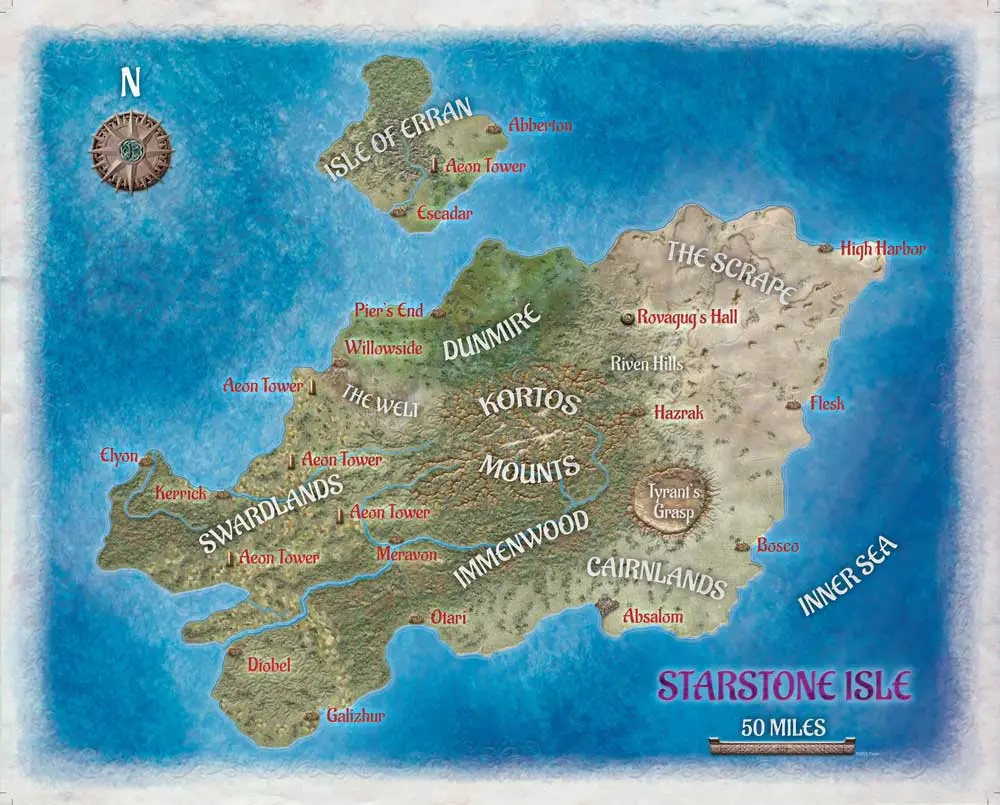 Pathfinder is a slightly different beast from D&D, how did you tackle it compared to your previous works?
Not all that differently, actually. Our north star has always been to ask, "If I was the GM, what would I really want in order to run this? What would help immerse the players in the world and the game?" Sure the mechanics might be a bit different, but the goals are the same. 
This is also your first time doing a tie-in to a single location like this (no matter how big the city). Did that present any design challenges?
I know you say it's a single location, but man, it really feels like 12 or 13 locations because every district is so different, and the city is so huge. In design it was really fun to make sure the whole box had a cohesive feel, but for the more specific elements, like in-world hand-outs, battle maps, and bonus adventures, to make sure each piece had the right feel for that district, or faction, that it represented.  
How does the box differ from your previous releases, if at all?
One thing that stands out are the new location cards. We've always done cards that hang on the GM screen for monsters and NPCs, that had the picture on the front, and details for the GM on the back, but never for important locations, like key buildings. Absalom had such great art and immersive details for these key locations, we just had to take advantage of that. Also, the box is going to come inside a neat outer wrap. We're not sure if we're going to reveal that before we ship or not. We might just keep it a surprise upon opening.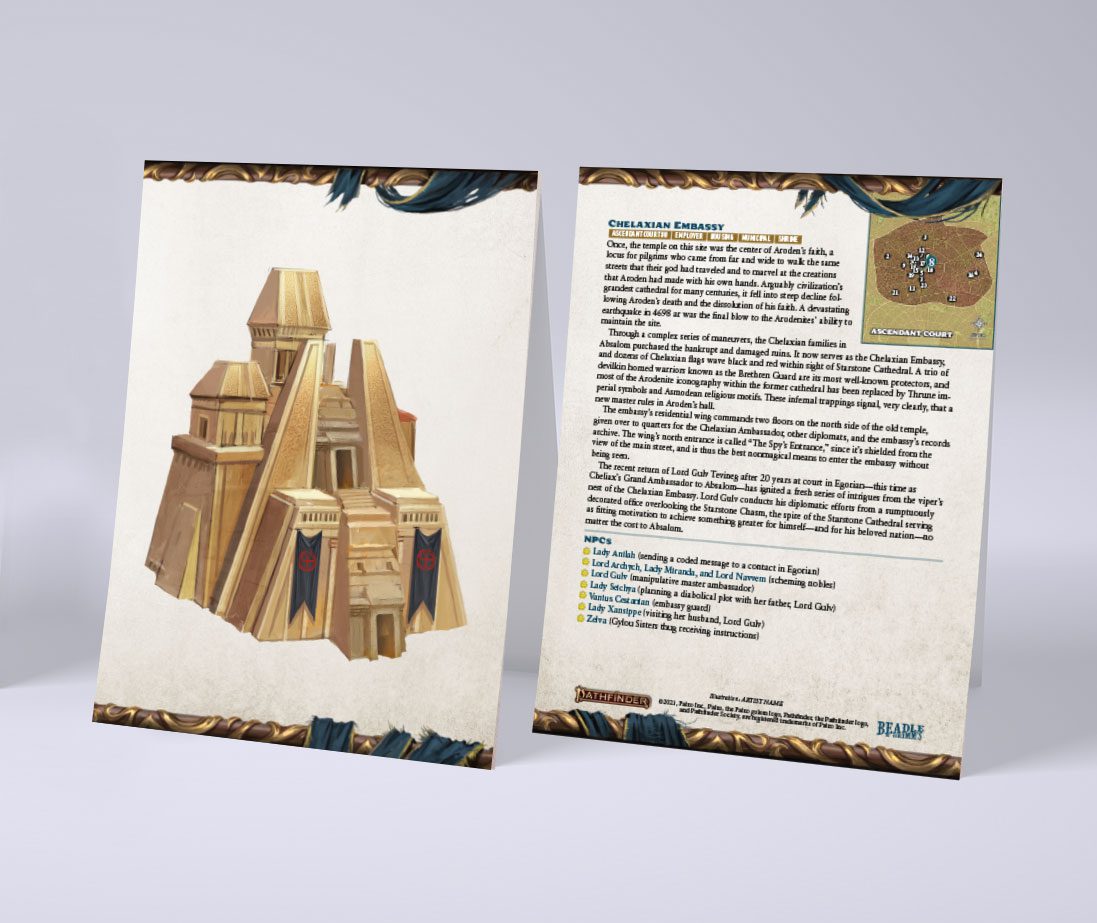 How do you make the price point work for a sourcebook like Absalom? 
Well, the book itself is the most important thing in there, and it's massive, and we break it up into smaller more manageable books. In our other boxes we usually include 4-5 booklets. For this box we have TEN booklets to help the GM keep the section of the city that they're using currently at their fingertips and place the others aside. You do have to set enough budget aside to make that work. Look, there's a reason most of us here at B&G still have day jobs, and that's mainly because we have small margins because we put so much of the purchase price back into the box. We just always want it packed with value.  
What was your favorite thing you included in the box (that you can reveal)?
We're excited about a set of Tri-Stripe Society coasters that come included. We've never done that before and we think Pathfinder fans are going to really dig those and we can't wait to share production photos.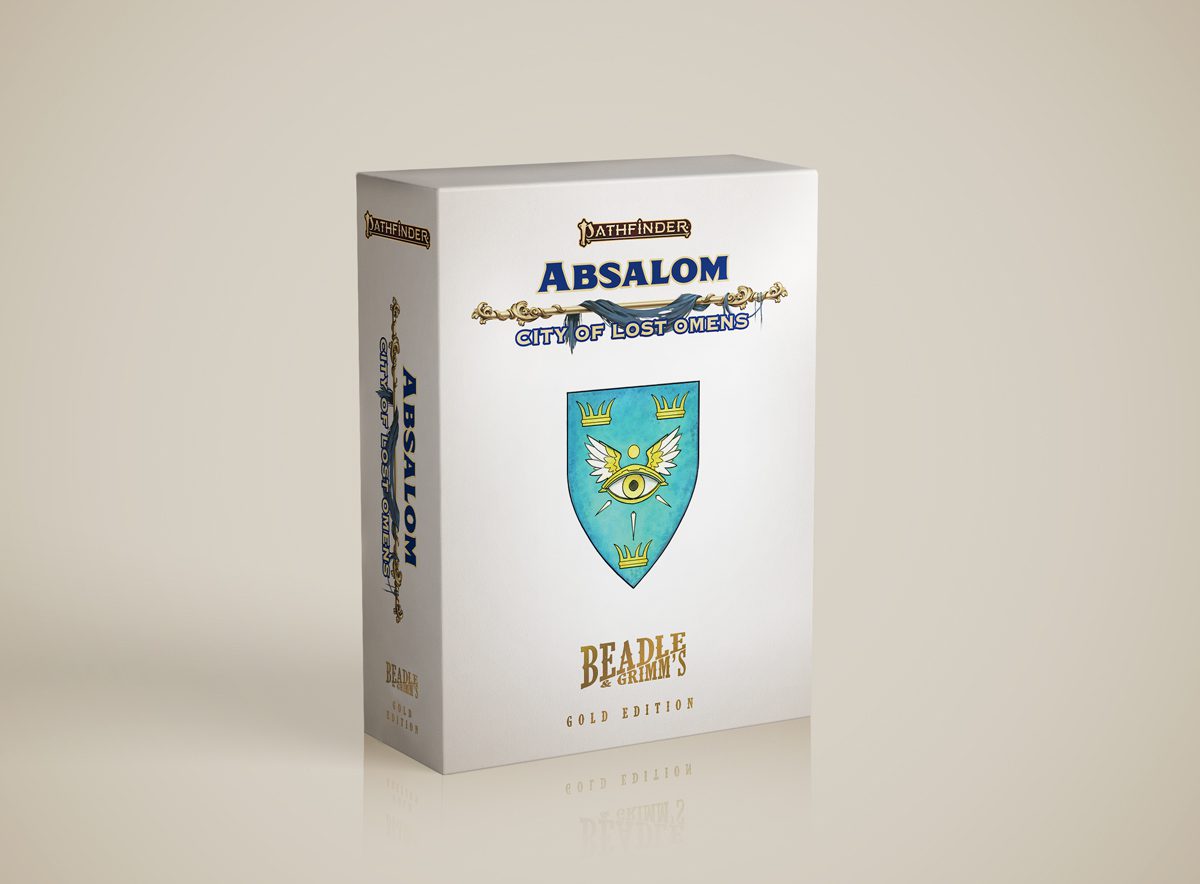 The Absalom: City of Lost Omens Gold Edition is currently available to order from the Beadle & Grimm's shop, where it retails for $349.00.
Images via Beadle & Grimm's and Paizo
Have strong thoughts about this piece you need to share? Or maybe there's something else on your mind you're wanting to talk about with fellow Fandomentals? Head on over to our Community server to join in the conversation!