From Funko Games comes a board game based on the beloved 90s Disney film, A Goofy Movie. Play as your favorite characters from the film as you race across the county, collecting scrapbook pictures to rack up points as you race to see who can get the best seats for the concert!
I won't lie to y'all, after two solid but somewhat out there games back to back from Thames & Kosmos, it's nice to get back to basics with a basic board game. And it doesn't get much more basic than this.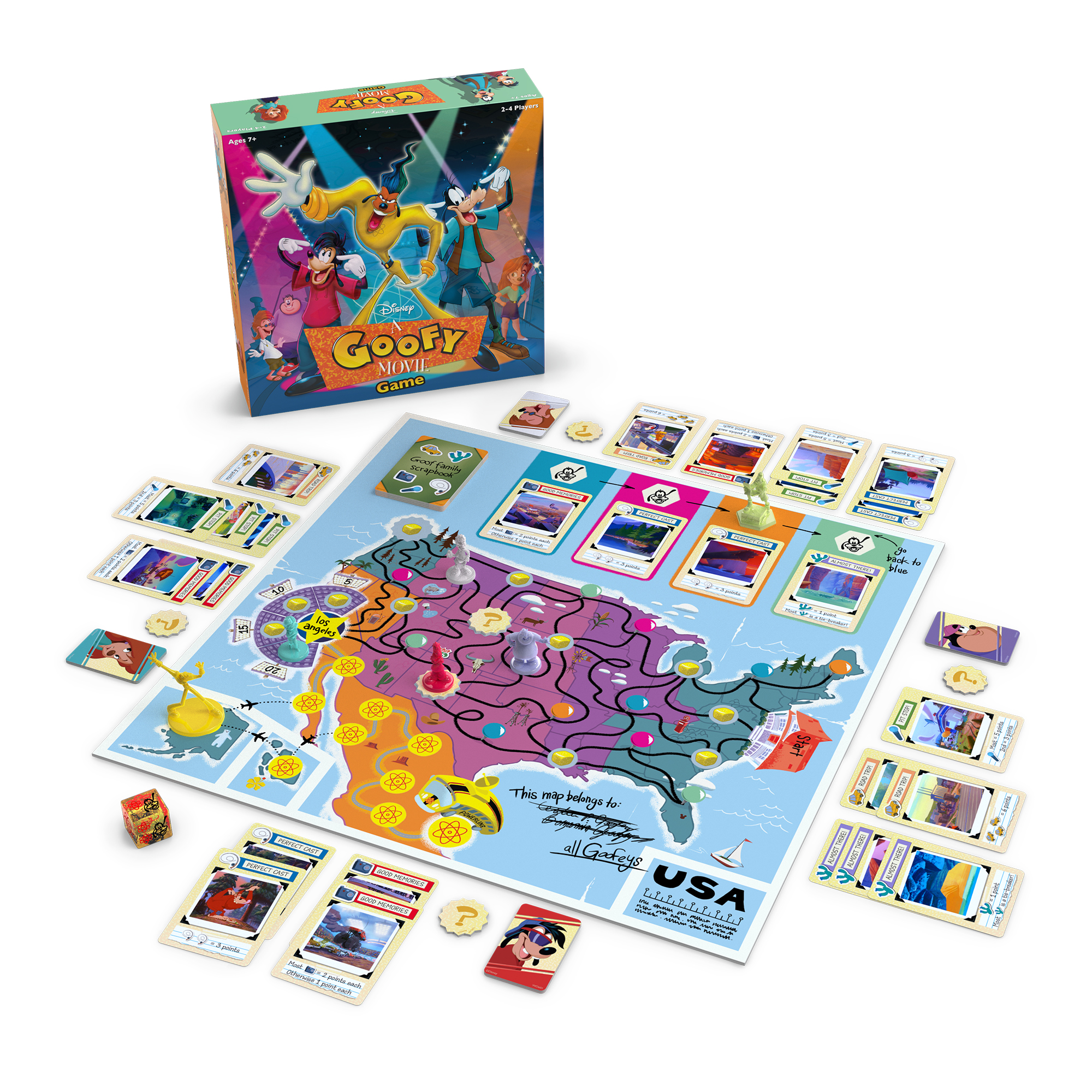 Now, that's not actually a bad thing or an insult. Everyone needs a basic game in their collection. Keeps you honest and sufferable. And sometimes it's just nice to have something fun to plop down on the kitchen table and laugh with friends with.
How We Got Here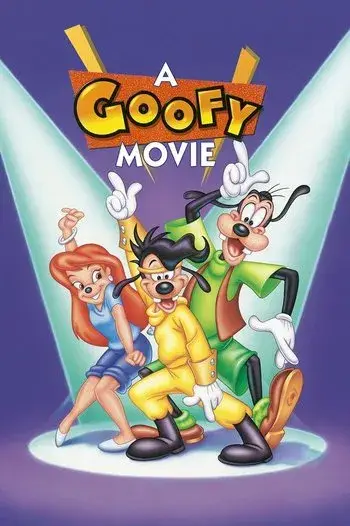 In 1995 Disney released A Goofy Movie to theaters. Made by some of their branch studios rather than the main animation team, it was a cute, friendly little film, a sort of spin-off/sequel to Goof Troop. It did modestly well at the time, and has since grown a massive fanbase, rivalling many of the films from the main animation team of the 90s.
Essentially, the film is about Goofy and his son Max going on a road trip after Max gets in trouble at school. It's a cute story, as Goofy tries to bond with his son, worried about his skills as a single father, while Max tries to juggle the usual teen drama and angst, aggravated by having a father like Goofy. Driving the plot further is that Max has lied to his crush, claiming that the reason he's going is that Goofy is friends with the singer Powerline and they'll be on stage at the big concert in LA.
The film is most remembered for the solid slapstick, the wonderful character depth it gave to Goofy as a struggling single father, and the good, Michael Jackson esque song at the end. How do you translate that to a board game you ask?
The Game Itself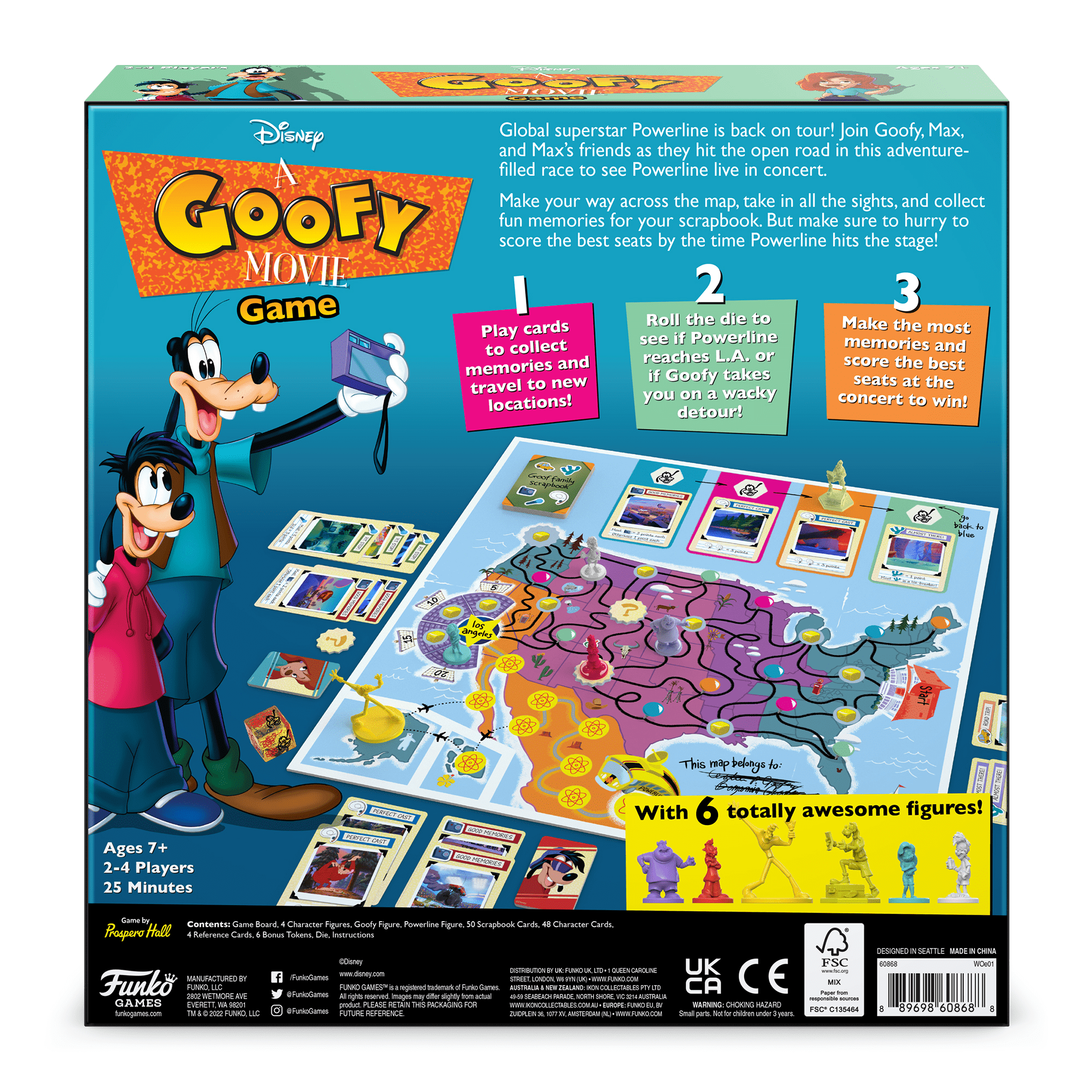 Well, the answer is…you don't. A Goofy Movie is a spin-off of the the movie (possibly a sequel, honestly) rather than a straight up adaptation. You play four kids (Max, PJ, Roxanne, and Bobby) racing across the board while Goofy and Powerline do their own thing. Goofy moves along the scrapbook cards (the main collectible of the game), while Powerline moves along the bottom of the board, serving as a countdown time for the game as a whole. When Powerline reaches LA, the game is over.
Here's how each round goes. Four scrapbook cards are placed on the top of the board in corresponding color slots, and these are what you're competing for.
At the start of each round each player plays one of their character cards, which will correspond to one of the four colors of scrapbook cards and have a number on it. If two or more players played the same color (you place your card face down when you play it, so you can't react to each other) then whoever has the highest number wins the card. It's then replaced, and you use the numbers on those cards to move your character.
Movement is the second opportunity to collect scrapbook cards. If you look at the pictures of the board above, there are two spots on the board. Some are colored pins, and other are the golden/yellow die. If you land on the colored pin, you get to collect the corresponding scrapbook card, no fuss no muss. If you land on the die, there's a fifty-fifty chance you'll get to take whatever scrapbook card the Goofy token is resting on. However, all but one side of this die will also cause Powerline to move, so depending on where you're at in the point totals you'll want to weigh the risks of rolling.
That is pretty much it. You keep going until either you run out of scrapbook cards or Powerline gets to LA. You tally up your points from the cards you collected and the seat you got at the concert, and whoever has the most points wins. Very simple.
Final Thoughts
Disney A Goofy Movie Game (that's what it's called, I don't know why there's no grammar either) is a very solid, fun game, but very basic. What you see is what you get, a board game meant to be accessible to kids while still having something to appeal to teens and adults. Does it work? I'd say yes.
Honestly, I have no real complaints about this game. It's greatest flaw is its simplicity, and you'll know best if that's an issue for you. It serves a good job of blending loyalty to the movie with making a good game, so it'll serve well as a collectible or as an actual thing you play.
A Goofy Movie Game
Summary
A Goofy Movie Game is a very solid, basic addition to a casual player or family's collection. It's good for a simple, straightforward game night, but lacks more complex features and traits for more hardcore fans.
Disney A Goofy Movie Game can be bought from the Funko shop, Amazon, or your FLGS at an MSRP of $24.
Images and review copy courtesy of Funko and Disney
Have strong thoughts about this piece you need to share? Or maybe there's something else on your mind you're wanting to talk about with fellow Fandomentals? Head on over to our Community server to join in the conversation!