From Thames and Kosmos comes another entry in their series of Exit: The Game, a series of escape rooms at home. We've talked about them before on this site, but this entry is a little different than the ones discussed previously. Rather than a game meant to be played in one sitting, we're taking a look at Exit: Advent Calendar-The Mystery of the Ice Cave.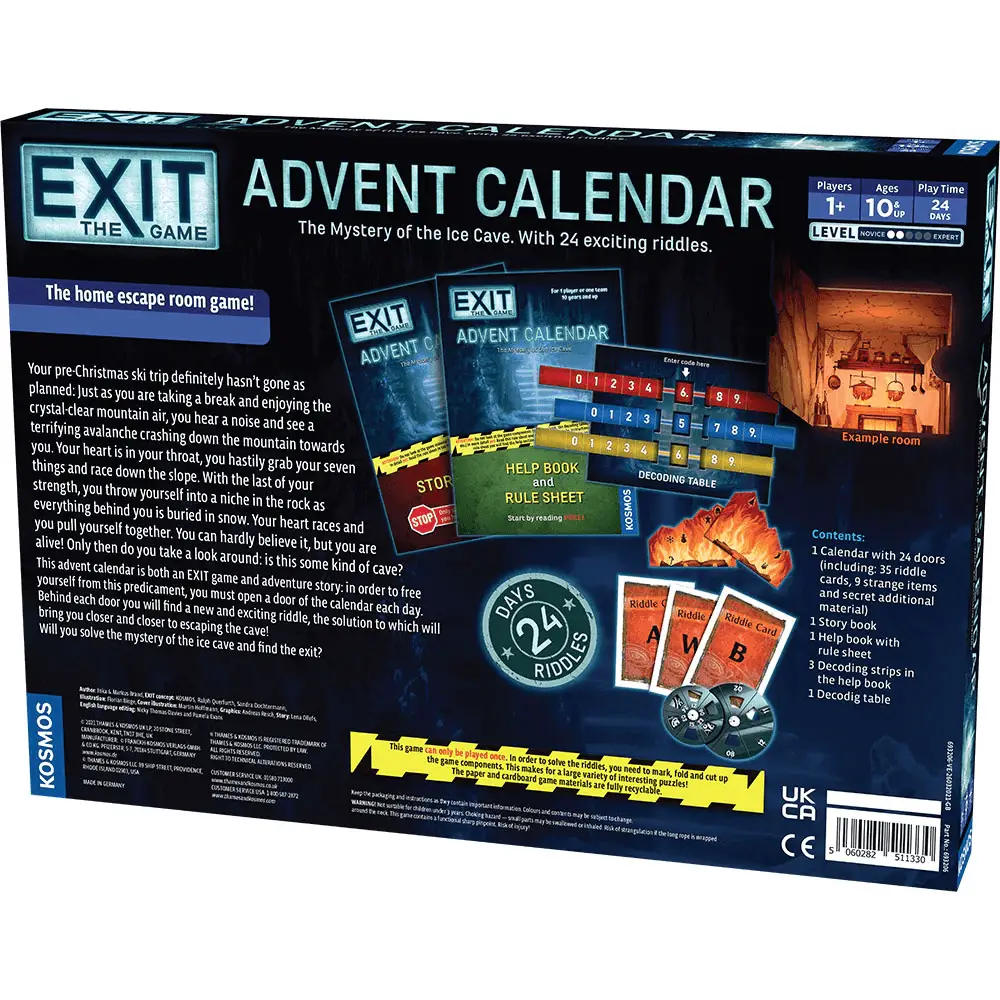 The Exit series of games are a series of escape rooms in a box, as I said, but this one is unusual for the series. Most of them are meant to be played in a single sitting, by yourself or with others, as you work to unravel the mysteries presented to you.
While there's certainly nothing preventing you from doing that here, this is an advent calendar. You're supposed to play it over the course of twenty-four days (so probably December) opening up a different panel in the box each day to solve the riddles and explore the plot.
As for said plot, it's fairly simple for this Exit entry. You're on a pre-Christmas ski trip when things go awry. As you take a break to enjoy the clear, cold mountain air you find an avalanche chasing you down the mountain. You gather up your seven belongings and run down the slope, throwing yourself into a niche in the rocks just before the avalanche catches up. You've survived but as you look around you realize you're trapped in an ice cave.
From there Exit: Advent Calendar-Mystery of the Ice Cave is about, well, the mystery of the ice cave. Over the course of the twenty-four days you'll solve puzzles to advance your escape, helped along by the story booklet. Said booklet is actually fairly well written, providing an engaging time and providing an in-story justification for the puzzles. It's a nice touch, and they put more effort into it than they necessarily needed to.
The game has a fairly small number of 'moving pieces', but the creativity of the riddles more than makes up for it on that front. However, this does bring us to an issue with this particular game, albeit one that will be familiar to fans of the Exit series.
Last week we talked about another Thames and Kosmos game, Cartaventura: Lhasa. Like that game, Exit: Advent Calendar-Mystery of the Ice Cave is a game designed to be played either by yourself or as a team. There's no competition or sabotage, just exploring a fun story. Unlike Cartaventura however, there's no replay value to be had here.
It's a one and done. To quote the back of the box, "This game can only be played once. In order to solve the riddles it is necessary to mark, fold, and cut many of the contents. This makes it possible to invent many varied riddles." Now, yes, this is not unique to this particular entry of the Exit series. It's a fairly standard trait for them. And, truth be told, I'm not sure how much replay value an escape room has.
Whether or not that's a deal breaker is something only you can know of course. However, the fifty dollar price tag on top of that seems rather steep. There's no special prize to be obtained, nothing to keep once you're done, just the satisfaction of having solved the game's many riddles.
Ultimately I had fun solving Exit: Advent Calendar: Mystery of the Ice Cave, as the riddles are creative and interesting, the story well done, and the game pieces well constructed. It is a very good 'escape room in a box'. At the same time however, the steep price tag and the lack of any replay value makes it a complicated thing to recommend. Use your own judgement.
Exit: Advent Calendar-Mystery of the Ice Cave
Summary
Exit: Advent Calendar-Mystery of the Ice Cave is a clever and well put together game for fans of riddles and escape rooms. However, the fact that it's designed to only ever be played once presents a potential problem, particularly given the price tag.
Exit: Advent Calendar: Mystery of the Ice Cave can be bought from the Thames & Kosmos store, Barnes & Noble, or your FLGS at an MSRP of $50.
Images and review copy courtesy of Thames & Kosmos
Have strong thoughts about this piece you need to share? Or maybe there's something else on your mind you're wanting to talk about with fellow Fandomentals? Head on over to our Community server to join in the conversation!