Why you should watch CLAIREvoyant
KindaTV's newest scripted series, CLAIREvoyant just finished its first season and if you haven't seen it yet, you are denying yourself a wonderful, quirky comedy. It's the classic story of two twenty-somethings just figuring themselves out. They are also on the verge of eviction and need a rapid injection of funds to keep a roof over their heads. Their get rich quick scheme? Pretend to be internet psychics and charge by the minute. The twist? One of them might actually be psychic. That is only the beginning of the fun.
If you're familiar with any of KindaTV's other series, Carmilla, All for One and Inhuman Condition to name a few, then you know the channel built on innovative and diverse content. Did you enjoy the supernatural elements of Inhuman Condition? Or All For One's heart-warming and funny coming of age story? Or do you love the Carmilla series which has both those things? Or do you enjoy series with LGBT+ characters? If your answer to any of these questions was yes, then you'll find something in CLAIREvoyant for you.
Here are some of the reasons you need CLAIREvoyant in your life:
Natasha Negovanlis and Annie Briggs are in it!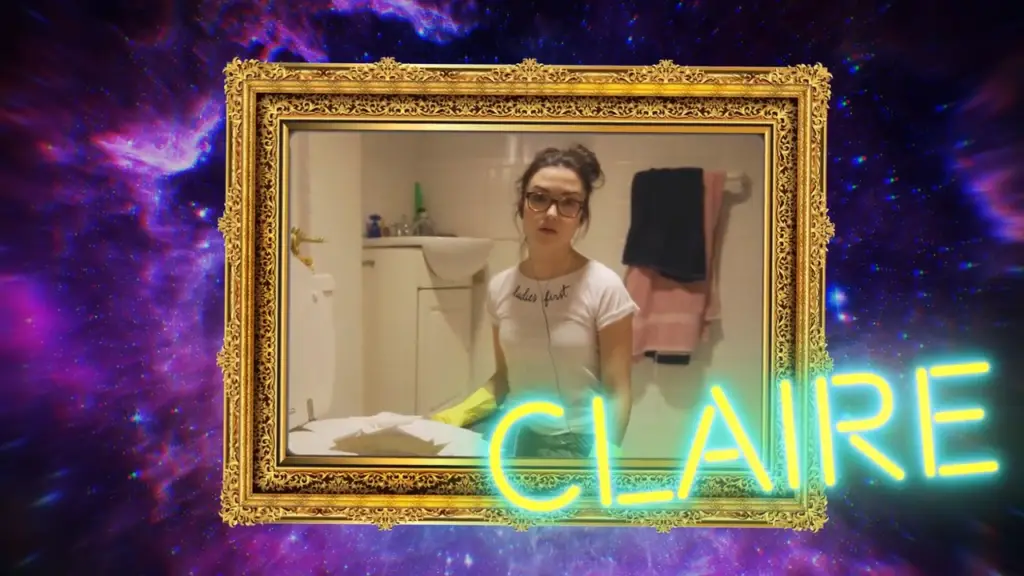 They play zany, loveable roommates who couldn't be more different and yet are each other's platonic soulmates. Briggs is the free-spirited, adventurous Ruby who comes up with the eccentric schemes to solve their problems. She's also the one who usually causes their problems. Negovanlis plays, Claire, the reserved, shy and sensible one.
You may know them as the stars of Carmilla, where they play the brooding lesbian vampire, Carmilla and the high-strung mom of the group, Perry. (If you haven't seen Carmilla, that's two amazing web series that aren't in your life. What are you doing?)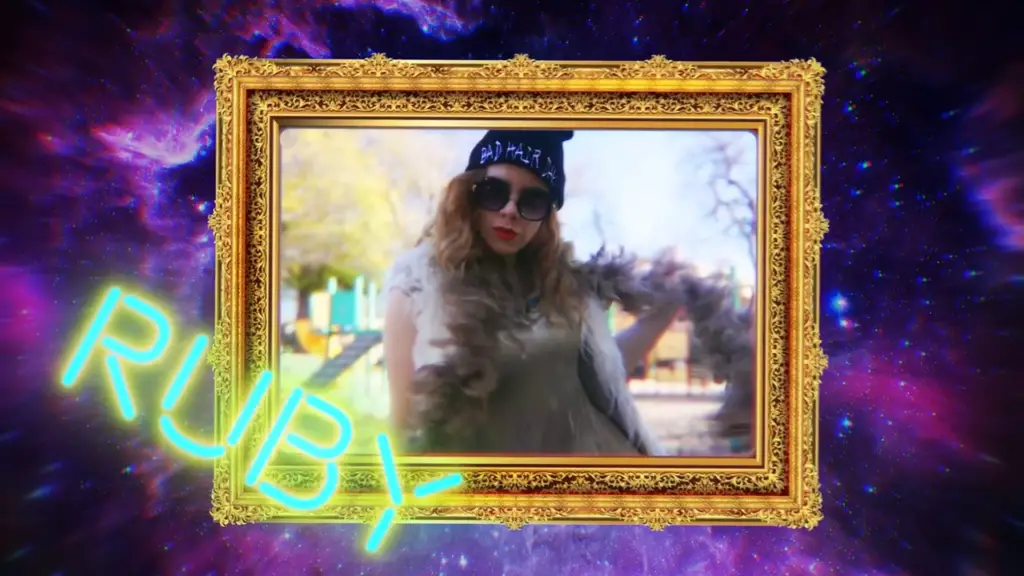 What you may not know is how funny they can be. Sure, Carmilla and Perry, had many humorous moments, that was only a taste of the scope Negovanlis' and Briggs' comedic chops.
Negovanlis has discussed in the past how as an actress she was told she could either be 'pretty'  or  'funny'. But CLAIREvoyant feels like their answer to this, where their characters can be both. They made their leading ladies funny, charming and packed with heart.
Oh, and did I mention this series is the brainchild of Negovanlis and Briggs? Not only do they star in the show, they created, wrote and co-produced the series. Is there anything they can't do?
It's Queer Content produced by Queer Creators.
This is something that could define every series that appears on KindaTV. Negovanlis has always been open about her sexuality and that authenticity comes through in the work. In moments both big and small. Like when Claire nervously practising what she's going to say on a date while she's cutting her nails as she gets ready. It's a moment that's delightful and funny because it's so genuine and relatable.
It's always wonderful to see LGBT+ characters who are written by LGBT+ individuals. Negovanlis portrays Claire with a level of authenticity that would be difficult if not near impossible for someone who doesn't have her experiences.
Also, the other queer character, Nico, is a woman of colour.
It will have you laughing from beginning to end.
Sure, there's drama and romance but CLAIREvoyant is first and foremost a comedy. It's brash, goofy and delightfully campy, pushing the limits without going over the top. Negovanlis and Briggs aren't afraid to ham it up and let themselves look crazy or silly.
Ruby is eccentric and vibrant. She'll have you laughing with her sharp wit and her vivacious dancing. Her partner, Xavier speaks exclusively French, but you don't need to know the language to understand he's just as quirky as Ruby.
Claire is funny because she's ridiculously awkward. At some point, you've probably felt as awkward as she is. Claire is that lesbian who every queer woman will be able to associate with on some level. It's almost painful how relatable she is. She forgets half the English language around her crush and tries to deny her feelings even when it's obvious Nico is flirting back.
Also, be sure to watch with captions on. There are hidden asides that are just as funny as the jokes in the show. But be warned, there is one moment of gross-out humour, so you may want to skip that part if it's not your thing.
Without spoilers here's a quote that, if it doesn't pique your interest enough to watch, nothing will:
 "So cool! I was going to become a mindless drone because of a cheese pie."
All fourteen episodes are currently out on YouTube. With each episode averaging around four minutes, you can binge it in just over an hour. So, what are you waiting for?
---
Images courtesy of KindaTV/Shaftesbury Films.
Creator Corner: Interview with the Cast of Grosse Misconduct
Everybody loves a good workplace comedy!. These days, finding one with unique ideas and diverse characters, especially LGBTQ+ characters, can be hard to find. Look no further than Grosse Misconduct, a six-part queer digital webseries and workplace comedy that veers from the dramatic to the absurd and features not one, but two leading LGBTQ+ characters. After learning about Grosse Misconduct, I got the opportunity to sit down with the cast and talk about the show and it's origin, what makes the characters so special, and LGBTQ+ representation.
Gretchen: Hey everybody, thanks for being willing to let me interview you! To start off, tell me about where Grosse Misconduct came from. What was the inspiration behind the show and/or what drew you to being involved in it?  
Colby: Anne and I met in an acting workshop and discussed creating our own work, which led to the idea of co-writing a web series featuring these offbeat characters.  I suggested the HR setting, as I've had an alternate career in Human Resources and thought it was a rich environment for story ideas.
Pooya: I was approached by Colby about Grosse Misconduct and he told me about Alicia and asked me to read it.  I read the first few episodes and loved her strength, wit and sass and also that she was nothing like any trans roles I had seen before and I said: "When do we start?!"
G: It seems like a lot of the focus recently has been on gaining more LGBT+ representation in genre films or dramas—superhero movies, Star Wars, etc. What made you decide to make/work on a workplace comedy web series?
C: Yes, it's been great to see more of a spotlight on LGBT+ characters in film and TV recently—we're happy to be part of that movement.  I like the idea of continuity that a web series offers—there are many potential stories to tell, and a workplace setting means we can focus on multiple narratives and be more fully representative of the audience.  We'd like to think there's something for everyone in Grosse Misconduct!
G: Do you think that comedies in general and workplace comedies in particular offer a unique perspective on telling the stories of LGBT identity and experiences? 
P: Comedies allow us to see reality, while softening the harsher edges with laughter, which is why we can show things that would be unthinkable outside of comedy. A workplace comedy shows different people, side by side, in a closed environment, and how they interact. This offers a unique opportunity to introduce LGBTQ characters into everyday life and create a world that can be, like a glimpse into the future, or an aspirational alternate reality.
G: Speaking of telling LGBT stories, Colby, why do you think that writing LGBT stories that aren't "coming out stories" is important for representation?
C: Coming out stories are still vital, since the process of coming out remains very difficult for a large number of the LGBT+ population, but we don't often see leading LGBT+ characters in narratives where sexuality or gender identity is not the focus of their existence in the story…..or stories that show an LGBT+ character long after they've come out and are dealing with the same everyday issues as others.  Showing how alike we all are, and how we all really want the same things out of life, can only help to bring understanding and acceptance from parts of the audience who may be reluctant to embrace LGBT+ characters otherwise.
G: On the topic of representation, what do you all want to see more of when it comes to the representation of LGBT characters and stories?
P: I would love to see more diversity shown in the community. That diversity can be in age, race, temperament and socio-economic background. What do I mean? Does the gay character also have to be snarky? No! Does the trans character have to be a certain race of be from a certain socioeconomic background? No! This community is as varied through all the mentioned categories as any other group of people. The more diverse our portrayals become, the more opportunities our audience will have to find characters they personally identify with, and the more we can break down the old stereotypes.
G: In a similar vein, Pooya, I would love to hear your thoughts on creating lead roles for transgender characters and hiring transgender actors.  
P: I believe we are living in very exciting times in regards to transgender representation. For one, we actually have positive representation! But it is still very new. With shows like Pose that have their trans characters front and center, this sends a signal that it can be done. As more and more shows, network shows and alike, are introducing trans characters, played by trans actors, I believe that we are going to see trans doctors, teachers, parents and more, being played by great trans actors and slowly fading out the old, sad and victimized stereotypes.
G: Pooya and Colby, what have been the biggest challenges you have had to face being members of a marginalized community, or in Pooya's case communities, in the filmmaking industry? Benefits?
C:  I've always been "out" in my life as an adult, and I've been fortunate to work in creative industries where my sexuality was never an issue, and I live in New York City, so I've led a privileged existence compared to many others in the LGBT+ community who live in environments where they feel they must hide their true selves from others. Early on as an actor, I was advised to keep my sexuality under wraps within the industry, and that was a blow to my own self-acceptance. It's easier now for actors to be more open—we're slowly seeing both established and new artists who feel they must be fully authentic to live their best lives.  The biggest benefit for me now is to be an openly gay actor who feels confident in pushing the progress we've made to new levels, and to see how it benefits the LGBT+ community, both currently and in the future.
P: For the first few years of my return to acting, I was not out, as my previous experience of being a transitioning actor had led to doors being closed in my face from all sides, and feeling very isolated. About 4 years ago, as people started talking about transgender issues, inside and outside the industry, I kept wondering if I should come out publicly. Something I would have never thought possible 15 years ago. When I did publicly come out, through a Facebook post, I thought it was going to end whatever career I had, but I knew it was the right thing to do, for me, as a trans immigrant, and my community. I'm glad I did, because it gave me a voice I didn't know I had and it has allowed me to be a bold force in my community, as a trans person and a person of color. I also feel my skin color and its placement in the industry still has long ways to go, but I am confident that in the years to come, people who look like me, women who look like me, will get to explore more nuanced characters and be thought of beyond the stereotypical fodder that most of us have become accustomed to. I know it will happen, because WE will make it happen.
G: To everyone, I love interesting characters and challenging people to distill them into as few words as possible, so, describe your character in one sentence of 20 words or less.
C:  Mitch Grosse is a self-centered, insecure, childish man who struggles with utter thoughtlessness, but deep down, has a heart.
Anne:  She's the Office Mom
and problem solver with a
secret kinky side.
(Not only is that less than 20 words, it's also a Haiku.)
P: Alicia is a fighter, a survivor, a loyal friend and underneath it all, she loves people and wants to be accepted for all that she is.
G:  What do you hope that audiences watching Grosse Misconduct walk away with? 
A: Everyone has to put on their shoes one at a time, regardless of their gender identification or sexuality. Whether it be getting engaged to the person of your dreams or covering your boss's ass at work, we all have similar wants and struggles.
G: What's coming up next for you all? Any exciting news for Grosse Misconduct coming down the pipeline or other interesting projects you're involved in?
C:  Anne and I have started plotting season two of Grosse Misconduct — lots of cliffhangers to resolve! I've also completed filming two independent films, "39 and a Half" and "Batsh*t Bride," and you can follow me on Instagram/Twitter for updates @colbyryanactor.
A: I do standup and improv around NYC to keep the creative juices flowing. I'm also writing a play and finding new ways to reduce my carbon footprint.
P: I can't wait for Season II of Grosse Misconduct, but in the meantime, I'm collaborating with other writers in telling stories of trans and gender non-conforming characters and just shot an indie pilot where I play a ghost of a pop diva! It really never stops, as I also have a feature film that I was the lead in and a tv series I'm a recurring guest star in and they should be out later this year. To stay connected, follow me on Instagram/Twitter @pooyaland or my website www.pooyaland.com
G: Anything else you want to share with us before we go?
A: What we see in movies, television, and web content manipulate our perceptions of other people, particularly those different than ourselves. It is so important now more than ever for people from all walks of life to share their stories and points of view. Thanks greatly to social media, it's never been easier to do so. Get out there and create! The world will be a better place for it.
G: Thanks again for talking with me. I really appreciate it and I'm excited to go watch Grosse Misconduct!
---
Images courtesy of Clownfish Productions
Bojack Horseman's Season 5 Trailer Promises a Spectacular Season of Television
Philbert does look pretty great, doesn't it? It stars the horse from Horsin' Around! How could it fail? Well, if anyone can find a way, Bojack Horseman will.
This first look at the fifth season assures the overly hopeful among us that whatever progress Bojack made in season 4, he still has a long way to go. He still drinks too much (despite handy day-by-day markers on his alcohol). His sitcom background will almost certainly make it hard for him to adjust to the differences of serious dramas. He still has crippling self-doubt and depression making it hard for him to find success and happiness.
If anything, the repetition of Diane (LOVE the new hair) saying, "you say you want to get better, but you don't know how," strikes at the self-sabotage Bojack so consistently inflicts upon himself. You can be sure he'll find a way to do so again this season. However, for the first time, I genuinely believe Bojack Horseman will give us an optimistic season. Relatively. He'll drink half the bottle instead of the entire bottle.
A lot changed for Bojack and his friends in season 4. Hollyhock inspired a genuine selflessness we had never seen from Bojack before (I'm so glad she's back). Princess Carolyn had a nasty break-up that inspired her towards the new project she and Bojack have embarked on. Todd has found a greater independence and acceptance of himself. And, you know, it has been five seasons. Unless Bojack Horseman turns out to be one of those shows that delves gleefully into nihilism, the turn has to come soon. The moment must arrive where Bojack shows genuine improvement.
In between all that, we'll get more of the fantastic references and jokes that make you laugh while you're crying. Yes, Princess Carolyn totally took a dig at Westworld in this trailer. Can you say they don't deserve it?
Season five of Bojack Horseman hits Netflix on September 14.
---
Images Courtesy of Netflix
Workplace Comedy Grosse Misconduct Centers LGBTQ+ Actors, Characters
Sometimes, there's nothing quite so relatable as a workplace comedy. We've all been the awkward person at the party, or had that weird interaction with our boss (okay, maybe not that extreme), or been the one to have to teach Kevin from sales how to use the printer for the umpteenth time. Jesus, Kevin. This isn't that hard! (insert twss joke here)
Unfortunately, a lot of television workplace comedies lack the diversity of our workplaces when it comes to queer representation. It's as if Hollywood doesn't think LGBTQ+ folk work normal jobs. Either that or the one LGBT character present is a walking stereotype, or worse, a punchline.
Enter Grosse Misconduct, a six-part queer digital webseries and workplace comedy that veers from the dramatic to the absurd and features not one, but two leading LGBTQ+ characters. Created by out actor Colby Ryan and co-written with his writing partner, Anne Schroeder, Grosse Misconduct depicts an eccentric Human Resources team as they navigate personal and professional struggles under the leadership of their high-maintenance director, Mitch Grosse. Now, I've never worked in Human Resources, by one of my good friends has and when I showed the teasers to her, she about died with how real it felt.
Grosse Misconduct also stars Iranian American transgender actress and activist Pooya Mohseni as Alicia Castile, Anne Schroeder a Sarah Wilson, Steve Barkman as Brian Lambert, and Colby Ryan as Mitch Grosse. The series was released in May, a few days ahead of Ryan Murphy's groundbreaking series Pose and was, in part, inspired by it.
What's so engaging to me about the series is that, as a workplace comedy, it offers a refreshing and very much welcome perspective on queer life and experience. If you've been looking for a show that bypasses traditional coming out stories and struggles over gender identity—both valid and necessary stories to tell, of course—Grosse Misconduct is for you. The characters are allowed to be people first, just like everyone else. Their gender and/or sexual orientation isn't the sum total of their characterization. The characters live, love, work, argue, celebrate successes, and deal with failures just like everyone else.
That's what makes workplace comedies so relatable to so many people. Because we've all been there. No matter what industry, job, boss, or office it is; we get it. What sets Grosse Misconduct apart is that multiple of the relatable characters are queer.
About time.
More information about Gross Misconduct, including all six episodes, is available on the website. Please give it a watch, I highly recommend it!
---
Images Courtesy of Clownfish Productions