My first Hal Needham movie was the not-so-classic Cannonball Run and the even less classic Cannonball Run II. Like Police Academy, they were films rife with a thumb in the eye of authority vibes that influenced my sensibilities. I watched them repeatedly as a boy because I enjoyed the rowdy impish antics and Adrienne Barbeau. 
I didn't know until later that Needham had also directed Smoky and the Bandit. Or that it grossed over a hundred million dollars, making it one of the highest-grossing movies of the year, second only to Star Wars. It was such a hit that Warner Brothers automatically greenlit Needham's next movie, a passion project about stuntmen Hooper.
Hey, did you know stuntpeople are part of SAG-AFTRA? Support WAG and SAG-AFTRA.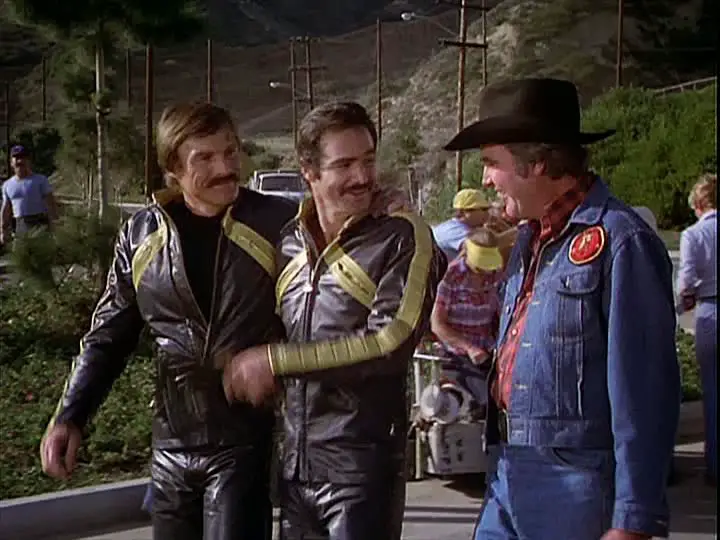 Needham was himself a former stuntman. Before Chad Stahelski and the John Wick movies or David Leitch with Atomic Blonde, there was Hal Needham, a stuntman for over twenty years and one of the first human guinea pigs to test out a new-fangled invention, the airbag. Hooper is borne from the love and experience of people who know it best. Even the star, Burt Reynolds, who plays Sonny Hooper, was a stuntman. Long before Tom Cruise, Reynolds was an actor whose movies were known for stunts, usually car chases.
Now movies about movies are as old as the art itself, and movies about stuntpeople were all the rage during the 70s. There were at least three movies about Evel Knievel during the decade. But what makes Hooper stand out is the rope-a-dope it pulls, not to mention the almost Altman-esque way Needham observes his actors and the stunts without calling overt attention to them.
Needham takes Thomas Rickman and Bill Kerby's admittedly lackluster script and finds pathos amidst all the heedless hooliganism. For every scene that has an over-the-top barfight that includes every time-honored trope up to and including a bystander, in this case, Hooper's girlfriend Gwen (Sally Field), trying to eat lunch amongst the chaos, there's a scene where Reynold's Hooper looks at himself in the mirror clutching his love handles.
In terms of onscreen couples, Reynolds and Fields are among my favorite. The two have a blithe, flirtatious chemistry, but also, since they were a real-life couple, they touch and talk to each other like a real couple and less like characters. Especially here, Sonny and Gwen feel like a couple who've been together since before the movie started and will have a few fights after the movie has ended.
Reynolds is a sexy man. His earthy charm and mischievous self-effacing demeanor gave him an audience so broad that studios had trouble figuring out how to market to them. It's hard to describe what makes Reynolds unique since no modern equal exists. 
From his high-pitched laugh and laid-back sex appeal, he appeared in Playgirl; Reynolds was at once a movie star and everyman. But somehow, he was too much of one to be the other and so embodied them both wholly. What made Reynolds so appealing was how effortless he made it seem. Like his contemporaries, Paul Newman, you could never catch Reynolds "acting." He just seemed to be playing himself-but not.
I'll put it to you like this: Burt Reynolds was the only man to play opposite Dolly Parton and not be blown off the screen, and also made the relationship believable. He's the only man who could feasibly play someone who could pull Dolly Parton, and if that doesn't make him one in a million, I don't know what does.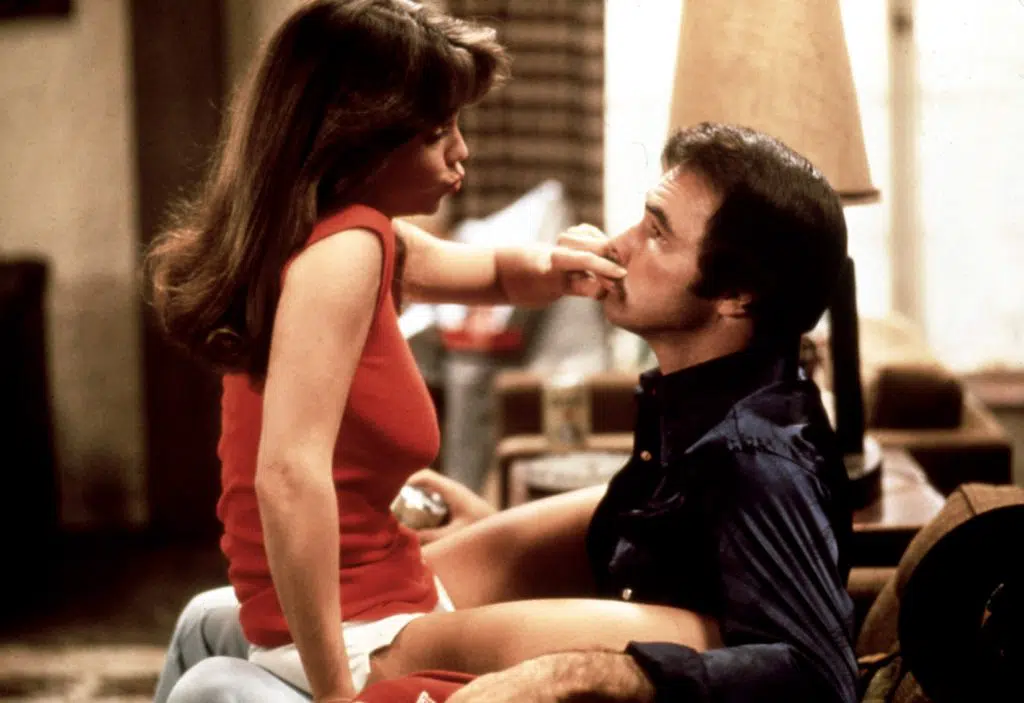 Sonny might be one of Reynolds's best roles of his career. He's a lived-in character who slowly begins to be at peace with his shifting world. Reynolds and Needham find gold in the little moments despite Rickman and Kerby's flawed script. The plot is simple enough Sonny Hooper is the biggest name in town until a new kid Delmore Skidhiski (Jan-Micahel Vincent), shows up. They call him "Ski," and what starts as a rivalry soon turns into a mentor relationship as Hooper realizes his mortality.
Between the scene where he visits his mentor Jocko (Brian Keith), Gwen's father, in the hospital and in another scene where Hooper gets x-rayed after a particularly dangerous stunt, Needham and Reynolds pull away the glamour of the rough and tumble lifestyle of stuntpeople. Much like wrestling, it's so fake that you can break your neck if you're not careful.
Except if Hooper isn't a stuntman, what is he?
Gwen wants Hooper to settle down, and Jocko wants him to stop dawdling Gwen. Meanwhile, Hooper's assistant and best friend, Cully (James Best), wants him to take it easy.
All of this is standard fare for movies like Hooper. What sets Hooper apart is Needham's direction. Along with Bobby Bynre's camera, the two cram every frame with so much action that it's hard to realize how much you're watching. Like Altman, Needham populates his world with people who are movie and talking at all times and aren't always the main character. 
Hooper is a flawed masterpiece that loses some of its bite in its desire to please the crowd. Then again, no less than Christopher Nolan has confessed to doing this, yet he's haled up as a master. What Needham loses in his desire to sidestep cynicism is a work that is more easily accessible to audiences. He doesn't get lost in showing you how the stunts are done; he does, but in such a way that you don't realize it.
Byrne's camera cleverly frames Bass and Needham's stunts without calling attention to them. Such scenes as Sonny and his friends driving down the coastline, driving backward, and ladies jumping from car to car. It's framed as stunt people blowing off steam; in other words, the stunts are organic.
The framing of the scenes never calls attention to themselves. Meanwhile, Bobby Bass's stunts never detract from Needham's exploration of mortality and masculinity. Needham shrewdly fills Hooper with action to show off the work of stunt people but without any attempt at grand illusion.
It's all so laid back and straightforward that it's easy to miss how Needham is making stunt work and how they have performed accessible to the average audience member. He's not trying to do a how-to or give an instructional. He's telling a story filled with characters he knows intimately.
Hooper may be a love letter to the stunt world, but it also understands the unique personality drawn to stunt work. It's a thankless job with a salary that doesn't match the movie stars, even though their work arguably keeps the engine running. 
Sonny has to contend with an egomaniac director Roger Deal played by comedian Robert Klein, a director more concerned with the perfect shot than Sonny's well-being. The movie they're making is called The Spy Who Laughed at Danger, a James Bond knock-off starring Adam West. Klein's character is said to be molded on Peter Bogdonavich and if the case, is not a flattering imitation.
Aside from Cully, the only person looking out for Hooper's safety is the producer Max Berns (John Marley). Marley may be familiar to movie buffs as the studio mogul from The Godfather who is offered a deal he can't refuse.
But even Max has his limits when it comes to the bottom line. The director has a grand vision for his finale. Ski suggests making it even "grander" by jumping across a ravine in a rocket car. Hooper becomes almost an entirely new beast at this moment as we see Hooper, for the first time-say no. 
In an era where Tom Cruise is lauded for his deaths defying stunts, Hooper ponders if maybe that isn't a little bit cracked. Underneath Hooper runs the dark, punishing reality that stuntperosn's life is short. The opening credits contrast the upbeat score with Sonny putting on braces, pads, and harnesses, grimacing all the while. It's a fun life, but the body can only take so much.
Soon Hooper finds himself doing the stunt. Ultimately, Needham's need to please the crowd takes some of the bite out of the commentary of Hooper. But then again, Christopher Nolan has stated that he prefers an ending the audience loves rather than what's good for the story. 
The climate stunt scene is breathtaking. Needham and Bass destroy buildings, wreck cars, and set people on fire, and that's before Hooper and Ski jump the canyon. It's a tremendous scene that reminds us that the Oscars have no categories for stunt work. 
But Needham isn't done. Ski stops the car just before the jump. It's too risky. He doesn't want to do it. Then they have this exchange:
Ski: My life's worth more than a piece of film.
Hooper: I'll tell you exactly what your life is worth. Your life is worth fifty thousand dollars. That's the price you put on it when you got behind this wheel.
It may seem like an about-face from Hooper. But Needham is getting at something more profound about stuntpeople. They can't help but take the risk. True Hooper punches the director when he tries to deliver some phony baloney line about how "film is piece of time," but for Hooper and Ski-they know this is dangerous-and, they can't help but be compelled to take the jump. 
They couldn't back out, even if they wanted to.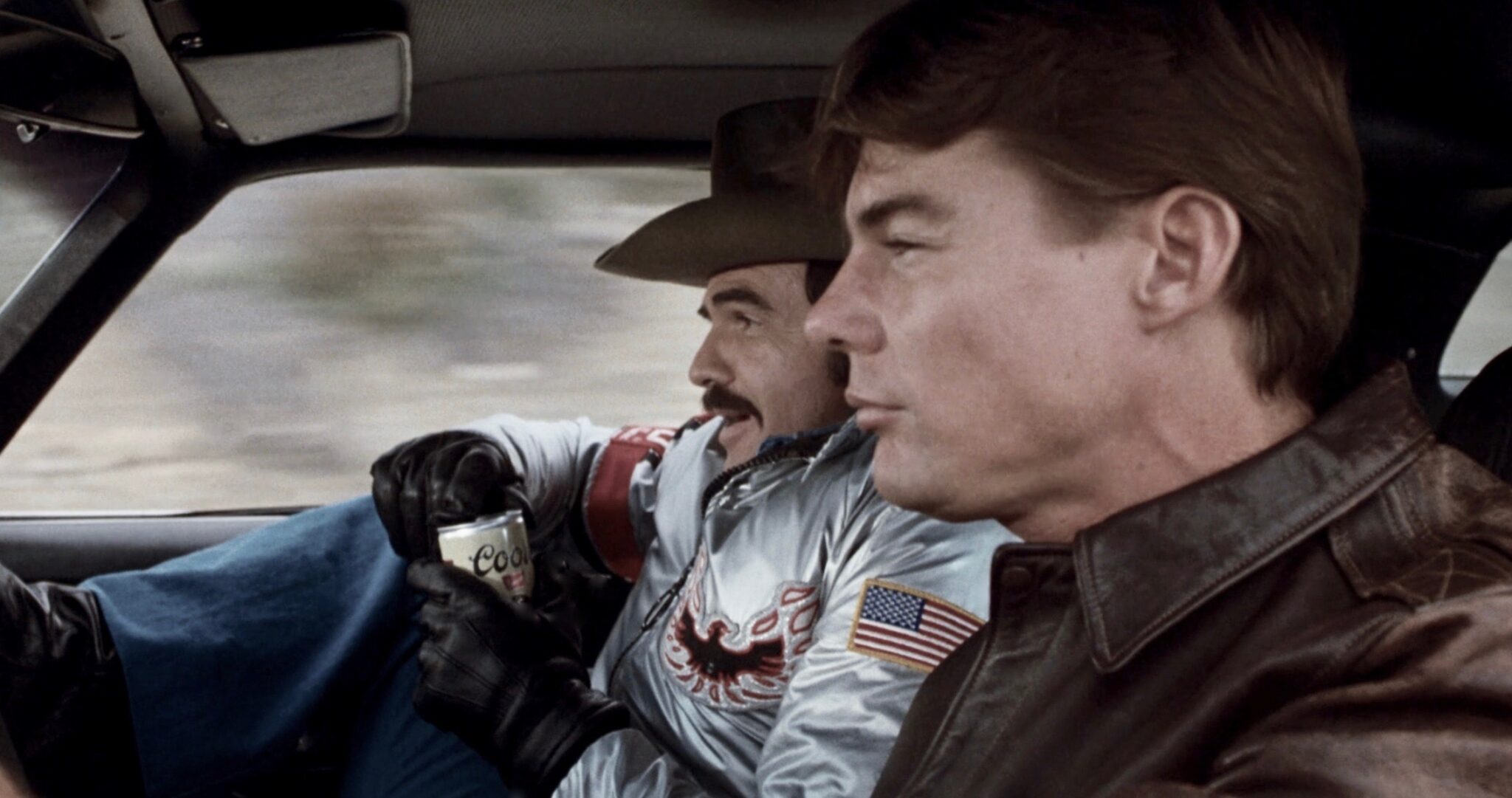 The ending may be too upbeat. Reynolds looks literally looks at the camera twice, and the film ends on a freeze frame with Reynolds giving us the "ok" sign. Oh, and a bit of trivia, the end credits are played over a series of Blooper reels, which Hooper was one of the first films to do.
Still, despite all that, who cares? Hooper is a helluva of a good time. Needham and Byrne never linger on a dull moment. A love letter to stunt people and the stunt world, Hooper is possibly Needham's best movie.
However, I've never seen Smoky and the Bandit II.  
Images courtesy of Warner Bros.
Have strong thoughts about this piece you need to share? Or maybe there's something else on your mind you're wanting to talk about with fellow Fandomentals? Head on over to our Community server to join in the conversation!