One of the great myths among fans of the MCU and other comic books or superhero movies is their cultural prominence. But much of what fans consider unique is often far from it. Take, for example, that great citizen of the world, the Man in the Silver Mask, El Santo.
El Santo (Rodolfa Guzman Huerta) was a masked luchador who was one of the pillars of Mexican's Lucha Libre, or luchador, films. Luchador films starred masked wrestlers such as the Blue Demon and Mil Mascaras and were similar to the early serials that played before feature films of Hollywood's Golden Age. The masked men fought zombies, mad scientists, robots, mummies, and Dracula, aliens blending genres to create their unique brand of cinematic magic.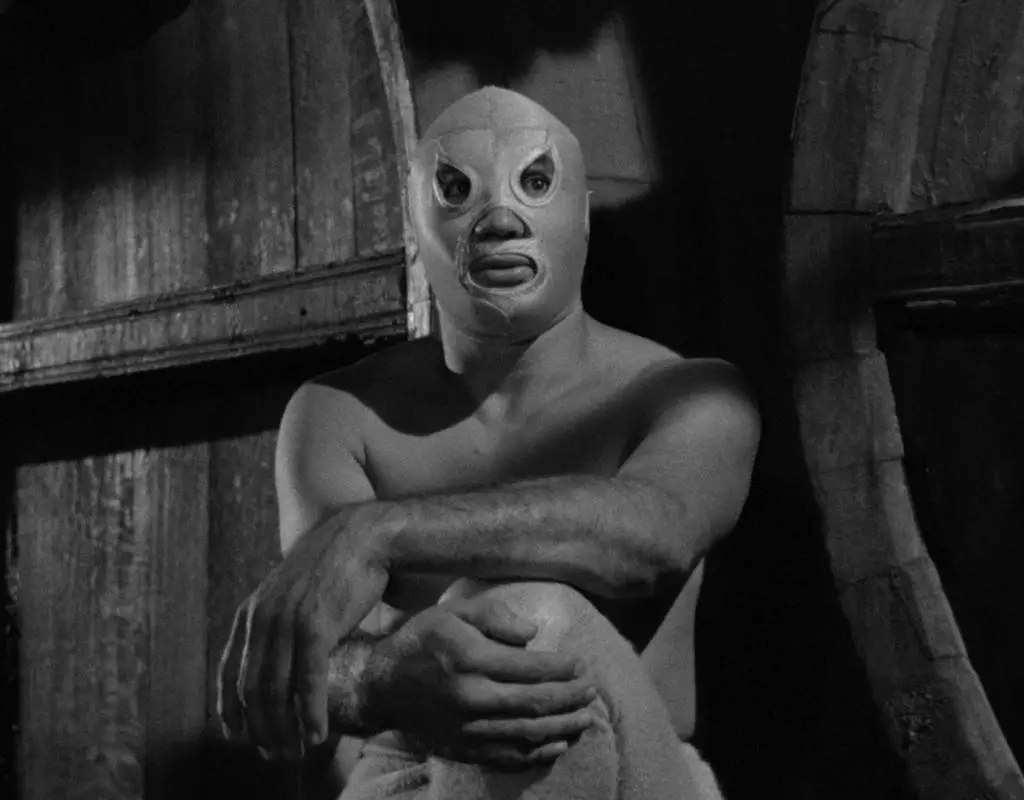 But none is more prolific and well-known than Huerta's El Santo, the Saint. A figure who, even before he appeared in his first movie Santo contra el cerebro del mal (Santo vs. the Evil Brain), had his own serialized comics that followed his adventures. El Santo, a legend in and out of the ring, would star in over fifty films alongside a wrestling career that spanned forty-eight years. 
The Man in the Silver Mask fought for justice and was so popular that the character became more than a luchador; he became a folk hero; a symbol of justice and right for the common person. He's more than a wrestler, infamous comic book character, or movie star; he is a cultural icon.
All the more ironic that in Santo's debut in Santo vs. the Evil Brain, he would spend much of the film as a brainwashed goon for the villain. Even more perplexing, the beginning of one of Mexico's most prolific and legendary genres would start in Cuba during the final days of Castro's revolution. Not to mention that both Santo vs. the Evil Brain and his second feature Santo vs. Infernal Men, were shot back to back, and both are incomplete, using scenes from each other to round out the runtime as they were forced to flee the country as Castro took power.
The film is directed by Joselito Rodriguez — an icon of Mexican sound cinema himself after he and his brother invented optical sound, the invention that revolutionized how sound is recorded onto film — and written by former wrestler Fernando Oses and producer Enrique Zambrano. Still, despite the pedigree behind Santo vs. the Evil Brain, and despite its charms, not a very good movie.
Mexican movie critic Rafael Avina once observed that El Santo's films "moved between a kind of James Bond of underdevelopment and the most escapist fantastic cinema. His action films could not stop for any logic or narrative coherence…." Unfortunately, Santo vs. the Evil Brain lands on the James Bond of Underdevelopment end of the spectrum.
Still, I found its incoherence charming. As I mentioned, El Santo, while the eventual hero, spends much of the movie under the thrall of the evil Dr. Campos (Joaquin Cordero). In fact, Santo is rescued by another masked wrestler, El Incognito, played by one of the screenwriters, Oses.
An inauspicious beginning but also, in a way, daring. Rodriguez, Oses, and Zambrano are actively trying to figure out how best to present El Santo. Should he have weaknesses, how easily should he be defeated? Yet, to have your hero spend much of the movie under the control of your villain has a nerve to it that is one of the film's many charms.
Carlos Najera's camerawork is, at times, inspired. The action sequences, in particular, grab you in a chokehold. Whether it's the opening scene in which El Santo is chased down an alley by a group of thugs or in the winery as El Santo and El Incognito take out the bad guys to rescue Elisa (Norma Suarez), the scenes have a vitality to them. Najera, one of the only Mexicans on the crew made of Cubans, frames these scenes with an eye toward urban crime thrillers or noirs.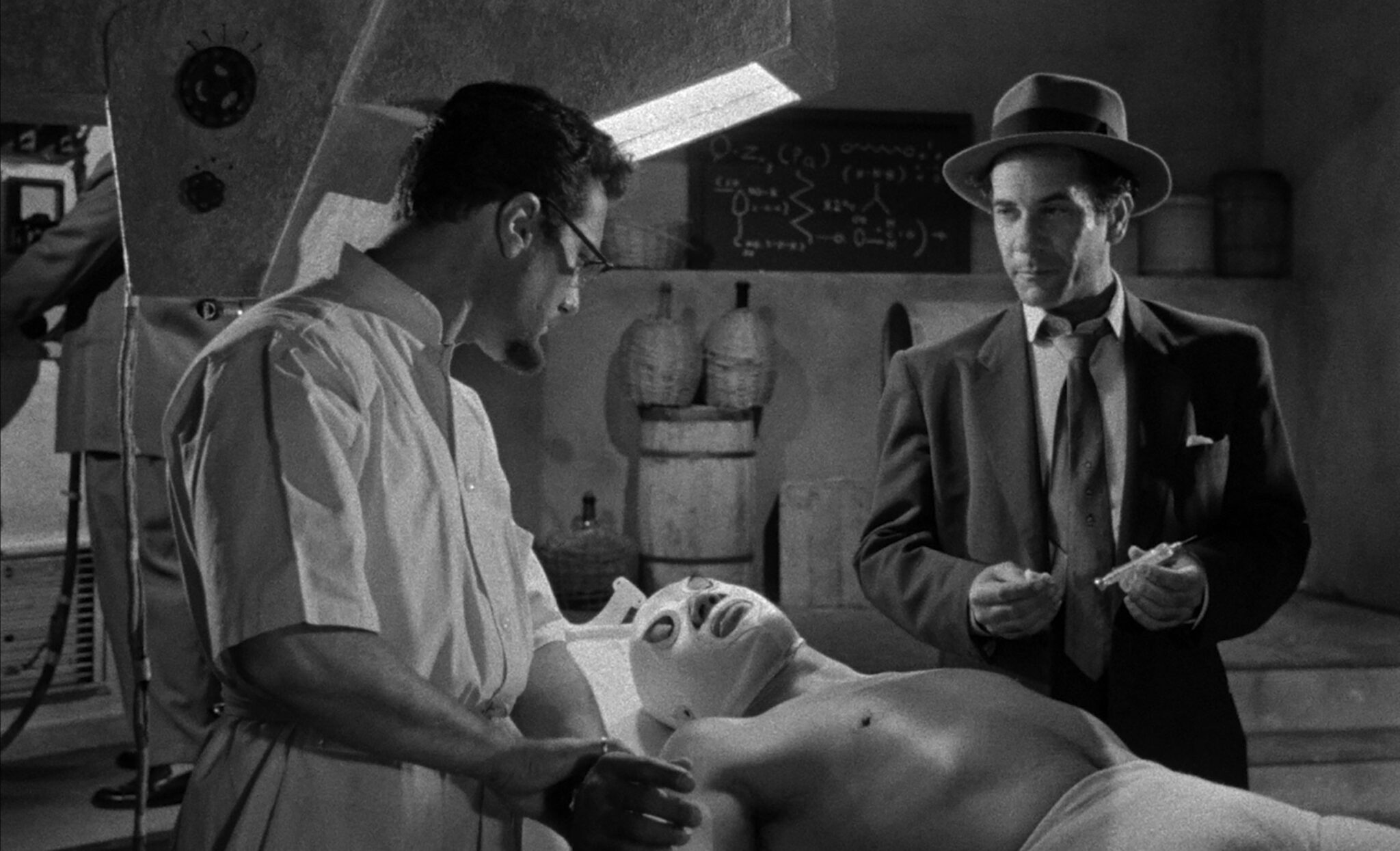 The opening fight scene, in which El Santo is beaten, is a clumsy fight, but Najera's lens frames El Santom his back literally against the wall; Jesus Echeverria's editing, cutting to the chains in the henchmen's hands, sets a tone that the film, admittedly struggles to keep. But then, in the winery fight scene, Najera sets his camera low and in the corner, as if we are watching El Santo and El Igcognito in the ring. Again, it's a thrilling scene that shows the genre's promise as El Santo and El Incognito easily, but not too easily, take on a group of nameless thugs.
Both Santo vs. the Evil Brain and El Santo vs. Infernal Men have been criticized for having too much padding, but while these criticisms are accurate, they also ignore the result. Rodriguez and Najera capture a pre-Castro Cuba; it is less a travelogue and instead a time capsule of another time and place. In addition, criticisms of scenes in which we watch night club act, a trio of dancers, Los Romero and Estelita, ignore the tradition of Hollywood films of putting in these types of scenes, not to pad out the runtime, but to immerse us in the world of the character.  
I don't know how anyone can watch Los Romero and Estelita's act and come away bored. Much like the argument about sex scenes not furthering the plot, it is another example of people arguing for the most boring movie possible. Scenes not advancing the plot are what so many great movies are made of.
That being said, Santo vs. the Evil Brain is not a good film. But I'd rather watch it than most big-budget spectaculars in my multiplex. For all its faults, it's the little things that save the film. Take Dr. Campos's death scene, for instance. 
Here is a character so underwritten that it's unclear why or what he is doing. He has a brain ray that hypnotizes people into doing his bidding. However, his bidding seems to consist of recruiting other scientists to help him with another experiment regarding "cell disintegration." An experiment whose results he hopes to sell to the Russians–not the brain ray he has. He does use it to hypnotize a banker into robbing his own bank for reasons that are never clear.
Dr. Campos may be the Evil Brain, but his schemes often lack any forethought. He doesn't even use his brain ray on the comely Elisa, his secretary, whom he admires from afar. Yet, Campos dies in Elisa's arms after losing a fight with El Santo and being shot by Lieutenant Zambrano (Zambrano). Cordero's performance in this scene is shockingly moving. He understands that in cinema, the performance is in the eyes. In his eyes, we see a sea of regret and sadness, turning for a brief moment, Santo vs. the Evil Brain, from a Luchador movie, into a heartbreaking melodrama.
However, Salvador Espinosa's score nearly drowns the film in a cacophony of brass and drama. It's a desperate attempt by the filmmakers to make up for the lack of emotion within the frames or in the script. Espinosa's music is all the more deafening when Rodriguez abruptly cuts to silence, reminding us that Santo vs. the Evil Brain is almost more compelling without it.
In many ways, Santo vs. the Evil Brain could be classified as a silent film. Oses's sparse script has minimal dialogue, with characters having little or nothing to say throughout. Even calling it dialogue feels generous, as it's less witty banter or conversation and more information crucial for the audience to understand what's happening.
Rodriguez shows little style or finesse as a director. There's little to no evidence in Santo vs. the Evil Brain to suggest his lengthy career in the genre. Yet, I cannot deny a certain appeal to his stripped-down bare-knuckles approach. He uses a certain sense of "down to brass tacks" style of filmmaking for the first two El Santo movies that suit both the impossible situation the crew found itself in and a less-than-stable film budget.
Of course, then there's El Santo himself. Even with his small role, despite his name being in the title, it's easy to see why El Santo lives on in the Mexican culture's imagination. There's something about the way Najera's camera can't help but focus in on El Santo. If Codereo's eyes created a heartfelt scene out of nothing, then Huerta's El Santo creates something all the more ephemeral-a movie star. His eyes, even while brainwashed, are never dull.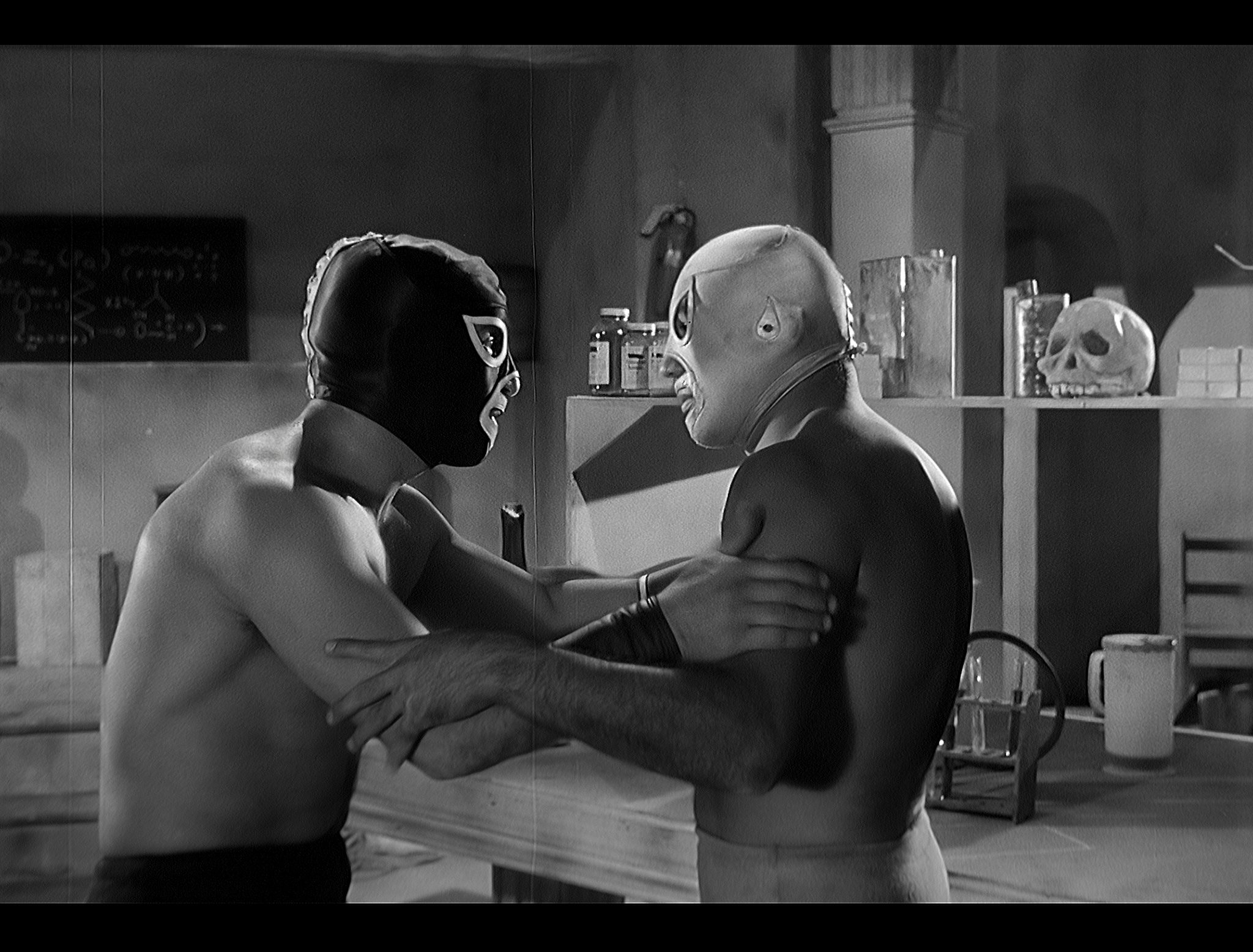 The most impressive thing about lucha libres and El Santo is how they can project a fully formed character while hiding their face under a mask, with little to no words. The physicality harkens back to the days of pantomime, yet it's not exactly that either. El Santo commands the screen even while sitting, his bulky hairy arms crossed, emanating mystique and charm.
Santo vs. the Evil Brain is by no means a masterpiece. A film cobbled together more than crafted, I still found myself riveted. It has a charm and vitality to it despite its many shortcomings. But above all, it is the moment in which El Santo first graced the screen and lit a match that would burn bright for over fifty films across a span of almost thirty years. 
Not bad for a ragtag crew of filmmakers making two movies during a coup. 
Images courtesy of Columbia Pictures
Have strong thoughts about this piece you need to share? Or maybe there's something else on your mind you're wanting to talk about with fellow Fandomentals? Head on over to our Community server to join in the conversation!