What would you do if you got shipwrecked on an island where the Greek gods and goddesses were real? In Mythwrecked: Ambrosia Island, you play as Alex, who has been shipwrecked by a huge storm and must befriend the gods and goddesses to solve a mystery and get home. Polygon Treehouse is premiering the demo at LudoNarraCon (May 4th to 8th) and I got a chance to play the demo a bit early! Published by Whitethorn Games, Mythwrecked promises a lot of exploration and making friends while solving a very peculiar mystery.
Mythwrecked begins by dropping Alex on the island and she tries to find someone to help her. As you explore the island, you learn that that it's inhabited by the Greek gods of myth and legend. Except that they can't remember who they are or why they're even on the island!
You must seek out and befriend the gods in order to solve the mystery of Ambrosia Island and find your way home. The island itself is incredibly calming, with beaches, ancient ruins, and secret doors which you'll explore with your Ambrosidex. This item functions as a map, radar, communicator, and more.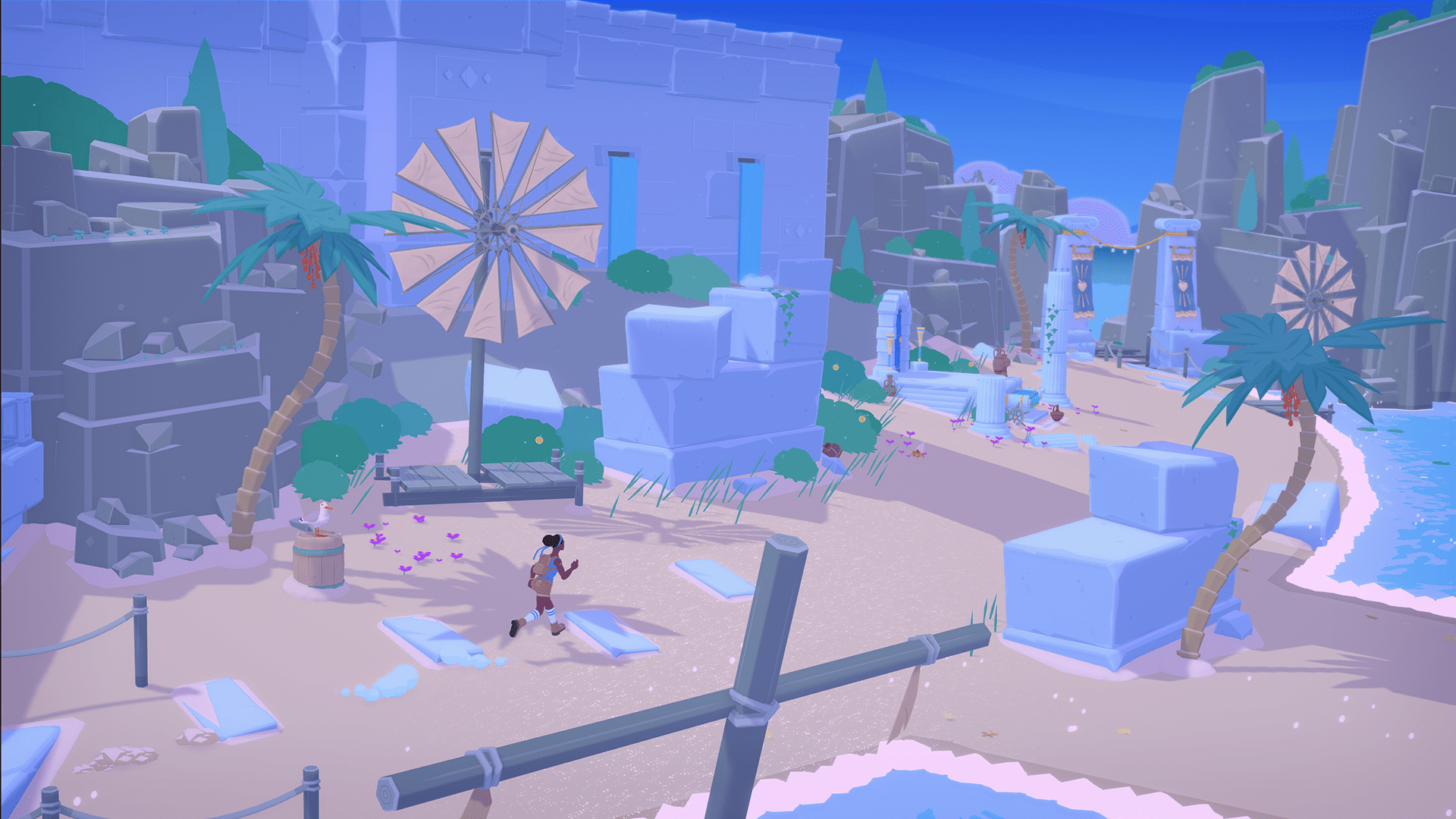 Taking about 45 minutes to an hour depending on how much you explore, the demo is all about finding a place to stay and meeting the Messenger, who myth lovers will immediately know as Hermes! Alex also meets Ora(cle), who is a statue in the middle of the lower part of the island and provides conversation, support, and suggestions throughout the game. From the get go you're working on making friends with Hermes, establishing the Friend em Up approach.
By talking to Hermes, Alex finds out that he doesn't remember who he is! Or why he's even on the island, just that he's afraid of the "Others" and that he locked one of the main gates into the rest of the Island. Until Alex gets closer to him and helps him with what he needs, we can't get that gate open!
What's really fun is that as the demo progresses, you find a lot of areas and items that you can't quite interact with but as the story progresses you learn a whole lot about what's available.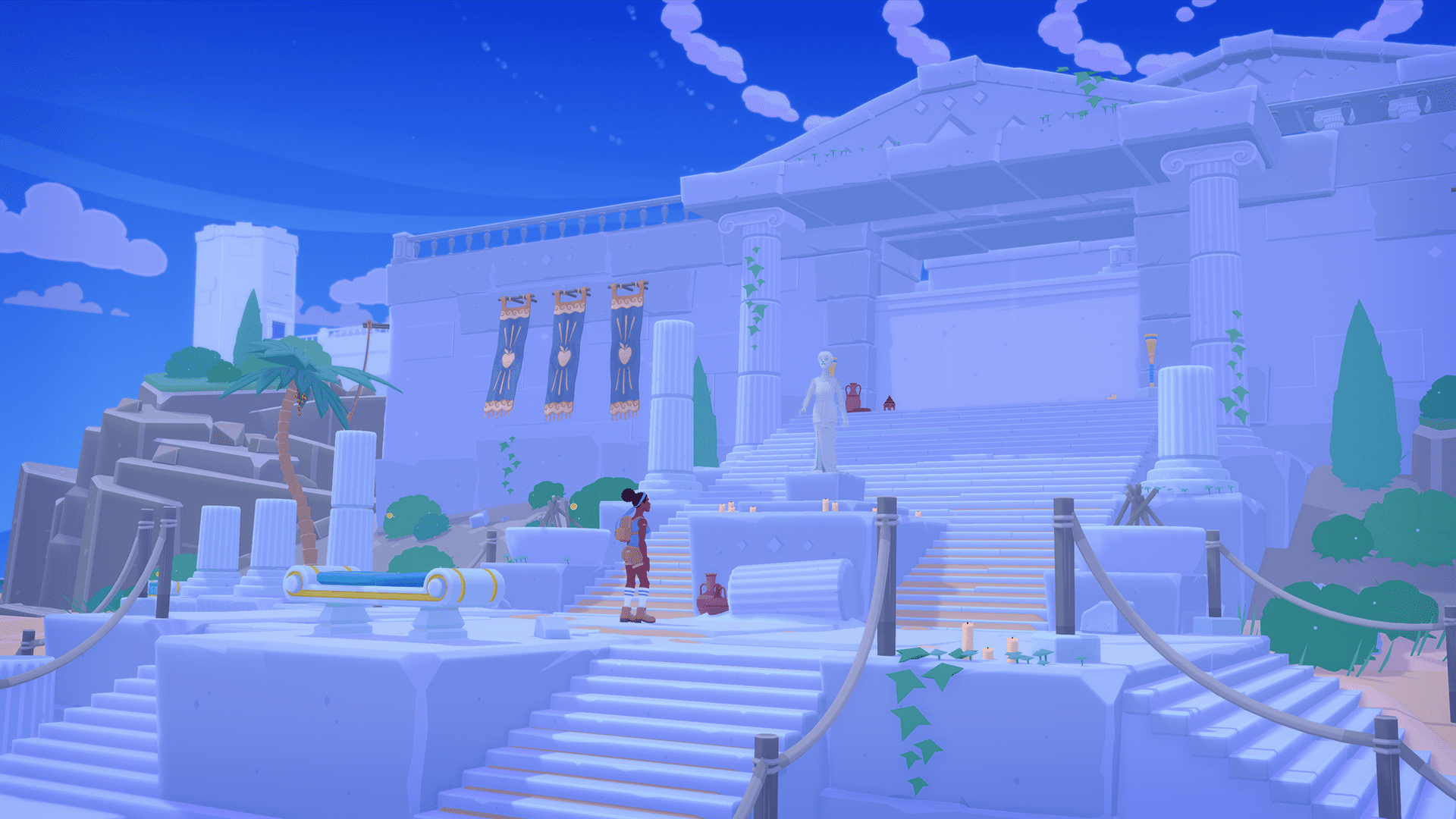 As not to spoil, I won't give it away but there is a location that Alex will eventually get to stay in and once that is unlocked, items start washing up on the beach that she can use as decor. It's a lovely touch and lets you head back and forth between her new home and the rest of the Island to see the items in action. I don't need games to be 100% realistic but I was starting to get worried she wouldn't have anywhere to live!
You also go on a few quests for Hermes, which require you to keep exploring and use the radar feature to find some of his missing items. When those are returned, you learn more about who he is, as they jog his memory.
Of course some of the items, and I'm sure many parts of the narrative, will be very familiar. What is Hermes without his famous sandals and messenger bag? On the other hand, there's a lot of unique additions and spins to the stories that we all know which makes learning more of the story, a whole lot of fun.
I can't wait to see what other mementos of Hermes' we find and what the other gods will be missing.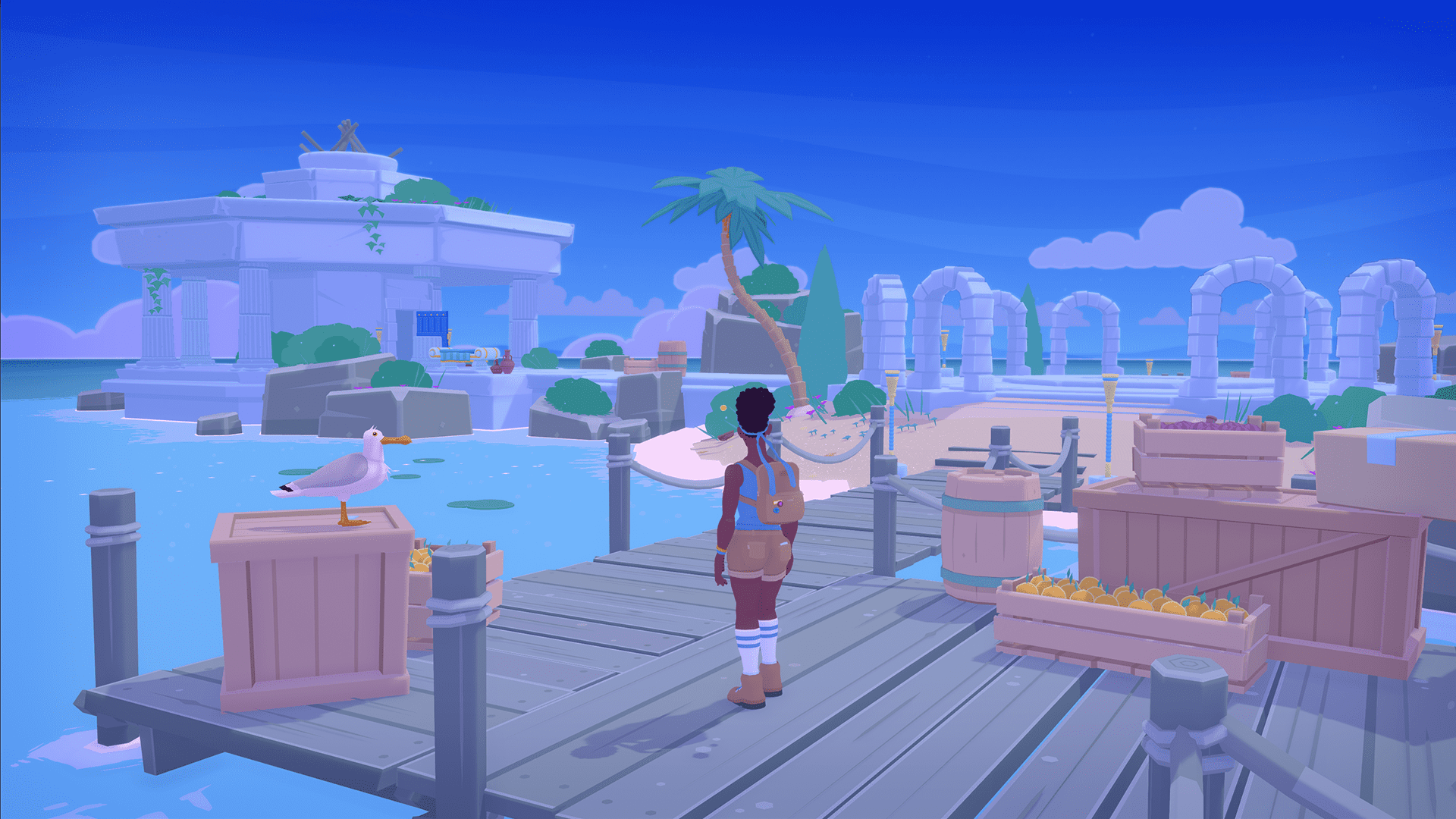 Another part of Mythwrecked is there are areas that once unlocked allow you to sit and "chill out" where you can pass time and listen to different tracks from the game. I loved this because I loved the music from the very start of the game. It's very atmospheric without being oppressive or overwhelming, which can happen in exploration games of this nature.
Finding the items is essentially a long-term treasure hunt. The radar signal will emit noise when Alex is close to the item and the map also shows you where all the doors, important locations, characters, and fruit are. (You can trade the fruit for items too!)
Imperative to the game is actually making friends with the characters. Only once they trust Alex will they talk about their memories and other topics. For example, Hermes refuses to talk about the "Others" until Alex has reached the next level in friendship with him.
Of course everything you interact with that's important will be noted by the Ambrosidex so that you can ask Ora about what she knows and then the various characters as you meet them. The non-linear narrative is also really interesting because while the demo only has Ora and Hermes, Mythwrecked has at least 8 more characters to meet.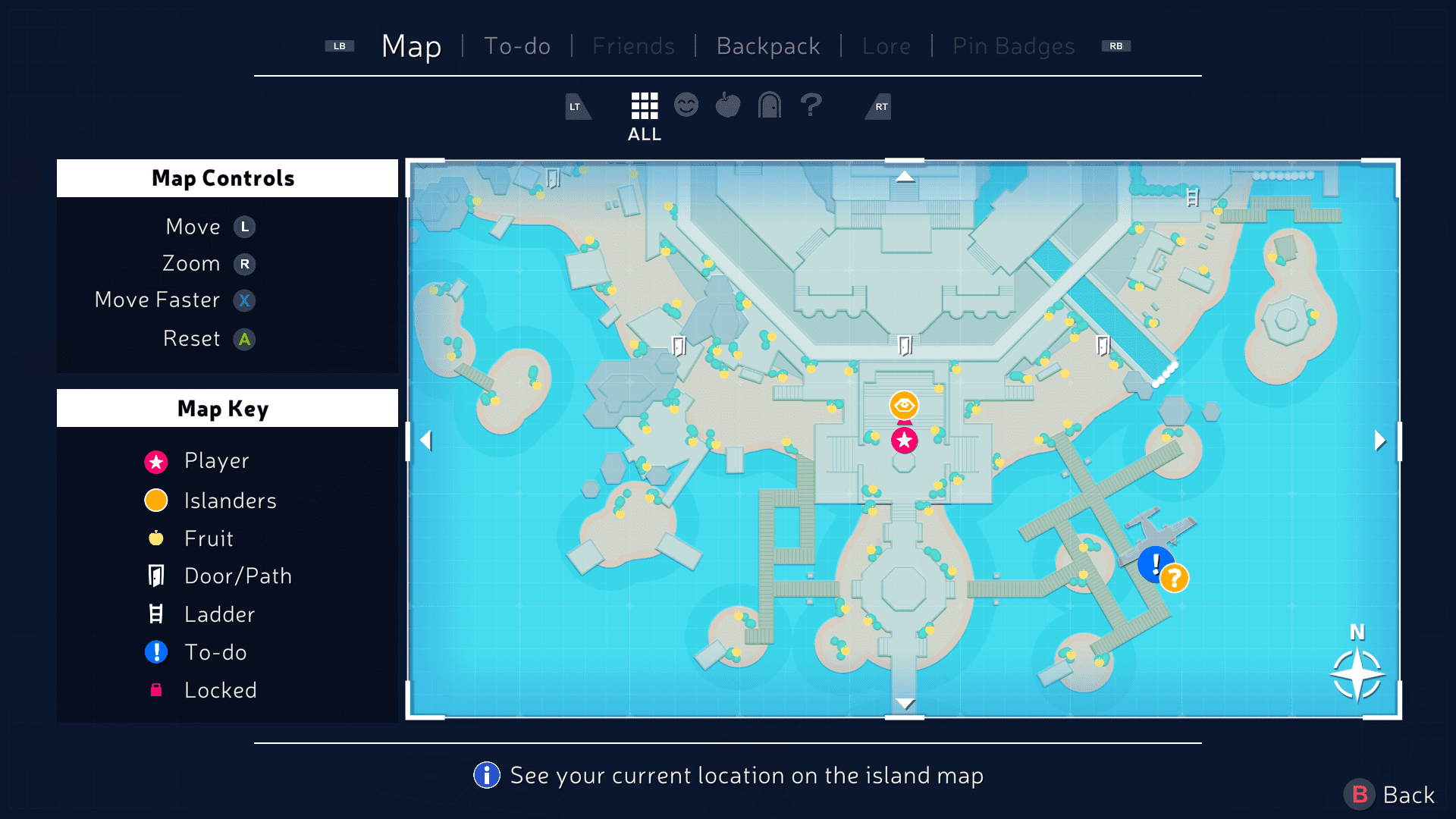 This system provides a number of ways to progress through the story, since Alex will have to interact with multiple people (multiple times) to unlock new areas and meet new people.
I love narrative focused games and pretty much only play those so I'm always looking for more interesting stories and mechanics, and I really enjoyed playing Mythwrecked's demo. In fact I played it for over two hours because I was meandering along the beach picking up as many of the fruit as possible even though I knew I couldn't actually do much with them. I know the full game is going to be absolutely wonderful.
Another part of the game that I love is the diverse cast and having a Black lead (Alex is voiced by Elle Osili-Wood). The characters just are and that's sometimes all I really want as a South Asian gamer and critic. The focus on accessible controls, universal themes, and no violence make Mythwrecked accessible to and actually engaging for a wide audience. With the story itself focusing on the importance of friendship, family, and community, I am really intrigued to see how the mystery will unfold and the stories come together.
Polygon Treehouse won multiple awards and two BAFTA nominations for Röki and I can see why from just the demo of this game alone.
You can check out the demo starting the 4th on Steam! During LudoNarraCon there'll also be a Fireside Chat with Malindy Hetfeld, the writer of the game and Scott Chen (co-founder of SIGONO). Plus, keep up with development on the Mythwrecked Twitter!
Images courtesy of Polygon Treehouse and review copy Whitethorn Games
Have strong thoughts about this piece you need to share? Or maybe there's something else on your mind you want to talk about with fellow Fandomentals? Head on over to our Community server to join in the conversation!