The best feel-good movies understand the necessity of admitting certain dark realities to make the inspirational moments land their punch. However, it requires a delicate balance. If you focus too much on the unpleasantness, you risk the chance of spoiling the mood or, worse, glorifying that which you are trying to depict as horror, but too much the other way, and you find yourself mired in schmaltz.
Matthew Warchus 2014 Pride straddles the line perfectly—a movie I have watched countless times and never with a dry eye. Like all stories based on real facts, Stephen Beresford's script takes some liberties and sanitizes reality; for example, there's a conspicuous lack of PoC and trans people. Yet, despite this, Warchus and Beresford's retelling of events never feel hollow.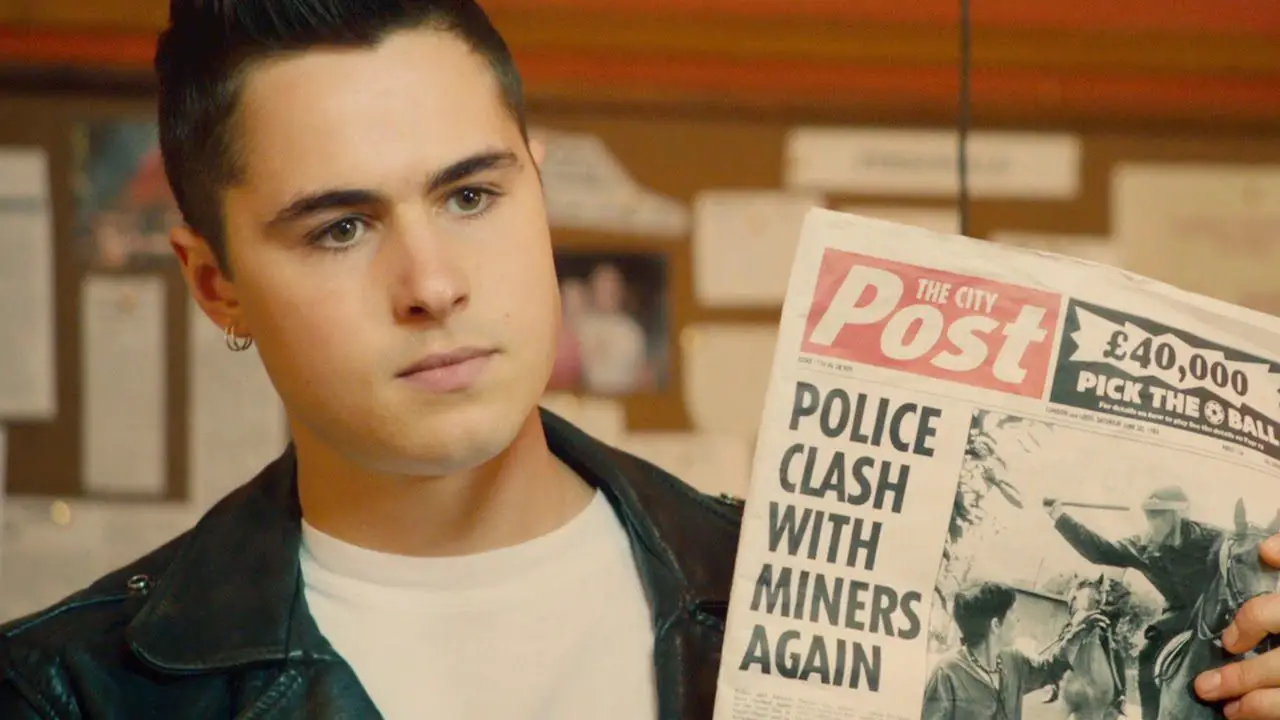 Pride is about the UK miner's strike of 1984 and how a group of Queer people, Lesbians, and Gays Support the Miners (LGSM) came to the aid of a Welsh mining community, raising money and buying food for the striking miners. Perhaps, because movies are rarely as staunchly pro-Union here in the States, such a show of solidarity feels like some kind of fairytale instead of the very real thing it was.
Warchus and Beresford keep a tight focus on a sprawling cast of characters, ensuring everyone gets a scene or an emotional beat without ever feeling like the film is bloated or giving a character short shrift. Yes, Pride has its fair share of cliches, but cliches are cliches for a reason, and when used properly, they work like gangbusters. The people of the small Welsh town of Onllwyn are the kind we might see in any feel-good movie about a small town coming together to overcome the odds.
But in Warchus and Beresford's hands, they never feel trite. Granted, this could be because Warchus has staffed Pride with a murderer's row of character actors and charismatic young leads that it's impossible not to root for them. Actors like Bill Nighy, Dominic West, Imelda Staunton, Andrew Scott, Menna Trussler, and Dominic West are actors who have the ability to make a character feel lived in with a gesture or how they hold themselves while standing, and they do so so effortlessly that we buy everything without question.
Smartly, Beresford frames the story through the eyes of Joe (George MacKay), a young gay man who arrives at the Pride Parade hoping to meet others. Called Bromely by the LGSM, who quickly adopted him, we see the drama unfold from his eyes. Yet, Beresford's script never makes it feel like Pride is the Bromely story so much as he is a tether that connects everything.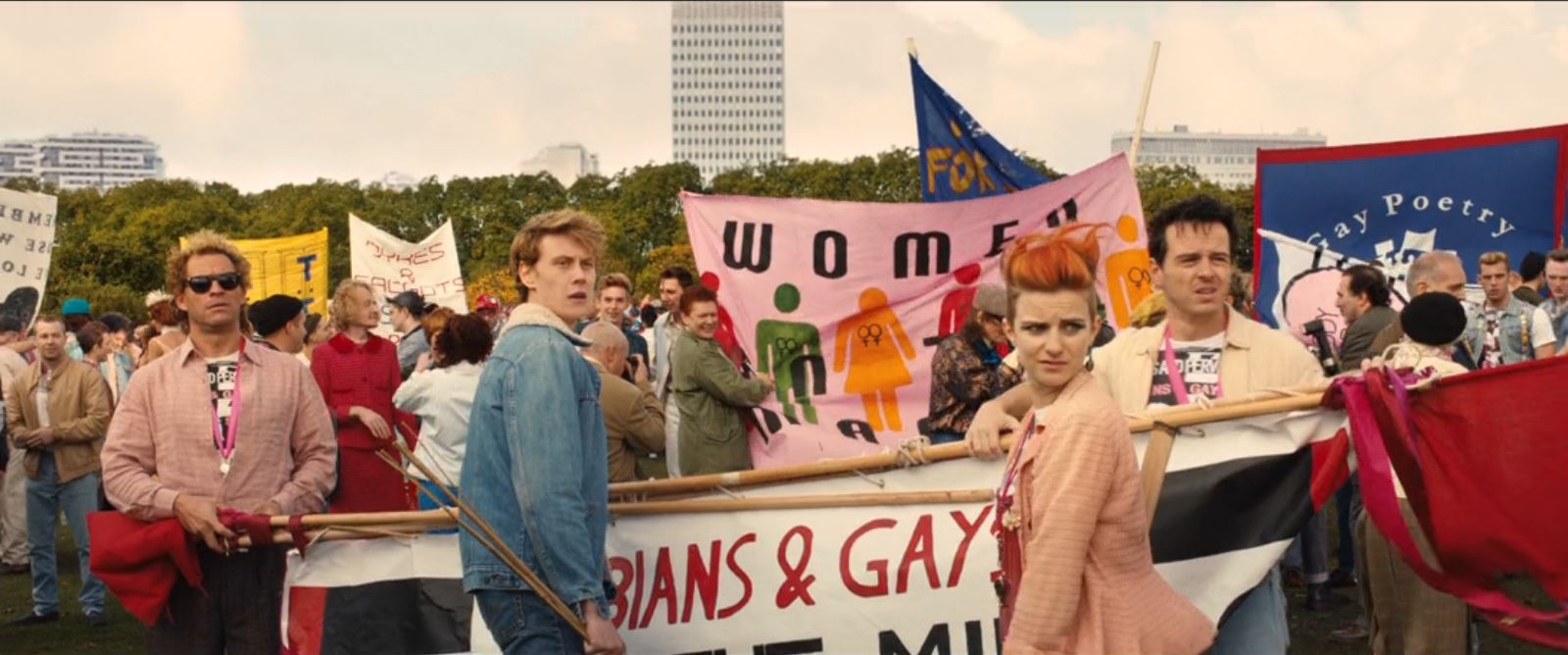 Berseford's script also does a cracking good job of taking us on a tour through the early 80s Queer scene, with the advent of the Aids crises getting ready to explode just over the horizon, while never seeming like he's holding our hands. Moments like Bromely meeting Steph (Faye Marsay), the sole Lesbian of the group, as she tells him he's a minor. "Sixten for the breeders, twenty-one for the gays," A stark reminder of how the law not-so-subtly discriminated against Queer people then as now, all under the guise of protecting the children.
Pride never misses a step and somehow never meanders into sloppy sentimentality, all while never once dropping its earnest "there's more that unites us than separate us." Of course, the miners are shocked to be supported by the LGSM, and many of the gays and lesbians bristled at being asked to support the miners, many of whom have fled those same mining towns because of how they were treated, to the somewhat safer London. Warchus and Beresford never gloss over the harsh realities of small-town bigotries and very real police brutality.
In fact, Mark Ashton (Ben Schnetzer) underscores the temporary reprieve the gays and lesbians have felt due to the cops harassing the miners. He uses this as the basis of his appeal. "As a show of solidarity. Who hates the miners? Thatcher. Who else? The police, the public, and the tabloid press. That sound familiar? But the only problem we've got that they haven't is Mary Whitehouse, and that can only be a matter of time."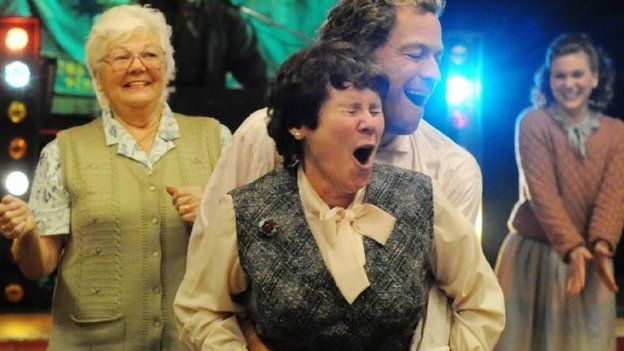 A lesser movie would have had a couple of heartwarming movements, but Pride is scattered with them, and what makes them so moving is how small they are. Warchus isn't above sentimentality, but he uses it sparingly and with a deft touch that simple scenes such as Dai (Paddy Considine) as the head of the Onllwyn miners giving a speech before a crowded gay club ends up melting the heart of the coldest cynic.
Of course, there are those who resent the LGSM, like Maureen (Lisa Palfrey), who sits on the town strike committee and tries to couch her bigotry as a concern for the welfare of the strike. The kind of "What will people say" and the like which is always code for "Here's what I say." She and her boys are the lone hold-outs, the paint-by-numbers antagonist that Palfrey and Beresford imbue with enough humanity that makes her so detestable and pitiable.
I laugh and cry throughout Pride every time I watch it like clockwork. Whether it's Dai's thanking the gays and lesbians at the bar, Gethin (Scott) rediscovering his Welsh roots, Jonathan (West) and the other gays giving the miners an impromptu civics lesson by telling them what the police can and can't do, watching the wives cackle at the dildo and gay porn mags they found while staying overnight as Gelthin and Jonathan's room, or something as simple yet terrifying as Mark realizing he might be HIV positive. 
Polished and calculated, sure, but Pride never fails to restore my faith in humanity and in the power of a united front. But it's also a charming, sweet movie that makes me feel good all over, which by itself would be enough. Warchus bathes Pride with such a good-humored warmth that a line like "Where are my lesbians," which could come off as too treacly or try-hard, instead comes off as real and delightful as when Trussler's Gwen asks it. Warchus is a movie about gay rights and workers' rights and how all our rights overlap. Pride does all this without ever feeling as if Warchus or Beresford are sermonizing or dumbing down history. 
Images courtesy of 20th Century Fox
Have strong thoughts about this piece you need to share? Or maybe there's something else on your mind you're wanting to talk about with fellow Fandomentals? Head on over to our Community server to join in the conversation!