D.E.B.S. is a movie that feels like it shouldn't exist. In some ways, the plot alone sounds like a lesbian fanfic, and I mean that in all the best ways. The fact that it's fun, sexy, and is a campy good time only makes it all the more surreal.
Angela Robinson's 2004 debut is based on her short film of the same name. Hidden inside the S.A.T.s is another test that measures a woman's aptitude for espionage. Robinson's script uses the test and the D.E.B.S. academy as a fulcrum for her real story of a superspy and supervillain falling in love. D.E.B.S is a movie thankfully unconcerned with its plot insofar as an excuse to get the two leads together.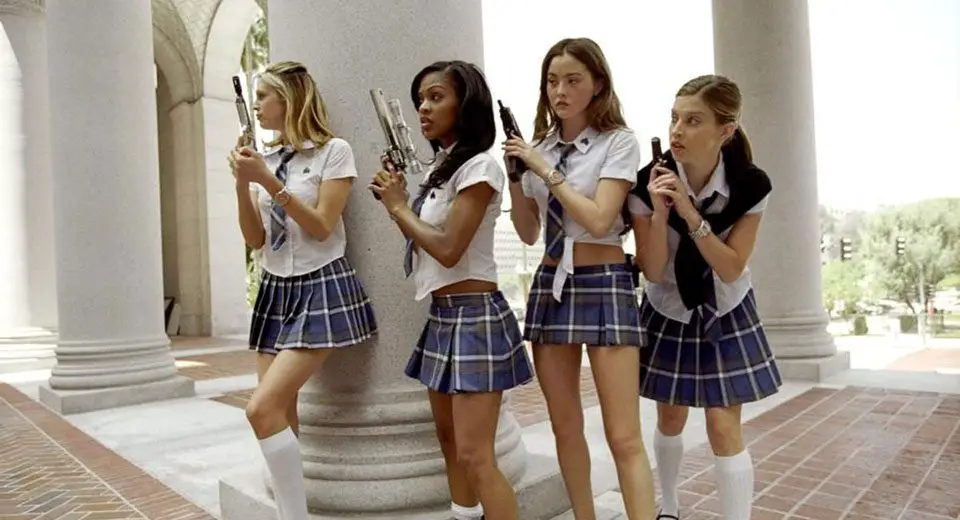 Robinson cares so little about the spy stuff that we don't even discover what D.E.B.S. stands for until the end. Even then, the answer is somewhat unremarkable. Instead, it's the slow sexual awakening of Amy Bradshaw (Sara Foster), as her obsession with famed International crime lord Lucy Diamond (Jordana Brewster) blossoms into love.
D.E.B.S. is the fluff of the best kind. Robinson handles the affair at a few notches of the Adam West "Batman" television show. There are no "POW," "WHAM," or "BOOM" bubbles, but there are gags such as the D.E.B.S. listening and eavesdropping on Lucy's blind date with a Russian assassin by sitting on little chairs hanging from the ceiling dressed in their tasteful but flirty schoolgirl uniforms. 
The D.E.B.S. are caricatures, with the actors using their personalities to flesh them out. The group leader is Max (Megan Goode), a no-nonsense, tough-as-nails who takes everything seriously, especially her friendship with Amy. Then there's Dominique (Devon Aoki), who wakes up every morning with a different boy in her bed. And lastly, there's Janet (Jill Ritchie), the goody-two-shoes klutz.
Amy feels the weight of the world. She's the only D.E.B. ever to achieve a "perfect score" on the aptitude test. What a "perfect score" means is questioned throughout the film, with Robinson ultimately using it as part of Amy's arc.
Foster as Amy is a fun turn with undertones of sadness. She's broken up with her jock boyfriend Bobby (Geoff Stults), who refuses to leave her alone while questioning why she isn't happy. It's not until she meets Lucy face to face that she's forced to reckon with the fact that she might be gay, and her obsession with Lucy may have less to do with who she is but how freely she lives her life.
Robinson wisely uses the D.E.B.S. to show how society can often keep someone in a closet "for their own good" without realizing the damage they are doing. While D.E.B.S. is largely a fun, bubble-gum, gay, romantic screwball romp, it isn't afraid to show that despite everything in 2004 and today, coming out meant possibly losing everything.
Yet, Robinson never lets this drown out the feathery camp attitude of D.E.B.S. The highlights are the banter between Lucy's sidekick and the ever-helpful wingman Scud (Jimmi Simpson). Simpson's Scud almost steals the show as the exasperated common sense straight best friend. A confident, he is the devil and angel on Lucy's shoulder. It's also sweet that he and Janet seem to have a thing going on the side.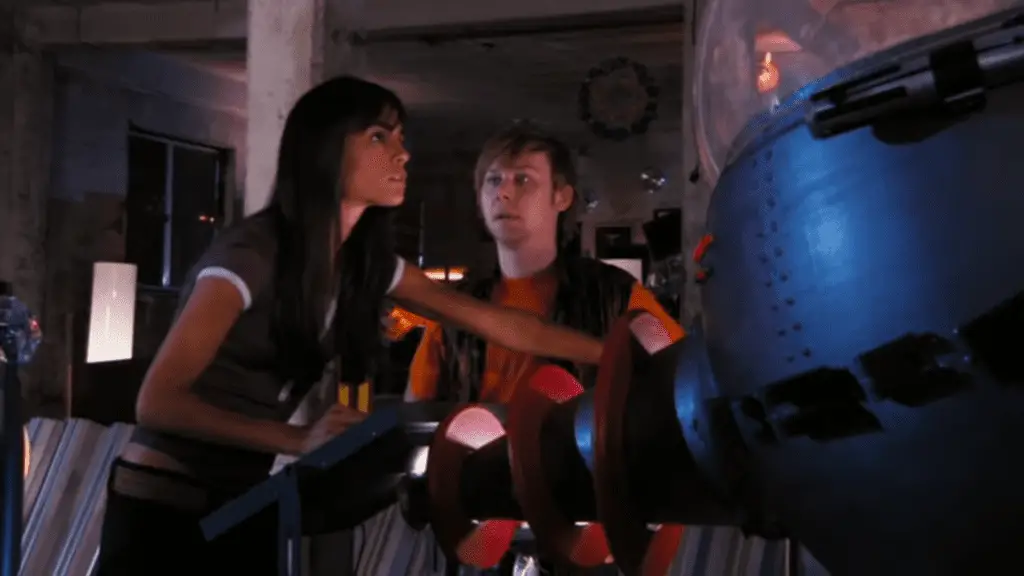 But D.E.B.S. doesn't work if Foster and Brewster don't have chemistry, and damn, do they ever. If anything, D.E.B.S. is an example of a movie being sexy outside the male gaze, a phrase often used and little understood. Brewster and Foster have a simmering presence, and how they look at each other is half what makes D.E.B.S. both sexy and fun. The intended audience is Queer women, and the sensibilities and the aesthetic speak to that audience. 
Robinson isn't afraid to poke fun at action and spy genres but does so lovingly. It's a lot like Bottoms, in a way. D.E.B.S. doesn't take place in reality and is more like one of Robinson's own creation. Made for a modest budget of three and half million dollars, Robinson and her cameraperson M. David Mullen give D.E.B.S. a cocky delightful swagger. There's such a smoothness to the whole enterprise that its flaws become endearing. 
Besides, the movie has Michael Clark Duncan as the defacto R.A. of the D.E.B.S. and the great Holland Taylor as the Machiavellian head of the D.E.B.S. organization, Ms. Petrie. She never met a scandal she couldn't spin until now.
Mullen and Robinson aren't afraid to go whole romantic cheese, such as when Lucy tries to win back Amy by returning all the money she's stolen. It's done during a montage while she and Scud do lip sync to "A Little Respect" by Erasure. Ah, the early 2000s.
Personally, the running gag about Lucy's vendetta against Australia is a favorite of mine. There's even a ray gun; what it does is never explained. But it does lead to one of my favorite bits between Scud and Lucy. Simpson's delivery of the line "Okay," speaks volumes about how often they've been down this path before.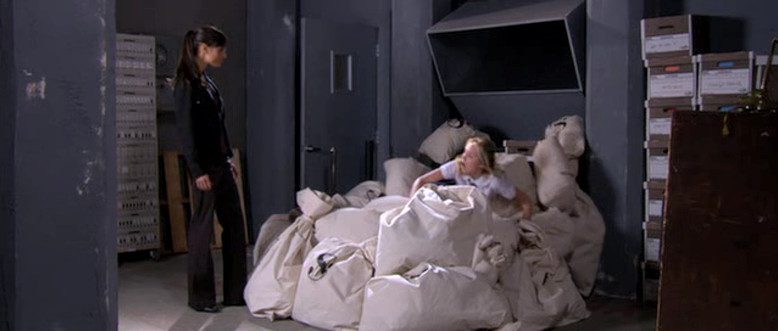 D.E.B.S. is a rare film about being Queer without bothering to be noble or tragic about it. It's goofy, cheap, gay, and doesn't care about anything else. There are movies with Queer people with happy endings, and D.E.B.S is one of them, but there aren't many where they get to have fun unless it's a Hallmark Christmas movie. 
But more than anything, Robinson allows Lucy and Amy to be two gay idiots in love, and that's just as important as anything else.
Images courtesy of Samuel Goldwyn Films
Have strong thoughts about this piece you need to share? Or maybe there's something else on your mind you're wanting to talk about with fellow Fandomentals? Head on over to our Community server to join in the conversation!