Spoilers for What If…?
Hey y'all, I'm back, and I've got another licensed game review for you! You may remember that last year I took a look at the HeroClix set based on Marvel's recent Empyre event. Well, we're once again diving into the world of Marvel HeroClix but rather than the comics we'll be looking at their more successful younger sibling the MCU.
Specifically, this is a set based on the MCU's first animated series, What If…? which, unlike Empyre…I hated (well, I like the first two episodes a lot, and parts of others, but mostly hated). Fortunately however, we're not here to talk about the show, we're here to talk about the minifigure game! So let's get to that.
What's In The Box?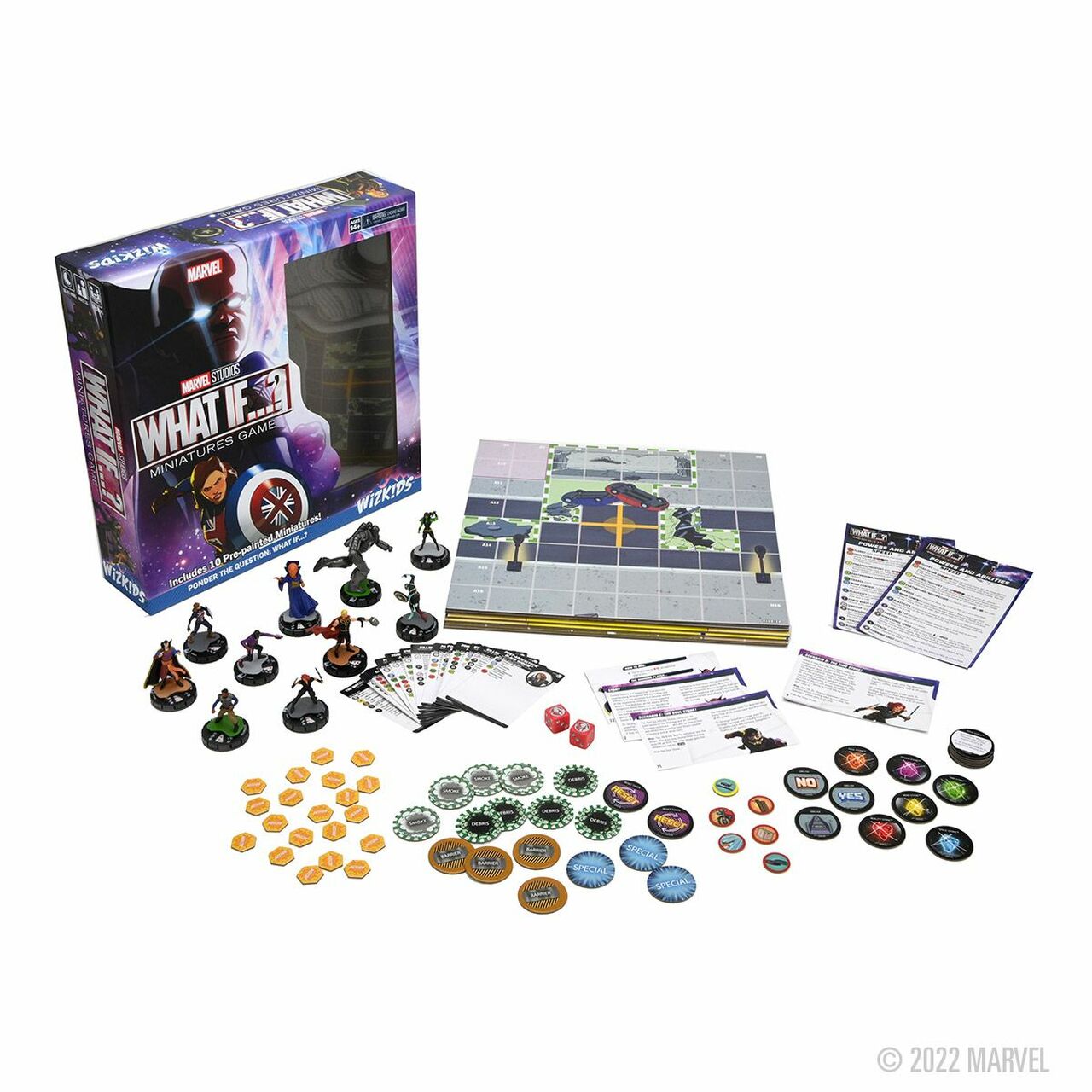 A rich multi-session campaign for 2 players that pivots and turns based on the results of the last session
10 Premium Quality Pre-Painted Miniatures each with TWO ways to play for beginner or advanced play
20 Character Cards
18 Object, Terrain, and Bystander tokens
6 Double-Sided Thick Map Tiles. No folds!
2 Custom The Watcher six-sided dice
2 Full color Powers and Abilities Cards (2022 edition)
1 Full-Color HeroClix Core Rulebook (2022 edition)
I'll be honest, a lot of the technical aspects of this review are going to be close to copy and paste from my Empyre HeroClix review. And that's not the fault of this game, nor of WizKids. It's a feature, not a bug. HeroClix is a long running, modular game, and this is just another piece of that long running chain. It's not bad, it's not a problem, it's just…this is just HeroClix with a What If…? coat of paint.
If you like HeroClix and you liked What If…? then this is a good addition to your collection. If you've been thinking about getting into HeroClix and you liked What If…? than this is a perfectly fine jumping in point. I'll get to breaking down the gameplay in a moment, but it's important to address that unlike the show, this set isn't breaking new ground for the series. And again, that's not a problem, but it needs to be acknowledged.
Ponder The Question: How To Play…?
We might not be doing anything new here, but I'll still break it down for those who are new to the HeroClix brand.
The game is centered on a large board (and I do mean large, please don't try and set this up on a coffee table) and, of course, the minifigures. Those who have looked at other such games, like Warhammer, can rest easy. These are pre-painted pieces, and they've been painted well.
The 'clix' part of HeroClix is the main thing that separates this game from others of its kind. Every minifig's base is a 'combat dial', which shows a variety of numbers. These numbers represent the character's speed, attack, and defense. By turning or 'clicking' the dial when a character is hurt or healed, you reveal the new stat values that they have in their current state.
While somewhat gimmicky, this is actually quite handy, streamlining the tracking of stats and making it simpler for players to figure out the state of their figures and to judge their moves accordingly. No writing or calculating required, just click the HeroClix.
In addition to the titular mechanic though, there are also character cards. These display important information like a full list of traits and powers, as well as what categories the character belongs to. This can be used to make 'theme teams', which give an advantage in terms of which player goes first, and is handy both with just this set and when mixing and matching.
The 'combat dial' and the character cards function hand in hand as well. At different stages of damage, the speed, attack, and defense numbers will be highlighted by different colored boxes. When this happens, you can use the corresponding powers. In this way, characters will lose or gain access to some of their standard powers as their dial is turned when they take or heal damage.
Final Thoughts
I will be honest, I am somewhat stymied. There may very well be some major, game-changing alteration to the rules that I just managed to miss but that some reader more familiar with HeroClix is screaming at their computer for right now. If there is, I apologize. I poured over the rule books for this set and the Empyre one, looking for anything different to jump out at me, and I couldn't find anything.
The most meaningful thing I have to contribute is confusion as to why Ultron isn't in this game (he's the main villain of the show for crying out loud).
However, that's not inherently a bad thing. HeroClix is a solid strategy game, with tried and tested gameplay and mechanics. I might have nothing new or novel to say about this, but there doesn't necessarily need to be something new or novel. This is just another good entry in a good series, and that is more than okay.
'Marvel HeroClix: What If…?' Provides More Of The Same
Summary
Ultimately Marvel HeroClix: What If...? is a complex strategy game that does its job well. Fans of miniature based strategy games, or Marvel fans looking to get into more complex strategy games, will enjoy themselves. It might be hard for casual fans to get into, however.
You can grab a copy of the Marvel What If…? Miniatures Game at the Wizkids shop or your FLGS!
Images and review copy courtesy of WizKids
Have strong thoughts about this piece you need to share? Or maybe there's something else on your mind you're wanting to talk about with fellow Fandomentals? Head on over to our Community server to join in the conversation!