What do you get when you combine multiple story telling genres together with music? You get We are OFK, an interactive narrative series about the origin story of a virtual but real band that feels like a TV show, video game, and musical experience all at once.
We Are OFK releases tomorrow with the first two episodes, and then the final three release on Thursdays weekly. Just like a TV show!
The game, though really it's more of an interactive narrative experience, starts with and follows Itsumi Saito (Ally Maki), who has moved to LA after breaking up with her long-term girlfriend, leaning into her dream of making it in music.
A pianist, she's got a lot of balls in the air including her commute to the west side and a full-time job in social media at a video game company, specifically for an esports. Annual Crisis, the "biggest event in esports" is coming up so she's also facing a deadline to make the event successful.
Fortunately, she's got her best friend Luca Le Fae (Teddy Dief, also director and writer of the game) who also works at the same company writing for the game's characters. There's also Luca's roommate and their friend Carter (Shaya Aviel), who codes and designs really cool backdrops for musical shows, and Jey Zhang (Fiona Rene), who was Luca's TA once upon a time, and produces music.
Cue a series of events that, as promised by the game's description, results in the four making music together, but the draw to the story is just how they get to that point. Gameplay in We Are OFK is beautifully animated and reminiscent of Netflix' attempts at interactive episodes, only better. Like a TV show, each of the five episodes progresses through the story but allows players to decide dialogue and text various characters.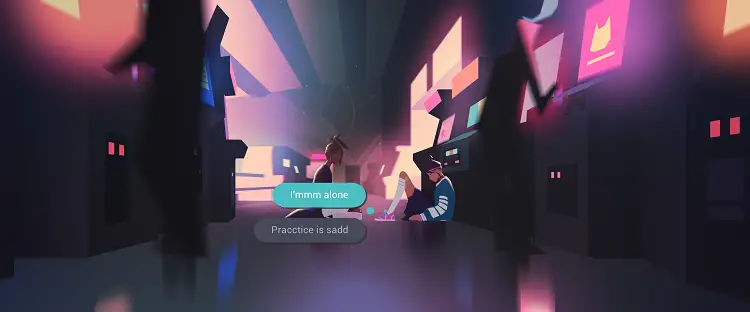 Though the end point of each episode is pre-determined, the game is fully voice acted so going back to each episode to try different dialogue prompts and texts is worth it.
Dialogue options are timed (or you can set unlimited time) but texting has no time limit. Of course if you don't text, the story, and game don't progress.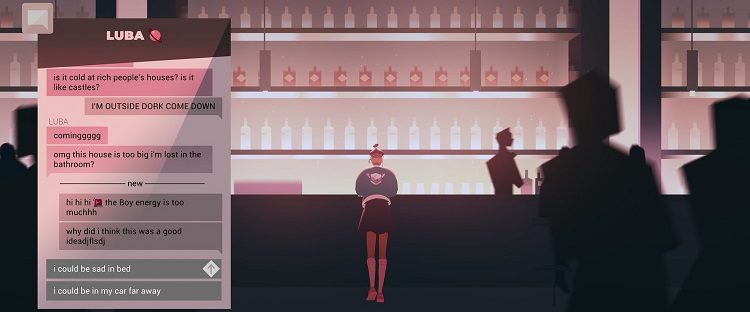 While each episode of We Are OFK features all of the main characters and ultimately bandmates, the plot of each one focuses primarily on one of the four people, which provides a deeper look at Itsumi, Luca, Carter, and Jey. This devotion to each character is key to making a good experience because experiencing the story only through one POV would diminish the story that the team is telling. Alternating POVs provides depth to each person and makes the group look like any group of queer friends out in the world.
We Are OFK on Struggling Creatives
For example, where Itsumi is focused on her piano recital and work, it's clear she's struggling with her ex and maybe future relationship. Luca is free-spirited but obviously in need of some guiding forces or clarity. Carter is down-to-earth and definitely the friend everyone deserves, but might not be a great friend to themself. And Jey is incredibly focused, sometimes to the detriment of herself.
Getting to know the band members better allows for more enjoyment of the actual plot because in true late 20s in LA fashion, everyone's kind of a delightful disaster. Between dating concerns, getting the music ready for the group's EP, drama, and the pains of being an adult who just wants to decide which flavor of boba to get, We Are OFK the band is going through a lot! (The hang outs in Bobapocalypse are a lovely addition to the universe and reminds me of all the times I've done the same thing at my local Boba or fro-yo place.)
There are no bad guys in this game, just the type of stuff we all deal with: imposter syndrome, heartbreak, miscommunication, people with different dreams and priorities. At the same time, We Are OFK succeeds because it's so damn realistic. With lines like "a musician's only as good as their output," there is a clear conversation occurring within the game reflecting our real world and feelings about making and trying to live off of said art.
Even if you have zero exposure to what it's like to be a game creator, writer or creator in Hollywood, or artist in any media, the anguish, excitement, grief, love, and fun of being a creative comes right through.
Each episode also ends with an interactive music video of the band's songs, with "Follow/Unfollow" as the first glimpse into the actual music.
The songs reflect the moods of the characters' POV and there's no wrong way to interact with the music video. I actually really loved all the songs and can't wait for the album (coming from Sony Music) to release tomorrow with the game.
Meta in its approach to showing the band's creation with Itsumi and Luca both in gaming, the story gets to the heart of what it's like to live in LA (or any major city) in a sea of people and make the art that so many of us consume.
Overall, We Are OFK is a successful merging of genres and popular topics in our media while staying true to the biopic approach. The game is roughly six hours and each episode stays the same length since, unlike a visual novel, you can't skip already seen scenes, or fast forward like on an actual TV.
Still, it's worth it to re-experience each part of the story with different dialogues or texts chosen because each time you learn just a bit more about these very real characters.
You can pick up We Are OFK tomorrow on Steam, Switch, PS5, and get a physical edition with a vinyl.
Review copy courtesy of Team OFK
Have strong thoughts about this piece you need to share? Or maybe there's something else on your mind you're wanting to talk about with fellow Fandomentals? Head on over to our Community server to join in the conversation!