Spoiler Warning for Black Panther: Wakanda Forever, Mentions of Death and Violence
Here we are friends, the long-awaited sequel to 2018's beloved Black Panther, and the final film in Phase Four of the MCU. Once more written and directed by Ryan Coogler, this film seeks to continue the story of Wakanda, as well as introduce some very important new characters to the MCU, all the while dealing with the real-life tragic death of Chadwick Boseman.
Right off the bat, I'm going to say that Black Panther: Wakanda Forever is fantastic, a fitting sequel to what is undeniably one of the best films in the MCU, and a perfect high note to end this transitional Phase on. Before we talk about it however, let's talk a little about the context of the franchise it's debuting in.
How We Got Here
First and foremost, it's impossible to talk about this film without acknowledging the tragic death of Chadwick Boseman, the actor who brought T'Challa to life in the MCU. He was an incredible actor and, by all accounts, a good man, and the world and cinema alike lost something with his death.
As we must move beyond that, let's talk a little about the state the MCU is in at the moment. If I were to come up with one word for Phase Four, it would be transitional. We saw multiple mantles passed, legacy characters being set up, and new threats and elements being added. With Thanos and the Infinity Stones gone, Phase Four has less been about racing to the new threat of Kang and more about setting the stage for him to be introduced.
If I were to come up with a second word for Phase Four, it would be experimental. We saw seven films this phase, all of which strode into new territory for the MCU. From spy movies to kung fu to horror, from the artful to the chaotically comedic, while not every film of this phase has been a success they've all tried something. Black Panther: Wakanda Forever is no exception, as we'll discuss.
In addition, the existence of Disney+ has resulted in the MCU branching much further into series than they have previously, even in the heyday of Marvel Netflix. We got eight series over the last two years, which weave into the movies and vice versa much more thoroughly than the Defenders or Agents of SHIELD. Wakanda Forever itself serves as setup for next year's Ironheart series, for example.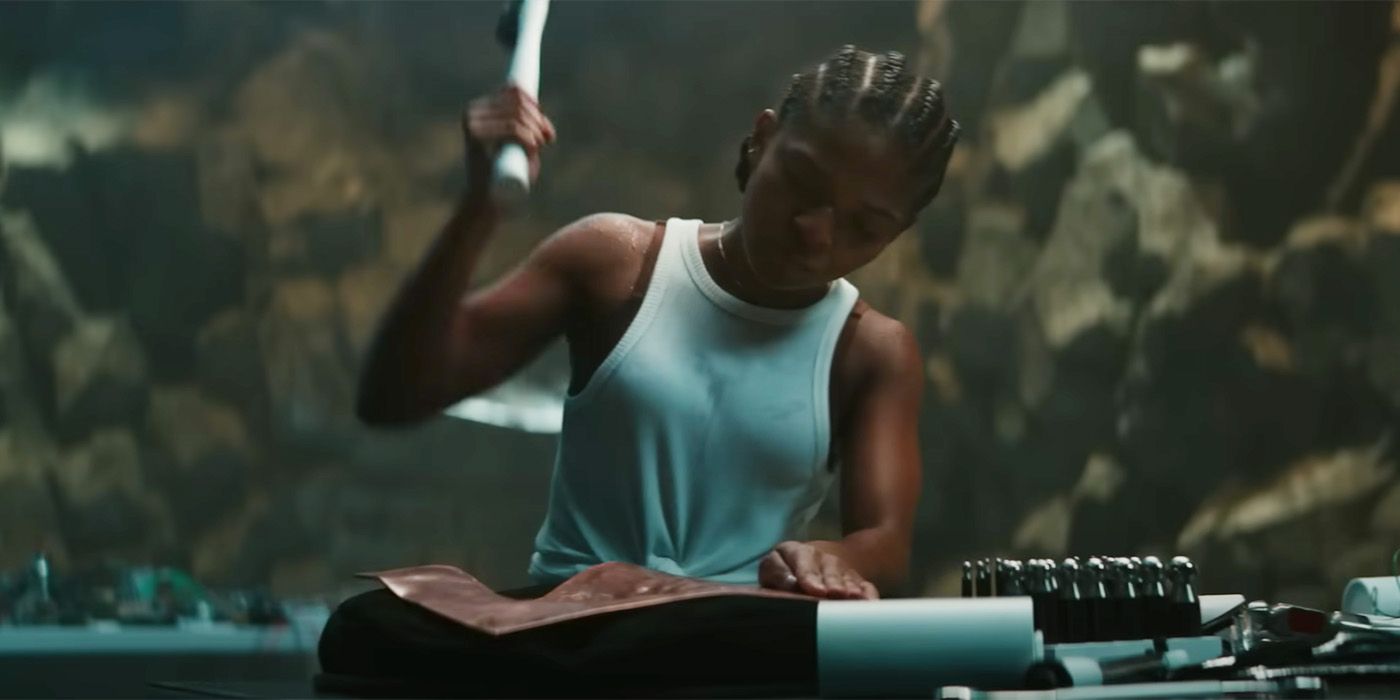 These series have (with the admitted exception of The Falcon and the Winter Soldier) been just as experimental. And it is into this landscape that Wakanda Forever enters, closing the door in time for next year to open Phase Five.
Wakanda Forever!
…one of the hardest things to talk about is something that is fundamentally good. And Black Panther: Wakanda Forever is good. Great, in fact. It does everything a sequel should do, advancing the characters past where they were in the previous while raising the stakes and treading new ground. Genuinely, it might objectively be the best MCU film thus far. (Let it be known that I hated Multiverse of Madness and wasn't especially fond of Love and Thunder either, so I'm not ignorant of the many flaws of this media empire).
We open with Shuri working desperately on a synthetic version of the Heart-Shaped Herb, the source of the Black Panther's power, in an effort to save T'Challa, who is dying of an unnamed illness. She fails, and we get a powerful scene of the king's funeral.
This sets the stage for Wakanda Forever, both literally and thematically. A lot of Phase Four has been about how characters handle mourning and grief (Shang-Chi, WandaVision, The Falcon and the Winter Soldier, Hawkeye, No Way Home, Love and Thunder), though at least in Wakanda Forever nobody becomes a villain because they care too much about someone dead.
Wakanda Forever is Shuri's film, above all else, though a fair amount of time is also dedicated to Queen Ramonda, her and T'Challa's mother. A far cry from the plucky comic relief of the original and Infinity War, here we see a battered, brittle Shuri. As M'Baku says to her towards the end of the second act, "The world has taken too much from you to still consider you a child."
Our story is one of Shuri struggling to move on from T'Challa's death, while the world circles Wakanda like sharks in the aftermath of the Black Panther's death. At the same time, America searches for vibranium in the oceans, raising the wrath of Namor and his people (not Atlantis).
Like Killmonger before him, Namor is a sympathetic and complex figure. Centuries old, he was present for the ravages of the Conquistadors. His people became undersea dwellers specifically to escape the colonizers, and he is their god-king, fiercely protective and devoted to protecting them above all else. Unlike Killmonger, Namor never makes the full turn to villain (though his introductory scene, as he and his people slaughter the Americans, is the most terrifying scene in the MCU).
Wakanda Forever is driven by the actions of Namor and Shuri. Nineteen-year-old Riri Williams built a machine that can locate vibranium, a feat for which Namor wants her death. Shuri allows herself to be taken by Namor's people to attempt to negotiate, which ultimately sparks death and conflict, bringing the two nations to the brink of an eternal war. Shuri is forced to confront her grief and pain, to take the mantle of Black Panther to defend her people, and decide what person she wants to be.
There's a million brilliant little pieces to Wakanda Forever, from how the other characters react to T'Challa's death (Queen Ramonda lashes out and becomes more assertive and aggressive while Nakia flees) to Okoye's struggles with advancement and tradition, to the way politics play into things.
If I had to find fault with the film, it's that, much like the first, Wakanda Forever is rather removed from the rest of the MCU. There are references to other characters, but not much beyond that. This is not a problem in and of itself, but it does make it somewhat hard to view Namor as a fully competent, wise, and caring ruler when his ultimate plan is to rise up and destroy the surface world even after seeing the full might of the heroes of this world in the war with Thanos.
However, that's a nitpick, as it's more used as the source of the initial wedge between Namor and Shuri in their negotiations and an undercurrent to all of Namor's decisions rather than an ongoing plot.
There are flaws to this film, certainly, but none of them really matter, not from my perspective. It's a beautiful film, and the final scene, of Shuri burning her mourning clothes, letting go of her lost family, and crying in silence on the beach, is a fantastic, perfect ending for it.
Final Thoughts
My thoughts have been somewhat scattershot, but it's genuinely because Wakanda Forever is just so good. It's hard to come up with things to say that are coherent and not just gushing. The action is solid, the cinematography is gorgeous, the characters are all written fantastically…watch it. You will not be disappointed.
Images courtesy of Marvel Studios
Have strong thoughts about this piece you need to share? Or maybe there's something else on your mind you're wanting to talk about with fellow Fandomentals? Head on over to our Community server to join in the conversation!