CBC's Murdoch Mysteries is quickly approaching the end of its 16th season in Canada and has started airing in the US on Ovation! As fans of the show here at The Fandomentals, I was really excited to get a chance to interview Shanice Banton who has played Violet Hart since season 11.
Canadian viewers will recognize Banton from Degrassi: The Next Generation and she's known for her role as Ruth Owens in Race among other films and TV series.
As Violet Hart, Banton has portrayed one of the most fascinating and complex characters in Murdoch Mysteries, first as assistant to Julia Ogden in the city morgue and now as the Chief Coroner. However, throughout the seasons, she's been at odds with and a huge asset to different characters making her a really fun character to play!
In the most recent seasons, she met and ultimately married Arthur Carmichael which led to her life-changing drastically as she came into money. This season though, all this changed leading to more growth and shifts for Hart.
Below Banton talks about her experiences portraying Violet Hart and her favorite and most memorable episodes! (There are spoilers for the 16th season below.)
---
FM: Murdoch Mysteries is airing its 16th season this year! In an environment where many shows are cancelled early on, how does it feel to still be solving crime in Toronto? 
SB: It feels really good! It is like the gift that keeps on giving! It really is a blessing.
FM: What do you think keeps the show fresh each season?
SB: I think what keeps the show fresh each season is the characters that get brought on, whether playing a real individual or fictional; and the history that the audience gets to learn while watching certain episodes.
FM: In the six seasons that you've been on the show we have explored a lot about Violet Hart and her experiences as a Black woman in Toronto during the period of the show. Are there other facets of her character that you'd like to explore in the future? 
SB: I think in the beginning I had wanted to explore a lot more with Violet but over the last couple seasons, especially season 16 the writers have done a good job of showing more facets of her character with the things she has been through (Having a new friend, father in town, husband passing, finding a new romance, etc.)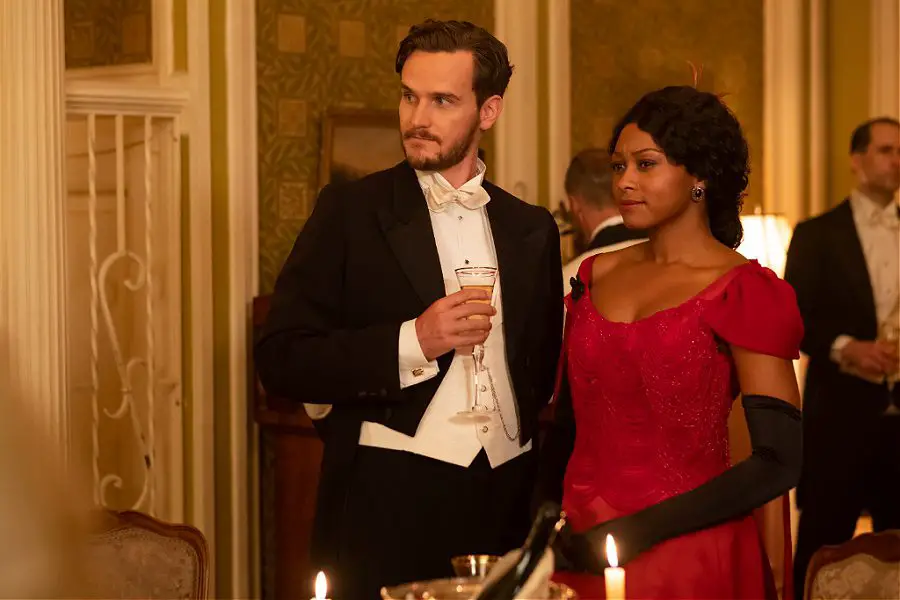 FM: Violet is also a really complex character, and we so rarely get to see complex Black women especially in period dramas. Do you ever provide input to the writers or if not, is there anything that you've ad-libbed/added to the character in the past?
SB: Since my character is mostly in the morgue and has a heavy amount of medical dialogue to say, I don't often do much adlibbing, but I do sometimes change little things like wording here and there, on the day, but that's about it.
FM: Which episode or case is the most memorable for you? 
SB: From this season the episode that is most memorable for me is episode 13, "Vengeance Makes The Man" where Violet tries to help Brackenreid and gets shot by her own father! What a great scene with great actors!
FM: What is your favorite episode this season? 
SB: "Breaking Ranks" Episode 15. We get to see Violet a lot throughout the episode, and she actually is one of the main reasons the case was solved! We also get to see her with a new love interest which is nice. It was a very fun episode to shoot.
FM: Violet's relationships with the different characters are almost as complex as she is! Her relationships with Murdoch, Julia, and Brackenreid especially seem like three points on a triangle. 
Brackenreid for example (to me) almost feels like a father figure and Murdoch while antagonistic also has a begrudging respect for Violet. On the flip side, Julia started off in some ways as a mentor and Violet has shown that she is in fact equal to Julia. When Murdoch seems more likely to be mad at Violet, Julia is quicker to defend her.
Where would you like to see these relationships go in the future and are there other characters that you'd like Violet to get to spend more time with?
SB: I like where all of these relationships are so far, Violet seems in good standing with the other cast as of now (laughs) but I do believe that Violet and Watts could spend some more time together. Their relationship is pretty light-hearted and they always seem to have some good advice for each other!
FM: Thank you for your time!
You can follow Banton on Twitter and Instagram and catch episodes of the show on CBC on Mondays at 8PM ET and on Ovation TV on Saturdays at 7pm ET!
Images courtesy of Ovation
Have strong thoughts about this piece you need to share? Or maybe there's something else on your mind you're wanting to talk about with fellow Fandomentals? Head on over to our Community server to join in the conversation!