Halloween may be well and done but it's never too late to play a vampiric death, I mean dating game. First Bite, an LGBTQ+ dark comedy visual novel that gives players a chance at a second life after death is out now!
Players step into the shoes of Noe Amsell who is fascinated by all things supernatural. Choosing to venture out into the night after waking from a nightmare is only the first of their bad (or good) decisions.
First Bite knows exactly what it is and what it wants to do, delivering a delightfully entertaining story and meaningful experience for all players, regardless of who they choose to romance (or befriend).
Curious to see if the rumors of the creepy house on Dead End Drive, the player walks inside and so begins the real story. Stumbling upon three old and very hot vampires, you must decide whether you want to attempt an escape (we all know there is no such thing) or to romance/befriend one of the vampires and achieve a second life.
I was totally primed to like this game because it's from Souha Al-Samkari, Dani Dee, Aenne Schumann, and Kris Wise all of whom I have played games (and reviewed) from before. Even so, this game stands fully apart and is a perfect introduction to each of these four creators!
I was provided a review copy but even if I hadn't, I would have purchased this game.
A key marker of a solid visual novel is obviously its visuals. Between four gorgeous CGs by Zara H., multiple detailed backgrounds by Lily Wang, and the quite lovely sprites and key art from Josephine Chang you can't help but be drawn into the vampires' world. Equally as important is the story and here, First Bite shines.
What starts off as a scary and hilarious foray into impressing vampires so that they don't murder you as is wont, turns into an incredibly thoughtful story. When you're not cackling at the jokes and moments with the vampires, you'll end up going on an emotional journey as you get to know the vampires in a group setting, and then individually.
Sure Laurel, Ilyas, and Valeria have been around for hundreds of years together and really like living that vampire life (with their cat!), but it hasn't always been that way. There's a depth to the worldbuilding of how these vampires must co-exist with one another, but other vampires too.
Each story and piece of information that the player can tease out if they make the right choices don't just give an insight into Ilyas, Laurel, and Valeria. They complicate every expectation and idea you'll have about each beautiful vampire. Valeria loves the luxurious life but there's truly much more to her beauty including experiences with men in the past. Ilyas is a murderous himbo, and was so before he was turned, but there's a genuinely interesting man underneath that very, very hard exterior. (Look at those muscles!)
Then there's Laurel who might just be my newest favorite character of all time. There are so many layers to peel away in just one route of talking to him and it's fascinating how much complexity is laid bare as you move throughout the dialogue choices. I wish there was a separate chapter beyond getting turned just to learn more about them and the other vampires, because there are just so many questions to ask!
The heart and thought put into their, Ilyas, and Valeria's lives before turning into vampires, and their lives now just show how dedicated the team was in writing fully fleshed (hah) out characters. Laurel's storyline made me cry and I'm not a crier.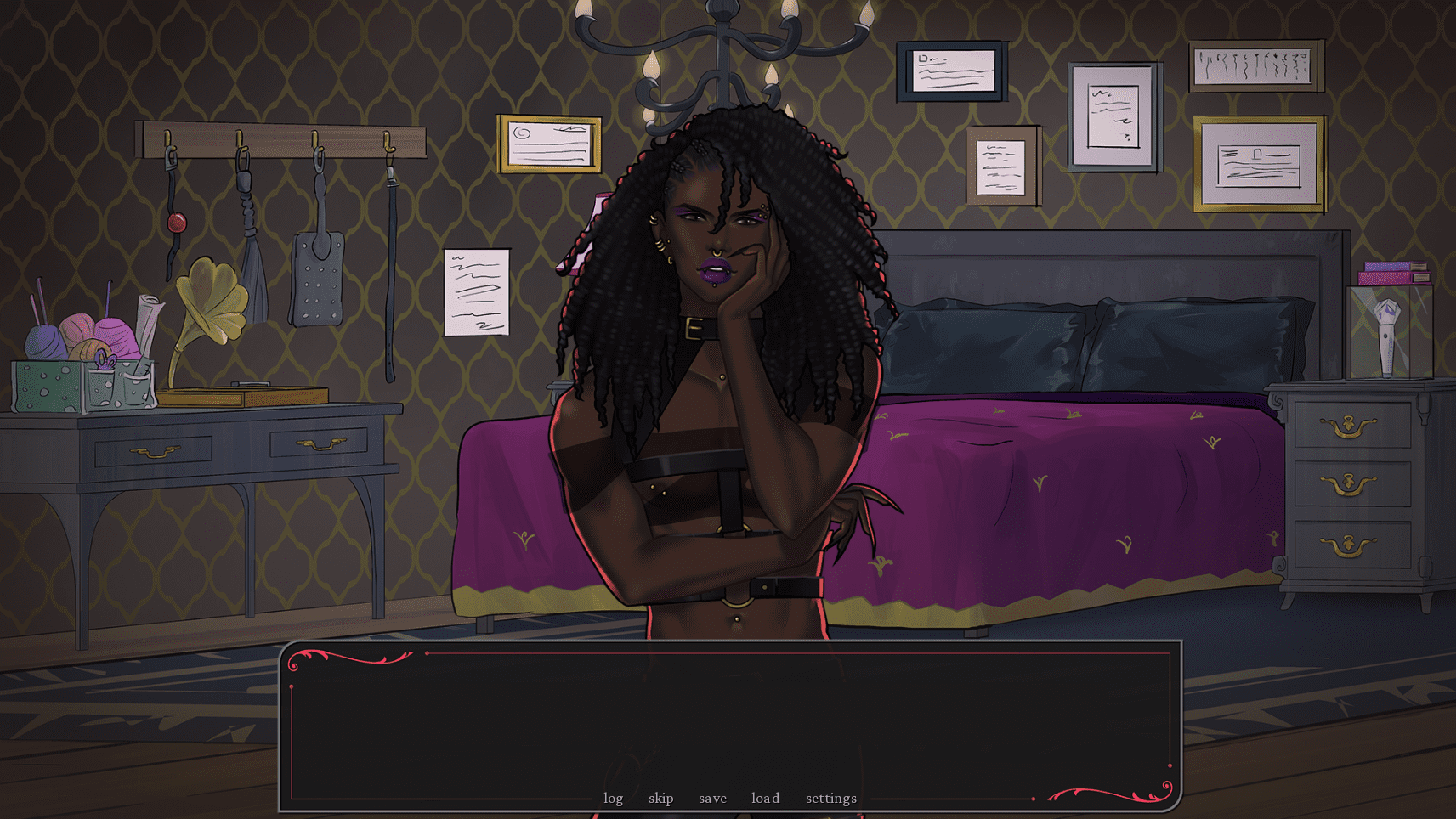 First Bite knows exactly what it is and who it's for and that's foremost the development team. In writing a game for themselves, the team has provided players an experience that exceeds all expectations and truly leaves its mark on the visual novel world.
Partial voice acting further entertains with Alejandro Saab, Jalen Cassell, and Marie Westbrook perfectly embodying Ilyas, Laurel, and Valeria. I mean who doesn't wanna get to hear the tol himbo vampires talk about everything he wins at, who also really, really, really loves murder?
Additionally, James Roach has composed a beautifully haunting theme for the game. Combined with the rest of the music, the game provides a gorgeous atmosphere for players to surround themselves in, making the whole experience incredibly effective. If you like visual novels, vampires, and dark comedies, this is the perfect game to sink your teeth into!
Content information is available on their official website, but if flashing lights are a no for you, you can just skip the intro and you're set.
First Bite is available for $9.99 at itch.io.
Images and review copy courtesy of First Bite Games
Have strong thoughts about this piece you need to share? Or maybe there's something else on your mind you're wanting to talk about with fellow Fandomentals? Head on over to our Community server to join in the conversation!