Visual novels from indie studios continue to delight from games set in fantasy worlds to centering games within the narrative. Arcade Spirits: The New Challengers is one of the latter, a follow-up to 2019's Arcade Spirits, a visual novel of love and pixels, where you seek friendship and romance while working in an arcade.
Now the tables are turned, as you seek friendship and romance while PLAYING in an arcade! Of course there's much more to the story and the short demo provides just enough clues to snare the player yet leaves much to be discovered when the game releases May 27, 2022!
In the distant future year 20XX, an alternate timeline where arcades never went away… you're an aspiring gamer searching for esports glory on the Fist of Discomfort 2 Pro Tour. Seeking a partner to play with, you join a team of players who hang out at Good Clean Fun in Chinatown, a combination pizzeria / laundromat / arcade which sounds like the best place ever, honestly.
As a kid I used to go to an arcade/laundromat place, well a laundromat with arcade games, and it did not have a pizzeria. I feel kinda cheated!
Anyways, as Seeker, you must rally the team by learning more about who they are and how best to support their dreams along the way. Doing so well allows you to defeat rivals, conquer tournaments, build relationships, and uncover a strange arcade conspiracy as your team emerges victorious!
The sequel features a group of six new diverse characters to befriend and/or romance and you can even date your rival! Arcade Spirits: The New Challengers will also feature return appearances from the first game, but you can play the sequel as a stand-alone if you'd like.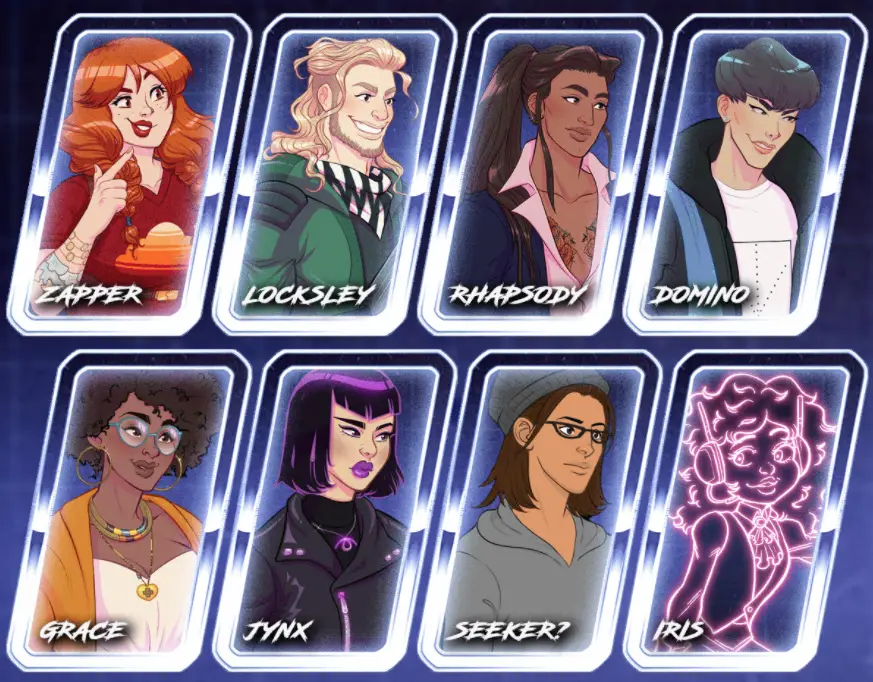 What's really cool is that for people who have played Arcade Spirits, you can import your decisions from Arcade Spirits and change the world of 20XX based on those choices.
Like most visual novels, it starts with you picking your online handle, your pronouns from an extensive variety of options), and nearly full body clothing since your character appears on screen through most of the game.
What actually made me click through to learn more was the character selector because I saw a tweet with examples including hijab! I'm pretty sure this is the one of the only if not only times a visual novel has included this much customization and a hijab option.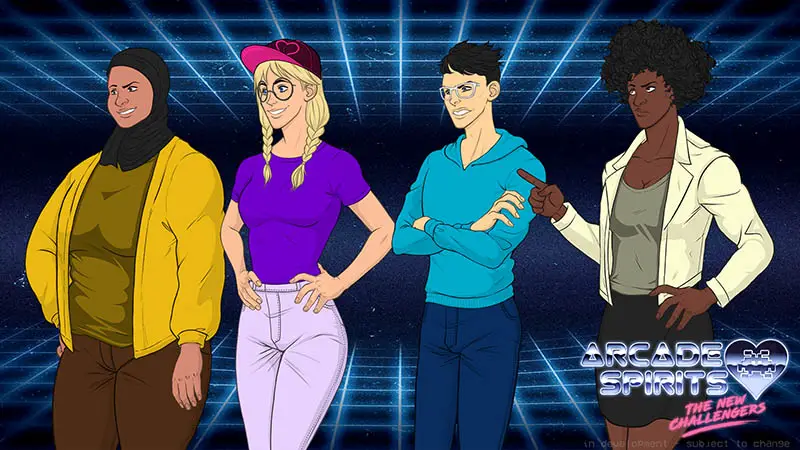 You use the character creator to design your rival Hunter (hah) who can be friendly (and romanceable) or hostile adding yet another level of customization.
Elevating this game and the demo is the detailed focus on characters and story building from the very start. There's clearly something going on in this world from the way Iris, created by Grace (Cooper) helps her users get whatever they need in life except…she was pulled off the market so you're one of the last people to have her!
Obviously the demo only gives so much away about what might really have happened with her and Cooper Technologies, but you learn enough that there's something very clearly afoot. Plus there's a second Twitter account run by the Ghost Monsters, who must be an underground resistance of some kind adding to the full experience of the story.
Iris is also key to gameplay! She identifies qualities in your speech that match where you get relationship points through interactions with the other characters.
These traits are kindly, quirky, steady, gutsy, and basically which is now called flexibly. The conversation options then will provide you a point towards one of the traits that ultimately lead to how a relationship (romantic or friendly) will pan out.
To mitigate players only clicking on the kindly option, characters have different personalities. Zapper for example, is gusty and quirky whereas Locksley is kindly and quirky. To develop good relationships with all of your team so that you can beat the rival team requires a thoughtful approach to working through the dialogue trees. This variety of options lengthens the game and increases the replayability factor, key to a successful visual novel.
So what starts as Seeker trying to pull together a team for the Pro Tour, becoming their manager, and navigating prickly situations is obviously going to turn into dealing with something more nefarious, and I cannot wait to find out what's lurking under the surface…
The demo also reveals that a lot of the characters you meet are already connected in some ways, like Locksley's clear affection for Grace. Though is that friendly, romantic, or of a more professionally based relationship is unclear. He's the only character whose name and profession are not revealed. Is he Robin Hood, is he what Arrow's Oliver Queen wishes he was, or is was he sent to watch over/for Grace but ended up falling for? Only time will tell! (I'm kind of hoping it's all three).
There's also the friendship (?) between Zapper, Domino, and Jynx with the former two ready to support Jynx when one of the rival team's players, Divine takes over Jynx's modified playing seat on a racing game. That attention to detail for a disabled character and how their disability impacts their life shows how much care the writers have put into their characters. It also immediately positions Divine as awful like the rest of her team making Hunter's association with them problematic if you pick a friendly relationship for them and Seeker. I'm really excited to learn more about all of these people, including our rival Hunter who we've also had a connection with for years.
Finally the demo includes a chance for you to play the strategy minigame, Fist of Discomfort 2. You can also skip it if you want to but it's definitely fun the first time through! With super beautiful and evocative cyberpunk inspired backgrounds and synthwave tunes for music, this demo is the perfect intro to the game releasing next year.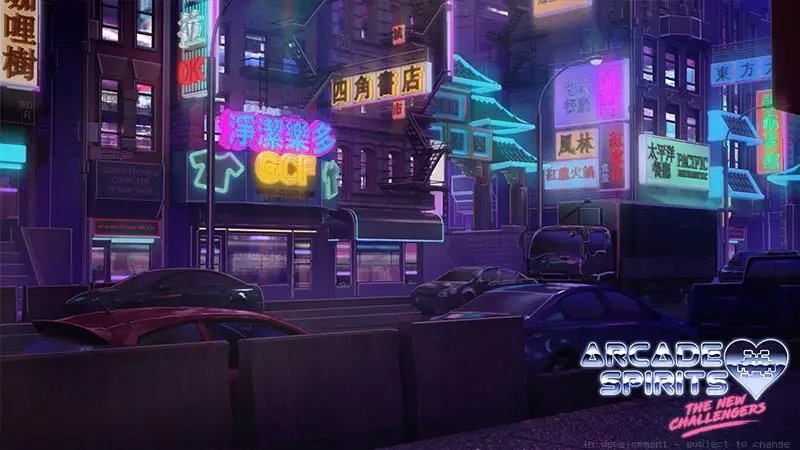 You can grab the demo on Itch.io or Steam, and wishlist now!
Arcade Spirits: The New Challengers Team
Aenne Schumann / Narrative Designer
Stefan Gagne / Director / Writer
Molly Nemecek / Character Art
Jessie Lam / Background Art
Greg Mirles / Music Composer
Images courtesy of Fiction Factory Games
Have strong thoughts about this piece you need to share? Or maybe there's something else on your mind you're wanting to talk about with fellow Fandomentals? Head on over to our Community server to join in the conversation!