I didn't watch Thor: Ragnarok in theaters. Actually, I hadn't seen anything post-Ultron and was fine being free of the MCU for a few years. Then Black Panther came along and I found it so compelling that it washed away any Marvel fatigue I had been feeling. When the opportunity arose to watch the third Thor movie on an airplane, I hit the play button with genuine excitement.
Going into this, I had heard almost all positive things. I knew there were some similarities to Black Panther in the central themes, I knew Jeremiah gave it a glowing review, and I knew it was supposed to be exceedingly funny.
I was also no stranger to the Thor standalones. I felt his introductory movie was a bit silly, but did what it could with a superhero that well…lends himself to silliness. It's a Norse god in a contemporary setting, after all. The result was a slightly boisterous fish-out-of-water tale with compact development and a pretty solid foundation on which we could understand his character. Thor 2: Dark World was absolutely odious as an artform, but I loved it anyway, much for the same reason Attack of the Clones is my favorite prequel. It was ironic enjoyment, but if you can't be enthused by Natalie Portman running around in squeaky rainboots with her Science Machine™, then I can't help you. Plus, it was Thorested Development.
Was I expecting some gaps in my knowledge given me sleeping on Civil Wars? Yes. Granted, those same gaps existed for Black Panther, and shockingly I was still able to fully understand his father's death, as well as what Agent Ross meant to T'Challa and what their relationship was like. But I promise, I turned on Thor 3 with all the right intentions, and what I consider to be fairly measured expectations.
I turned it off wondering if I had a fundamental misunderstanding about the concept of a movie.
Two Plots, No Payoff
If I had watched Thor: Ragnarok on VHS in the 90s, I probably would have begun to wonder if someone taped over the entire middle portion with a completely different Thor film. Because it's not just that there were two major plot threads, it's that there were two different tones. Hell, there were almost two different genres when you get down to it.
The first is what I have to assume is the "main plot," since it's what the movie sets up in the first acts, and closes in the third. This is the story about Asgard's legacy and reckoning against the threat of Hela, the Goddess of Death.
Thor is told by some demon guy that his dad isn't at home anymore, so he goes back to Asgard find Loki pretending to be Odin. Then a random wizard tells them both that their dad is in Norway (yes, I know it's Doctor Strange, but I'm talking about this movie on its own merits). They go there, but Odin is all sad and about to die, which means that his true heir—his firstborn daughter Hela—will escape from the prison he set up for her. You see, she's the Goddess of Death and had been the leader of Asgard's armies for Odin when he apparently conquered the Nine Realms, but she became too ambitious for his taste. What, a tenth was a bridge too far for Daddy Imperialist?
Whatever, he dies.
Thor and Loki go to confront the now-released Hela, she breaks Thor's hammer, they get chased off, she takes over Asgard with the intention of more conquering, most people think she sucks so she raises dead zombies and a giant wolf to fight for her instead, and then Thor and some random friends come back to fight her again. He realizes he can only save his people, but he can't save Asgard itself from Hela since she's too powerful. He evacuates everyone, mainly with Heimdall and Loki's help. Hela stabs Thor's eye out and Thor levels up his lightning powers, but it's still not enough to do anything about her, so he summons that demon guy from the beginning to have him destroy Hela…and all of Asgard. But it's fine; he's the King because Asgard is a people and not a place. Odin even pops in a vision at some point to tell him that.
This is a fine story. There's things in it that could be explored, especially Thor reconciling with Odin's savage, imperialistic legacy. It's a bit hamstrung by Odin himself pooping out of the narrative entirely after dropping the plot bomb into Thor's lap (seriously, am I alone in thinking this is one of the least effective death scenes in movie history? Certainly in MCU history?), and it's a bit formulaic in the sense that the "bad guy" is more the concept of implacable evil.
I personally struggle with the messaging and execution of it. It's not that coming to terms with the fallibility of your Kingly father and his decisions made while ruling your country is a weak narrative choice. That, you know, was the entirety of Black Panther, and what made it significant was the way in which T'Challa defined his duty on the throne in a way that made sense for himself and the changed context of the world. It was a meaningful shedding of idealization while coming into his own as a ruler.
This movie should have been that for Thor, but his realization about "Asgard is a people" was just sort of beamed into his head by Odin. Literally, Hela was choking him out, and he flashes to a vision of Odin telling him what to think of Asgard as well as his own powers. 
Then, what does that say if it's Odin's words Thor's living by? That he does still respect this guy and want to follow in his footsteps, despite learning that he was a literal conqueror? That even asshole imperialists can have some good points? (Why does this keep happening?) Or was that Odin coming to the realization when he came to Thor, and he had reached this epiphany off-screen in the afterlife? It was like, "Oh hey I didn't need to do all that conquering, because my duty was to my people and not the glory of this place." 
It didn't even seem like Thor came to the conclusion that destroying physical Asgard was a necessary thing given the place's legacy and bloody history—just given the situation and how there was some lady with a dead army they couldn't beat. It was a decision made in the heat of battle when the day was lost, but now he's got his eyepatch and his people and a spaceship, so he's ready to fill Odin's shoes. You know…the shoes that we learned shouldn't have been worn in the first place. Because imperialism. 
Also the requisite, "crazy over-ambitious woman couldn't listen to her father when to chill with all the killing" complaint. Cate Blanchett saves it a little, but it's there.
So yes, for all the weighty subjects floated in this plotline, none of them were actually given significant narrative weight, or exploration, or anything really. I suppose Hela's claim to the throne and history with Asgard made her more of a meaningful threat; she was a monster of Asgard's making, not to yet again call back to the film that pulled off all these concepts with actual dexterity and significance. But even with that, she was just evil. She didn't have any nuanced points, or any compelling reason for anyone to follow her. Just that Odin had once been cool with her, but that stopped.
There was also nothing remotely familial or personal about her dynamic with Thor or Loki since she didn't actually know them or seem to care about their general existence, and her abilities were never well-conveyed to even give the fight might grounding. We may as well have had Mjolnir shooting through multiple portals again.
That's not to say these things couldn't have been done or executed well. This was a long movie and whole lot of time to flesh out Hela's relationship to our protagonist, or Thor's relationship to his conception of governance and his home, or the Asgardian commoner point of view, or even to seed the demon guy that eventually brought the cataclysm just a wee bit better than the opening joke did.
It's just that instead, the movie spent the bulk of its time seemingly uninterested in the main plot. Because there was ~junk planet antics~ to be had.
And yup, there's plotline #2: Thor is in yet another wacky weekend adventure that he has to get out of! Which I don't hate as a concept. I will happily pop some corn kernels and plop down with either of the Thor standalones, because they're somewhat doofy fun. Just don't stick me in the middle of this thing after setting up something rather serious and weighty. (And maybe don't set up that serious, weighty thing by having a wizard warp two main characters to Norway.)
As a brief, brief summary, after Hela throws Thor and Loki out of Asgard, he finds himself alone on a junk planet called Sakaar. He's captured by some lush played by Tessa Thompson who just so happens to be a former Valkyrie, a member of an Asgardian all-female elite warrior group that had fought Hela before her imprisonment. She sells him to Jeff Goldblum, who rules (?) Sakaar. So Thor is enslaved, literally has a controlling device thing in his neck, and is forced to fight in a gladiator ring. The ultimate Sakaar champion he goes up against is…the Hulk, who has somewhat-permanently hulked out. They fight and Jeff Goldblum cheats to let the Hulk win, which isn't really worth talking about, though it takes up about ten minutes of screentime so it must be important to someone. Oh, and Loki's there and Jeff Goldblum's friend because it's working to his favor at the moment.
After the fight, Thor quasi-escapes to the ship the Hulk arrived on, there's some recording of Natasha on it that de-Hulks Bruce Banner. At some point Loki forces Valkyrie to see a vision of her past trauma (her fellow soldiers dying to Hela) so she decides she wants to help Thor get back to Asgard, and then everyone escapes Sakaar by inciting a slave uprising and stealing one of Jeff Goldblum's ships.
I have spent longer than I care to admit trying to figure out how this possibly relates to the rest of the movie. And I should note, Sakaar takes up well over half the runtime, so it's not like it can be dismissed as this ancillary plot cul de sac necessity to get Thor and Bruce to run into one another. Like, this had to have meant something, right? Was Jeff Goldblum meant to be contrasted with Odin? Was this system of injustice that Thor witnessed supposed to be the reason why he summoned the destruction of Asgard in the end, and the writers simply never felt the need to explicate this in any way?
I can't get there. Even the very minor twist of "Loki almost betrayed Thor at the end of the Sakaar sequence, but then comes back and saves Asgard" did not need to be rooted in this setting, nor was it even particularly necessary to the overall story or relationship of the brothers. Thor caught onto Loki at the beginning of the movie when he called him out as fake!Odin—we can see he already learned from Dark World. Loki is the God of Mischief, but that doesn't mean his usage should be God of False Narrative Conflict In A Desperate Attempt To Inject Last Minute Tension. Because that's a mouth full.
Maybe it's my own problem that I was waiting to get back to the plot of the movie during every Sakaar scene instead of realizing this is the plot now. It's just that normally when movies have a lengthy and pointless side-mission, especially one that cannibalizes this percentage of the runtime, they're not viewed particularly favorably.
But hey, at least Thor wasn't learning about systemic injustice and the strength of compassion on a casino planet that tied immaculately into the thematic thrust; that would have ruined everything.
Character Arrested Development
I couldn't help myself with The Last Jedi fandom dialogue shade. But I do think that's actually somewhat relevant here. Because I don't really care that ~not enough happened~ overall or that Finn and Rose had a "pointless" (it was really more fruitless, and that was the point) side-mission. What I cared about was that what happened on our screen worked together towards a meaning, and that characters grew as a result of them. The Last Jedi may not have thought through implications perfectly, or executed things in as refreshing or satisfying a way as possible, but it's exceedingly hard to argue anything was ancillary given how every single damned character had pretty tight and clear growth.
Thor: Ragnarok had barely anything.
If I could be really generous with Thor himself, he accepted the leadership of Asgard in a way he rejected it from the first movie. But also, his dad's dead, so necessity makes for strange kings, you know? There's also nothing that occurs within this movie that particularly leads to him wanting to take on that mantle. At best, it's that he learns his power isn't derived from his hammer, but controlled through it, though he learns that through Divine Daddy Almost-Death Vision. So he kind of starts off thinking he's this awesome lightning god, and ends the movie thinking the same thing, but for slightly different reasons and with means that might look different in a fight.
There's also Thor abandoning Asgard, but nothing to indicate it has anything to do with him being upset about Odin's imperialist rule. If that was meant to be the framing, there's just nothing that occurs onscreen to back it up. Loki complains that Hela is growing stronger every minute she's in Asgard and Thor repeats Divine Daddy Vision point #2 as justification. Hell, when Hela and Thor meet for their final fight, Thor quotes Odin while sitting on his throne.
It should be noted that Divine Daddy Vision was the final push Thor needs to overcome the antagonist.
Odin (still in Norway, or King's Cross Station, or something): Asgard is not a place. Never was. This could be Asgard. Asgard is where our people stand. Even now, right now, those people need your help.

Thor: I'm not as strong as you.

Odin: No… You're stronger.
Does Thor seem like someone who's having trouble reconciling his father's legacy, or is it someone who's still taking advice from the guy, but oh yeah that murdery spree he went on a while ago was unfortunate? And again, what Thor says about Asgard's destruction has diddly squat to do with its legacy:
"Surtur destroys Asgard, he destroys Hela, so that our people may live. But we need to let him finish the job…"
I had to look up what the prophecy specifically was, since it was told to us by Surtur (the demon) in a very jokey early sequence that Thor didn't even bother taking seriously, so why were we supposed to have? It's just that Surtur will lay waste to Thor's home. No motivation or anything.
My point is, Thor doesn't really come to any realization about himself, or Asgard, or even Odin. He learns things, he likes Odin's pithy governance lesson, but he doesn't contextualize anything for himself or really grow because of it. He just figures out battle odds and gets a haircut. That's his arc.
There's the vague character growth that Thor doesn't let Loki trick him again, again, again, so I can give him that. I don't believe this is the context it needed to happen in, or that Thor's way of exposing Loki at the start would have been too little to that thread, but okay. That continued.
Meanwhile, Loki has absolutely become the Game of Thrones Littlefinger of this universe. He instills chaos in his own plans for chaos's sake (that is his thing), and how convenient that it lines up to plot demands. Thor kind of calls out this character stagnation to him, ironically ignoring his own:
"Oh, dear brother, you're becoming predictable. I trust you, you betray me. Round and round in circles we go. See, Loki, life is about… It's about growth. It's about change. But you seem to just wanna stay the same. I guess what I'm trying to say is that you'll always be the God of Mischief, but you could be more."
So I guess it's a sign of growth that Loki does go back and try to save Asgard with Thor. Even in the very end, Thor mentions how he believes Loki's presence to be a trick, but Loki is actually there, physically. Maybe he's…"not so bad."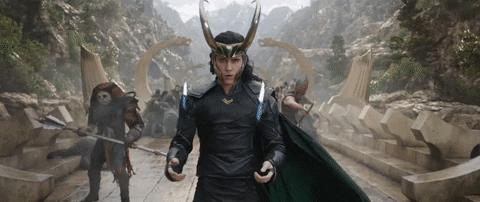 It's just, this guy's scripting has been all over the place, and there's no particular reason to believe his decision is the sign of any lasting change. He teamed up with the prisoners to get out of Sakaar in what's most easily read as self-preservation, and even when he returned to Asgard, he was calling himself the "savior" and trying to milk his contribution. Maybe, just maybe Loki grew in this movie for the sole reason that he got sad when Thor called him the "God of Mischief." Because that's all that would have spurred this. Not the stakes of the situation, not Loki's own guilt over Odin's death, and not even Loki wishing he could rectify his poor public image on Asgard. Just, his brother is very disappointed in him.
Yeah, that could be an arc. Though I can't call it one that's particularly well-done.
The one that is executed best is probably Valkyrie's. She's hiding from her past, clearly both traumatized and guilty over how the fight with Hela turned out. It's strongly implied someone took a mortal wound for her (no clue how she got away herself), and she's now got this despicable job where she's miserable and drinking herself into a stupor. Thor himself showing up clearly affects her and makes her squirm, but it's not until Loki forces her to relive that trauma that she has a full change of heart.
"Look, I've spent years in a haze, trying to forget my past. Sakaar seemed like the best place to drink and forget, and to die one day.

…But I don't wanna forget. I can't turn away anymore, so if I'm gonna die, well, it may as well be driving my sword through the heart of that murderous hag."
This tracks just fine. Loki's memory home video powers are convenient, but definitely within the framework, and it makes sense that thinking back to that could instill some sense of duty, or passion in her, especially given that Thor is literally trying to get back to Asgard to save it.
The only issue with this is that it's completely disconnected from the thematic thrust. This was actually pointed out to me as an anonymous message on social media (I may have been ranting), but doesn't her arc do the opposite of what this movie purports to do with Asgard and its legacy? She's been a slaver for years, which isn't even given the space to be hand-waved—it's just not addressed. Then she gets all back in touch with being a Valkyrie, and re-donning that great Asgardian armor, and having a resurgence of love for her home where she can talk about how much she hates the prophecy about its destruction and everything.
This is fine in its own right, but didn't we just find out Asgard has been an imperialist superpower? It's good that someone with clear PTSD is trying to sort through her trauma and reclaim a sense of identity that she's tried to dismiss for years, but it simply doesn't fit with what we learned about Odin, which is what calls forth this entire conflict. If it were some more abstract external threat to Asgard, then sure a kind of "I'll fight until it's rubble" attitude would have some impact. But Asgard was built on a whole lot of blood and Odin was an active revisionist who covered up artwork depicting that. It's an odd choice for her, let's just leave it at that.
I'm trying to think if anyone else grew through the course of this movie. Heimdall stays as prescient and morally upright as ever. Bruce Banner gets de-Hulked, which is important to the MCU I'm sure, but it's via a recording of someone not in this film, based on a relationship not in this film, so it's kind of hard to argue there's an arc here. It's more that we learn how the Hulk is comfortable spending his free time. And truthfully without having seen Civil War, I can't tell you whether his sacrificing of Banner to free the Hulk at the end was character growth, or just situational necessity again.
I guess Skurge has a character arc. He goes from being self-preservationist to finally hitting a breaking point with Hela and sacrificing himself for Asgard. Frankly he's a delight any time he's on the screen, so even though it's admittedly thin and formulaic, I'll give that all the points.
Really, what my main issue comes down to is that it's blindingly obvious what character these stakes should have instilled growth in, and that's Odin. Except he's dead, so he never has to reconcile with anything. Hela has no relationship to Thor or Loki (she doesn't even know about them), but she does to Odin, and frankly as the dude that imprisoned her, he's kind of the one that should be going face-to-face in some capacity. What makes a family drama compelling is the fact that the family has a history together, after all.
Now, in Black Panther it was T'Chaka's crappy decision that sort of "created" Killmonger, a decision that T'Challa hates and feels is wrong at his core, and cannot rest until it is righted. So it was the protagonist's father's actions that created the situation with a family member he didn't know at all. It worked in that movie, so why not here?
Well, probably because Thor didn't really react to learning that Odin had conquered the other realms. So it just made an already emptyish dynamic between Hela and Thor feel even weaker, since the one thin thread that connected them—Odin and their feelings about him—were only half-explored. Hela felt rejected by Odin and pissed off about that, while Thor felt…not as powerful as him? Happy to quote him?
Maybe I'd have fewer issues if Odin hadn't just been like, "I'm in Norway now, so that means I'm dying. Bye and have fun with your sister you never knew about!" It's just that his death was so unceremonious, that the mess of his damn making felt out of the blue and sort of incidental. Then, we cut back and forth from the Goddess of Death taking over Asgard to Thor trying to ignore how big the Hulk's penis is. Seriously.
And that brings us to our final problem.
That's not how jokes work
Humor is subjective. Napoleon Dynamite is so hideously unfunny to me that it used to make me angry.
I will say right now that I don't know if it was the plane flight, I don't know if it was my mood, or I don't know if it's the underlying type of comedy here, but I did not once crack a smile at Jeff Goldblum in this movie. I've liked him as a comedian before, and I'm sure I will again. I did not like him here.
I also did not enjoy Valkyrie's played-for-laughs alcoholism. That trope is pretty grating to me at this point, and even though they kind of painted it as tragic, they also…didn't. She was quirky and fun because she could down a bottle before Thor finished talking, and when Thor actually suggested drinking heavily might be bad for her, we were supposed to laugh at her telling him she wasn't going to stop. It's nothing against Tessa Thompson's performance, who frankly stole every scene she was in. But that's just how I reacted to the character.
I did massively like Taika Waititi as Korg, Karl Urban's Skurge was wonderful (especially opposite to Kate Blanchett chewing the scenery), and there were times that Thor and the Hulk's back and forths were amusing. So it's not like I found nothing funny here. But to be sure, a lot of the comedic thrust didn't land for me, and if it had, maybe I'd have a very different reaction to this film.
That said, the humor of this movie is really the best praise I hear about it. I'm just not entirely sure why that's a good thing. I'm all for a boisterous, fun Thor romp, but if that's what this was supposed to be, then why the hell even introduce Odin's imperialism in it? Why have Thor's best friends murdered here?
Levity can be powerful in dramas. There were jokes in Black Panther, not to beat this already dead horse, but it didn't make for a full tonal clash. When M'Baku said his people are vegetarian, it was a great way to cut the tension of the moment and further characterize him. However, we never cut back and forth from Killmonger murdering Andy Serkis to T'Challa doing something ~wacky~. The more jovial scenes, like Shuri's lab, were before the plot really picked up, and the humor that took place during serious scenes (the car chase, for instance) was sparing.
The stakes of Thor: Ragnarok are literally the destruction of the world. And also the destruction of Asgard's connection to the other realms. The central conflict is born out of an imperfect, revisionist colonist ruler who is the protagonist's dad. How are we supposed to be treating this with any kind of seriousness when the own narrative can't even manage to give as much focus on Asgardians fleeing to their Helm's Deep as it does to Thor's haircut?
All the humor (or attempted humor in my case) managed to do was heavily undercut the dramatic tension. Even if I had been in stitches during Sakaar, it wouldn't have helped me get more engaged with the central conflict. It just might have made my flight go faster. And if the central conflict was not as interesting to the writers as the jokes, then fine, maybe this isn't the movie for that. But for god's sake, don't float that giant imperialism matzo ball if you're not going to be able to actually do anything with it. Was it just there for color? Odin's not perfect, ya know…now here's the Hulk!
Stuff Happens, Don't Question It!
It's no secret if you've read any of my previous articles that I'm not the best at enjoying fun, colorful action sequences for the sake of fun, colorful action sequences. That is, unless I know it is pure silliness, like with Thor: Dark World. It's ironic enjoyment, sure, but that doesn't make it any less real. If I had gone in with that attitude for Thor: Ragnarok, I think I would have liked the ride.
But frankly, that's not the attitude anyone seems to be holding about this movie. Maybe it was the counterweight to Civil War that the MCU needed, maybe if I had watched it before Black Panther I'd have a more favorable view…maybe it's that elevated an experience in theaters. For me, I can only see two half-completed scripts stitched together, resulting in a whole that's weaker than the sum of its parts. It's fine to celebrate it as a joyous romp for those that felt joy and romped, but I can't call it a good movie. A good viewing experience maybe, but not a good narrative.
In other words, it's a Thor movie. Wow. I guess maybe my expectations had been too high.
---
Images courtesy of Marvel