Lupin the III is known for a lot of things, like heists and cons and bothering Zenigata. He's not so great at being honest and speaking from the heart, which is what makes The Jig is Up, a visual novel where Lupin sets his sights on Jigen Diasuke, so fun.
From the fans that brought you Is Lupin Still Flirting, comes another tale of master thief Lupin the III, except instead of seducing Zenigata, this time he's focused on winning Jigen's trust (and love). Easier said than done!
Players must keep social stats balanced as they help Lupin win over Jigen's trust, without getting Jigen fed up with Lupin's constant BS.
The team's first game in the Lupin universe, Is Lupin Still Flirting was one of my four favorite games from playing over twenty five visual novels last year, and I was so excited to find out that this game would let me romance Jigen! (The best ship, obviously.)
Like the former, The Jig Is Up boasts beautiful watercolor backgrounds and art, a soundtrack that includes brand-new arrangements of classic songs from the history of Lupin the III, and casual mechanics where Lupin and Jigen can lose or gain various attributes.
Lupin (and the player) can only get to the one true end (with a bonus scene!) if he balances keeping Jigen patient, building trust, and opening up. Something that's quite difficult for Lupin to do.
The game begins with Lupin running into Jigen who at that time is still a henchperson for the Capo.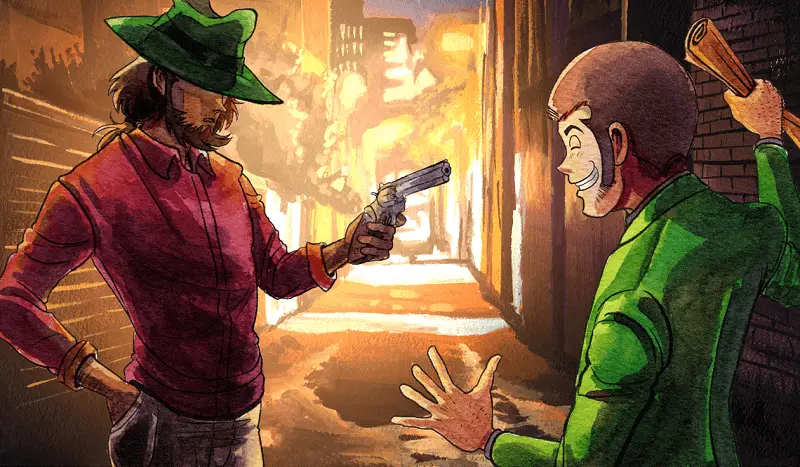 Cue a not so cute meetcute and your first chance to develop a relationship with Jigen and build trust. Once you do so, the game launches into the second of three chapters, with callbacks to moments in the larger Lupin the III universe.
Of course, there's always some level of drama in Lupin's life and the second and third chapter provide more opporunities for Lupin to open up to Jigen and convince him that he's not just charming him like he does everyone else.
You also get a fun cameo of Fujiko who is known for making off with the loot of the day from Lupin (and Jigen's) heists. There's also a short moment with Goemon, another famous character.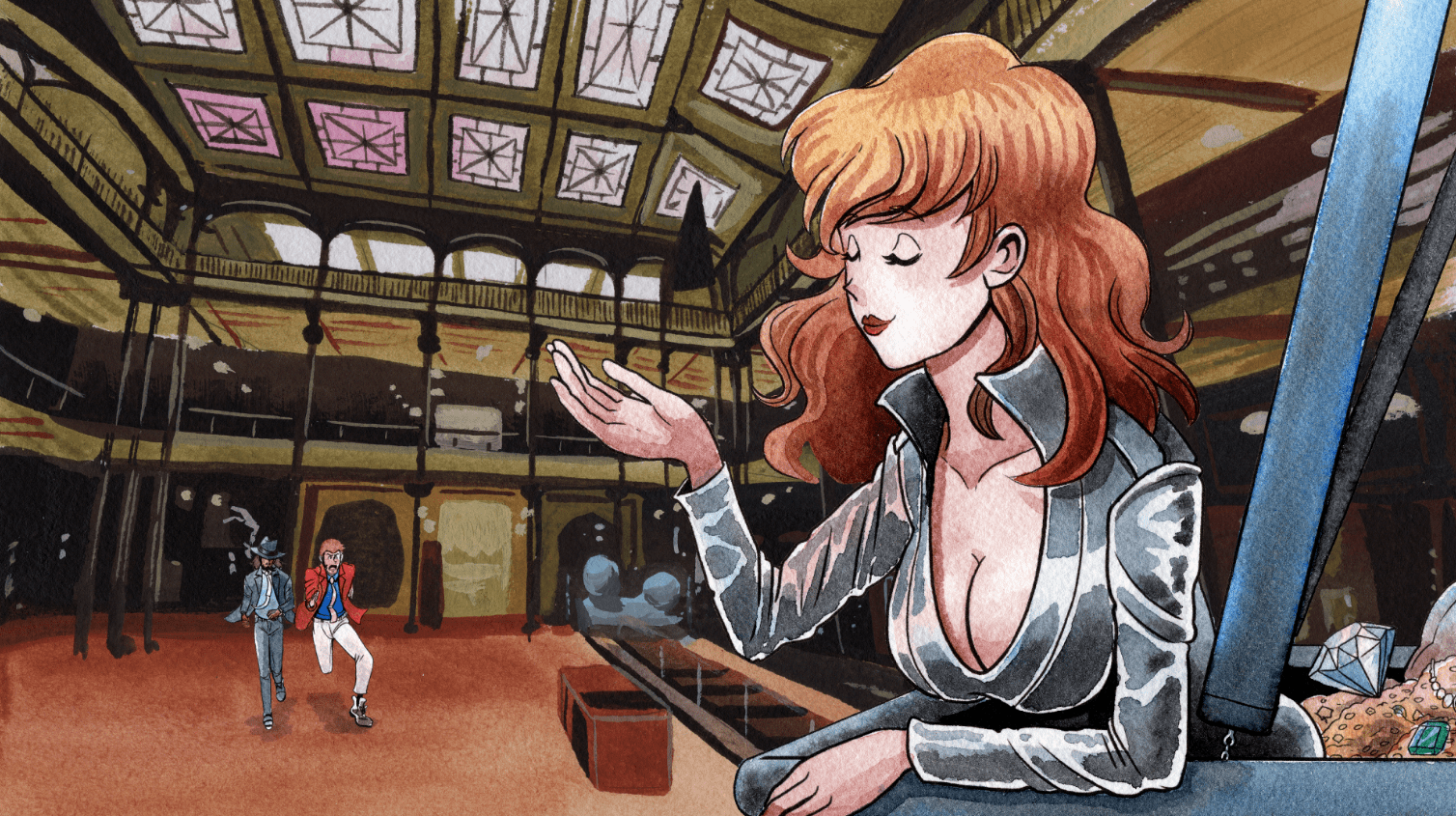 The Jig is Up and Exploring Trust
The draw of The Jig is Up comes in the care that imagiBros put into the story of how Lupin and Jigen develop their relationship over the course of years. A story made more fun because most visual novels (like many romance books) occur over a short period of time. Seeing Lupin learn to open up more and Jigen learn to trust him is sweet and as the player directing Lupin's actions, satisfying when Lupin doesn't screw it up.
Until of course, he does, because he can't and won't admit to himself that what he actually needs is very different than what he thinks he wants, and this is where the game mechanics really make an impact.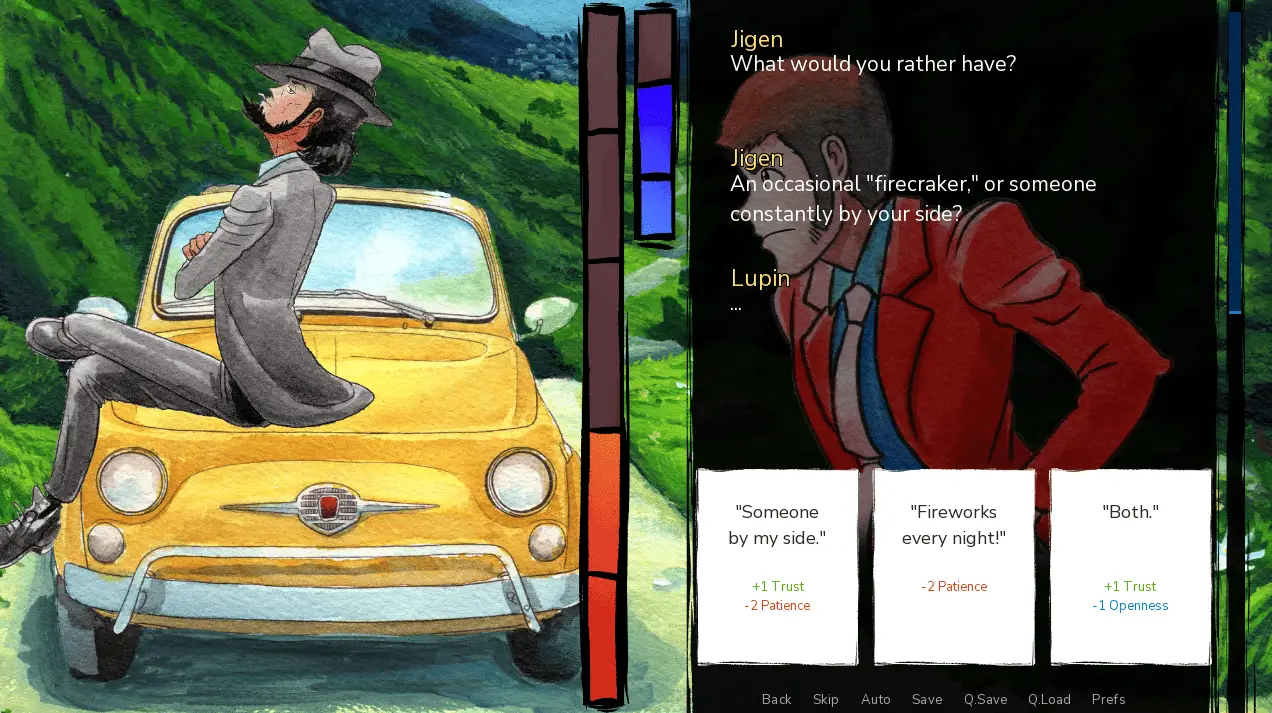 The example above is from early on in The Jig is Up but shows what pivotal moments in the game look like. Throughout various conversations Lupin has options on how he can respond to Jigen.
His choices, however; are constrained by how open he is at the moment, how much trust Jigen has in him, and how much patience Jigen has. As the player, you have to tread carefully. Go too far in one direction and you risk ending the game prematurely.
Take too long to open up and Jigen won't trust Lupin, and the game may end.
The best part of the game comes at the end, where Lupin (no spoilers!) has a chance to try something new. Full and open-hearted honesty to Jigen. The question is if he can actually do it, and once the player makes the decision, the game goes from charming visual novel about Lupin romancing Jigen to really laying bare Lupin's various neuroses.
He is after all, up to this point in the game navigating life, as if it's a video game itself. All conversations and decisions are understood in terms of "do this, get x, say this, hear y" and the last chapter of the game really takes Lupin apart and it's spectacular.
What makes Lupin the III a beloved character comes through in yet another love letter from the team to the character and the universe. I absolutely recommend the game to lovers of Lupin and newbies to the world. At roughly 22K words, the game is a perfect afternoon or evening's journey with enough variety in each chapter for multiple replays.
You can grab The Jig is Up on itch.io now!
Images courtesy of imagiBros
Have strong thoughts about this piece you need to share? Or maybe there's something else on your mind you're wanting to talk about with fellow Fandomentals? Head on over to our Community server to join in the conversation!