From developers DO MY BEST and publisher tinyBuild, The Bookwalker: Thief of Tales is a beautiful narrative adventure prompting players to decide how far you'll go to recovering your ability to write. Releasing on the 22nd, the game drops you into six gripping books where you must retrieve a special artifact or risk 30 years of hard labor before getting to write again.
As a huge fan of books and narrative games, I was immediately drawn to story in The Bookwalker. What did Étienne Quist do that was so bad to get thirty years of writer's block? We learn that people with far less time never truly write again after serving their sentences and some give up on life entirely. So for him to jump right into the first book…Much goes on.
The Bookwalker begins with a first person view of the apartment that he lives in — the one he's got an eviction notice for (oh no), with neighbors who want nothing to do with him, and all his stuff taken away after his arrest.
Fortunately for him, his friend Vince happens to know someone who can get the shackles off! That is if he dives into six different books to retrieve key items from each one including Thor's Hammer, Excalibur, a clock, and a weather machine. If Étienne is able to do so successfully, his shackles should be removed, and he can go back to writing. Or so we hope.
After accepting the job from a mysterious man on the phone, you jump into the first book titled Drop of Infinity in which you must find an immortality potion!
Interestingly, the world of The Bookwalker seems to mirror that of our own with book reviews from the Dallas Morning News posted in the case that you must place each item. There are also author photos and other notes! On the flipside the phone is a rotary so it's set sometime in the past.
Each book is a completely different world with unique rules, settings, and characters requiring Étienne to work his way through the setting to find items to create tools that he can use to find important items for moving forward. Along the way he may come across food or items that he can melt to use to make bottles of ink, used in fighting enemies.
In Drop of Infinity, Étienne must hunt down an alchemist who created the immortality potion so that he could resurrect his lover. It only took hundreds of murders and tests to make it happen, so he must investigate a number of cells with the remains of the test subjects.
Étienne also finds a character that's been removed from another book (totally, very, absolutely, completely, illegal!) by another walker who has been partnered with multiple walkers before.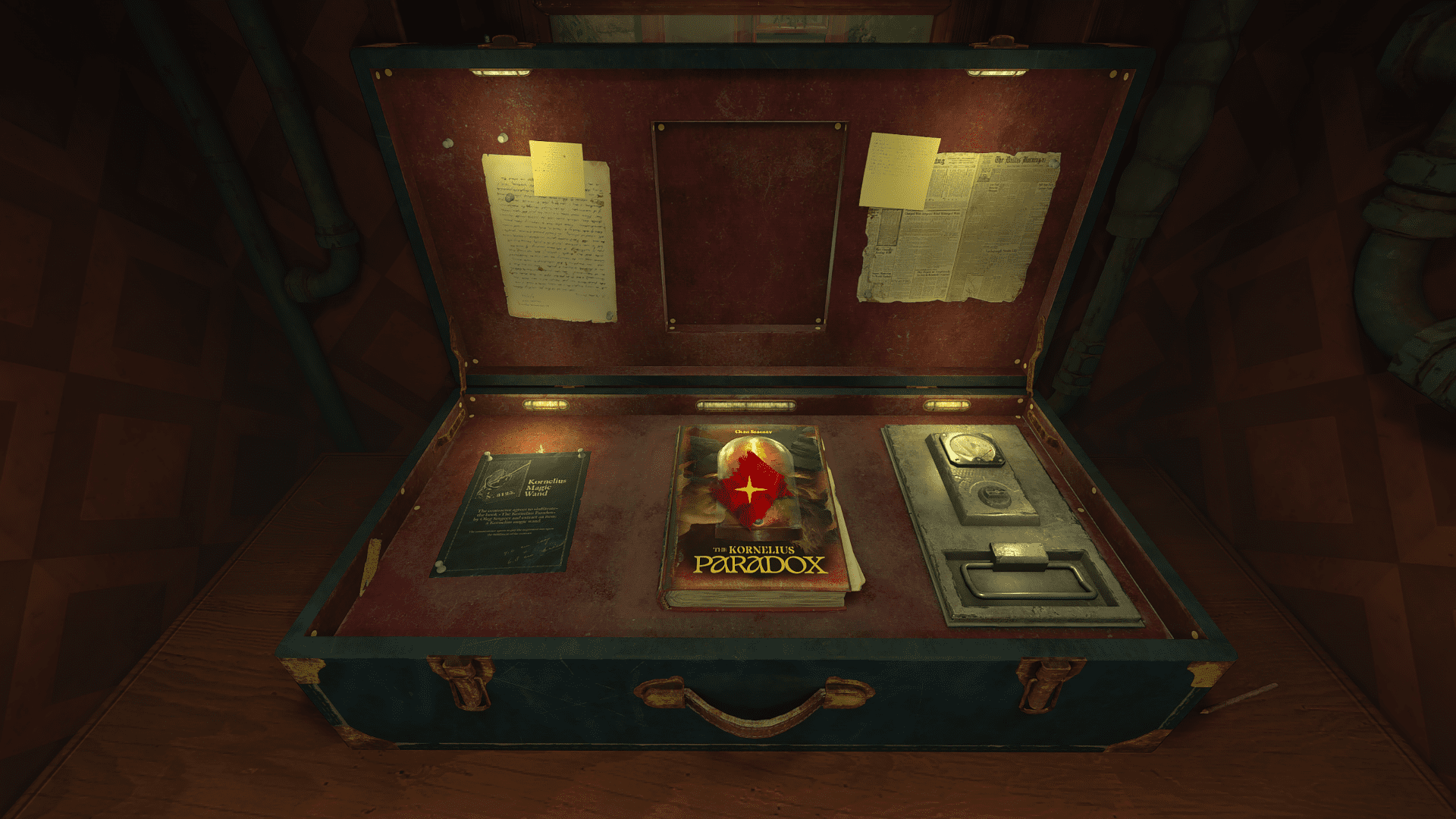 Roderick (named as such by Étienne) will provide hints and reminders for what to do next and is your only companion throughout. He has a lot of opinions about Etienne which is simultaneously hilarious and fascinating because who is Roderick? What book did he come from? Will he be able to return Roderick at the end of his quest?
Of course as a writer, Étienne has a whole lot of opinions about characters and settings, and learning more of those throughout The Bookwalker was one of my favorite pieces of the writing.
It would be easy to fight some bad guys, get the item required, and then head home, but each book provides moral quandaries for Étienne. With the alchemist, Étienne must choose to let him have half of the potion so that he can continue the cycle yet again or take the whole potion and send it to the Collector. In others, he might choose to let characters die or ignore others when they ask for help.
While there's only one ending to the game, the choices Étienne makes do matter throughout the process of going into each book. If he returns without the full potion after feeling for the alchemist who just wants his lover, he gets thoroughly chewed out and receives no work for another month. If he does return, showing Roderick the lengths that he'll go to, he gets a second job soon after. This all assumes that he's able to fight off all the enemies, which are different in each book.
In book one, you have to fight spiders (guh). There's robots, humans, creepy shadowey dudes, and others with varying difficulties.
Battles are turn based. Étienne starts off with three skills. Each skill requires using some ink, though he can drain ink from enemies. There's also Slash and Stun, and after each book he can add a new skill or upgrade an existing one.
Some enemies can heal themselves and others, so it's important to strategize. Others can land strong hits, taking out two or more lives. Fortunately, throughout exploring each book, Étienne picks up food that can replenish his lives, and as long as you've melted the items down to create a bottle of ink, you can use that mid battle too.
I tried to go into each battle with multiple items just to be safe and ended up only "dying" once and that was near the end of The Bookwalker. At that point Étienne got back up so there might be one last life if it were to use if you do get to that point regularly.
Exploring the books is a whole lot of fun, and sometimes stressful depending on the setting that you're in. You never know what you'll find in a box or under a pile of rubble. Each book requires some traveling back and forth as you build tools to get items needed to progress and talking to the dozens of characters reveals more about the book's setting and plot and about Étienne himself based on how he reacts to various revelations.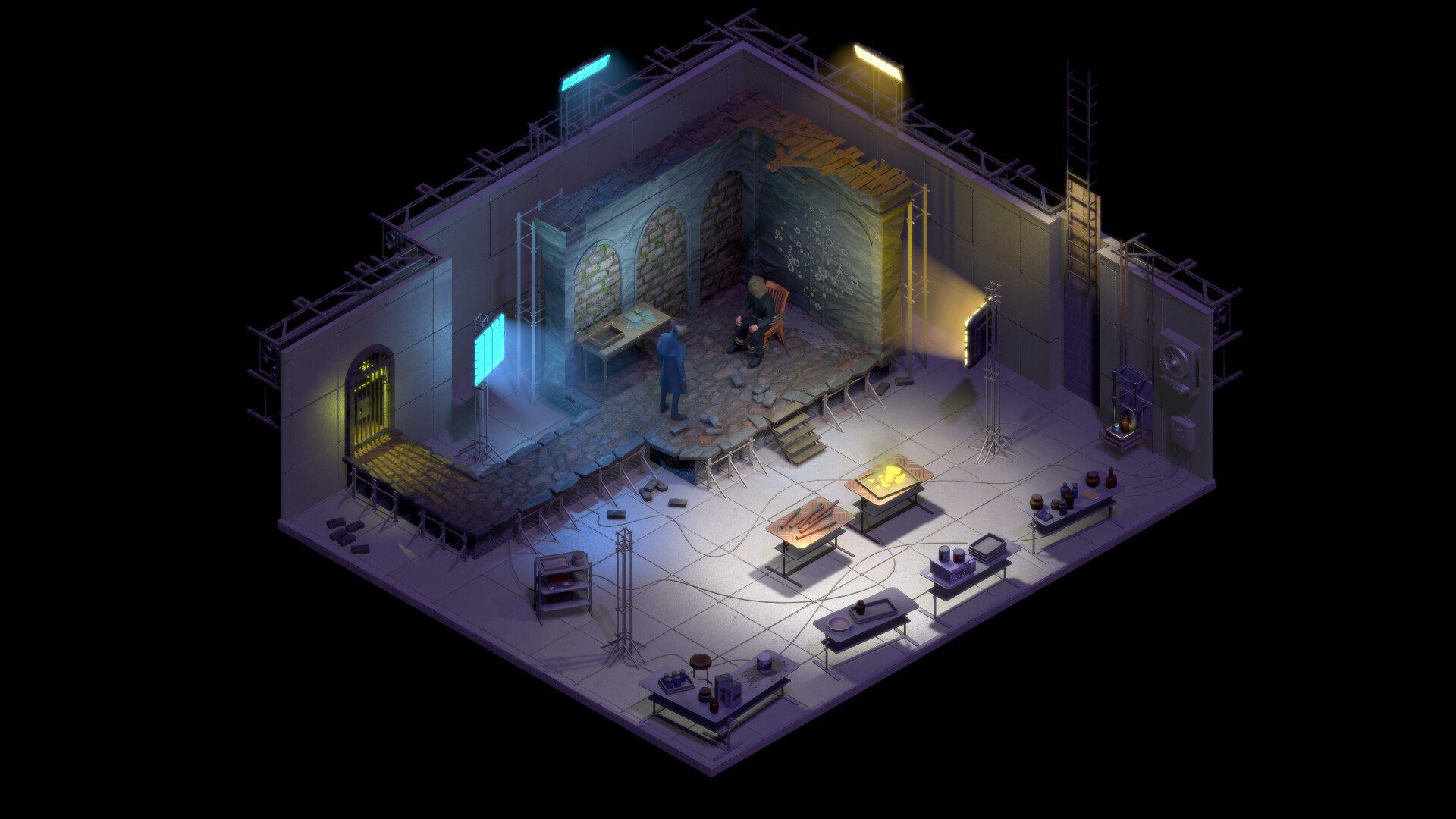 It's the same for exploring the apartment since that changes after each return to reality at the end of the books. At one point Étienne gets incredibly drunk and calls his ex 16 times. Whoops. At another, you wake up to beautiful flowers and more furniture. Plus check out all the notes and mail, each time you learn more about Etienne and the universe around him.
Without getting into major spoilers, in the last third, we learn precisely what caused Etienne's arrest and it is a doozy. If you've been paying attention to the dialogue from the get go and who he talks to on the phone, it becomes apparent, but the actual reveal and the aftermath of the reveal is so juicy and heartbreaking.
Eventually, once you've managed to get the six artifacts, well, I can't give the ending away but it is superbly done as is the epilogue which had me actually jaw drop in shock.
I found The Bookwalker incredibly compelling and captivating and going back into the books for a second time to see how making different choices impacts the story was really, really fun. Once you pass a book, you can go back in at any time which provides player freedom instead of forcing you to start over from the beginning just to see a different ending in the fourth book.
Each book was also completely created from scratch by the team. While there are familiar ideas and items (like Thor's Hammer and Excalibur), their uses are completely new. Excalibur, for example, is on a ship in space where only the Worthy can try to remove it from the stone but there's dying people on the ship! Yikes.
Ultimately the team asks players to think about what it means to lose your livelihood. What would you do if you couldn't create art for thirty years? Are you willing to do whatever it takes? And what about the crime itself?
I really hope we'll get to see more of this universe and can't wait to see what DO MY BEST does next.
You can get The Bookwalker on PS5, Xbox Series, PS4, Xbox One, and PC tomorrow!
Review 0
Summary
The Bookwalker: Thief of Tales is a beautiful top-down narrative adventure with reveals worth the wait.
Images Courtesy of DO MY BEST and tinyBuild
Have strong thoughts about this piece you need to share? Or maybe there's something else on your mind you're wanting to talk about with fellow Fandomentals? Head on over to our Community server to join in the conversation!