Due to unforeseen circumstances, Kori and I turned our October episode into a written piece! Of discussion is the long-awaited Ms. Marvel casting for Disney+ new series, our take on the ridiculous Rihanna Savage x Fenty Lingerie show "controversy", the misuse of slurs by community outsiders, and a preview for the film Breaking Fast.
We'll be back next month with also long-awaited (maybe it's just me) episode walking through Fandom's major shifts in the last decade and the absolute lack of a fourth wall (please come back I miss you).
Ms. Marvel Casting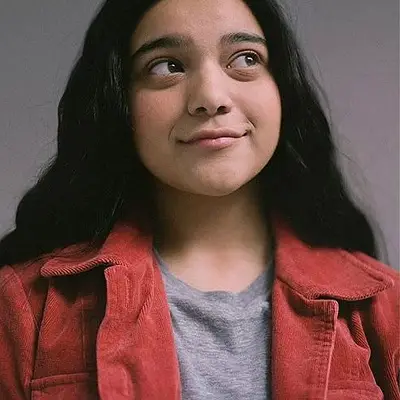 Seher: After what truly feels like a thousand years, especially after this year, we learned that Canadian newcomer Iman Vellani is playing our fav. Since she's a newcomer there's obviously no way to know how good she is but considering Disney cast her, she must have been dang good. All the internet really knows about her is that she's 18 and " hails from the Toronto area and a year ago took part in a Toronto International Film Festival committee that helped highlight films that speak to teenagers." (She's also got great taste in movies per an alleged Letterboxd account so I can't wait to hear from her during interviews.)
Additionally we now (per the link above) that Bad Boys for Life filmmakers Adil El Arbi and Bilall Fallah, as well as Sharmeen Obaid-Chinoy, a two-time Oscar winner in the documentary short category, and Meera Menon, who has directed episodes of The Walking Dead, The Punisher and Titans are all signed to direct the series written by Bisha K. Ali.
I for one am very excited but can't wait for the day we get a darker-skinned actress portraying Kamala as is right (though I really am excited for Iman).
Kori: I'm just happy Marvel didn't cancel it in the wake of COVID.
Rihanna and the Savage x Fenty Lingerie Show
Kori: Y'all, I'm a Muslim and my Arabic sucks and I'm actively trying to learn. I didn't pick up on it. Should it have been mixed in at all? No, it should not have been (at least in my opinion) and Coucou Chloe should've done her due diligence, and I still think she knew what she was doing, but that's personal opinion. However, the further down the line it goes from Chloe the more disseminated it becomes and, yeah, I can buy it was an honest mistake from Rihanna's crew. So like, don't be a dick about it, yeah?
Seher: Just imagine me sighing forever. Was Rihanna's music director using the hadith excerpt unexpected? Sure! But it already existed in a mix that Coucou Chloe used so shouldn't people be yelling at the original mix creator??? Well actually no one needs to be yelling at all. Why are supposedly "pious" people watching a lingerie show anyways…?
Look I don't even care about the use of the hadith even if I think it's quite odd and considering it was about the end of days and the song is titled Doom, there's no way the team didn't actually know what was in the song. However, who cares!! It's not an Islamophobic attack on anyone and truly so low on the list of priorities that Muslims should have. Now if there was iconography of the Prophets (why this would even happen I cannot fathom) or something truly racist I would be mad, but that does NOT give Muslims (or anyone) the right to be heinously antiBlack in their reactions to Rihanna's show.
Go do something else with your time, there's a literal pandemic going on…
Misuse of slurs by community outsiders
This next section was going to be all Kori if we recorded so I'll let her take the lead, but I just want to say STOP USING SLURS IF THEY'RE NOT USED AGAINST YOU, EVEN FORMS OF THE SLUR. So if someone's called you a form of the n word and you're not Black, you CANNOT USE IT.
Kori: Slurs lobbed at one ethnic/minority group are. not. transitive. It truly sucks that we live in a word where slurs are thrown at those who are not in the "in-group". However. HOWEVER. It is not your call as to when, where, why, or how you can ever, ever use slurs hurled at another ethnic/minority group.
You will not use them on a train, you will not use them in a plane.
They are not yours to use or to decide you need to reclaim. Case in point. Some other minority groups who are NOT Indigenous have decided to start using the word squ*w to refer to their sisters, girlfriends, wives, etc. What the actual FUCK is wrong with you?
This is a word that has been used for centuries to sexually, physically, emotionally, and mentally harm Indigenous women. It is not yours to suddenly decide to "take back" any more than it would be appropriate for a non-Afro Latine person to suddenly decide they can reclaim the "n" word. Indigenous women have already weighed in on the possibility of reclamation, and have expressly said that term is too painful and loaded to do so. This word is deeply, deeply, deeply offensive to Indigenous women.
It is not yours to use. Just as the "n" word is not yours to use/reclaim/re-purpose if you aren't Black. Just as the word "f*ggot" is not yours to touch if you are straight. Slurs are not transitive, and we should not be adding harm to vulnerable communities by Columbusing them.
We're all fighting our own battles, and some of them ARE shared (ie Muslims regarding Islamophobia). But we have to know our lanes and ensure we uplift each other, instead of causing further harm and sowing seeds of distrust and discord.
Breaking Fast Film
Seher: To end on a pleasant note, I'm super excited to share the trailer for Breaking Fast streaming at a number of film festivals right now. Based on a short of the same name from Mike Mosallam, the film stars Haaz Sleiman and Michael Cassidy as Mo and Kal. Mo's dealing with the aftermath of a breakup and is surprised when All-American Kal offers to break fasts with him during the month of Ramadan and cue sweet love story. I will watch it as soon as I can and review it for y'all! We deserve more gay Muslim love stories that are not about conflict between being gay and Muslim.
Have strong thoughts about this piece you need to share? Or maybe there's something else on your mind you're wanting to talk about with fellow Fandomentals? Head on over to our Community server to join in the conversation!