My return to video gaming this summer meant I accumulated a long list of games that I am incredibly excited for and nothing has me more pumped than Midautumn, a supernatural roguelike about blasting evil spirits, saving your hometown from gentrification, and Asian diaspora culture. What else could you want from a game?
I was really lucky to get early access to the pre-alpha demo before the Kickstarter which went live today and have literally only positive things to say!
Midautumn is a delightful dungeon crawler deliberately developed to be accessible to new players and seasoned experts alike with an intriguing story set in a fantastical town based in reality. Not only is the place reminiscent of so many towns and cities facing gentrification, but the characters are all fully developed, even and especially the spirits. You'll leave each gameplay having fallen in love with the town and its characters a little more each time.
From a small team of developers led by Sherveen Uduwana, the game follows Robin Lam, who thought crashing at Grandma's was a break from all their responsibilities. That was their first mistake. Unfortunately for Robin, fortunately for the player, the Spirit World is real and its entrance is in their basement!
As the newest guardian, players must blast evil spirits and also save Nambo Quay from gentrification in this rogue-like dungeon crawler. If you've never played a roguelike before, the demo for Midautumn is perfect since it allows players to toggle the amount of damage the player takes, so even players who are intimidated by this genre can still play and enjoy the narrative.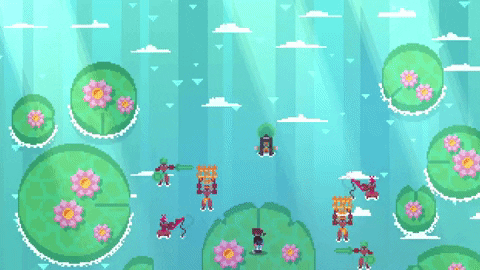 Midautumn Features
As Robin, you absorb the lunar powers of your enemies and reflect it back on them and each time that you enter the Spirit World, you'll learn more of the story. While in the Spirit World, you meet ancestral spirits who are seeking your favor and because of that, you can choose dozens of powerful Gifts to enhance your abilities. This makes for hundreds of viable character builds to discover and play with throughout the game.
In the demo alone, Robin receives a number of Gifts from two sibling spirits who have their own history and story that unfolds as you go through each run.
However, the spirits aren't the only characters! Nambo Quay is filled with a cast of colorful, larger-than-life alive people waiting to welcome you into the community. Deepen your bonds with them, and experience hundreds of unique story events as you learn about what's really going on in this cozy, mysterious town on the coast of California.
While all the characters are really interesting, I must say that learning Nadim is Bangladeshi made me really emotional. I'm not sure that I've ever seen a positively written Bangladeshi character in a video game before, or any, really. Plus Nadim's science experiments are way cool.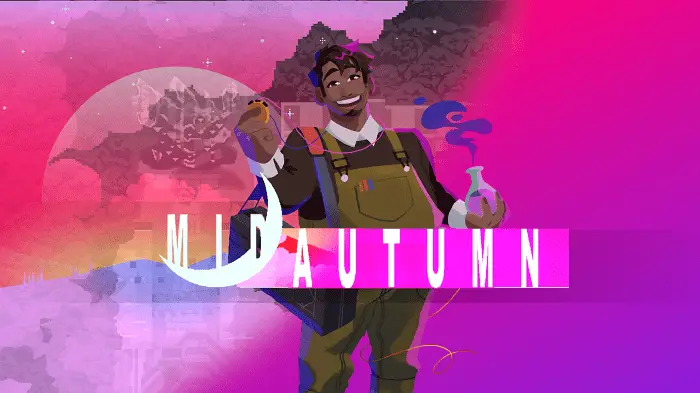 Depending on how long you play the demo before exiting the game, you'll have learned a lot about issues both in the Spirit World and above in Nambo Quay, but there's so much more to find out in the full game!
A fun addition to the gameplay and story is that while the ever-shifting Spirit World is different each time Robin heads underground, its strongest inhabitants remember the player and you can study the Practitioner's Journal in between runs to permanently grow stronger to win! Games with codices are the best because I always want a quick reference for everything that I've learned.
AND YOU CAN PET THE ANIMALS!!!!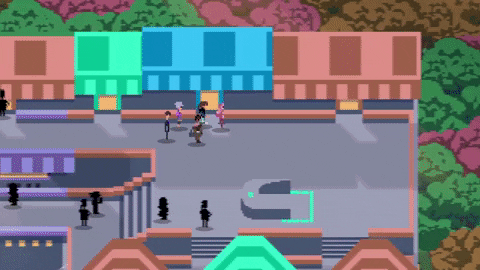 The demo currently includes one major boss and the early access version of the game promises so much more including the game's entire first chapter with over 200 unique narrative events, 3-7 hours of narrative content per each playthrough, 1 boss and 1 miniboss discovered when progressing the narrative. It also includes the Earthen Ruins, the first dungeon biome, 4 base dungeon enemies, permanent ability upgrades, shops, and temporary dungeon items.
Early access also promises content updates, more biomes and bosses, the rest of the narrative, and some changes/improvements to some of the existing systems.
All of this, mind you is set against beautifully designed pixel-art backgrounds and the best music ever making it a full experience. I may have left the demo running for thirty minutes just to listen to some of the soundtracks.
Midautumn's Kickstarter goal is a modest $30K and has pledge levels ranging in price and rewards. (Look at that zip-up!) In just hours since launching, they've already reached almost 5K.
The team has created a beautiful concept with a fascinating premise and I can't wait to play the full game!
Images and early demo access courtesy of the Midautumn team
Have strong thoughts about this piece you need to share? Or maybe there's something else on your mind you're wanting to talk about with fellow Fandomentals? Head on over to our Community server to join in the conversation!