Do you like musicals? Roleplaying? Narrative focused games? Greek gods? Drama? Then Stray Gods: The Roleplaying Musical from Summerfall Studios and Humble Games where you find yourself granted the power of a Muse, power you'll need to help find out the truth of your predecessor's death is the game for you! Plus find love and your own voice. What will you decide?
Though short, the demo which dropped yesterday for LudoNarraCon is by no means lacking in story or gameplay. Originally funded as Chorus in 2019 on backer site fig.co, the demo shows the years of work that have gone into creating the final version. With gorgeous hand-illustrations, fully voice acted, and a completely original soundtrack composed by Austin Wintory, the demo is just enough of the game's plot and gameplay to hook players without getting to far into the game itself.
You play as Grace, who lives in an urban fantasy world and has dropped out of college. Her band is holding auditions for a new singer and it's not going that great, but at least she has her best friend (or something more?) Freddie by her side! After the auditions end, you meet Calliope and have an incredible moment singing together. Then the game shifts to Grace's apartment, moments after Calliope stumbles in, and before passing away passes on her power to you. This is not what you were expecting!
Stray Gods picks up after that with Grace and Freddie meeting Pan, another members of the Chorus, who is of course as chaotic and tricksy as you'd expect. This scene allows us to get better insight into Grace (and her base character) and relationship with Freddie. There are a number of moments where you get to choose which direction the song and dialogue will go, depending on what type of character you want to play Grace as.
Technically there's only a few songs in this part of the demo but what makes this game so interesting to both a visual novel and (sometimes) musical fan, is that each choice completely impacts the song itself! Of course there are certain lines that stay the same no matter what, but depending on the choice you pick, there's a lot of different pieces of the song that play through.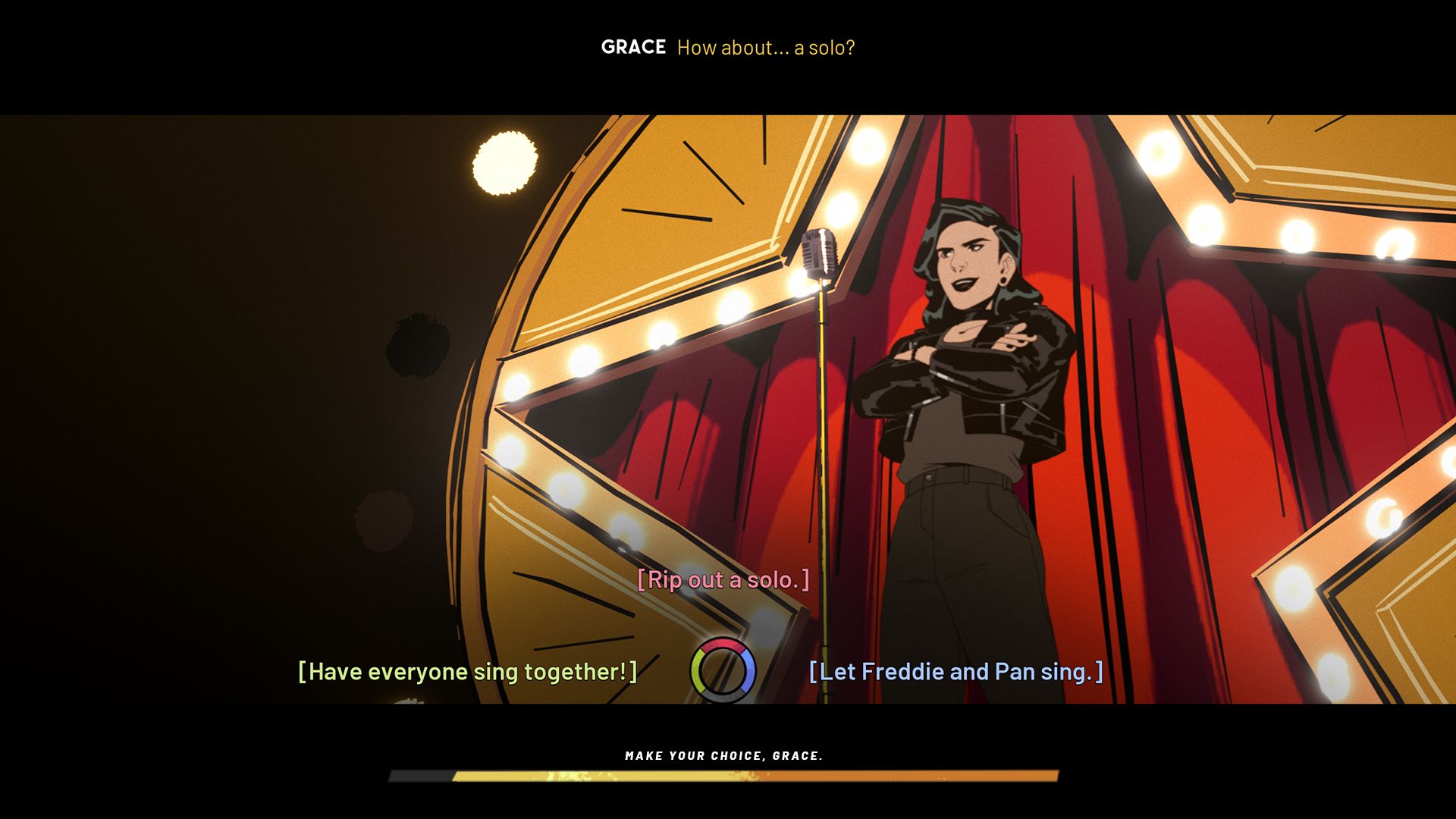 The changing song lyrics is the strongest example of the player's choices mattering in a narrative focused game that I've seen in a long time. There is only so many lines of dialogue a team can write and build around before it becomes completely unwieldy. Playing visual novels and enjoying them then depends entirely on the amount of new 'content' presented in each route or playthrough for a lot of players.
Stray Gods takes this approach and completely expands it because you truly get new lyrics each time, and you can't go back to save points to try a different dialogue option like you would in a visual novel! Instead you truly have to play through the game multiple times with different options, making it super entertaining and engrossing.
Playing as Grace, you can charm, negotiate, or strong-arm your way through the world of the Chorus, which includes other (in)famous Greek gods that we all know, though their stories might not play out as we are used to. Talking to different characters will also lead to different outcomes and information.
Unfortunately for the impatient, we don't get to meet the other gods in the demo. I am really interested to meet Apollo and Persephone particularly, since they're the two other love interests. They sure seem fascinating from the trailer though!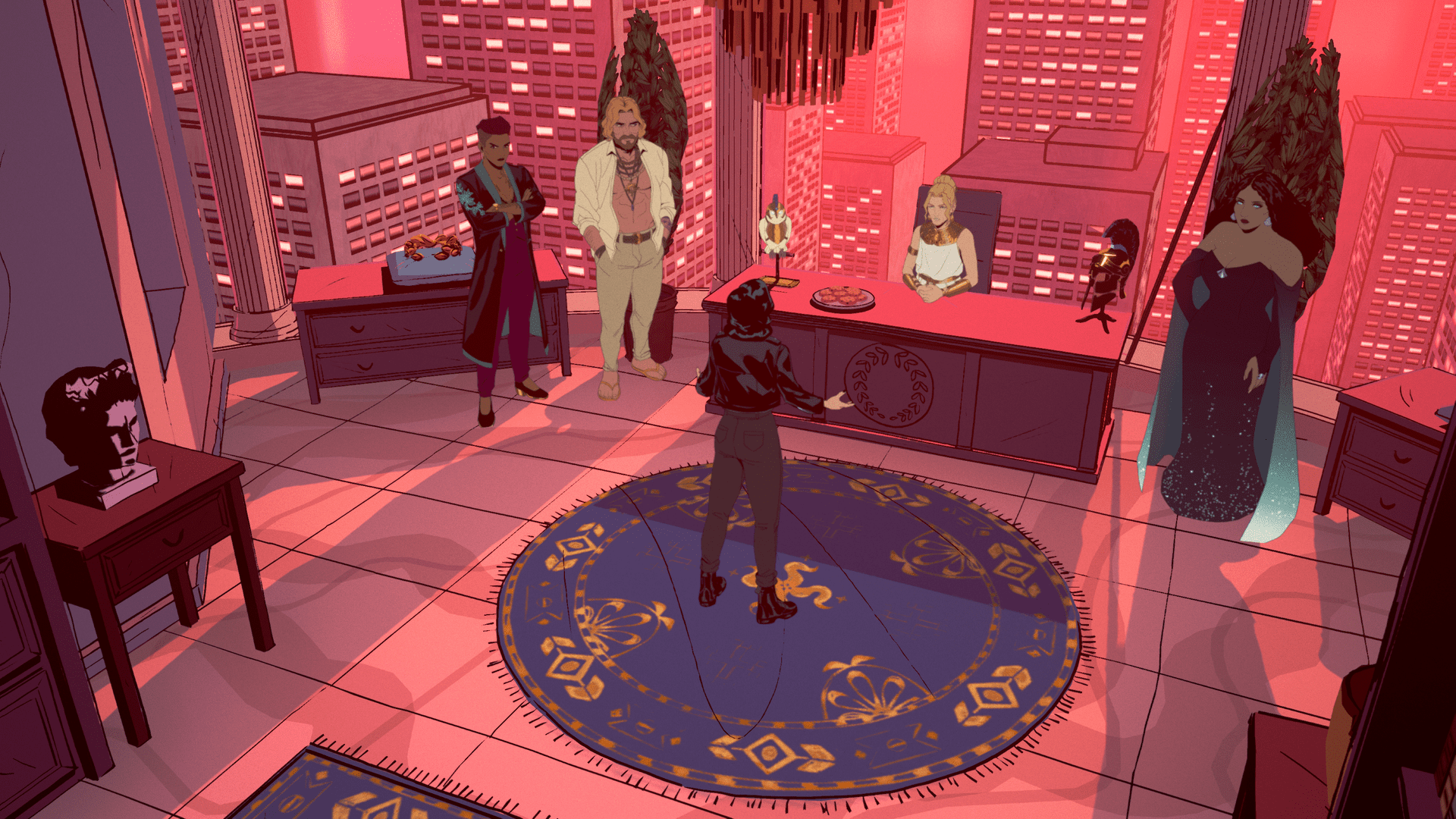 What about the music though? I mentioned earlier that I'm sometimes a fan of musicals and that's because I didn't grow up with access to them unless I was seeing things on TV. I didn't go to my first (not children's theatre) production of a musical until I was in college and sometimes feel like I missed out on a whole portion of entertainment culture. Even so, I genuinely enjoyed listening to Grace, Freddie, Calliope, and Pan singing throughout the demo.
Summerfall Studios gathered a truly star-studded cast for this game, boasting well known actors and singers like Laura Bailey (Grace), Janina Gavankar (Freddie), Khary Payton (Pan), and so many others! Anjali Bhimani, who portrays Medusa, briefly told us that she's "just so excited" because "it's just going to be a really fun game," and I completely agree!
The sheer amount of work to build a game where a choice leads to multiple different lyrics, fits all together, works with the composed music, and the voice actors deliver each line and lyric with the same consistency? That's a high bar to clear and Stray Gods is clearly planning to do just that.
Stray Gods releases August 3 but you can check out the demo before then on Steam and wishlist!
Images and review copy courtesy of Summerfall Studios and LudoNarraCon
Have strong thoughts about this piece you need to share? Or maybe there's something else on your mind you're wanting to talk about with fellow Fandomentals? Head on over to our Community server to join in the conversation!