Welcome friends, as we return once more to the wild and uneven world of board games based on Disney theme park rides. We've talked about one of the key peaks of the Disney Mountain Range, so let's talk about another big one- Space Mountain. Disney's famous roller coaster of tomorrow, many people's favorite indoor coaster period, now has a board game for us to look at!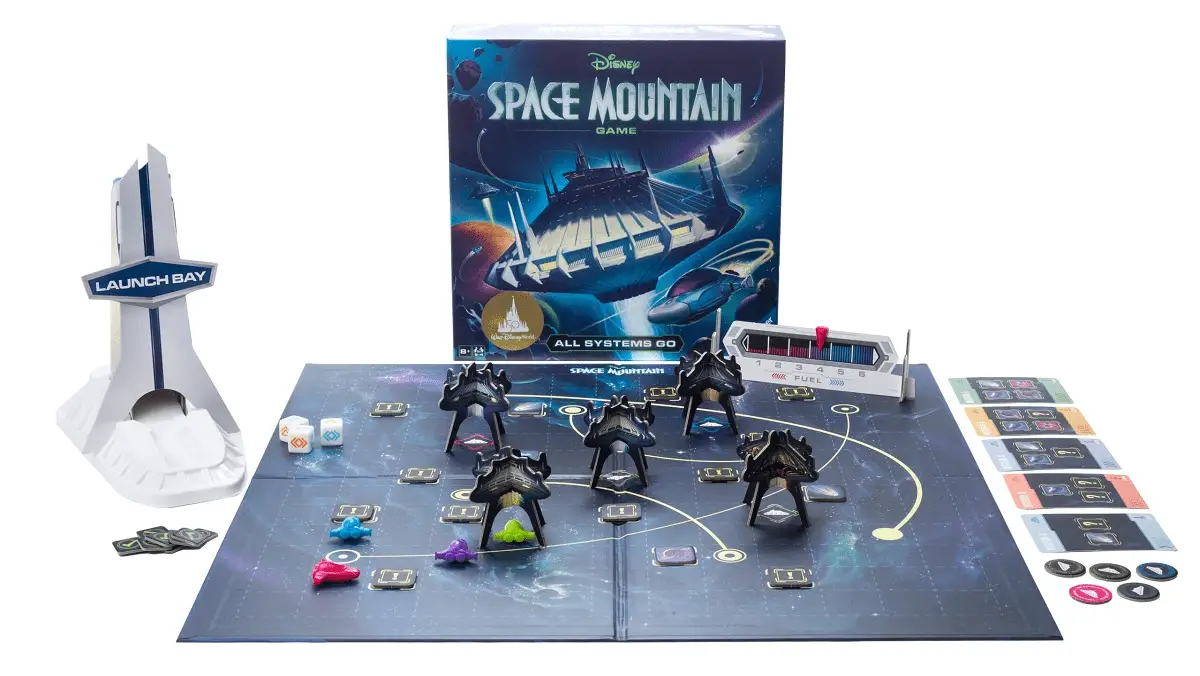 How We Got Here
Before we get into the game, let's talk a little bit about the ride itself. I know not everyone has access to the parks, so before we talk about the game itself, let's talk about where it came from.
In my last article, I called Big Thunder Mountain Railroad ubiquitous, and it is. Space Mountain, however, might be slightly more so, being present at all but one of the Disney theme parks around the world.
Of Disney's mountains (Thunder, Space, and Splash) it is unique in a number of ways. It's indoors, of course, but it also opened first not at Disneyland California, but in The Magic Kingdom in Florida, rare for Disney's widespread attractions.
Opening in 1975, Space Mountain was originally conceived by Walt after the Matterhorn Bobsleds coaster in Disneyland convinced him that there was a place for thrill rides in his parks. Shelved before his death by technology and space (ha) constraints, it was brought back shortly after Magic Kingdom's opening in response to the surprising popularity the park had with teens and adults.
If the plot of Big Thunder Mountain was a little vague, Space Mountain's story is downright nebulous. Honestly, it has the least story of any of Disney's mountains (except maybe Grizzly River Run), but it's a fast-paced race through the dark so honestly, it's hard to be too fussed about that, even as someone who views rides as art.
Blasting Off To Space
Now, as for the game itself, well…it's a Disney-licensed game. It's for ages eight and up, a family affair. Like Big Thunder Mountain Railroad and it's a small world before it, Space Mountain has a surprising amount of setup work required for a family game (in comparison to staples like Clue and Monopoly I mean), but the gameplay itself is fairly simple.
This is not a bad thing of course, but it's important to put it out front and center I believe.
Building off of the loose lore that the iconic Space Mountain building is a space station and a major hub for intergalactic travel, your goal is to be the first of up to four players to visit all five starports, evading cosmic obstacles along the way while also completing missions.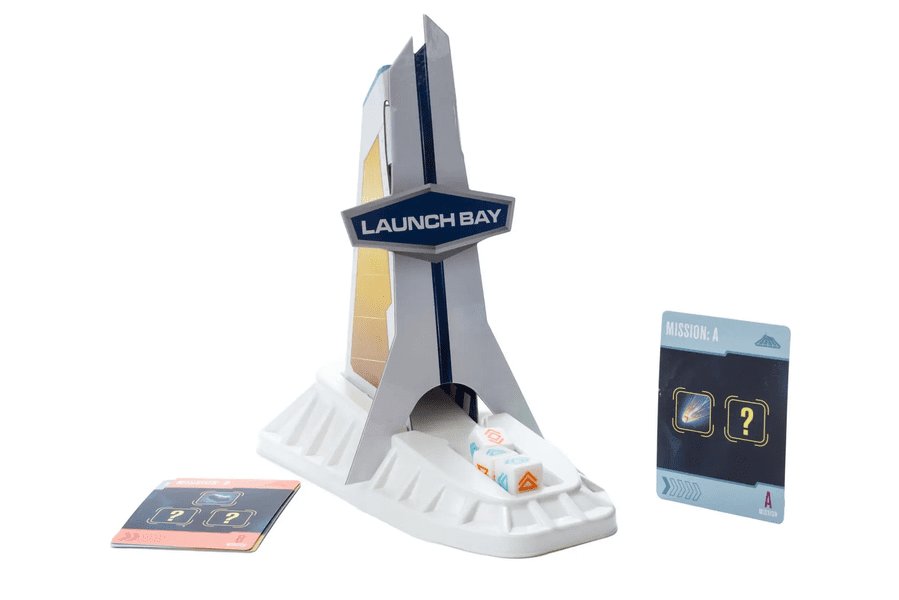 Movement in Space Mountain is based on the dice, which are managed by the 'Active Player'. One person drops the dice into the Launch Bay, and the faces of the three dice you roll determine how you move. Half the arrows will indicate that you move two squares forward on the grid-based board, while the other half indicates that you turn one square left or right. In addition, orange dice will take a notch out of your fuel gauge, requiring you to sometimes choose not to move but instead to sit a turn out and refuel.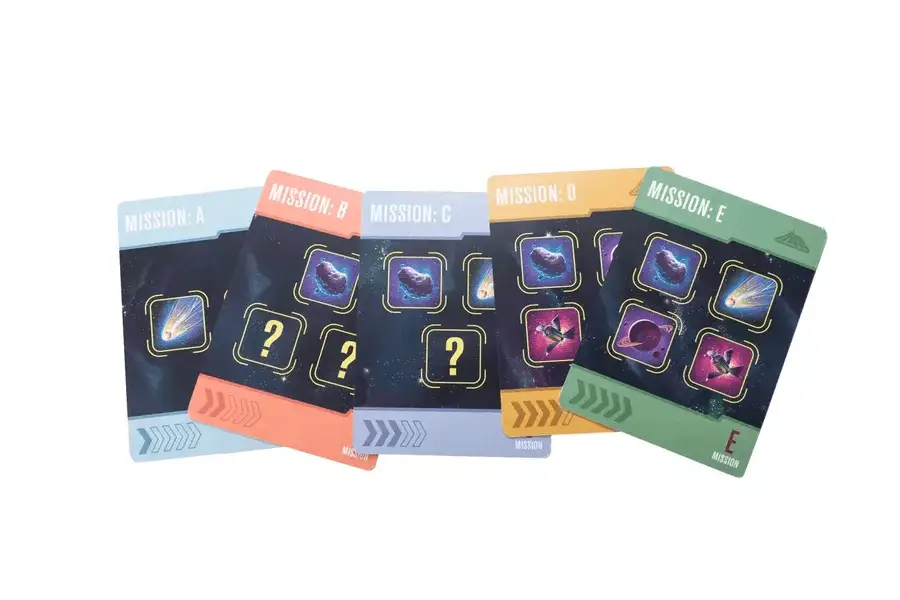 The mission cards of the game are fairly simple, asking you to find certain items scattered across the board. A space road trip, as it were. Your goal is to complete five of these missions, each one requiring an increasing number of items to be found, and visit all five starports. The first to do that wins.
Final Thoughts
Space Mountain is a game that is conceptually quite simple, with spice and variety worked in by the randomized nature of the dice (both for movement and for the fuel gauge) and the unusual grid-based board.
With more strategy than the Big Thunder Mountain Railroad game, and more…gameplay than the it's a small world game, this is honestly the most even and balanced of the Disney theme park games I've reviewed. I can't say I loved it, but it was definitely a worthwhile time, something I can see myself returning to in the future.
The heart of its biggest flaw is that it's a fine game…but not a great game. I had a good time playing it, but not a memorable one. While this game may have more gameplay than your usual 'collect it for the license' fare, that might be its best purpose.
Space Mountain
Summary
Space Mountain is ultimately a very fine game. It has nothing especially offensive, offers plenty to keep older kids interested, and will make a good addition to a licensed board game collection.
You can pick Space Mountain up at Amazon, Target, your FLGS, and some Disney parks and stores. It'll run you about $29.99
Images Courtesy of Disney and Ravensburger
Have strong thoughts about this piece you need to share? Or maybe there's something else on your mind you're wanting to talk about with fellow Fandomentals? Head on over to our Community server to join in the conversation!