Roxley's Dice Throne line of games (or ecosystem) has been around since 2018, and like other expandable games like Smash-Up, it's been a big tentpole for them. You go to some conventions and you wouldn't even know they make other games! After the success of Season One, and before Season Two kicks off, they teamed up with the op the see if people would be interested in a version starring heroes from Marvel Comics. Turns out they did. They really did. So when The op offered me a chance to roll some bones and be my favorite heroes for a review I JUMPED at the chance to see what the $2 million fuss was all about.
What's In The Box?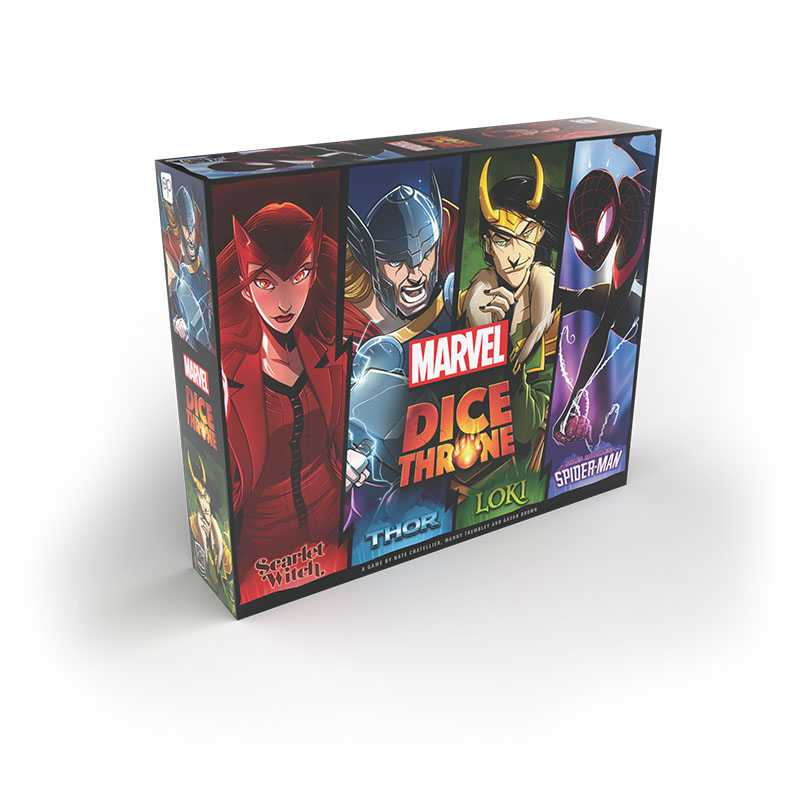 4 Hero Box Contents
4 Hero Boards (Spider-Man, Thor, Loki, Scarlet Witch)
4 Leaflets
4 sets of 5 dice (1 set each hero)
132 Hero Cards
4 Combat Points (CP) Dial
4 Health Dials
Rules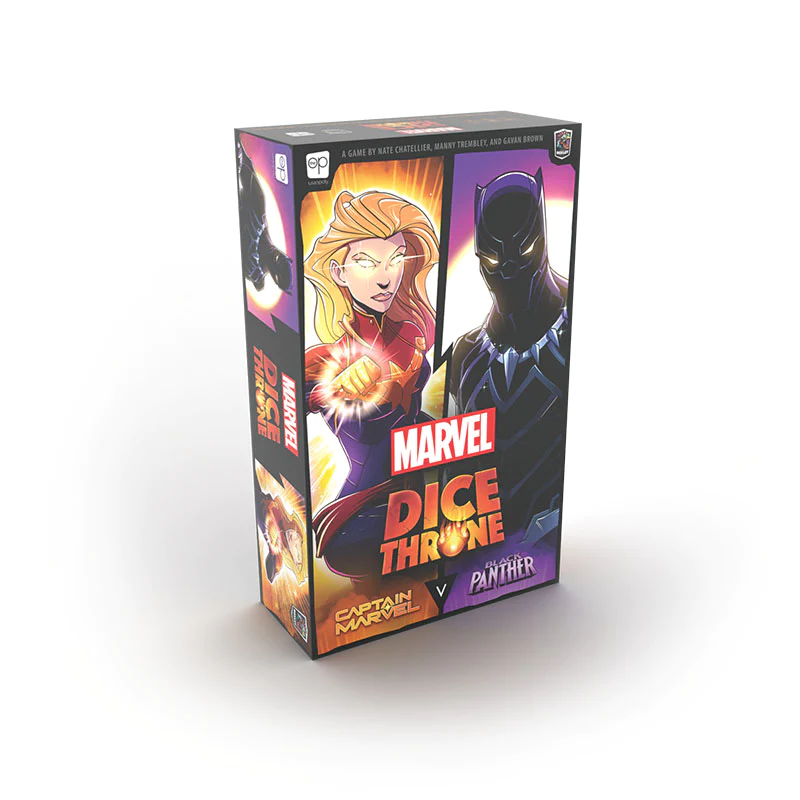 2 Hero Box Contents
2 Hero Boards
2 Leaflets
2 sets of 5 dice (1 set each hero)
64 Hero Cards
2 Combat Points (CP) Dial
2 Health Dials
Rules
How's It Play?
The gameplay here is the same across all characters, using the same system as the popular parent series. To attack, or simply use your abilities, you roll your five dice. Each character has their own dice set with their own symbols, and you need to get the right combination of dice to use different abilities. Everyone has a "basic" ability that only requires a couple of the same, others need full houses, all different, or other variations thereof. Characters also have abilities for small and large straights, where the important thing is getting the correct sequence of numbers rather than the right symbols. You get three re-rolls of any of your dice so anyone who thinks there's "too much RNG" can have some more ways to get to their desired outcome.
Defense happens the same way, with most having a specific ability to defend against but a few, like Miles, have a couple defensive options as well. Unlike the Attack Roll, this one only gets done once. These defensive abilities also might not even defend much, instead doing counter damage or some other effect depending on your roll.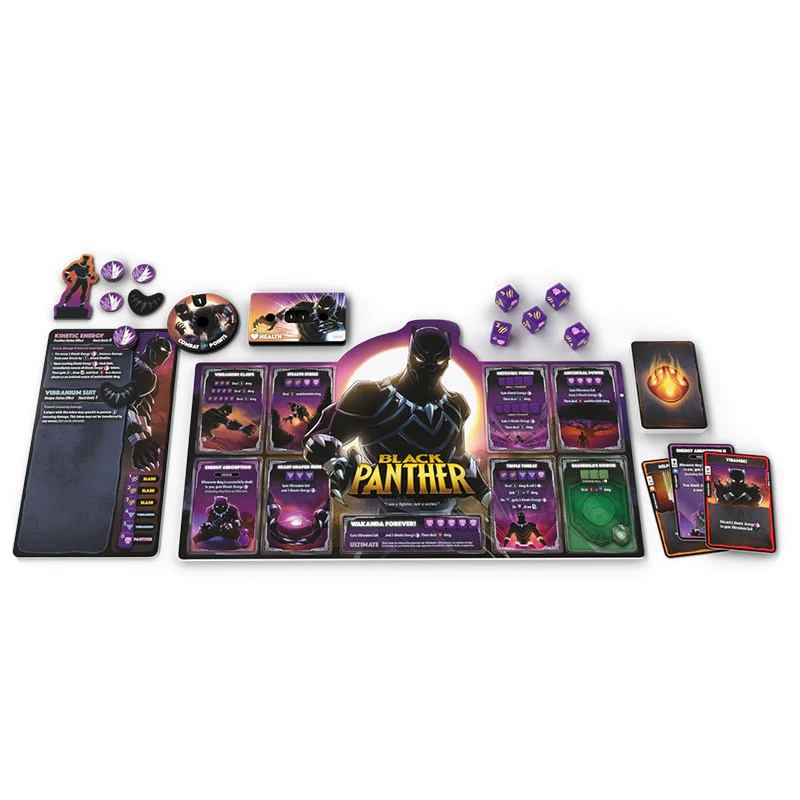 Each character has strengths and weaknesses you'll need to plan around and augment with your items and abilities played from your hand with Command Points. For instance, Captain Marvel is built for big bursts of damage and hitting multiple targets. She's not as good in a 1v1 as someone like Miles, who is much more focused on direct damage and single target immobilization with webs. Dr. Strange has a lot of "scry" mechanics and ability to mess with turns while Scarlet Witch, naturally, messes a lot with probability. Everyone's abilities and powers are a mix between what we expect from the MCU and from their comics selves, and their looks mix and match from that source as well.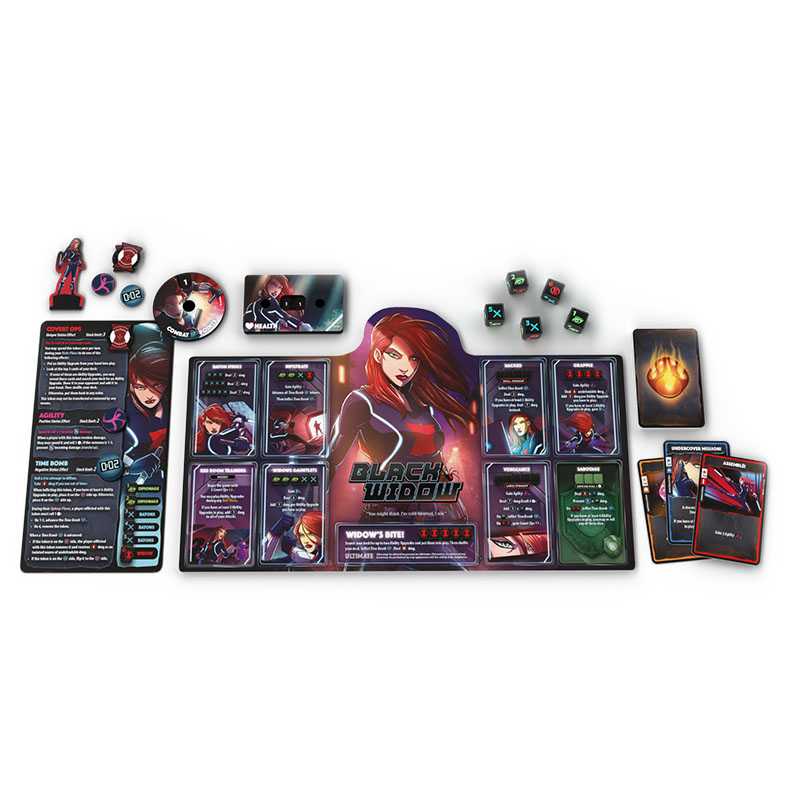 The only quibble I have is how the multi-player isn't really a "free for all," instead being either a straight up duel, an odd KOTH variant, or a 2v2. The characters are all balanced around these different game modes, but it's just a little more confusing than I expected.
The Verdict?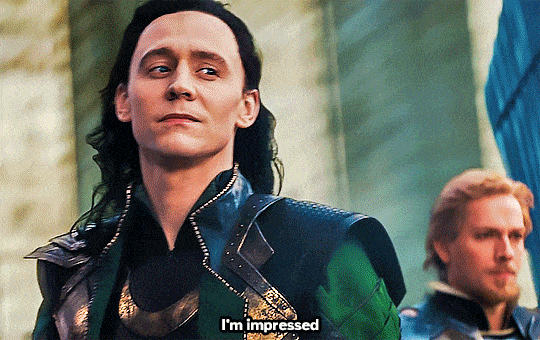 It's nice to play a game that's fast. You can really pick up the basic mechanics of this in about five minutes, with the only challenge being getting used to your character and what your strategies need to be. It's got that rock solid balancing that's at the core of Dice Throne's success, though the dice rolling naturally makes it more chaotic than a more straightforward strategy battle game like Unmatched.
As a Marvel fan I enjoyed getting to see how these characters translated, and for the most part they nailed it. Some of the choices are a little shallow and I'd have liked a bit more deep cut references (the kind you might find in other licensed games), and DEFINITELY more research done on Carol Danvers. I'm not sure when she became a degenerate gambler but this game sure thinks she is one!
Marvel Dice Throne
Summary
This fast-paced and easy to pick up is a great addition to the collection of any Marvel fan who want to get in on the Dice Throne phenomenon. Longtime Dice Throne fans will also appreciate the fresh design choices that can help mix up their stable of playable heroes.
You can grab Marvel Dice Throne and its expansions at The op's shop, Amazon, or your FLGS! The 4-Hero Box retails at $49.99, while both expansions can be picked up at $29.99. You can even get the whole shebang for $109 in the Battle Chest!
Images via The Op and Marvel
Have strong thoughts about this piece you need to share? Or maybe there's something else on your mind you're wanting to talk about with fellow Fandomentals? Head on over to our Community server to join in the conversation!