Which of your friends is the world's greatest explorer? From Lucky Duck and MushrooM Games, and designed by Alexis Allard with art by Aurélle Guarino, Small Islands sends players on an adventure through an archipelago of their own making, with one coming out on top as the greatest traveler of all time.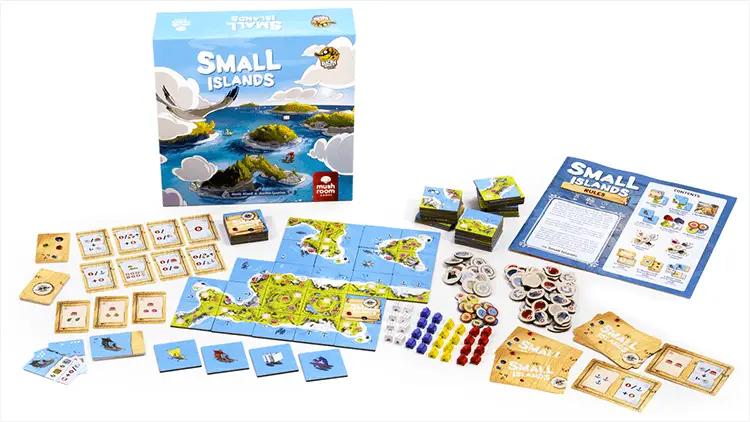 What's In The Box?
56 Landscape Tiles
4 double-sided Starting Titles
1 Navigation Tile
4 Ship Tiles
32 Clan Houses
16 Bonus Tokens
12 Discovery Tokens
45 Prestige Tokens
12 Objective Cards
Advanced Mode with:

12 Mission Cards
12 Reward Cards

Solo Mode with:

3 Alexis Cards
15 Expedition Cards

Rulebook
How To Play Small Islands
To start the fame, place the 4 starting tiles together to create a starting island. The tiles must be placed in a way so that they can be expanded upon with other tiles in both their land and water sections.
Shuffle the rest of the tiles and then stack them face down, placing 3 tiles face up on the board with the navigation tile with each of the player boats behind them. After sorting out the objective cards, navigation tokens, bonus tokens, prestige tokens, clan houses, each player will get two face-down tiles before beginning the game.
Players will then start the first of three phases for each round: Preparation, Exploration, and Reward. The Preparation Phase begins with 6 landscape tiles being placed face down on top of the navigation tile.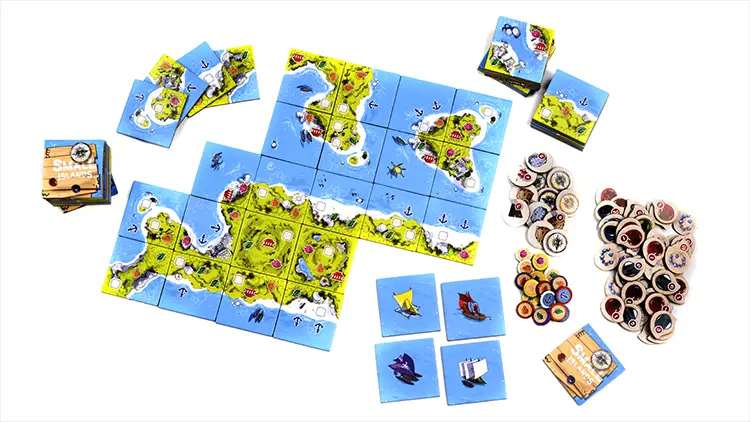 Each player will then draw two objective cards to have alongside the one they start with, and must decide which one to use in the current round, which one to save for the next one, and which one to discard and shuffle back into the objective card deck.
Each objective card has a Mission — this determines the conditions an island must meet for a Clan House to be placed — and a Reward. The Reward half of the card determines how much prestige is earned for each island that gains a klan house from the mission during the Reward Phase of the round.
For the Exploration Phase, players may either Explore by drawing and placing a landscape tile, or Land by placing a ship tile. Landing is only possible once the stack of tiles on the navigation tile is depleted. When placing tiles, they must either expand a new island or connect to another tile via water.
Once all of the tiles are placed, players may begin the Reward Phase. Players will place Clan Houses, starting with the player who took the Land action in the previous Phase.
Houses must be placed according to the player's mission, and players can only place one of their houses per island during the length of the game. They will then get the reward promised by their mission card and shuffle the card back into the deck.
The game ends when there are not enough tiles to form the navigation stack or when all of the ship tiles have been placed.
What Do We Think?
While we think that Small Islands could be a hit once you get really deep into it, it's not a game that comes easy to first-time player groups. With so many moving parts in each round (and in the setup!) it can be tough to get everyone to focus on learning how to play.
That said, if you're playing this with a group of people who are good drilling the many rules for this game into their heads, you'll probably have a great time. Small Islands is not for the casual board game player, and that's totally okay! There's even an advanced mode for people who really take to it, and we of course have to give the Only Child Stamp of Approval to the developer for creating a solo mode for the game as well.
Everything else aside, Small Island is a game with beautiful art and pieces. The details of the different players having differently designed ships and clan houses is a really nice touch, and the art on the tiles really pulls you into the adventure that the game has you taking part of.
Small Islands can be purchased from Lucky Duck Games or at your local game store.
Images Courtesy of Lucky Duck Games and MushrooM Games
Have strong thoughts about this piece you need to share? Or maybe there's something else on your mind you're wanting to talk about with fellow Fandomentals? Head on over to our Community server to join in the conversation!