Do you like cats? Do you like board games? Do you like internet famous cats? If you answered yes to any of these questions, then CATastrophe: A Game of 9 Lives is the game for you!
Originally Kickstarted in 2021, the game comes from fellow Texan Josh Norris, co-founder of publisher Original Sasquatch. Cat illustrator Jenny Parks and board game illustrator Jacqui Davis worked together with graphic designer Jason Taylor and gameplay development is from Brieger Creative.
Billed as a chaotic game where the player must survive elimination and fend off the Grim Reapurr, CATastrophe is the best type of chaos.
What's in the box?
CATastrophe includes 8 character cards, 8 player tokens and bases, 1 grim reapurr token and its base, 30 yarn ball tokens, 6 dice, 108 main deck cards, 52 catastrophe cards, and 24 power cat cards.
There is also a game board with markings for 9 lives and the game is set up around the game board.
Everything was solid and the standees are adorable. There's also a book with information about the creatives behind the game and more details about each of the cats used in the game!
Each player card also includes information on how to play the game and a fun description about the cat. For example, The Feral Cat is the leader of its band and they do what they want and no human being has ever come close to laying "their filthy hands" on them. Truly laughed aloud at that.
How's it play?
Once all set up with the cards and tokens, the game is truly as spontaneous andas unexpected as cats themselves. Players will start with 9 lives and your goal is to survive the mayhem. The last cat standing is crowned champion. Fortunately Power Cats are available to help guide players to victory.
Each turn has three phrases. First, the Claw. You must play any number of cards from your hand and/or your Power Cat cards. Players start with five regular cards and 2 Power Cat cards.
In the second Paw phase, you draw three more cards from the main deck.
Finally, the CATastrophe phase. Here you reveal the top card of the Catastrophe deck, read it aloud, and must follow its instructions.
The main deck has six types of cards. Attack, curiosity, ally, cucumber, take, and pass. They're all pretty self explanatory, but cucumber allows the pcurrent player to blcok the most recent card played or other cucumber cards and curiosity allows you to choose a player to lose a life. Meowch!
Power Cat cards are one time use and have a variety of abilities to help you or hur opponents. Meowmaid for example allows you to take a card from each player's hand at random though you can't have more than 7 main deck cards or more than 3 Power Cat cards.
Then CATastrophic Events usually involve all players and could be anything such as dice deuling, a malciious mini-game, or a wild challenge.
For example, in A Game of Meows all the players breath in, let out a meow and must try to do it continously in one breath as long as possible. Whoever wins draws 1 Power Cat. How can you not giggle at that?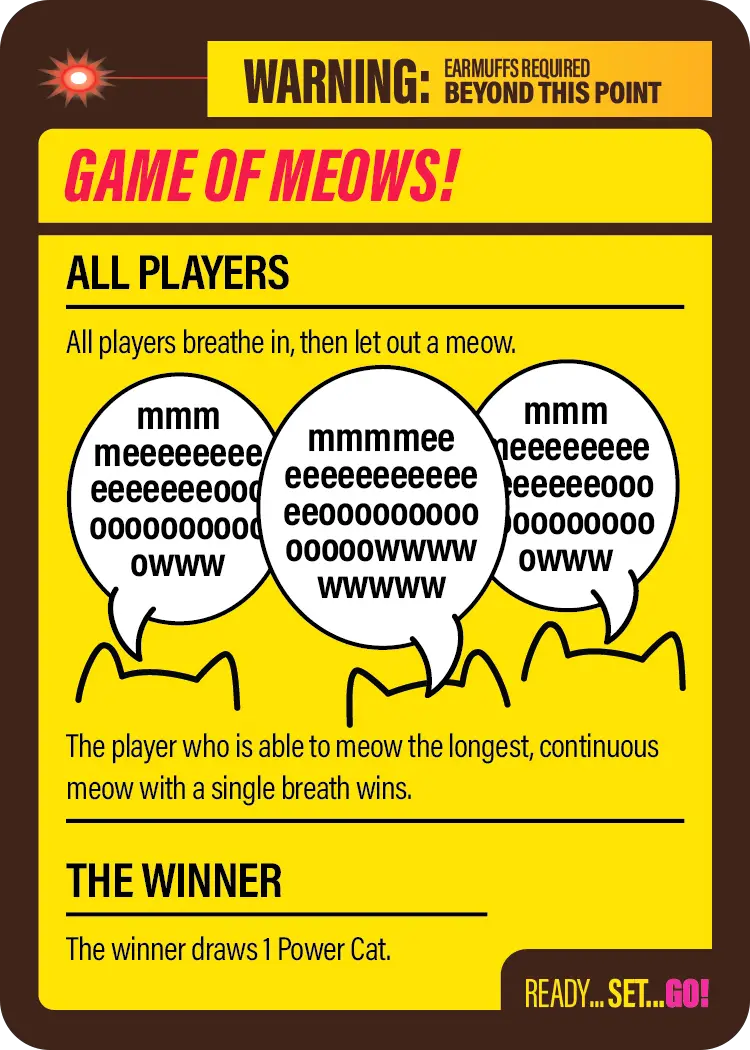 Finally, the Grim Reapurr of course is in the deck ready to attack. If players ever fall behind the Grim Reapurr on the board they are eliminated immediately! Eek!
Game variants also change up the fun with King of the Meowtain forcing players to be on one life space at a time so you can't have three players on the 8 lives space together. Turbo King of the Mewotain does the same but if the player gains a life they can share a space.
The verdict?
CATastrophe is so hilarious! Making players meow and do all sorts of nonsensical actions takes the experience from your usual board game to cry from laughter levels.
The game is design and art are so great! Even if you don't know all the internet cats, you'll appreciate the cats chosen and the Power Cat cards have hilarious puns too. For example Purrfessor X and Sir Thomas Trueheart!
My only question is why provide 8 character cards and not make it possible for 8 people to play? Board games are for fun though and I don't think the game breaks with 8 players, so if any of you try it, let me know!
You can pre-order CATastrophe on the website for $34.
Images and review copy courtesy of Original Sasquatch
Have strong thoughts about this piece you need to share? Or maybe there's something else on your mind you're wanting to talk about with fellow Fandomentals? Head on over to our Community server to join in the conversation!