Sometimes there are games so simple, it almost seems too easy. Slam Words from Foxmind is what it says on the tin.
Billed as the fastest word search game ever, players really do slam the words.
The game is a purple collapsible silicone cylinder with three dice in green, red, and blue. Each dice has six different letters. Players shake the cup, slam it shut to reveal 3 letters, and must quickly find a word that uses the three letters.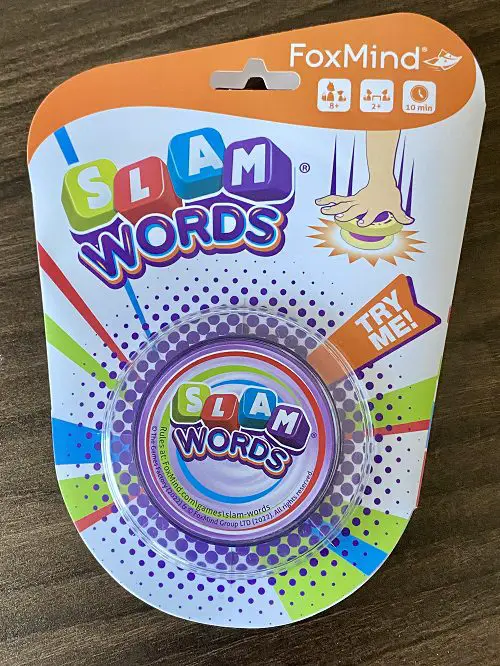 Then you pass the cup to the next player and if they can't make a word in five seconds, they're out.
Y'all this game is loud. The cup itself collapses really easily but the plastic top and bottom and the dice inside are noisy when players slam, so I definitely closed it less intensely to protect my ears.
However, it's a ton of fun! While it's aimed toward kids because of the focus on fine motor skills and vocabulary building, with slight modifications it's perfect for any group of people of any age.
Plus it combines memory ability, vocabulary skills, and quick word recognition within a fast-paced, family-friendly competition. The more you play, the more words you'll learn! Both the plural and singular versions of the word cannot be used and there are no preset rules on how many letters a word has to be.
Of course, there's the easy modification to make it harder for adults where you require a minimum of letters. Or if you require all the words to be 5 letter words and thus have a loud game of Wordle on your hand.
The more lives each player has, the longer the game. You can also play it in any language that can use the same alphabet. A foreign language class would have a whole lot of fun with this!
It's aimed at kids aged 8 and up but I think even younger children could play with some guidance if they're learning to spell and this can very easily be turned into a party game. Drink some juice if you pick a word out of a specific topic? Or all words have to fit in a specific category. Only colors! Give people three seconds to yell out a word. (Is that even possible?) The modifications are literally endless.
If we had been able to send it to our friends in Oklahoma, I bet they would have made all sorts of fun versions of the game.
You could also add higher point values for special words based on your rules! And its portability makes it super convenient though the loud slam would not be appreciated on a plane or in public.
This game is part of Foxmind's dice game series with another entry, Slam Bluff having players bluff about the number they "slammed". If they can bluff their way through, players can win the game.
I had a lot of fun playing this and think it's a great addition for any board game enthusiast!
You can pick up Slam Words at your FLGS or on Amazon for $14.95.
Images and review copy courtesy of Foxmind
Have strong thoughts about this piece you need to share? Or maybe there's something else on your mind you're wanting to talk about with fellow Fandomentals? Head on over to our Community server to join in the conversation!