During the pandemic, a lot of board games were released that flew under the radar. Make It Happen from Indie Boards and Cards is one of those released in June of 2020. We were kindly provided a review copy of the game and I was really excited to try it because it's clearly inspired by Project Runway. Unfortunately, the game doesn't quite, well, make it work.
Billed as a team game, it's really much better as a two-player game. Set during New York Fashion Week, you and your design team must show the most fabulous collection ever seen on the runway. Teams must match fabrics to create garments and put the models on stage to see who is this year's "fashion hotness".
What's In The box?
Make it Happen is pretty regular sized for a game like this and comes with 10 model boards (five for the red team and five for the blue team), 116 fabric cards, two team mats, and one hot and one not board. The quality of the fabric cards is good and the model boards are also great. There are some cutouts that are much smaller (gloves) so taking care when picking up the boards by that area is a good idea.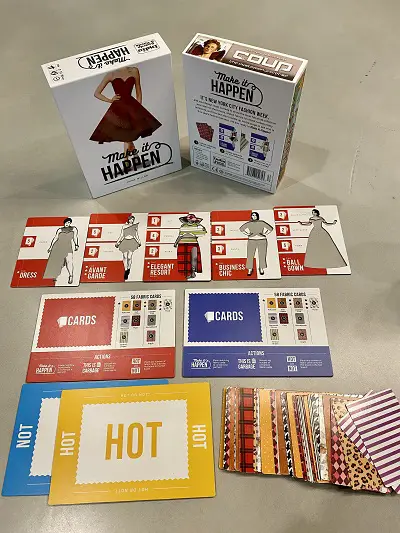 My one gripe is actually about the design of the fabrics themselves. Of course, fashion is in the eye of the beholder, but the colors and patterns chosen are so out there it isn't as fun to create outfits that would actually make sense for models to wear. Can't believe I'm gatekeeping fashion here, but I do think more variety in colors and pattern styles would have helped the game.
How's It Play?
Ostensibly Make it Happen is a team game, with two teams of up to six players each. The fabric cards are divied out to the teams and each team decides on which three model boards that they will use for the game. Each team shuffles their fabric cards together and depending on the number of players on a team, a certain number of cards is dealt to each player.
During the action phase of the game, together with teammates, players decide which patterns they want to use for each garment on the model boards. However! Certain garments require certain numbers of the same pattern. For example in business chic, the jacket requires 3 of the same cards while the ballgown requires 5 of the same card.
If the cards do not all match or of a number that doesn't match an incompleted garment, teams either have to trash any number of unwanted cards (this is garbage) or the hot or not action to determine what trends influence scoring. The game ends when one team has completed all the garment sections of all three of their model boards.
At that point, the hot and not board cards are shuffled separately facedown. Three cards from teach deck are dealt and matching fabrics are removed until no fabric appears in both categories.
Any model that has a not fabric is not scored, and any model with a hot fabric scores 2 additional points.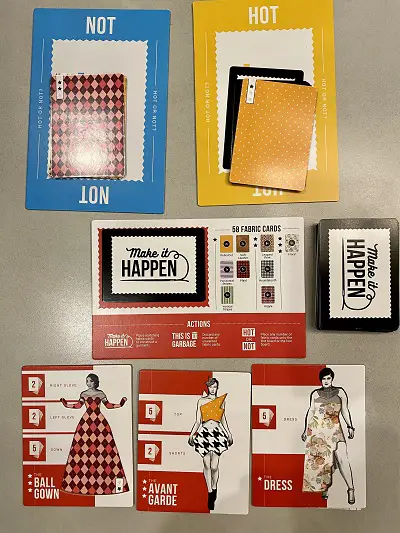 The Verdict?
Remember how I mentioned the trashing of cards. I'm not sure what the point of this even is when you're talking to your team about the cards used! The game rules could have just said to discard cards if a team doesn't want to use them, and outright state that placing cards in the not category could sabotage the other team (since teams can't see each other's fabrics until after actions are resolved.)
The premise of the game is clearly based on Tim Gunn's famous phrase, make it work, but Make it Happen sadly just does not work for me. The more players there are in the game, the more convoluted it gets because it's just folks telling each other what cards they have and more players means more drawing and discarding of cards to find the right fabrics.
A Project Runway or general fashion-inspired game is definitely a great concept, but I wish the execution was better. A simple tweak would have been to create a sabotage the other team opportunity mid-game, instead of the hot or not approach. For example, after two rounds of picking cards, the teams could each place a fabric down and then they'd have to swap all the cards of that fabric. That would shake the game up and definitely make the second half of the game more fun and entertaining.
Overall, Make it Happen has the bones of an interesting game, but doesn't set players up for success. Though I think played between two people and with less investment, it can still be some fun. The best part of the game is truly the model boards, I love having the cards behind the boards and would love to see more games using that type of mechanic.
You can grab a copy of the game from Amazon or your FLGS for $19.99!
Make it Happen
Summary
While the gameplay isn't perfect, the model boards and fabric prints are fun to place and create outfits.
Images and review copy courtesy of Indie Boards and Cards
Have strong thoughts about this piece you need to share? Or maybe there's something else on your mind you're wanting to talk about with fellow Fandomentals? Head on over to our Community server to join in the conversation.