Today, Modiphius Entertainment announces the retail and online store availability of The Elder Scrolls V: Skyrim – The Adventure Game, the solo and cooperative (up to four players) tabletop board game of adventure and exploration set in the frost-covered lands of Skyrim. In this tabletop experience, players will face down dragons, Daedra, trolls, and many more sinister creatures as they battle for glory.
In The Elder Scrolls V: Skyrim – The Adventure Game, players are surviving members of the Blades, a legendary group who long protected the Empire of Tamriel, and must band together to thwart a plot to eradicate them all!  
Your quests will lead you across Skyrim – sometimes in short side ventures, others in connected storylines that change with your choices and successes or failures! Gain powerful weapons, armor, spells, amazing treasure, experience points, and of course, followers. But watch out! If you ignore the growing threat across Skyrim, the Strongholds may fall, and you'll face increasingly dangerous crises.
The Elder Scrolls V: Skyrim – The Adventure Game contains two major narrative-driven campaigns, each comprised of three chapters. Each chapter can change depending on your choices, following your own quests in the main storyline or meeting up for key events and exploring dungeons together. Save your character's progress at the end of a chapter or even mid-game, and start again from where you left off the next time you play.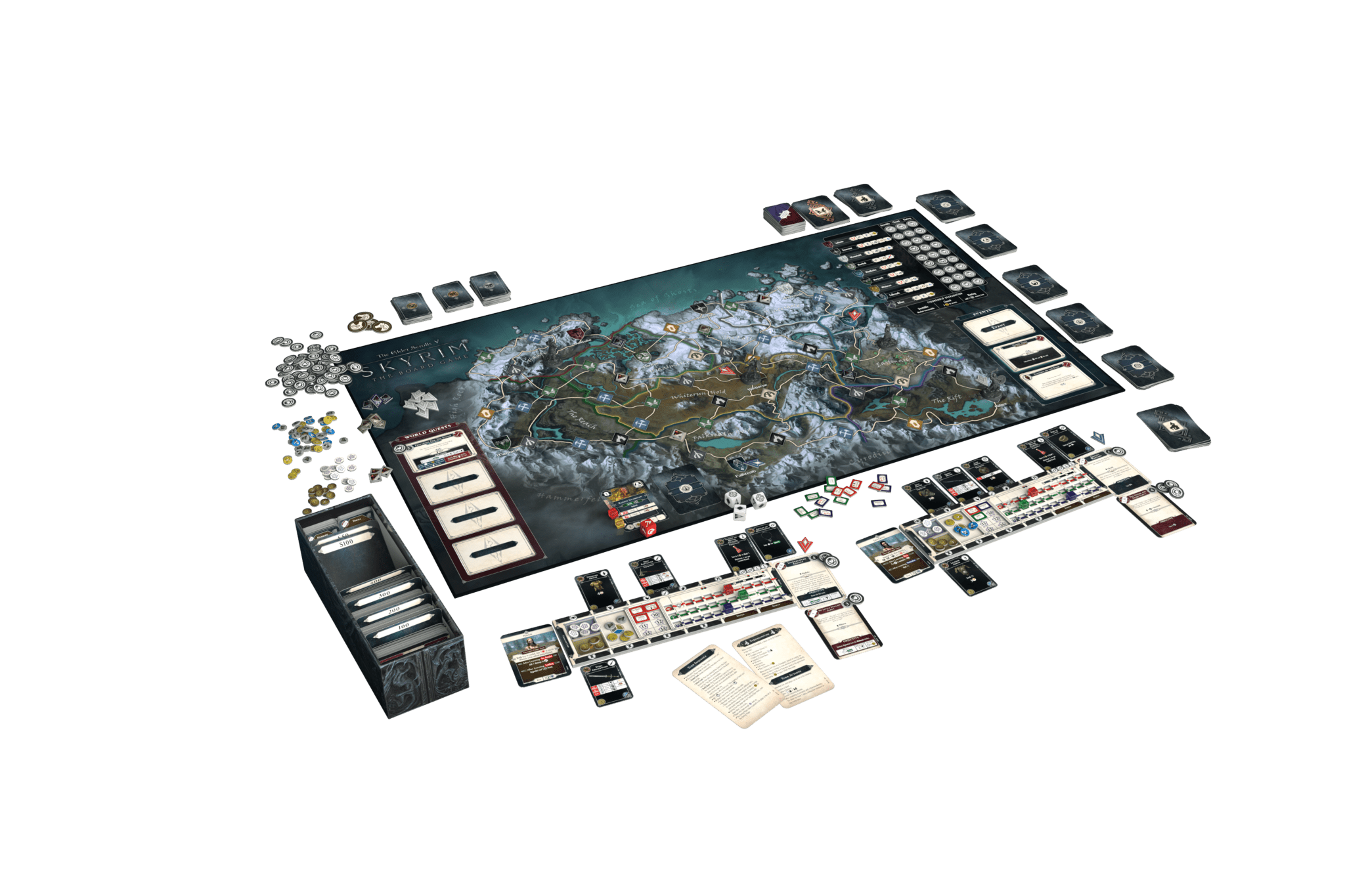 Key Features of The Elder Scrolls V: Skyrim – The Adventure Game: 
    Tamriel's Tiny Faces: Choose from one of six several lavishly detailed plastic miniatures based on iconic Elder Scrolls races like the Khajiit, High Elf, and Nord as an in-game avatar (with more options in the Dawnguard expansion)
    Gear-Up: What adventure doesn't involve a bit of treasure hunting? There are loads of weapons, armor, and ancient artifacts for players to find that increase their power as you upgrade or enchant your gear to customize your abilities.
    Gather Your Party: Go it alone, or bring up to three other players on a journey to explore Skyrim's secrets that might save its people from certain doom
    Skills, Swords, and Spells: Be it a greataxe, bow, or spells, players will be able to tailor their combat style as they like, matching their choices with a variety of different skill upgrades that will give them advantages in different quests
    There and Back Again: With each chapter offering roughly 90 to 120 minutes of core questing, an initial playthrough with no diversions for sidequests or exploration should last about 12 hours. Yet thanks to a plethora of story choices, character options, and play styles, there are practically hundreds of hours worth of content to uncover in subsequent playthroughs.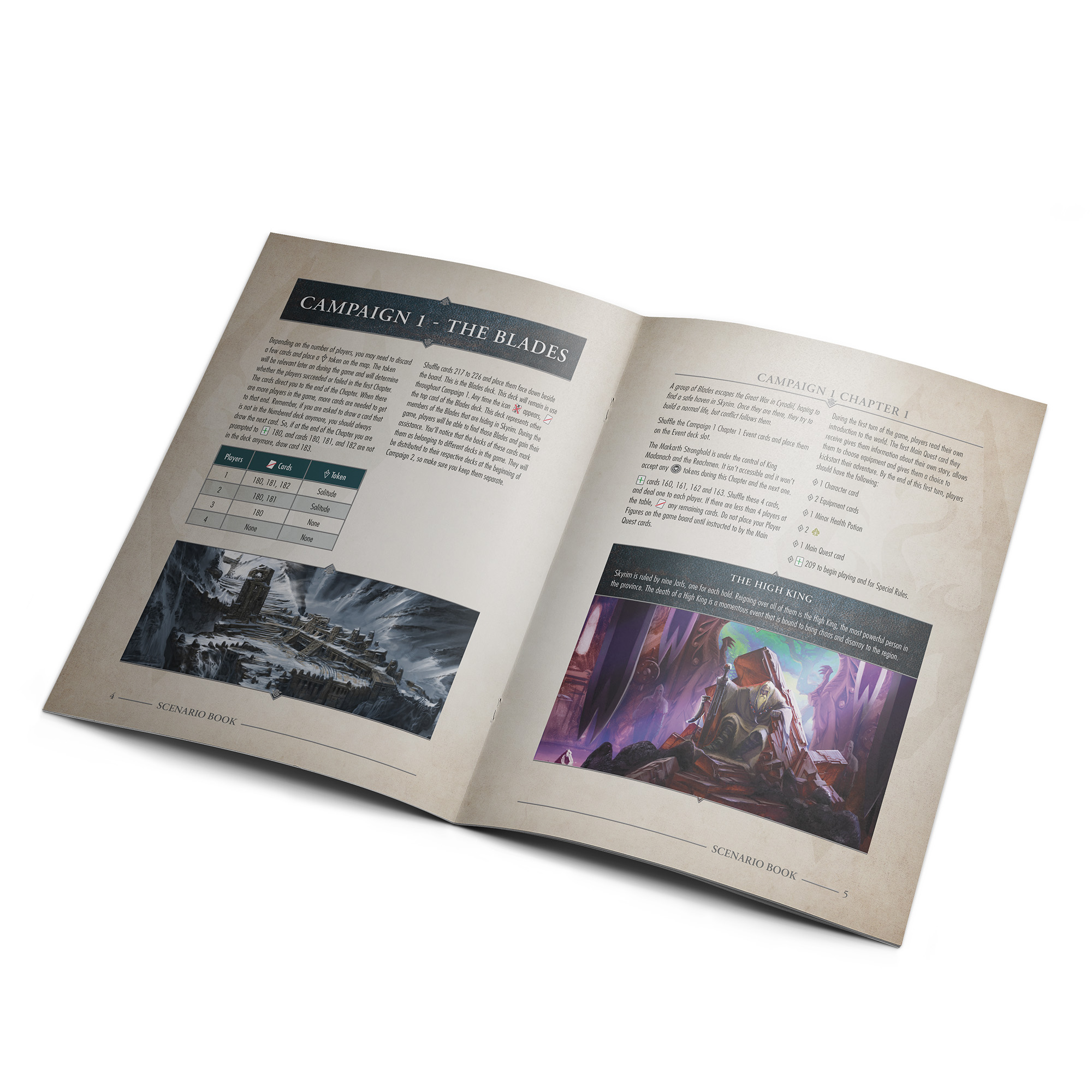 Familiar Friends and Foes: The core box includes the Nord, Dunmer, Imperial, Altmer, Khajiit, and Orsimer characters and their 32mm scale pre-assembled miniatures
    Expand your Experience: Two gameplay expansions are also available at launch, featuring new rules and experiences to add to the base game. Dawnguard adds the titular vampire hunters and their vampiric nemeses in a new three-chapter campaign fighting against the plots of a Daedric prince! From the Ashes adds several mini-campaigns against such foes as the ghosts of former Blades, the Dark Brotherhood, and the ancient dragon Grahkrindrog! 
    Add to the Party: Bring more friends to your Free Roaming sessions with the 5-8 Player Expansion. Increase the game's Free Roaming mode to up to 8 players and go adventuring with your own company of heroes, break up into teams or have larger competitive challenges.
    Compatible with Call to Arms: Fearsome foes like dragons, Daedra, and trolls are available as miniature upgrades in the cunningly named Miniatures Upgrade Set and are scaled to be compatible with Modiphius's The Elder Scrolls: Call to Arms miniatures game — meaning they can be used in this game and vice versa
Images via Modiphius
Have strong thoughts about this piece you need to share? Or maybe there's something else on your mind you're wanting to talk about with fellow Fandomentals? Head on over to our Community server to join in the conversation!