Retrograde is a arcade roll and write game for 1-4 players. Evil Astro-droids are invading and you and others need to blast them off your sheet by rolling dice and grabbing a target card that shows the type of droids you want to shoot down. You will clear columns to blast bosses, and clear rows to unlock power ups. The game takes about 30 minutes to play, and is designed by Mary Flanagan and Max Sideman, and published by Resonym. Resonym has a vision to build socially conscious games driven by a passion for fair play with other good people who share the same values.
What's in the Box?
26 Dice
45 Target Cards
100 Sheets
4 Markers
1 Rulebook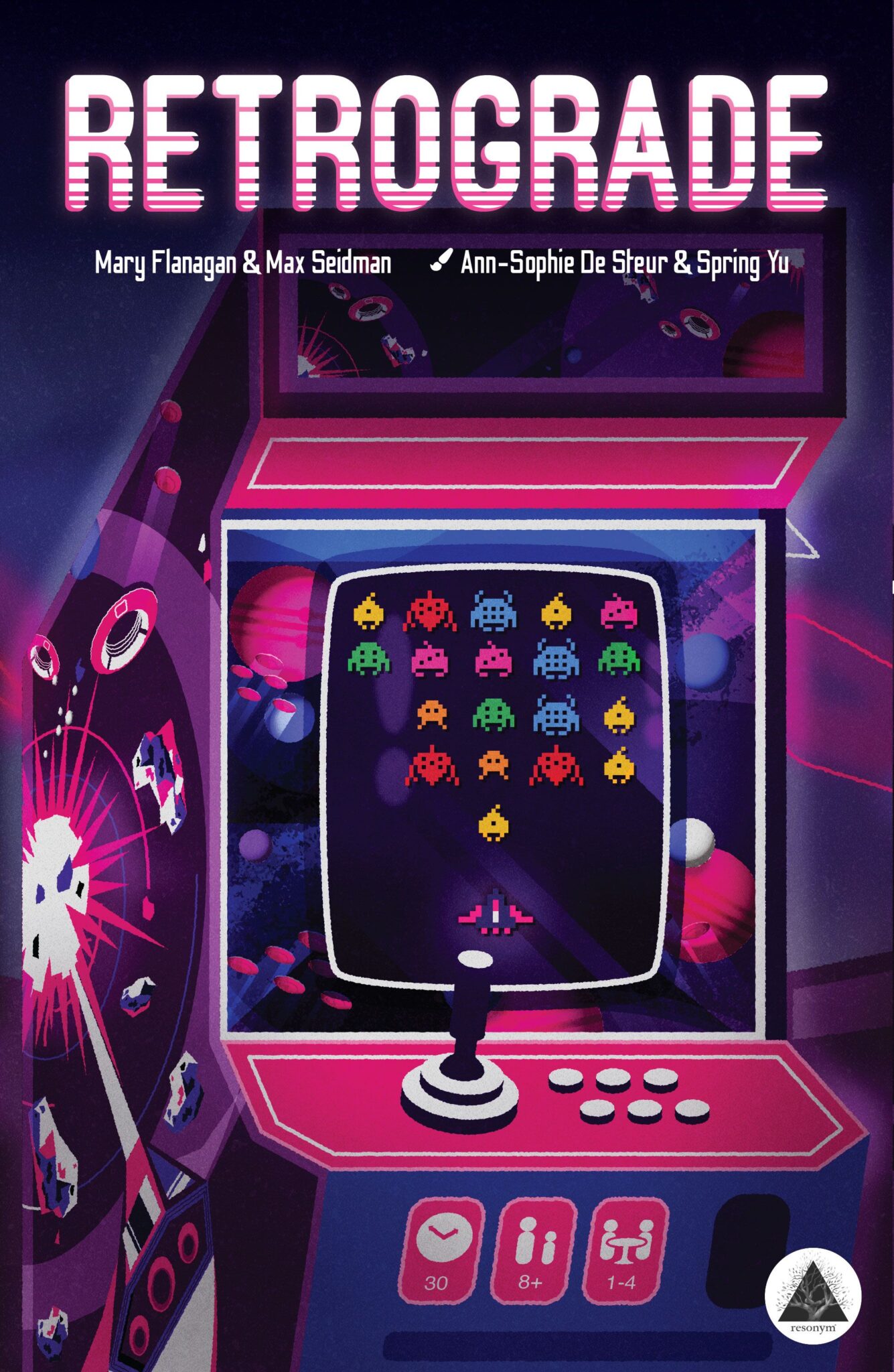 How's it Play?
The local arcade is having a tournament and it's your favorite arcade game, Retrograde! Players try to get the high score.
Players will be trying to roll dice and create pairs of astro-droids and grab a target card matching these results to cross these evil doers off on their sheet. When crossing off all astro-droids in a column you will score an extra 3 points by crossing off the boss shown on top. If you cross off all astro-droids in a row, you will be able to activate a power up from one of your target cards, giving you additional abilities.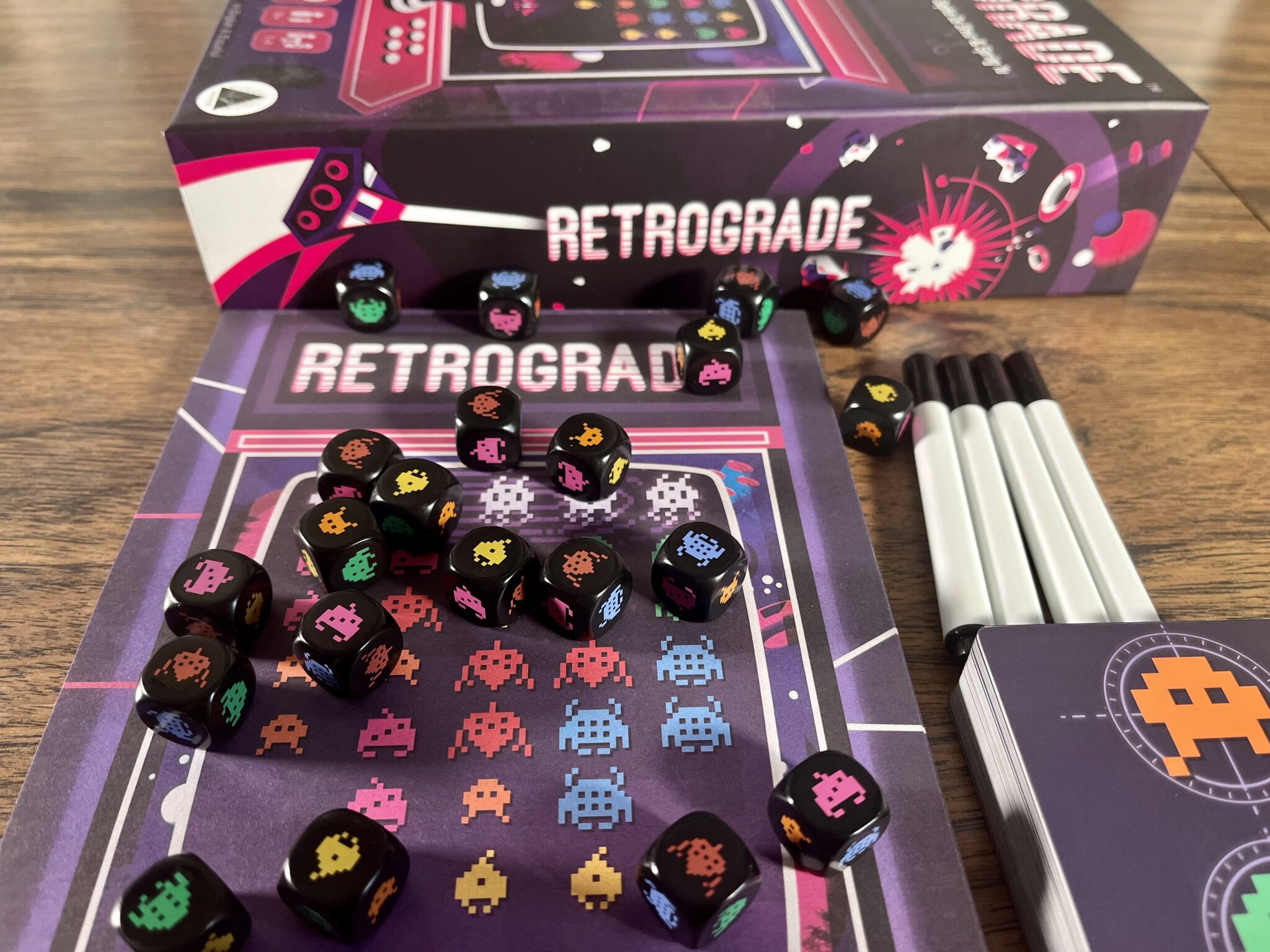 So really everyone starts the round by rolling their dice, and this is note in turn order, rather everyone will roll their dice, keep results they want, and re-roll the remaining. Once a player is satisfied with what they have they will then draw a target card. Other players will continue, until all players have a target card, the last player gets a set amount of rolls until they are stuck with what they have. This target card is one that matches a lot of the results on the player's dice. After that, players will match up a pair of dice that is also shown on their target card to cross off a droid. If you are able to blast more than 1 droid in a round, they will need to be neighboring the other creating a chain. Extra dice can be used to claim trophies, matching the value shown on the die.
Some target cards will have additional bonuses listed on the bottom of that card. Coins will be marked off on your sheet and can be later used as a copy of any other die you rolled. Essentially making a pair with one of the dice you have rolled. Comets will allow you to use any 3 matching dice to blast any one droid of any color off your sheet. Power Ups will give you ongoing benefits that will need to be activated when finishing a row of droids.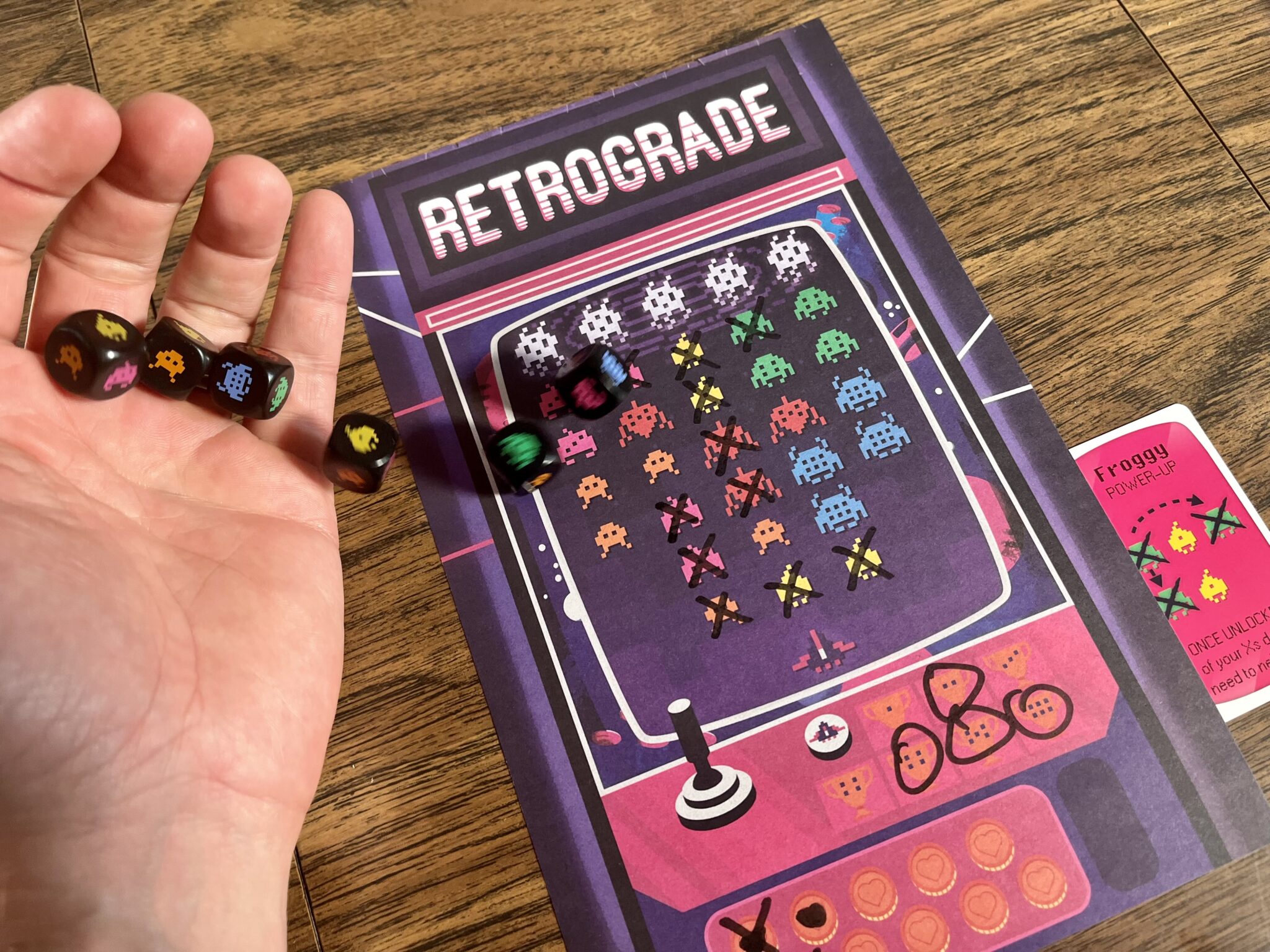 The game ends after 8 rounds. The top of each player's sheet is folded over and a score track appears. You will score 1 point for each crossed off droid, 3 points for each crossed off boss, 1 point for each trophy, with an extra 3 points if you claim all trophies. Then whoever has the highest score, wins the game. 
The Verdict
This is a fun and fast game for those who like rolling dice, and those who like a fast paced game. There are times of planning where you can afford to use time to get a game plan, but then there is times where you need to think quick and fast as you roll your dice.
When rolling your dice, you might also compete with other players toward grabbing a target card. You will eventually need to destroy specific droids on your sheet to gain more points, or unlock better abilities. These abilities also become exciting and gives you an upper edge compared to the other players. Each Target cards is different and might give players a specific bonus you might be vying for. 
There are several different options on how you want to use your dice, but the biggest focus is to have results from your dice that match a target card, and be able to grab that target card before another player. 
This is not a game for everyone, and I know my wife isn't a fan. There is still some strategy as you plan out which droids you need or want to shoot, but you might not get that opportunity. There are several bonuses that make you feel like you progress further and better as the game goes on. The game is simple enough for kids to play, and my kids really like it. It's theme connects very well with the mechanics, and you do feel like you are somewhat playing an arcade game back in the 80s. 
Images via Resonym
Have strong thoughts about this piece you need to share? Or maybe there's something else on your mind you're wanting to talk about with fellow Fandomentals? Head on over to our Community server to join in the conversation!