The Hellfire Gala is finally upon us! The single biggest party at Marvel just hit stores, promising all sorts of drama as well as a brand new X-Men Team. While they might not be able to top the drama of last year (between the murder and interplanetary terraforming), we know we'll get a fun time and some fun outfits for our favorite characters.
Last year, we went through the absolute worst examples of "mutant fashion," but this year we wanted to be a bit more egalitarian. And we also called in our new writer Will to help with their takes on this year's examples of "superhero couture." The Avengers got shown up a bit last year and seem to have brought they A Game, but nobody beats a mutant when fashion is on the line. Here's our definitive ranking of EVERY Hellfire Gala 2022 look!
21) Iron Man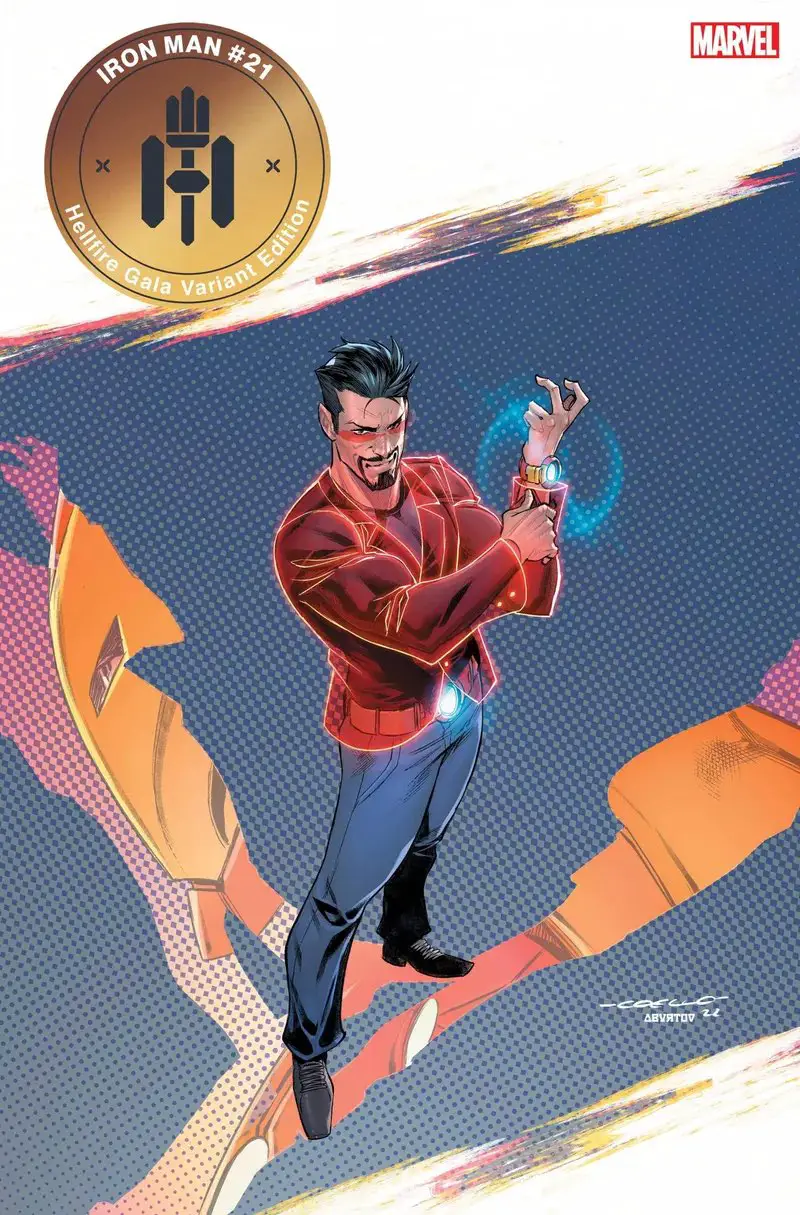 Will: Good god man, weren't you dating Janet for a while? This is awful that's all i have to say.
Dan: The two placings Will and I immediately agreed on were the worst and best dressed choices and…hoo boy did Tony screw this up. I know he tried to project a "cool billionaire" vibe and isn't exactly known for his fashion sense (he used to run around in an all gold suit for god's sake), but he really could have at least made an effort.
20) Spider-Man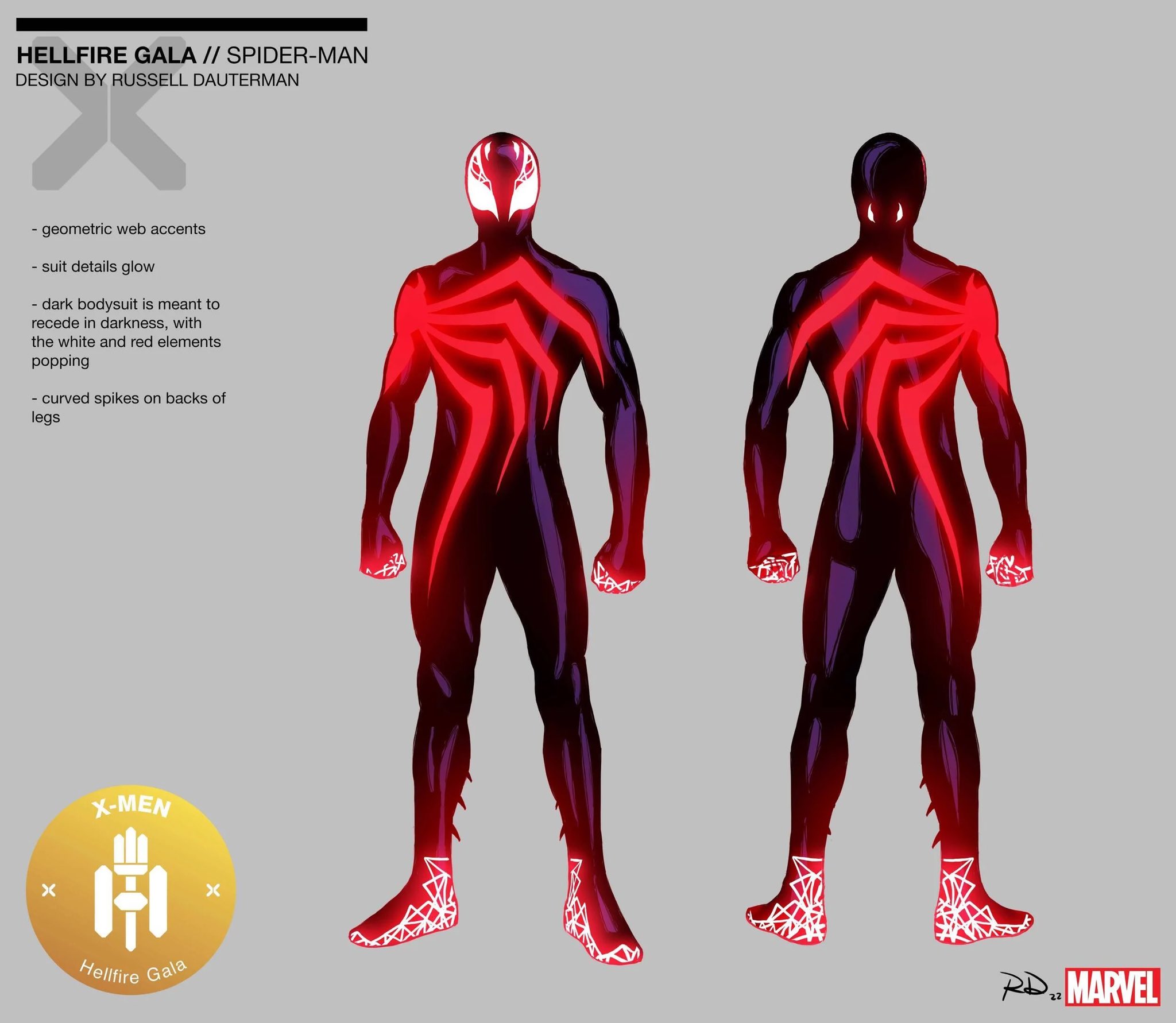 Will: Clearly MJ didn't help pick this out. Again would be great for an updated costume.
Dan: It was really disappointing to see Dauterman turn out something this tame. It's not even couture it's just a suit. This looks like one of those weird alternate suits from the PS4 Spider-Man game that wasn't in the comics. I also wonder if Miguel O'Hara is missing one of his outfits.
19) Forge
Will: Nothing ground breaking here. I'm guessing this may be his updated costume since it's that classic X-Men color scheme. Points for having full leg on display.
Dan: For a man who was first introduced in booty shorts and a hot pink polo, this is wack. He's an engineer so we can't exactly expect much, but weird biotech tentacles are not couture.
18) Captain Marvel
Will: This would be a great look for literally any other event but it's just boring and dull for a gala.
Dan: We know she's a useless military gay so dressing up isn't a priority for her, so even something this coordinated is impressive. The starburst coat is particularly fun. But this very much seems like something she'd wear on a date or to a more lowkey party. It's not even that similar to her basic costume (though epaulets are always a serve).
17) Iceman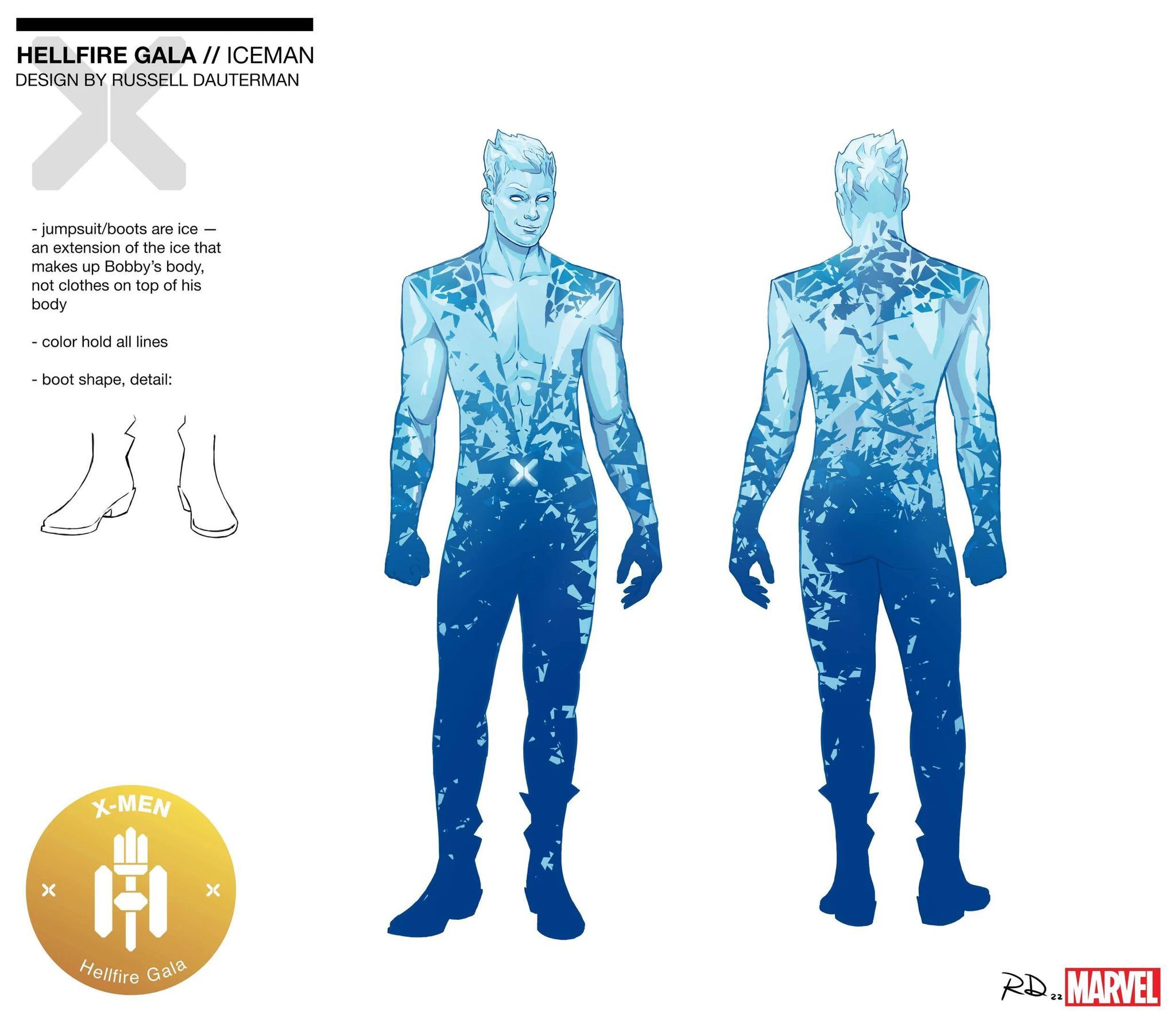 Will: Bobby are you naked?
Dan: This is an upgrade from last year but it's not by much. And at least that look showed some attempt to stand out. This feels like tame, married Bobby and I don't really care for it.
16) Havok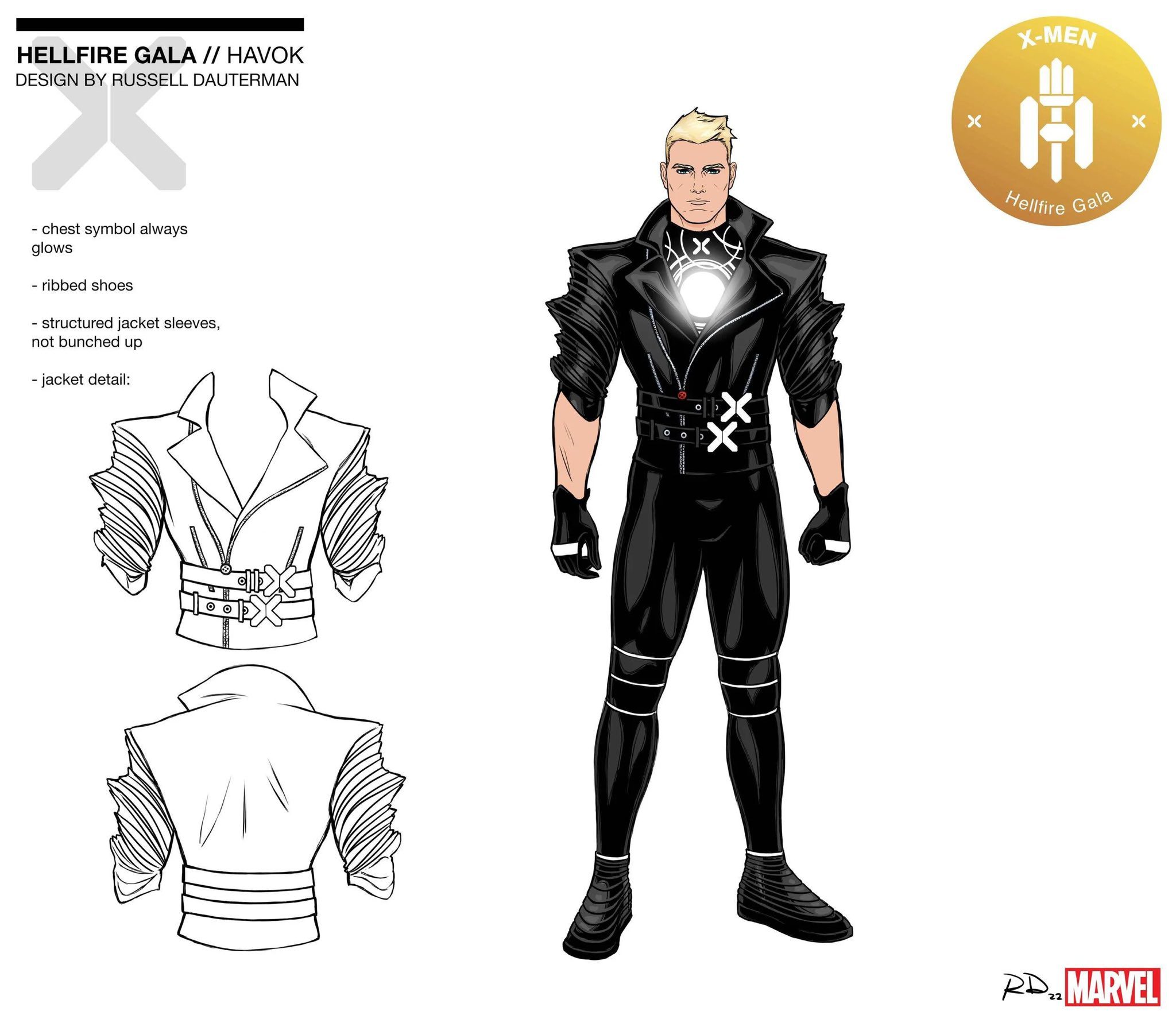 Will: I do like this a lot but once again it just feels like streetwear rather than a gala outfit.
Dan: It really feels like Bobby and Alex were matching this year which…well you can ask Will about that ship. Bit fruity is all I'm saying. This is the lowest one that seems to actually try to merge a classic costume with fashion, but the simplicity of Havok's normal look doesn't give too many design choices. Could be a good new costume for him though.
15) Jean Grey
Will: Maybe this is controversial ranking this is just such a juvenile look for her. She thinks she's giving Mugler but she's giving Kohl's prom section.
Dan: Oh is Teen Jean back again? I repeat my earlier point about epaulets but beyond that…snore. I don't know if this was a Dauterman or Jen Bartel design, but either way I'm very disappointed. Why doesn't that cool pattern extend to the top part of her minidress? Why is she wearing her Phonix boots when there isn't much Phoenix elsewhere! Either commit to her absolute best look or don't!
14) Synch
Will: I love the nod to his Gen X uniform with the red and the rainbow highlights it just feels a bit informal with the short sleeves.
Dan: Considering Will is such a Gen X stan I'm surprised that we agreed on how mid this look is. Of all the designs, this is the most blatant debut of a new costume for a character. It's just a rainbow highlight uniform and quite boring. We know he can drip when he wants to, I'm not sure why they held him back.
13) Steve Rogers
Will: A gorgeous suit and he looks incredible. Again; there are just more incredible looks.
Dan: I'm willing to give Grandpa a pass here. If he wants to serve Jay Gatsby realness then I say let him.
12) Sam Wilson
Will: This is a spectacular outfit but sadly there are just more spectacular ones on this list. We're really splitting hairs here with these middle rankings.
Dan: I enjoy this look a lot but as Will said, it's just limited by how dull men's formalwear is. The cut and different fabrics is interesting, but unfortunately it also it looks like he's wearing one of Hugh Hefner's robes. The Stan Lee glasses do not help.
11) Emma Frost
Will: This dress (if it's a dress) is killer. I love Emma with gold accents and I love the icy/snow vibes. She always looks great with short hair too.
Dan: I tend to grade Emma harsher than a lot of other characters because she knows how to show out, she knows how to be daring, she knows couture. So when she does something tame I end up disappointed. This is a great look for her and I love the hair, but it doesn't really feel special. I can see her wearing this to Quiet Council meetings or to dinner, not to her biggest occasion of the year.
10) Namor The Sub-Mariner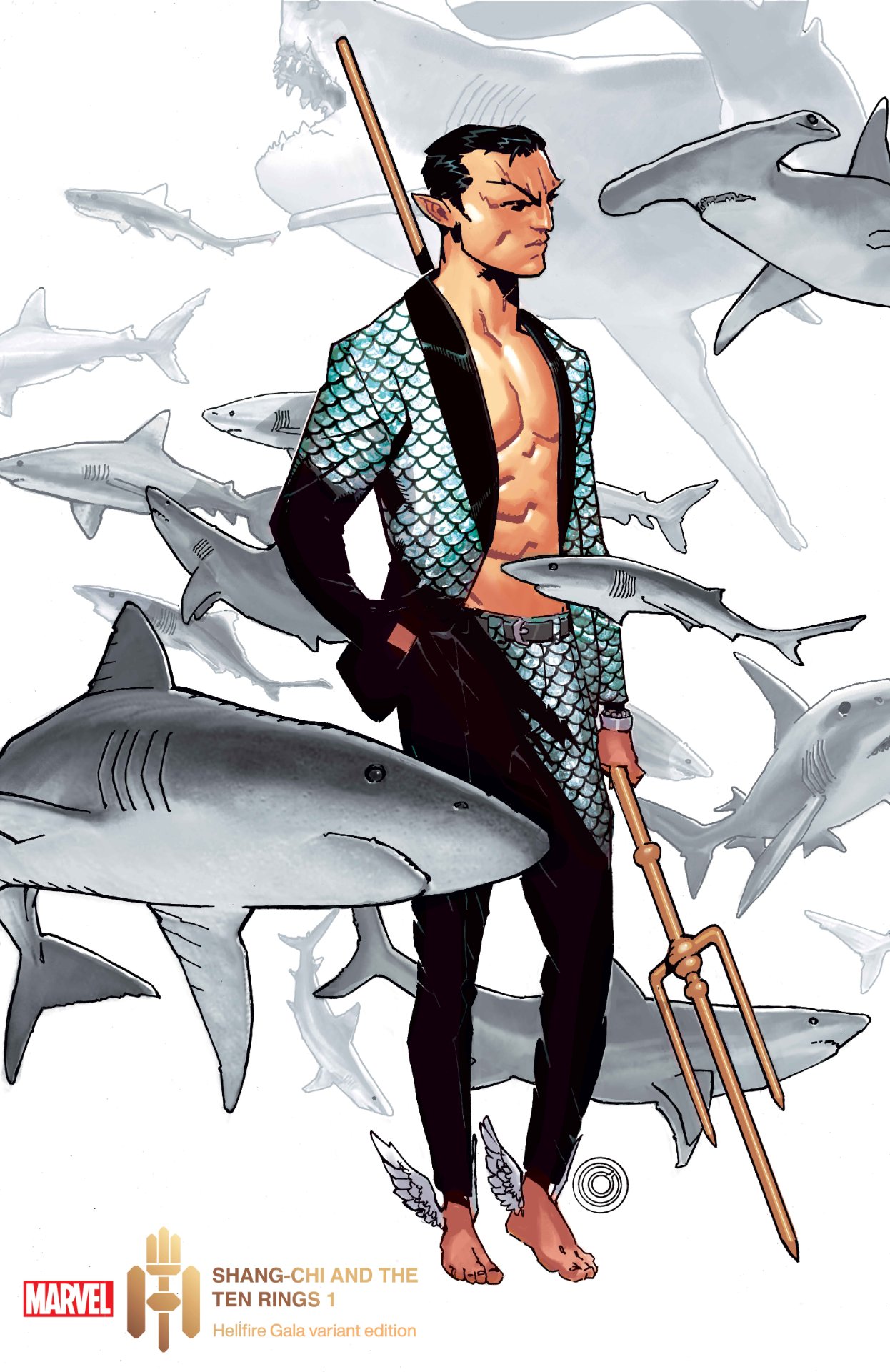 Will: I would be a hypocrite if I gave special treatment to my fave. He deserves something a bit more kingly. Where's the pizzaz?!
Dan: When your prompt is "slutty fish man," you expect something spectacular. Atlantis has so many stylistic influences to draw on and instead they chose "fish scales." The kimono cut to the jacket is unique and he's clearly making his pecs an accessory (as they should be), but yeah…very pedestrian for the King of the Oceans.
9) Rogue
Will: Wt first glance this looks like a gown but it's actually a pantsuit! It feels similar to things we've seen from her before and overall feels rather safe.
Dan: I think someone let her moms dress her for the big party. I like that they kept the semi-sheer theme from her last look since it captures a lot of Rogue's character, and the shift to lace gives her that bit of old southern belle charm. The only part that I KNOW she picked out, though? The earrings! You know those are the cheapest plastic ever and everyone except Remy HATES them.
8) Black Widow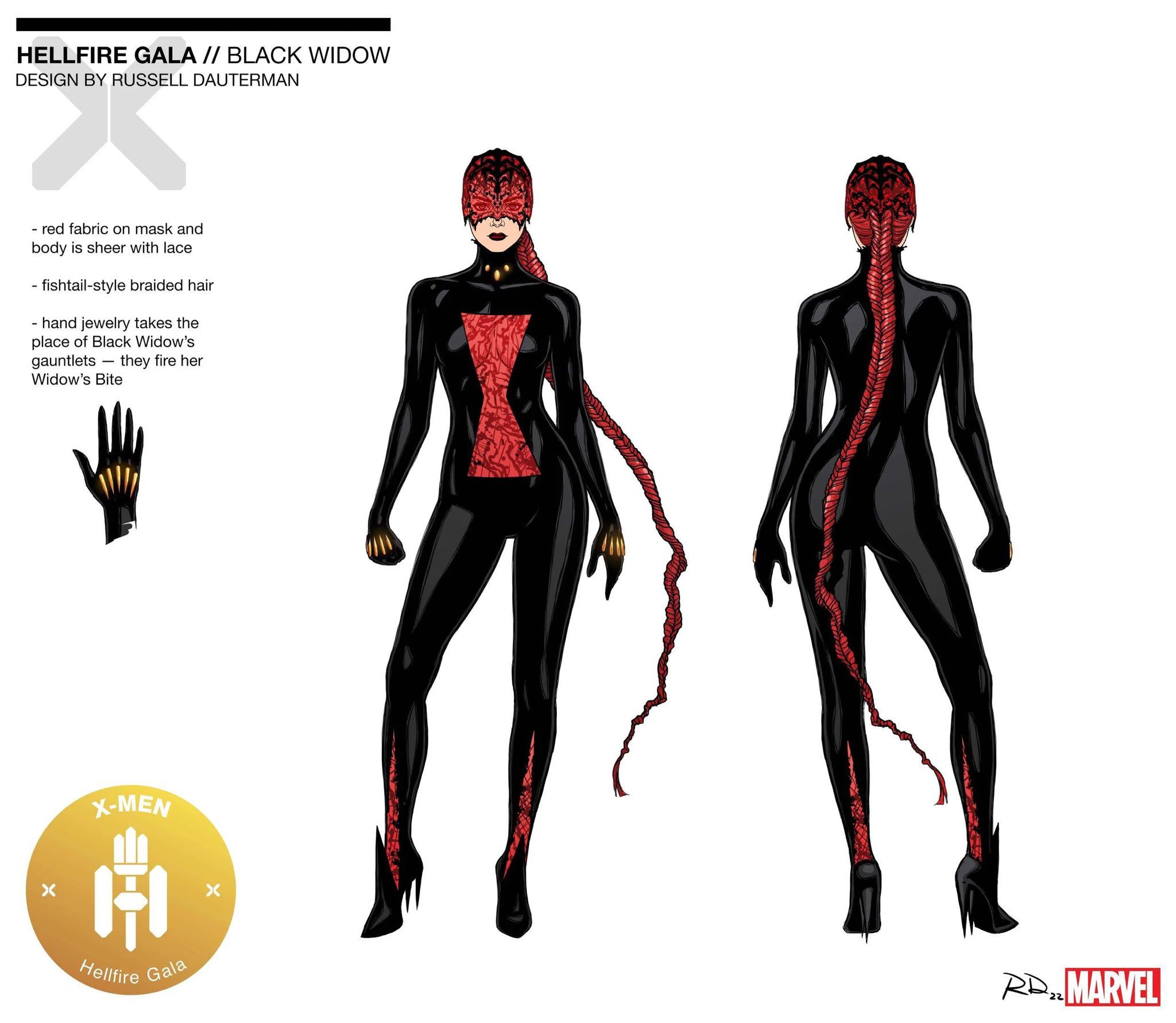 Will: This actually feels like an elevated version of her usual outfit. She's clearly not just wearing a uniform but the inspiration is there. The others were trying to do this and she did it better.
Dan: THIS is what "superhero couture" could be and unfortunately none of the other designs can touch it. So many little details, the mask, the heels. It's a great look and further proof that only the queer Avengers know how to actually dress themselves.
7) She-Hulk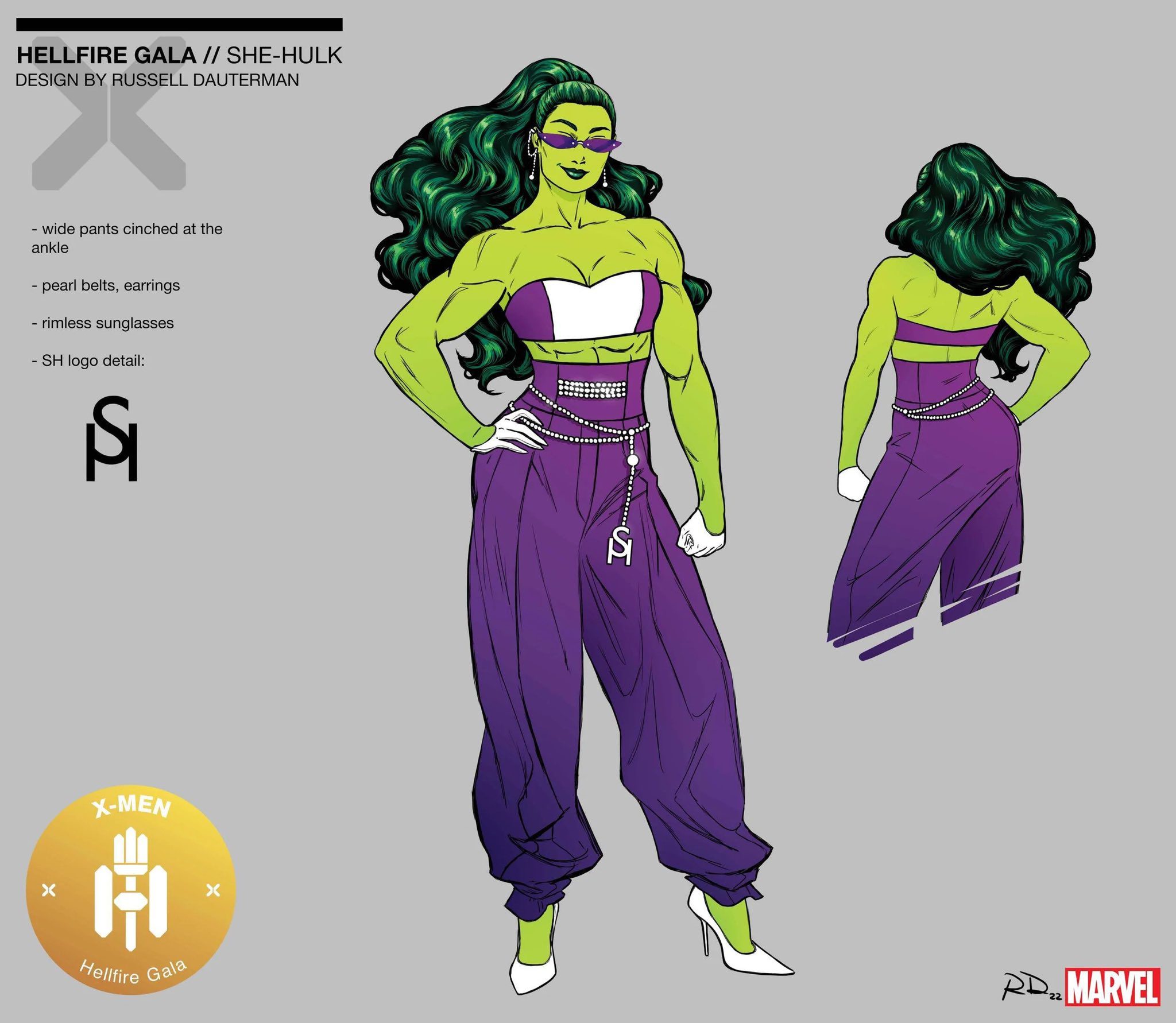 Will: I love all the little glitzy details and it feels true to something Jen would wear.
Dan: jaw drops to floor, eyes pop out of sockets accompanied by trumpets, heart beats out of chest, awooga awooga sound effect, pulls chain on train whistle that has appeared next to head as steam blows out, slams fists on table, rattling any plates, bowls or silverware, whistles loudly, fireworks shoot from top of head, pants loudly as tongue hangs out of mouth, wipes comically large bead of sweat from forehead, clears throat, straightens tie, combs hair Ahem, Jen looks very lovely.
6) Cyclops
Will: I didn't know I needed Scott in Korean inspired fashion until I got it and he looks great.
Dan: This was definitely a choice and while I could quibble with why Scott would randomly decide to wear Korean formal wear…he looks good. Especially after last year when he covered most of his face with an ugly mask. Thanks to Inhyuk Lee's impeccable sense of style there's so much going on and it all goes together perfectly.
5) Gambit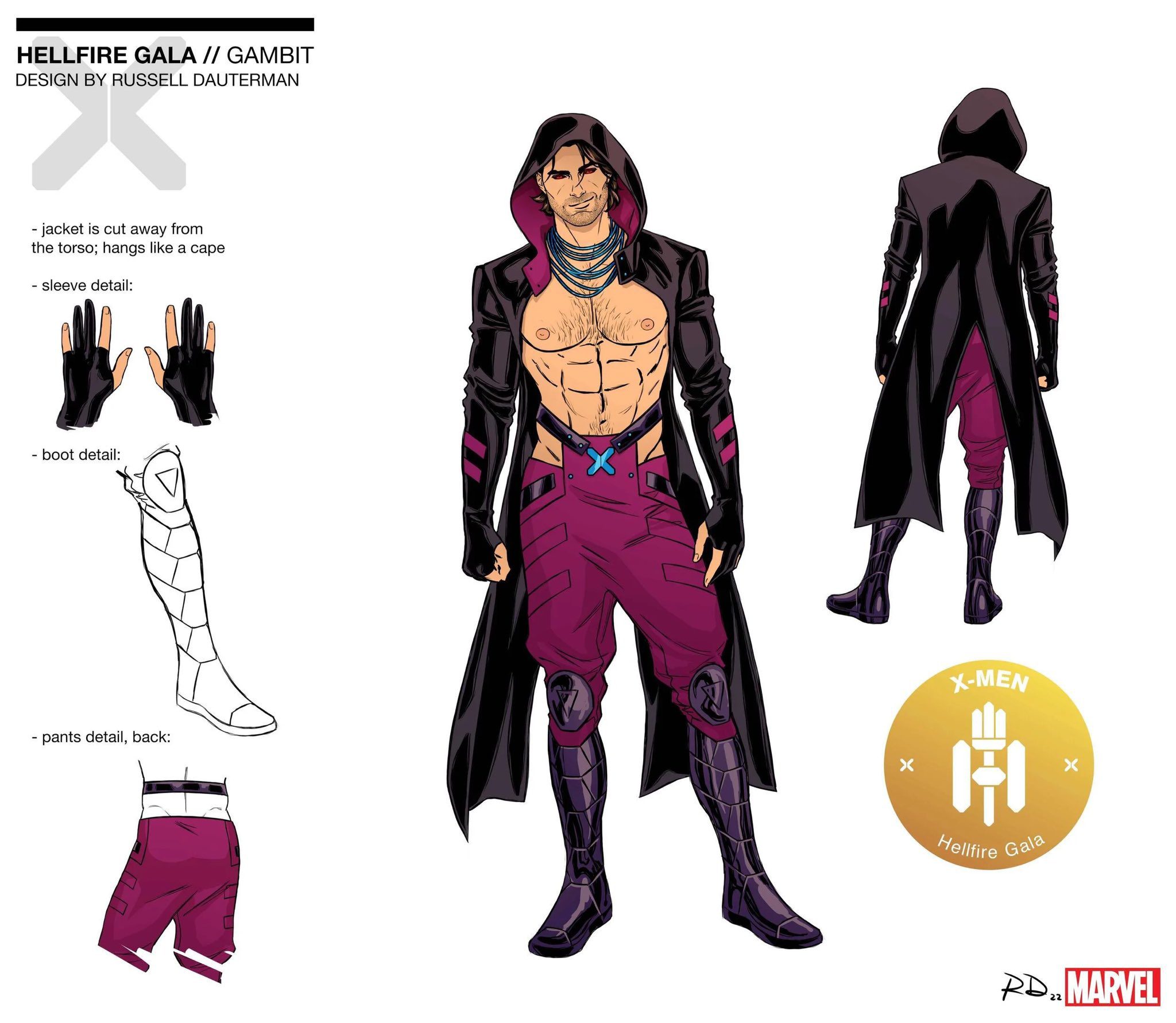 Will: I believe in tits out equality!
Dan: Slut Rights! This is the Gambit look we deserve and if this doesn't become his permanent costume from here on out then what the hell are we even doing. He even styled his chest hair.
4) Magik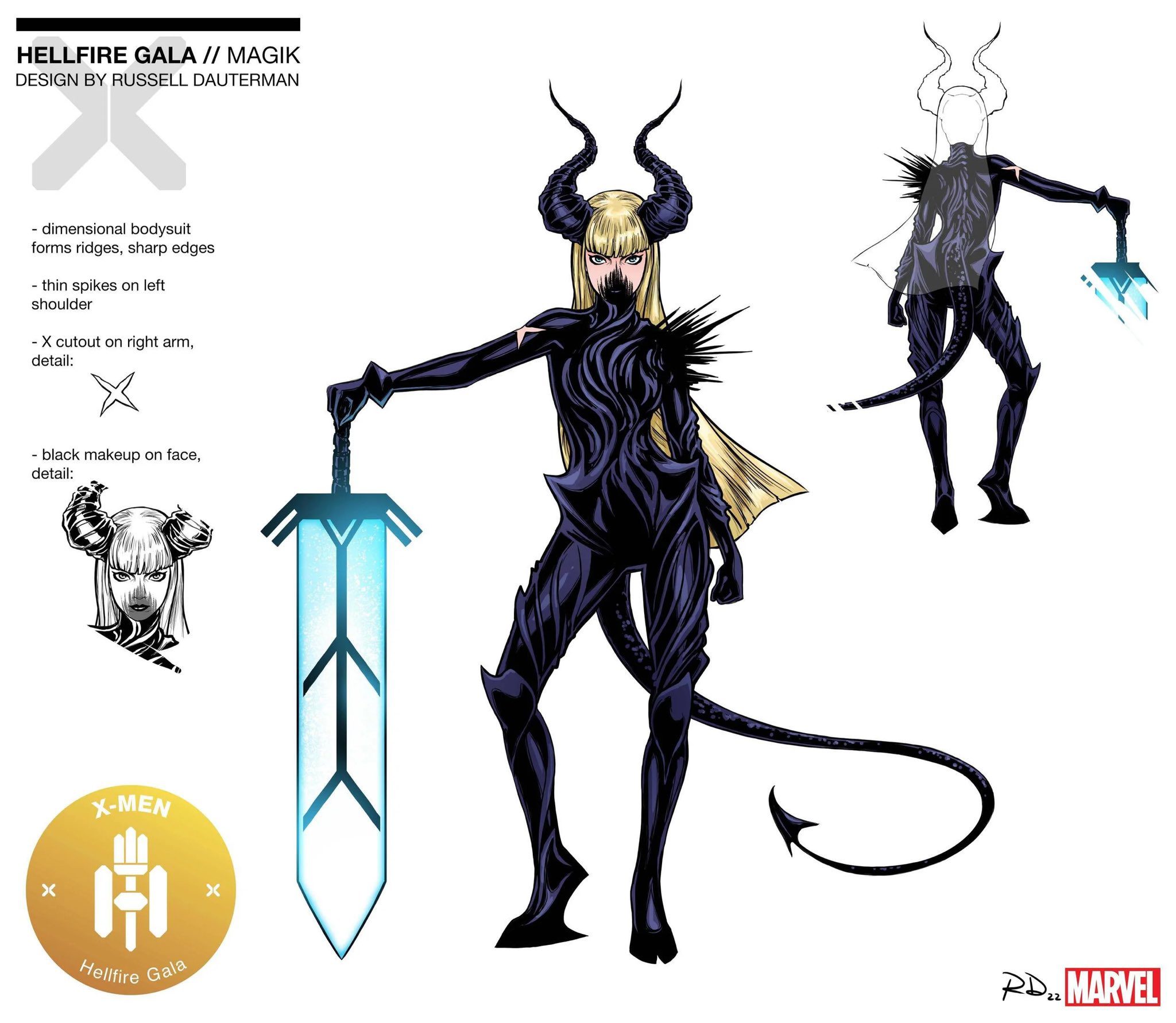 Will: Not my personal taste but it just keeps creeping up my ranking because it's so incredible. I love a devil tail and horn with formal wear.
Dan: Between Magik and Black Widow I think we can definitely say that Rachel Summers is a tastemaker. I love the hooves and horns as well as the sort of comically large and pointy hips. The Hellfire Gala is all about living deliciously and Ilyana is the expert.
3) Scarlet Witch
Will: I love the galaxy effect and callbacks to her old outfits and references to her family.
Dan: I wasn't impressed by this at first blush since it just looks like her normal costume. But the more I looked at it the more I loved it. the headpiece and attached neckwear, the astral effects even on the boots, the symbols on her hips. I can even see shoutouts to her Roma heritage here, which is rarer than it should be.
2) Dr. Doom
Will: Let's be clear, this is one of the most gorgeous comic outfits I've ever seen. It fits Victor so well as a ruler and as a dramatic villain. If this were a more objective list he would probably be first.
Dan: DOOM does not get shown up at a party. Like, absolutely go off king. Everything about this is AMAZING. The Gold! The SASH! The over the top fur cape that you KNOW he's sweating his ass off under but it's worth it for couture. This man is dressed to painted into portraits.
1) Wolverine
Will: This is my own personal ranking and I love Laura and I love this outfit for her. It blends her more grown up vibes with the references to classic wolverine costumes and dark makeup with the punk and goth aesthetics we saw from early Laura. Every goth adult I know would absolutely dress themselves like this if given the opportunity. She's perfect and I won't hear otherwise.
Dan: Like I said, we knew IMMEDIATELY who #1 was going to be from the jump. This might be one of the best looks Dauterman has designed between both years. She's got her Wolverine color scheme but punked out and ripped out in a way only Laura can do. She even has a daring spin on the classic Wolverine facemask! It's basically Riot Grrrl Wolverine and it proves that she IS an icon whether people like it or not.
X-MEN: HELLFIRE GALA #1
Written by GERRY DUGGAN
Art by KRIS ANKA, RUSSELL DAUTERMAN, MATTEO LOLLI, & C.F. VILLA
Cover by RUSSELL DAUTERMAN
Variant Cover by STANLEY "ARTGERM" LAU
Virgin Variant Cover by STANLEY "ARTGERM" LAU
Promo Variant Cover by CARLOS GÓMEZ
Variant Cover by ADAM HUGHES
Variant Cover by NICK DRAGOTTA
Variant Cover by ARTHUR ADAMS
Images via Marvel Comics
Have strong thoughts about this piece you need to share? Or maybe there's something else on your mind you're wanting to talk about with fellow Fandomentals? Head on over to our Community server to join in the conversation!