Tomorrow marks the release of a revolutionary new book from Dungeons & Dragons: Journeys Through The Radiant Citadel. This anthology of thirteen adventures is the first to focus around creators of color, with each one offering up a story influenced by a unique cultural heritage different from the regular Western European Fantasy of D&D. But these unique settings, as well as the alien landscape of the Radiant Citadel itself, mean the art in the book has to draw on a much wider range of influences for rendering the adventures for DM's and players. In order to get some insight the art of Journeys Through The Radiant Citadel, I had a chat with the Wizards of the Coast's Art Director Emi Tanji and Principal Art Director Kate Irwin about how they got the iridescent worlds of the Radiant Citadel onto the page.
What was it like putting together art for a book with so many diverse creators involved?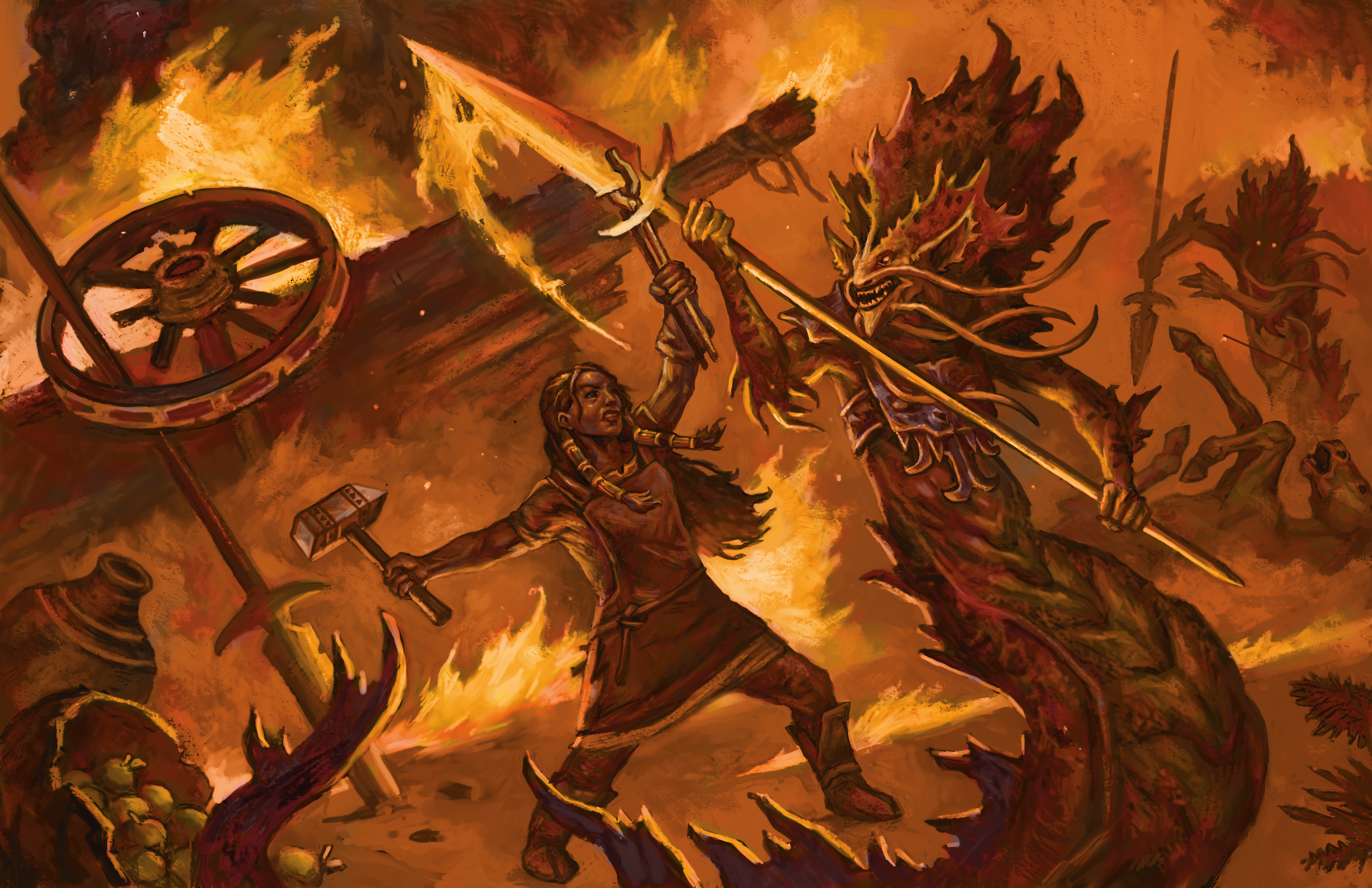 Emi Tanji: It was invigorating to find so many new voices! In both the storytelling and art, we had the opportunity to work with some exciting creators who brought new points of views and inspiring stories. It was an incredible experience to see it happen in the space of D&D and we look forward to more.  
How did you go about representing the various cultures that influenced the stories in this book? How do you make an adventure influenced by Iranian Mythology and one by African Mythology distinctive but visually consistent?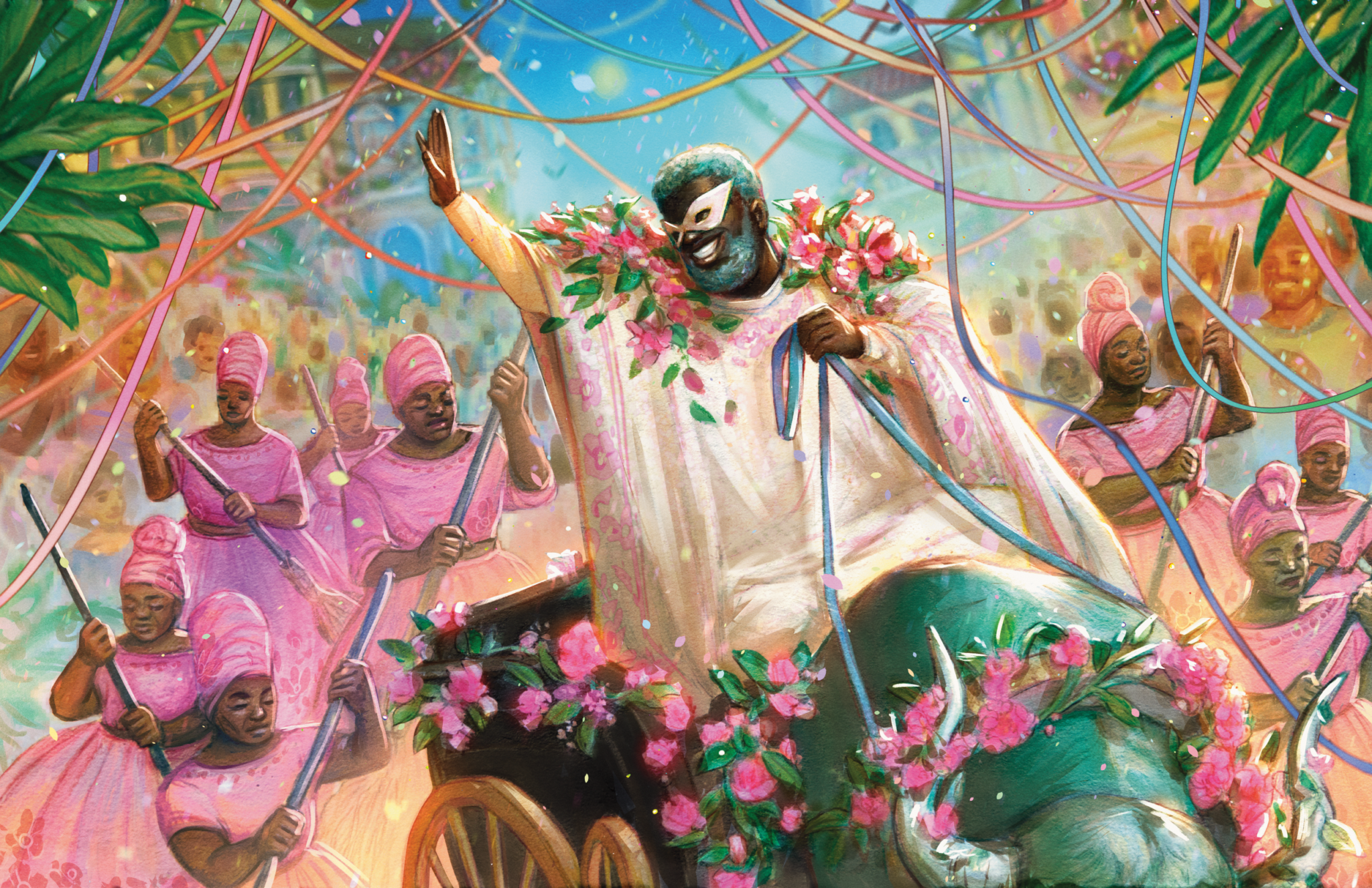 Kate Irwin: It begins with the art order and references. This starts with the writer, goes through the game design lead, then the art director, and to the artists. One of the most important jobs an art director does is the match-making between art order and artist. Using artists with similar backgrounds to the real-world kernel or touchstone allowed… When you already know something you have so many more things to draw from, rather than just the references or words provided. There is information that is internalized and can only come from that life or experiences. It makes even fantasy art more realistic and unique. 
Did you find it freeing that the settings were separate from The Forgotten Realms?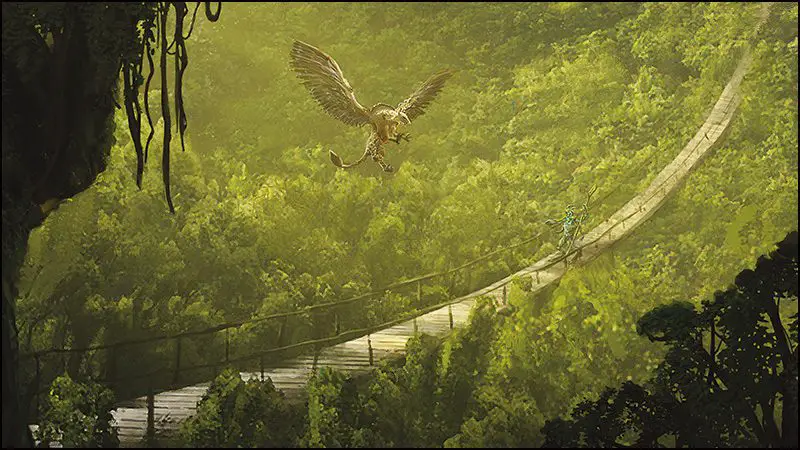 E: That's the great thing about D&D, it is THE platform for creation. Because there wasn't a lot of established lore to follow, it allowed for a lot of freedom.
K: It was good to be reminded that D&D can be anything you want.
What was the biggest challenge you dealt with putting the art together?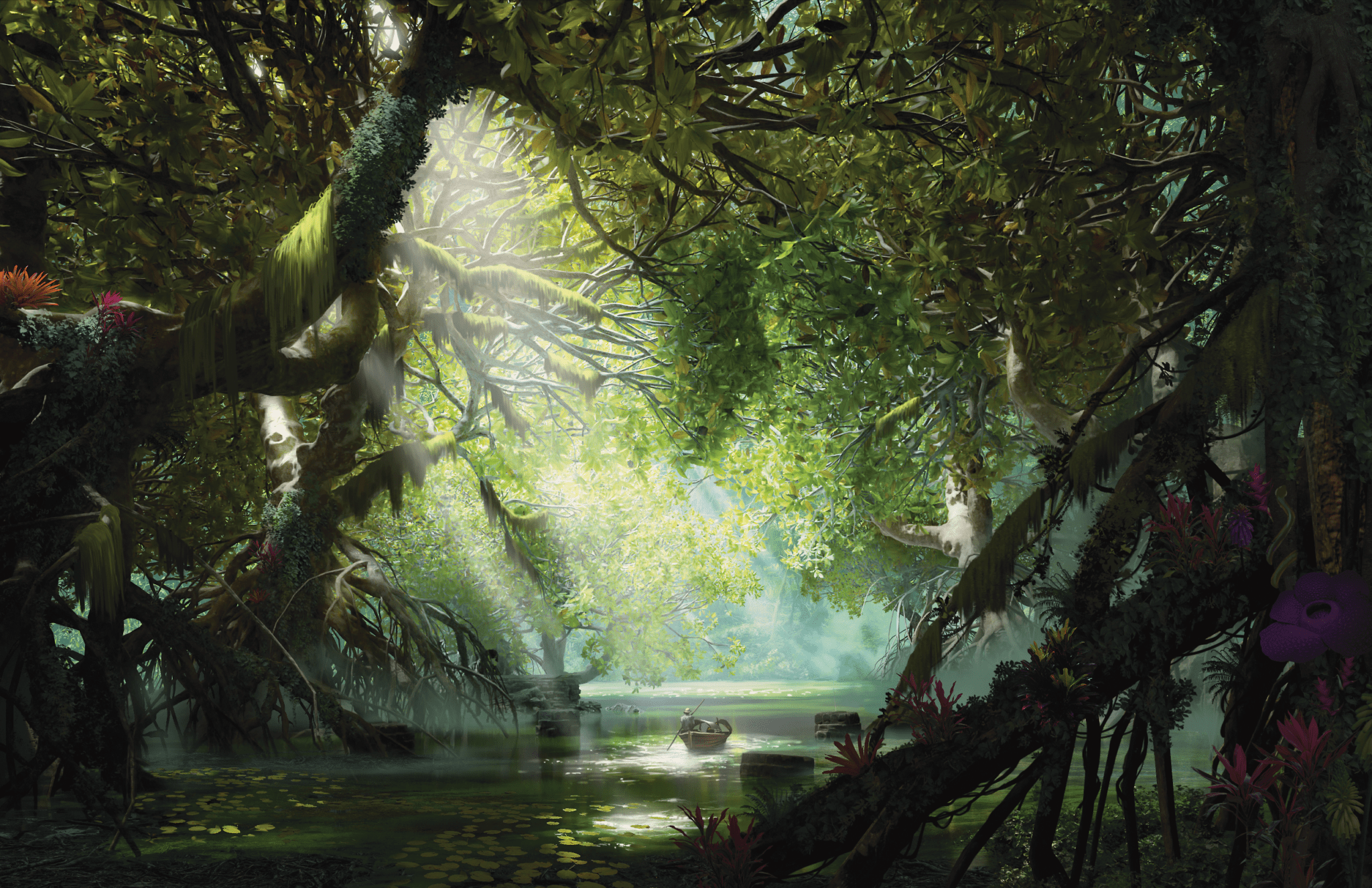 K: Using so many new voices adds more risk to our process. We don't know if the artist is good with deadlines, if they take direction and are professional or if the quality of their portfolio is really what they will deliver. There is a lot of unknown. Happily, everyone was awesome and some really went beyond with their work. 
E: And it's always extra exciting when an artist we contact turns out to be a fan or player of the game too.
When it comes to the design of the Radiant Citadel itself, what was the "vibe" you were going for? What did you want players to feel when they're walking around and entering for the first time?
E: It is supposed to be a wonderful and welcoming place where the DM can depart for adventures in any realm they desire. It's a place of beauty and the first step towards possibility.
What were some of the visual influences you had in the design of the Radiant Citadel?
K: I love the way the artist (staff artist Shawn Wood) illustrated the Radiant Citadel for the product. He also developed the concept art for it which helped inform the map, but in his published illustration he leaned into the "fractal" visual in his painting style. It was a unique choice that adds another narrative layer.
How do you plan art in a D&D book where the players might not see it, where it's up to the Dungeon Master to describe things to players?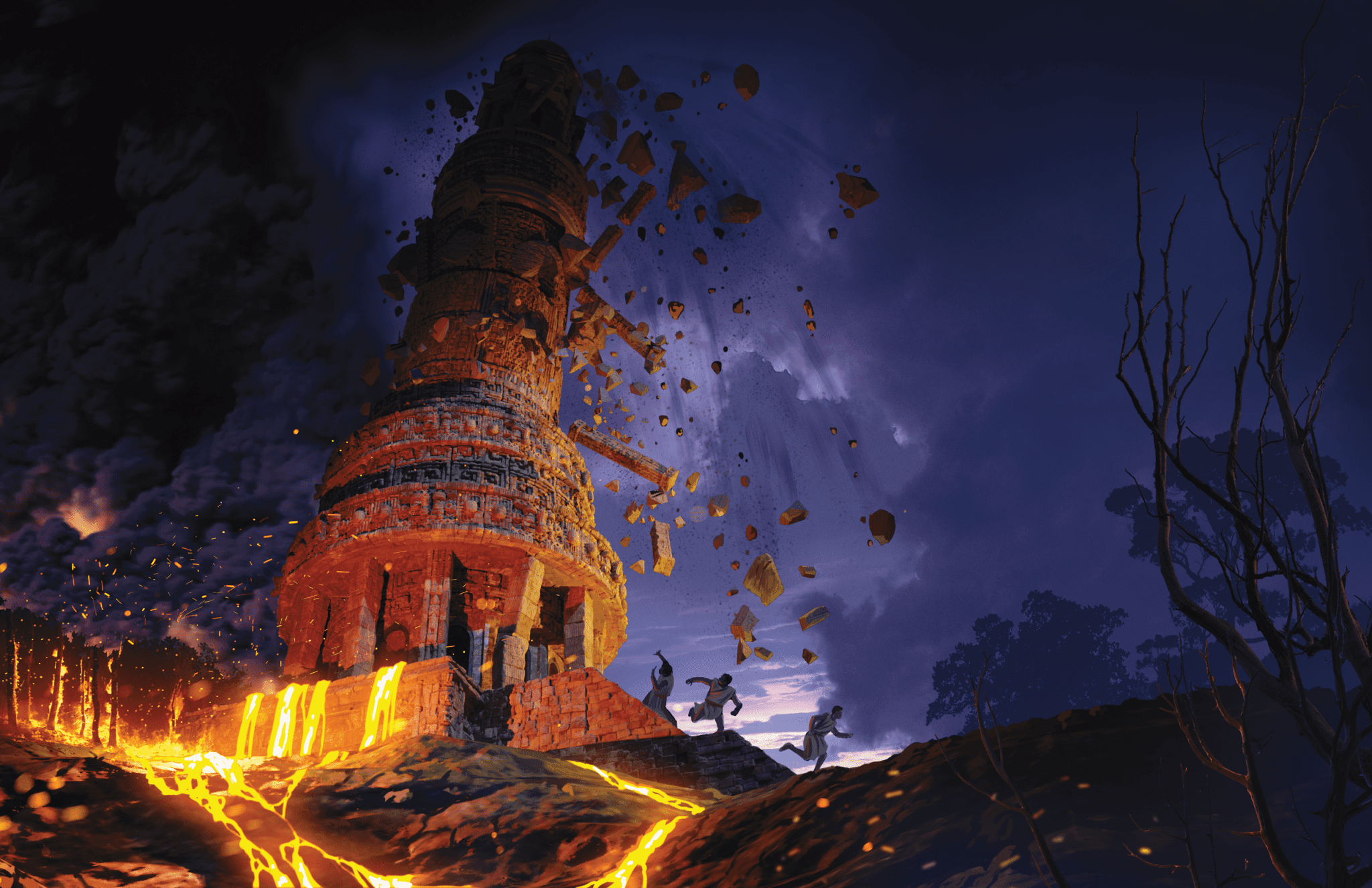 K: Often the DM will share the image, carefully placed paper to cover the information and provide a window for the art. But whether they show it or describe it, there is usually something unique or special for "zing" as well as something familiar as a touchstone. And there's something interesting about a written description (the art order) that becomes a visual though the artist, and then becomes a spoken description through the DM.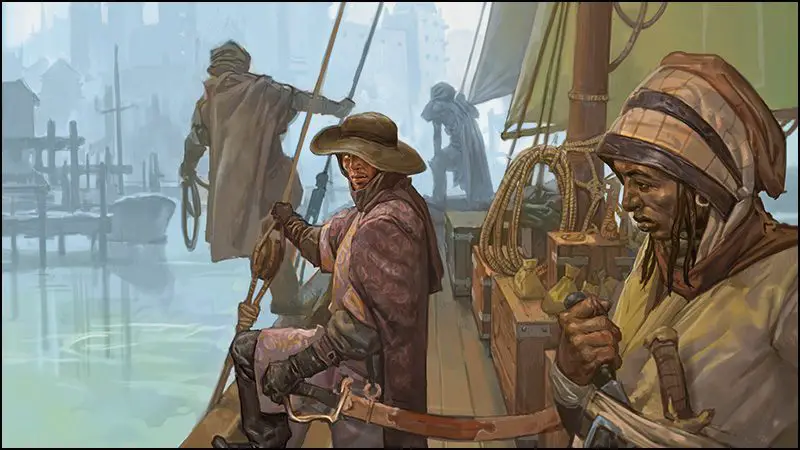 E: And if our art happens to inspires the DM to elaborate and build on their own storytelling, that's the ultimate win.
Do you start working on the art first or do you wait until all the adventures are in?
K: There are two stages of art. Concept work happens early on. It helps inform the final art but can also inspire the writers and game designers. Once we are producing the art that is published in the book, the adventures are pretty solid. 
How do you find the artists who work on the different pieces in the book? Did you try to find illustrators with ties to the represented cultures of the stories?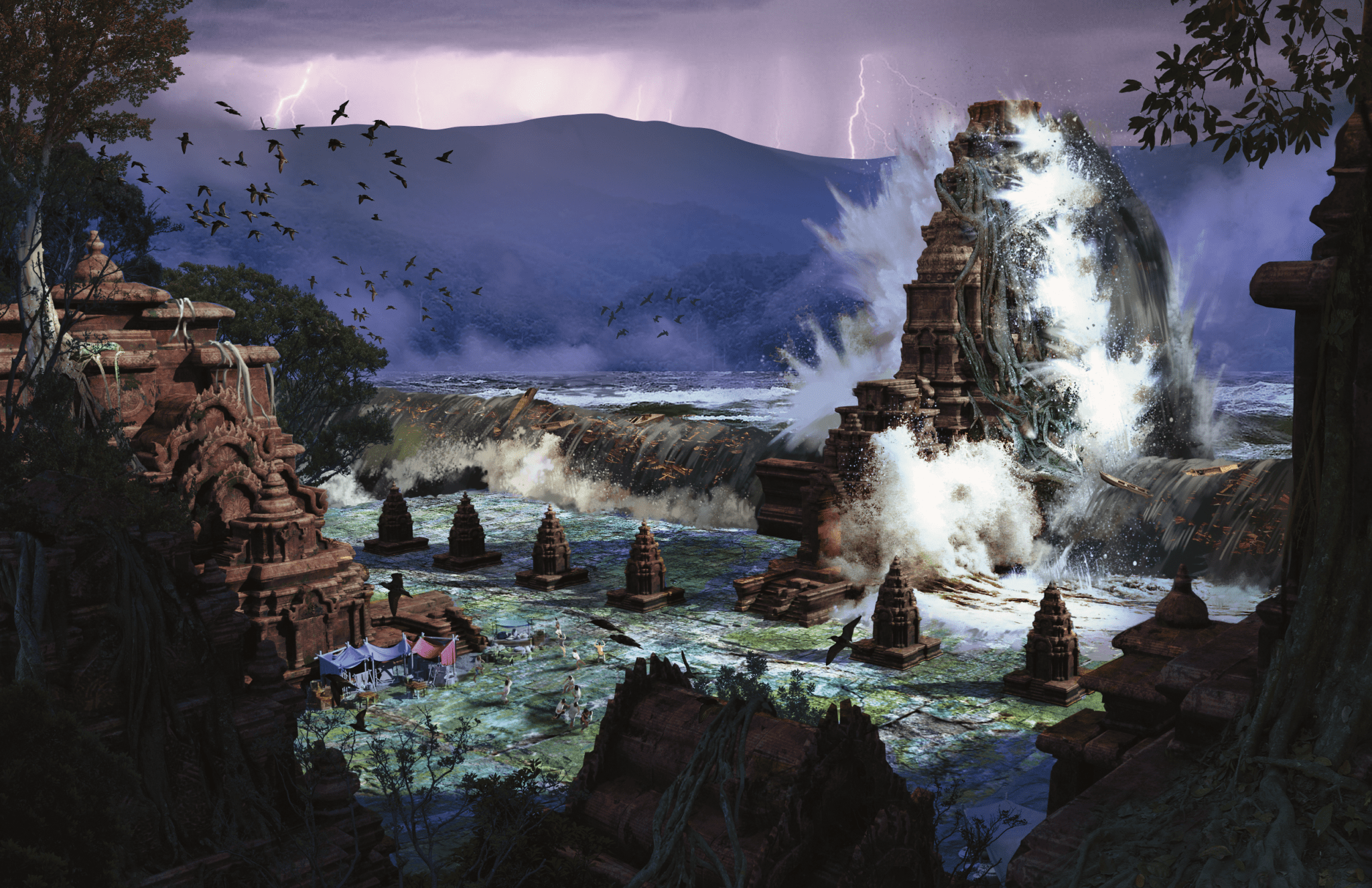 K: We have lots of resources when looking for artists. There are art sites like Art Station and DeviantArt, or social media like Instagram and Twitter. We also check out artists shared or followed by artists we currently work with. In this case we started with many lists of artists we had been keeping an eye on, artists we already work with, artist recommended by Ajit George (EN: Project Lead On 'Journeys') or the adventure writers, and new names discovered from going down rabbit holes.
E: Then I took those lists and organized them based on the product needs and started reaching out to see who was interested and available to go on my final list. For this project the artist affinity was part of the equation.
Eleven new monsters are included in Radiant Citadel. How do you get "the look" of a monster? How do you approach making a classic monster or something from mythology fit the D&D look?
K: Usually a foot in real-world and a twist with fantasy but since these were already mythological we found we could stay truer to the source material. It felt more authentic that way.
Tell me about the covers! Both the standard cover and the alternative art cover are fantastic pieces of art. What goes into the design process for a cover? What do you want it to accomplish?
E: I agree! Both covers are incredible. Our standard covers showcase the content within in the most inspiring way. We want people to see our covers and be excited to join that adventure or picture themselves in that world. I've admired the work Evyn does for Magic: The Gathering and am delighted she has lent her talents to D&D! And our alt covers have been a fantastic way to showcase D&D in a wide array of art styles and depart a little from the expected.
Sija Hong's cover for the Journeys Through The Radiant Citadel really feels unique even among the fantastic line of alt covers that have been produced throughout the Fifth Edition's publishing history. Was that all Sija? What did you like about it that appealed as a cover for the book?
E: The art order serves as the inspiration with the key points we need to hit and the artist takes that and interprets it in their style. There's some back and forth but we try not to get in the way of their creativity. Sija's art is gorgeous! If you happen to come across the alt cover you might notice a gemlike effect that enhances Sija's art and adds another dimension. That print treatment is crafted by our graphic designers and allows for the foil paper shine though. There was excellence through the whole process.
If you can tell me, what was your favorite story to work on? Or perhaps do you have a favorite piece of art in the book?
K: My favorite is the stiletto! Divas Attack by Ejiwa 'Edge' Ebenebe in the story Wages of Vice. It was supposed to be a long, thin dagger called a stiletto but the artist took it as a high heel shoe that the character is wielding. That made it even more perfect so we kept the shoe as a weapon.
E: It's so hard to choose! Jessica Fong's gemstone creatures are so magical, and I can't get enough of April Prime's Kusa, the Kobold Seafood Queen. But do take a peek at Adrián Ibarra Lugo's festival piece – it will feel as though you have just stepped in to that scene and my oh my is it thrilling!
You can pick up your copy of Journeys Through The Radiant Citadel starting July 19th from Amazon, Barnes & Noble, or your FLGS (the only place to get the Sija Hong alternate cover. Digital copies will be available on Roll20, Fantasy Grounds, and D&D Beyond. Hard copies are priced at $49.95 while digital ones will run you $29.99.
Images via Wizards of the Coast
Have strong thoughts about this piece you need to share? Or maybe there's something else on your mind you're wanting to talk about with fellow Fandomentals? Head on over to our Community server to join in the conversation!