Severance on Apple+ is the newest and most bizarre look at work and office culture.
In an alternate present, Lumon Industries is the corporate top dog in the U.S.  Mark, a struggling widower, works in Lumon's Macro Data Refinement (MDR) department.  It's impossible to tell what he's doing as he hunts "scary numbers" in front of his computer screen, but that's far from the weirdest part of Mark's job. 
Like many other Lumon employees, he's chosen a job that requires him to undergo the Severance procedure. Severance splits the memory into two separate selves, which means there is no access at all to the work self when you're home, and vice versa.
According to Lumon, severed employees have achieved the best work-life balance possible. When Mark's wife died, he decided that the Severance procedure was preferable to facing his grief. Every weekday morning, he arrives at Lumon and takes the elevator down to the basement, where the MDR is. The next thing he knows, he's exiting the elevator back at the main floor, where he gets to leave, already done for the day.
 For Mark's Innie (his work self) things are much different. Imagine clocking out after a long, monotonous day of work. Imagine dragging your tired body onto the elevator to head home, only to find yourself right back at the office. Every single day.  That's the terrible reality for Mark and his coworker's Innies.  They're trapped at work indefinitely.
The show has a really uniquely lived-in feel, even though it has an odd, sterile palette. Thanks to production designer Jeremy Hindle, the show has a cool and unnerving atmosphere. The inside of Lumon is a never ending labyrinth of plain, white hallways. Their technology has a funky retro look, and the employees are dressed in an intentionally plain and almost childish way. The oddball set design and writing allow for believable science fiction without elaborate effects, which is quite the feat!
Mark's  Innie has really interesting coworkers in Dylan (Zach Cherry), Helly (Britt Lower), and Irv (John Turturo).  Patricia Arquette, Tramell Tillman, and Christopher Walkin all brilliantly play Lumon employees who work outside Mark's department.
Mark's Outtie has no idea of the drama hatching inside the walls of the MDR. He's busy drowning his sorrows in booze with the humorous and kind company of his sister Devon (Jen Tullock) and his brother-in-law Ricken (Michael Chernus). 
Ricken writes a ridiculous self-help book that would be totally forgettable if it didn't fall into the hands of the severed employees. Since the book did make its way into the MDR, Ricken becomes something of a spiritual guru to the naive Innies.   
The people of Lumon follow manuals written by the founder of Lumon, Keir Eagen.  Sometimes, their dedication to Keir seems cult-like.  Just wait for the Waffle Party.
Wait, waffle party? Yes. Since the Innies don't get to experience compensation for their work (their Outies do all the spending), there's a silly reward system set up to keep the Innies motivated.  The promise of goofy things like finger traps, melon bars, and waffle parties may seem insulting, but the Innies will take anything that breaks up the monotony.  It's an interesting meditation on the way companies sometimes use infantilization and trinkets to manipulate workers.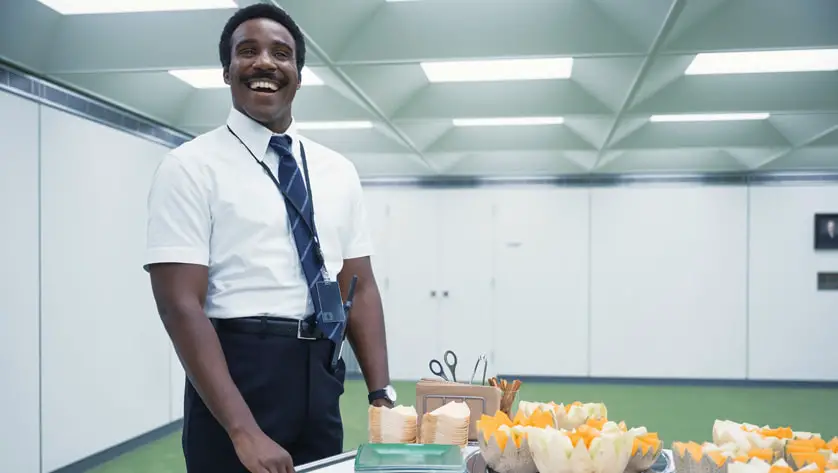 I expected Severance to be a weird ride, and it was, but it was so much more than that. It was surprisingly vulnerable and funny, star packed, and original. I definitely recommend this show for any fans of science fiction, psychological thrillers, comedy, and drama. Apple+ has something really special in Severance.
Image courtesy of Apple+
Have strong thoughts about this piece you need to share? Or maybe there's something else on your mind you're wanting to talk about with fellow Fandomentals? Head on over to our Community server to join in the conversation!