A laid out table with pewter goblets, thick black curtains, candles dripping with old wax. There's a gothic elegance to the seance the séance that still captures the imagination. A staple for goths and ghouls the world over wanting to have a bit of fun on a spooky night, even if we don't really think that there's a ghost out there talking to us (or is there?), the old Spiritualism of the past has made its way into popular board games like Mysterium or Paranormal Detectives. In Phantom Ink, a new game from Resonym (Retrograde, Surrealist Dinner Party), you can revisit your ghosts with your friends in a fast and frenetic bit of word guessing that might just haunt your parties for years to come.
What's In The Box?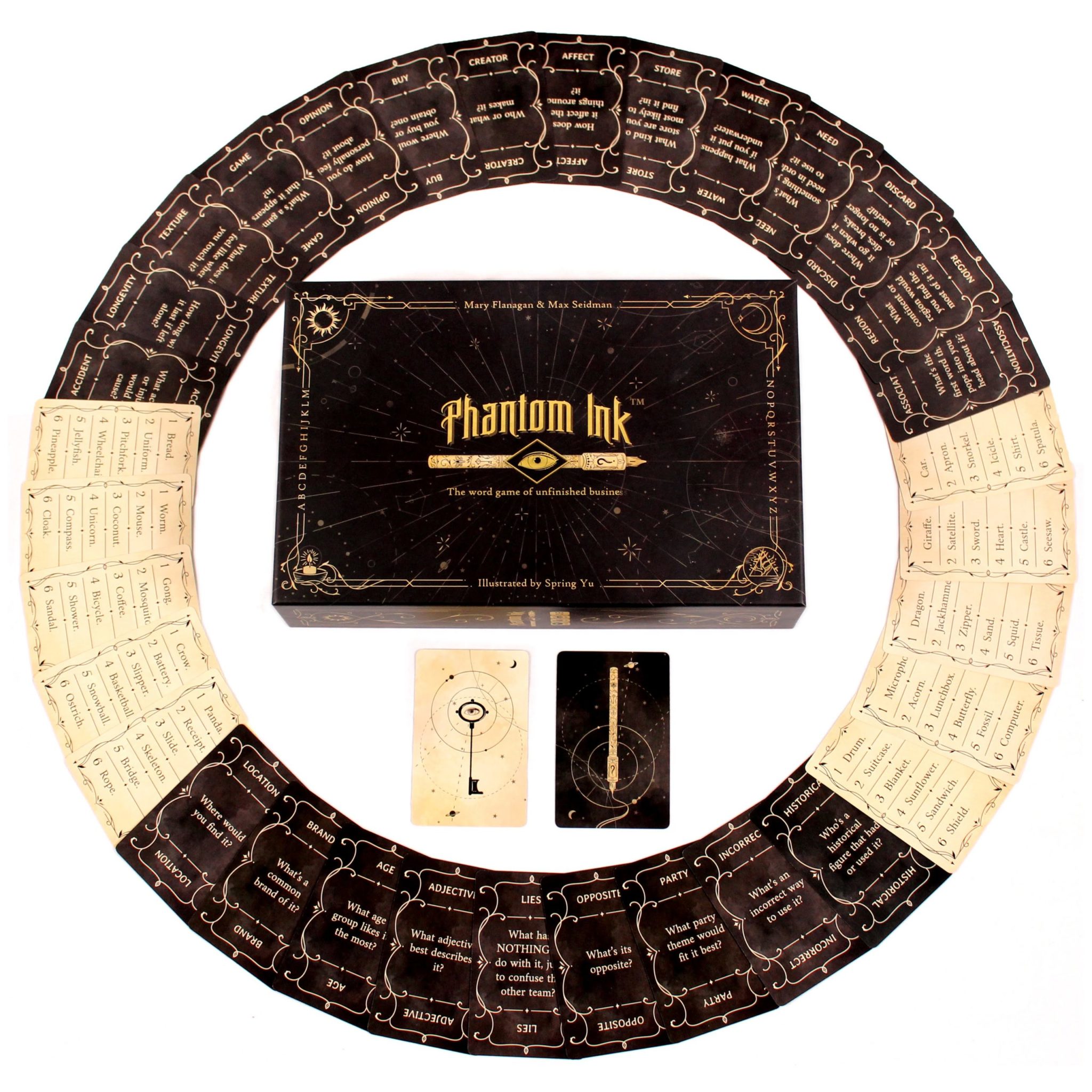 Folding Pad of paper
102 Question cards
52 Object cards
2 pencils
Party games are inherently minimalist, but I do want to briefly comment on how nice this game looks thanks to clean design and some great spooky art from Resonym's favorite artist Spring Yu (who also did the art for Surrealist Dinner Party and Mechanica). Keyes, eyes, spirals, and elegant ink pens recur, as well as the sun and moon which represent each team. It really captures the vibe of what you'd expect a Victorian seance to look like.
How's It Play?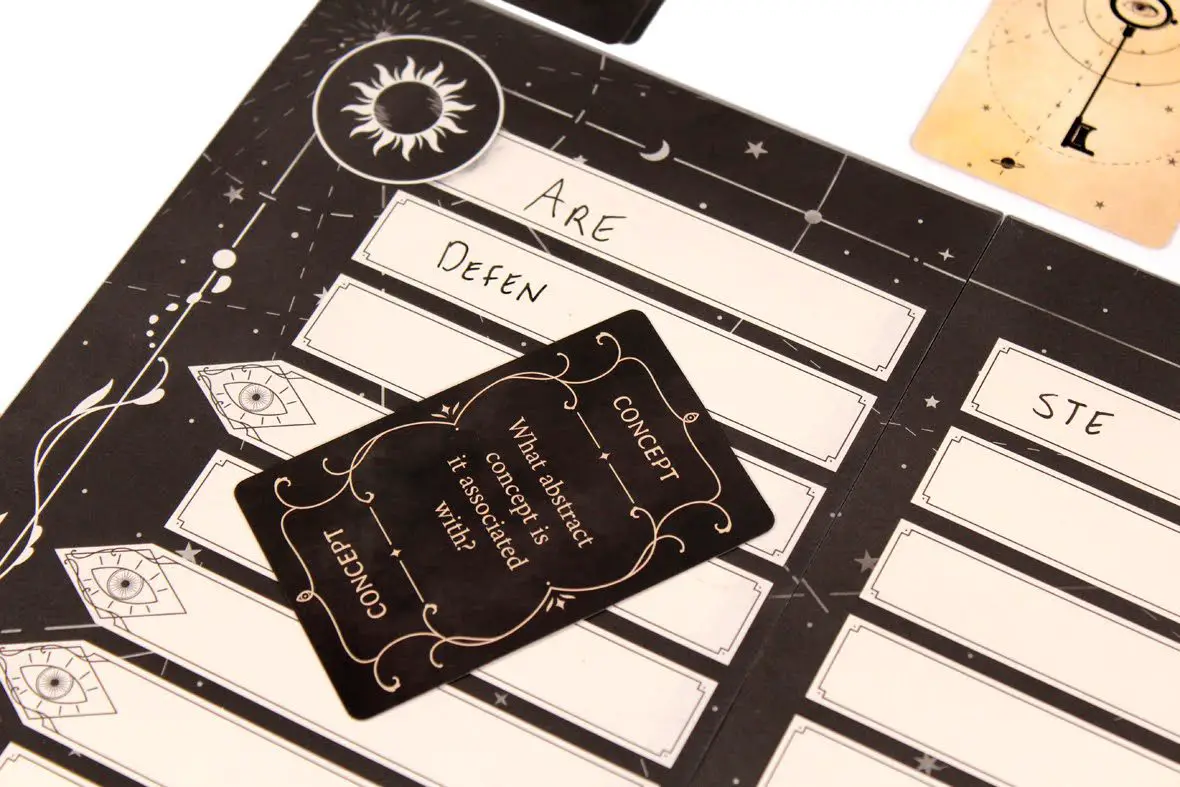 Gameplay is contested between two teams, each of which has one player acting as the Spirit and the rest acting as Mediums working together to try to communicate with that spirit. The game requires four players minimum (one Spirit and Medium per team), but is incredibly flexible on how many mediums can be on each team. While it can be done equally, there's nothing saying one team can't have more or less players than the other. When I demo'd this at PAX with one of the designers, I actually competed against a much larger team.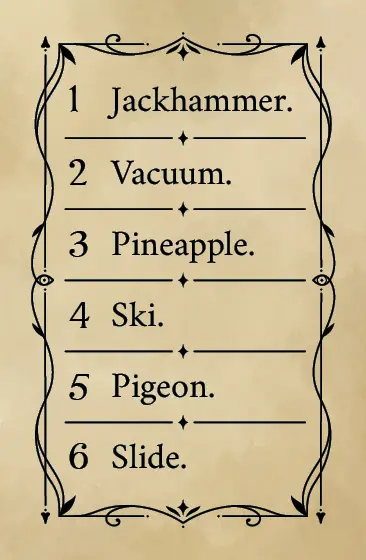 The two spirits choose from a list of words each round, which the two teams of mediums have to figure out by asking their Spirit specific questions from their hand. These questions are more than just your regular "is it bigger than a bread box" style you normally get from guessing games like this. You'll also get some creative questions like "What onomatopoeia does it make" or "What abstract concept is it associated with." The spirits write their answer one letter at a time and the second that a Medium thinks they know the word, they say "Silencio" and the Spirit stops.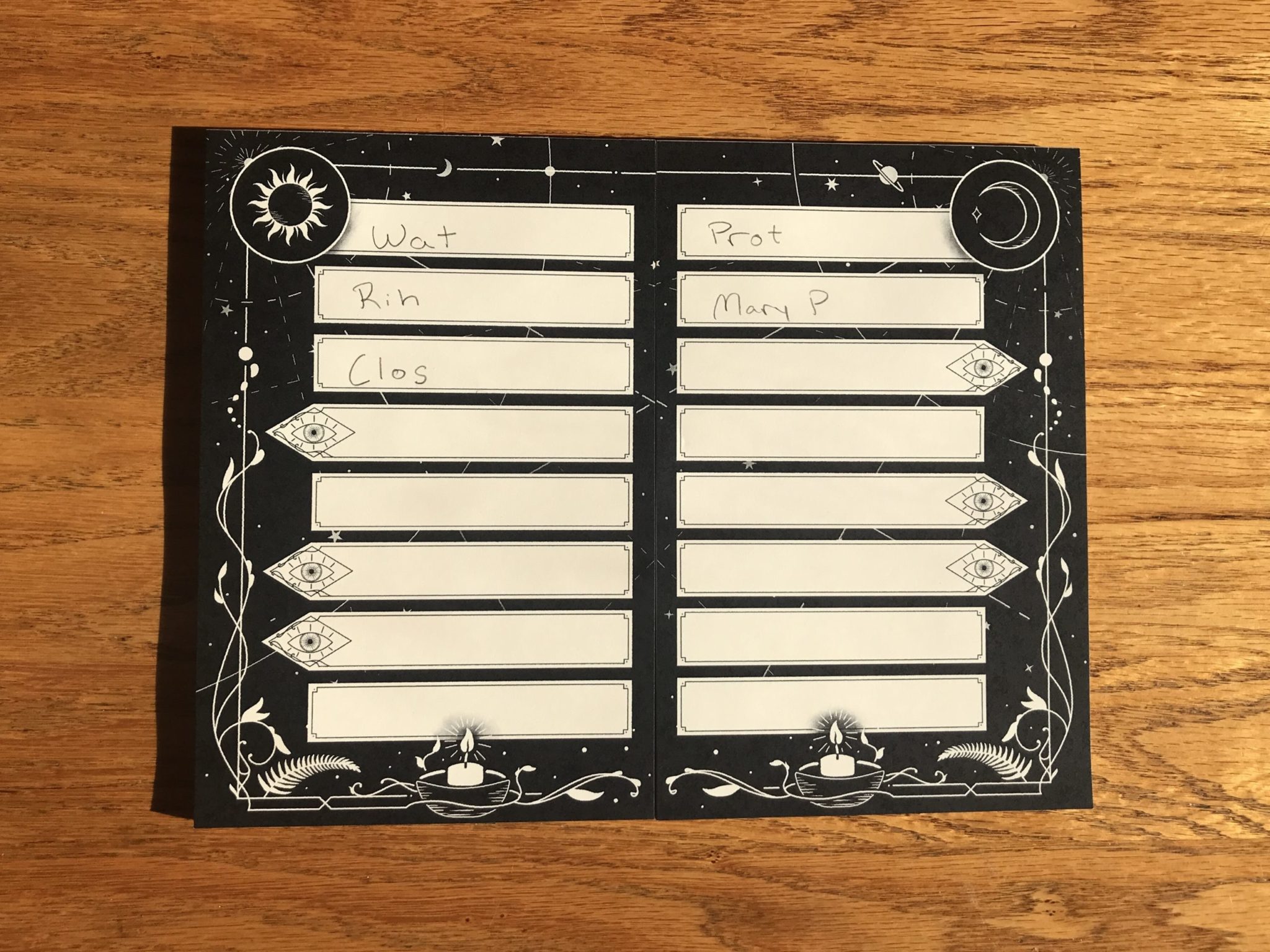 Since the teams are trying to guess the same word, Mediums and Spirits alike have to make sure they don't give too much away. They're helped in this by cards in the question deck that are meant to throw off the other team like "What do you NOT use it for" or even "Just write something totally unrelated." It's a really fun way to shift the balance in a game like this so that everyone is challenged, not just the one's trying to make a guess.
The Verdict?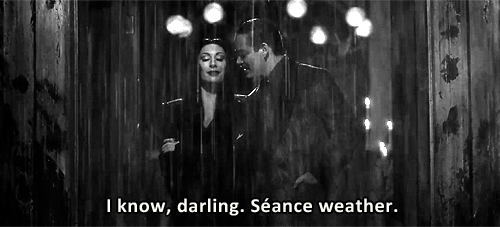 Party games are often hard to review and there's a good reason for that: there isn't really that much you can do with them. When you scroll through the lists or walk down a con hall, you'll often see the same basic premises repeated ad nauseum with only a few tweaks or unique jokes to differentiate them from the pack. Phantom Ink stands out from other guessing games in that it really seems committed to its themes from the elegant art to the ways that Spirits can communicate (knocking on correct guesses, silence on incorrect ones). It also gets creative in its manipulation of the opposing team and even lets you strategize. It's funny without being immature, challenging without being tiresome. In short, it's everything you'd want in a spooky party game.
You can grab Phantom Ink from the Resonym shop, Amazon, or your FLGS!
Phantom Ink
Summary
Resonym isn't trying to reinvent the wheel with Phantom Ink, but they've still created something special with an elegantly designed game perfect for year-round seances. Great gameplay and strong theming help it stand out in a genre that often feels deeply overcrowded.
Images via Resonym Games and Paramount Pictures
Have strong thoughts about this piece you need to share? Or maybe there's something else on your mind you're wanting to talk about with fellow Fandomentals? Head on over to our Community server to join in the conversation!