These days anthology series are not exactly uncommon, not even in the horror genre with series like American Horror Story, which gives us a brand new theme and characters every season. However, fans of the original Penny Dreadful were not expecting a revival of the series. Well, at least I wasn't. While the ending of the final season was met with mixed responses, no one could deny the quality of the story overall, the wonderful characters and equally impressive development over three seasons, and just the sheer beauty of the dank and misty streets of Victorian London. Now, Penny Dreadful: City of Angels takes us from dark and throws us into the sunlit and vibrant city of 1938 Los Angeles. As proven by Ari Asters brilliant film Midsommar, true horror doesn't always hide in the dark.
Expectations were high from fans of John Logan's original series. From memorable characters like Vanessa Ives and Ethan Chandler, beautiful classical scores and sets, gratuitous helpings of violence and emotion, and plot lines that twisted and coiled into each other, how could we not expect a new series of the same name to hold up to these standards or even more? With this review I'll be doing something a little bit different, at least for the debut episode. It's important to capture what made us love the original series so much, so I'll be looking at all these factors I've mentioned and holding them up to their counterparts. However, we don't want it to be exactly like the original, otherwise what would be the point of watching it with such high standards? I'll also take a look at what makes the season premier stand apart from its predecessor.
Let's start with the plot, at least with the main overarching plot. The first few minutes establish a struggle between two supernatural forces. On one end of the spectrum we have the Mexican deity, Santa Muerte, or the Holy Death, played by Lorena Izzo, a modern horror film alum. Santa Muerte is a deity that delivers the souls of the dead to the afterlife but is also known as a healer, protector, and is worshiped mainly but not exclusively by women. On the other end, we have Magda, played by Natalie Dormer. She's a fictional deity created by John Logan, who throughout the first episode utilizes varying identities among mortals and a certain power of persuasion. The struggle between the two is set as a prophecy that the world will be ready for Santa Muerte when "nation will battle nation, when race will devour race, when brother will kill brother". What exactly this means is not touched upon yet but even without watching the episode, we know by the time period what these could mean. By 1938, the world was on the cusp of the second world war, racism against Mexicans and Mexican-Americans was at an all-time high, and the third we'll leave be for now.
The opening scenes show us that these two deities are on different paths with the other not being able to stand in their way. The line from Natalie Dormer Magda, "All mankind needs to be the monster he truly is, is being told he can", shows that she is playing the role of corrupter while Santa Muerte's inability to care those who have not died yet, show that for now, this will be quite the one-sided struggle. That mankind is on its own against Magda. While we really don't see much of Santa Muerte for this episode we do see a lot of Magda. Natalie Dormer's ability to play a variety of roles as the many-faced Magda not only shows her incredible acting ability but also weaves a web like Vanessa Ives who touched the lives of nearly every plot of the original Penny Dreadful. Other than Magda we do see her as Elsa, a German housewife who hints towards spousal abuse and Alex, a secretary for Councilman Townsend. As Elsa, her web is concerned with Dr. Peter Craft, played by Rory Kinnear who played the Creature in the original series.
Dr. Craft is a wealthy doctor and a German immigrant. He is also a Nazi supporter who later in the episode is seen marching with like-minded individuals in Los Angeles preaching for Americans to look at America first and not to involve themselves in the affairs of Europe, Hitler's coming war specifically. While also seen by others as a decent man, at least toward his housemaid, Maria Vega, it seems we don't know too much about his character, for now.
Nazism is a common theme in the series as Magda's other persona, Alex, whispers nothing but flatter into Townsend's ears but this is her way of moving him forward. Midway through the episode, we are shown a public hearing in which a community of Mexican-Americans is protesting the building of a thruway that will go through their community causing many to lose their homes and jobs. Racist comments from Townsend aside, it seems the forum was a mock hearing thanks not only to Magda and their cries fall upon deaf ears. We see later that Townsend is actually in the pocket of Nazi spy named Richard Goss played by Thomas Kretschmann. While Townsend doesn't like the revelation that there are Nazi spies in nearly every American industry in L.A., he is appalled to learn that this is only the start of a greater plan. However, when Goss' allegories turn to threats he changes his tune, for now, all while Alex smiles as if this was her doing.
The other major character of the series is Santiago "Tiago" Vega played by Daniel Zovatto. As a child, he was already caught between the struggle of the two deities as Madga started the fire that would kill his father and many more. Intellectus anglų kalba internetu. The traumatic experience would come to define his skepticism of religion as he would deny seeing Santa Muerte cradling his father's corpse as he ran towards them. Even the scar left to him from the event would not be enough. Fast forward to 1938, he is now a detective moving to greater L.A. to begin his new career. His family, of course, is happy for him but it seems that he will always struggle with identity. His Mexican heritage and love for his community is constantly being questioned, mostly by his brother Raul. The thruway is common knowledge by this point and because of Tiago's affiliation with the local government as well as for lack of a better word, the apathy of the situation, Raul feels his brother is forgetting about them.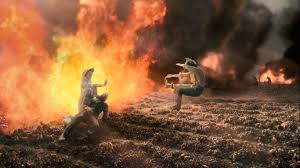 However, Tiago is subjected to cruel racism of a predominantly white police department where he works. It is mostly in the form of slurs and jokes but the intent is very much seen as malicious in the greater spectrum. Tiago's new partner Lewis Michener, played by Nathan Lane, is defensive to this however, not everyone likes to be stood up for. We're pretty sure he does mean well. Aside from the issue the thruway which takes a back seat for most of Tiago's part of the episode, a multi murder investigation threatens to take racial discrimination to a new level. The two are pulled into early duty to investigate a murder of four individuals, no doubt Tiago was chosen due to the writing in blood left behind at the scene and that the victims were painted up with makeup common associated with Santa Muerte and los Dios de Muertos (Day of the dead). The connection between the writing is obvious as well as they were all missing their hearts and the line read, "Te llevas nuestro corazon, tomamos el tuyo"(You take our heart, we take yours).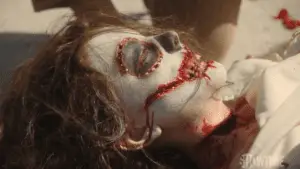 Not much of the episode is spent any real kind of investigation other than the relation to the racial tensions that will be created if it gets out. This is blatantly shown when the commissioner of department states he wishes they were Mexican bodies and not four rich white people, he's more concerned about it becoming a race war. The investigation is mostly a dud for now as the only thing they learn about the victims is that one of them is a rich televangelist, something that early previews of the series explained would be a major theme. Tiago also turns to his mother for help as she as seen as a worshiper of Santa Muerte. This scene offers two important revelations. First, it finishes the prophecy told incompletely at the start,"…until not a soul is left". This is clearly an end of the world prophecy. Second, is a reaffirming of Santa Muerte's inaction or inability to care for those still living, but also that Maria Vega knows that this is all Magda's doing. We also see the Lewis is also aware of the Nazi issue as we get a quick look at his investigation board. The strings of everything in this episode woven together, a prelude of things to come.
The final stretch of the episode sees Tiago give in towards his brothers' criticisms. With the construction of the freeway hours away, the community mounts its final stand to protect their homes. Tiago at first tells his partner he will not be there in an emotional scene where you can see the struggle in his heart. But by the time the showdown occurs, he sides with the police, yet another emotional scene as Raul looks upon his brother. It's mostly a standoff until Magda appears, whispering into an officer's ear at which point he fires the first shot and the battle begins. By the end, she uses her persuasion on Raul and he goes on a rampage. Just as his gun sights are set on Lewis, Tiago makes the ultimate decision and guns his own brother. Thus the final part of the prophecy, brother will kill brother, is complete.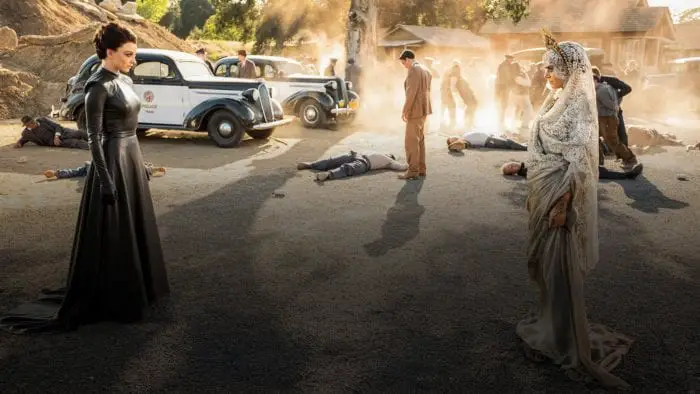 I'll come out and say it first, this debut was phenomenal. The characters were as detailed I could hope. While it will be a little while before I can feel attached to them as I was the cast of the original, they were different in the best sense of the word. If I wanted the same characters I would just rewatch the original series. Motives are different, cultures, traditions, goals, everything sets these two casts apart but they are just as detailed. I care about their dilemmas and while I am not Mexican, yet Hispanic, I could relate to that sense of community, that shared culture from the music they danced to towards the end as well as the pride. The sets were detailed and the all senses screamed pre-war America.
The biggest way the series deviated itself from the original was the central theme of race. Only recently has racism in the greater scope of horror began to appear. While the themes were always there, they never took front and center stage until films like Jordan Peele's Get Out. While the cultures of that film and Penny Dreadful were different, racism in itself is monstrous and vile, enough so that even though in this series it's not the drive of the primary antagonist, the fact that it's the major tool she is using to turn people against one another is a monster in itself. I'm very much looking forward to what the rest of the series is serving up and I hope that you will all join me in watching.
All Images Courtesy of Showtime