Just in time for the holidays, I interviewed award-winning actress, writer, and producer Nia Fairweather. While many viewers are meeting Nia for the first time in A New York Christmas Wedding on Netflix, she's been acting for more than a decade in theatre, TV, shorts, and feature films. She's also a writer and producer with her newest work Four Seasons showing in film festivals now!
Long-time fans will recognize Fairweather as Dawn from The Roe Effect (available on Vimeo) who is hiding a secret from her girlfriend Sam. This was her first film out of drama school and it's no wonder that the film received five awards. Intense and emotional, the film portrays Dawn's anguish and difficulties with keeping her secret, and the lengths that she goes to in order to solve her problem. (Content warning for sexual assault in the film.)
As Nia frames it, her intensity in the roles she plays is a result of her "awareness, empathy, and vision to write and perform impactful stories that take audiences on poignant journeys through critical social issues" like in The Roe Effect or ORDEEL. 
However, as A New York Christmas Wedding highlights, Fairweather is an incredibly versatile actress capable of providing depth to any role, even one that viewers might have expected to be like every other Christmas movie lead. Nia Fairweather's dedication to giving it her all and inhabiting her characters is all the more impressive when you find out that she decided to do acting nearly on a whim!
Nia Fairweather's dedication to giving it her all and inhabiting her characters is all the more impressive when you find out that she decided to do acting nearly on a whim!
Zooming in from LA, she was incredibly generous with her time and what follows is a condensed version of our hour and a half long discussion.
---
FM: How did you decide to go into acting? Have you always wanted to do it?
NF: While I was trying to figure what I really wanted to do, many of the adults around me were being laid off from their jobs due to restructuring or loss of funding. Many of them had been in their jobs for 20 plus years. Being [a] first-generation American, I'm aware that their generation came here, sought jobs, and held onto them because of the security they provided. Witnessing the change and all that it brought up emotionally made me realize security isn't guaranteed. It sent me on a path of seeking what made me feel most alive and gives me purpose, so that if I was laid off after 20 years, at least I would feel like it was time well spent. I'm keenly aware that I'm the generation that got to choose whereas they may not have had the same options.
FM: So how did that lead you to actually trying to get into acting?
NF: Serendipitously, a friend of a friend told me that they were going to an acting class and I asked how to do that because I had no idea how any of this worked. From there, I went to the acting school and learned about conservatories, getting a portfolio, and all the rest of it. It was so rare to be a person who never wanted to be an actor to go to conservatory and to go to drama school that way. So, I did the research and applied to the American Academy of Dramatic Arts and when they told me I had to audition, I ended up auditioning right then and there because someone cancelled!
FM: Wow that's like a movie scene!
NF: That really is how I ended up at the AADA. I knew that there was a theater program and that was my path because I wanted to be in film and had the experience from the HB studio classes. I didn't know the different methods or what I was "supposed to [do]" but for me it was just to have a place to explore, learn techniques, and improve my abilities. 
FM: How did this experience translate into your wanting to write?
NF: Writing came from my discovery that when leaving drama school, you have to audition to get work. Auditioning is about showcasing you, but I didn't see characters that are me. I didn't see a lot of young women, women of color, and definitely no Caribbean Americans, none of those specificities.
So, I wrote my own monologue, gave it a title for an audition. The Casting Directors liked it and asked where it was from. [I told them] "I wrote it!" and I got more time in the room because they were curious. That's when I realized the power of writing as a way to advocate for myself in the room as an actor and give voice to some of the things I wanted to say.
FM: What about producing? You've got Four Seasons out now which you wrote and produced.
NF: I transitioned to producing when I decided to turn one of my monologues into a short film. I asked a director that I had worked with how to do what he did. I didn't want to direct, necessarily, but how do I hire a director for this monologue? He said I needed a script to bring to a director and fund (produce) it. Then I asked, well are you interested? That was that!
FM: I love it, just ask until someone says no!
NF:  Exactly, I didn't know what was right or wrong. Now it's another avenue for me to create, to act, and it's really cool to be the person to give another actor an opportunity.
FM: So tell me more about Four Seasons. I know you're hoping to turn it into a TV series but right now it's a short?
NF: Four Seasons is a short that I wrote, produced, and am [acting] in. It was a collaboration between me and a dear friend, Kurt Williamson, who was also my director of photography on OORDEEL. Both of us had moved back to LA. He wanted work on a narrative piece, so the agreement was I'll write it and he would direct.
Originally, I had been exploring expanding OORDEEL into a feature film and I also had some other ideas which would have taken more time to develop. I then decided what I really wanted to explore the element of something more sequential which I wanted to explore creatively. While talking to Kurt, the subject of marriage and relationships came up.
NF: Four Seasons centers on Charisse and Braxton who we follow from the moment of courtship, to engagement, to married in a very short period of time. It's about the seasons they experience in their relationship and ultimately about love. I also wanted to use Charisse's character as a way to introduce the notion of post-partum depression which doesn't get talked about often. What happens when you're expecting or expected to fall into motherhood very easily, but don't?
It also allowed me to test my writing and see if I could write male characters authentically, and the best compliment has been male friends asking me if I was writing about them!
(FM: The movie is not available widely, yet, but is lovely and we can't wait for it to get released.)
FM: Speaking of characters, what drew you to play Jenny and did you feel any pressure playing her? Most of the holiday films this year that have gay couples are focused on men, and A New York Christmas Wedding is one of the only to feature two women, and a woman of color at that!
NF: What's so interesting is that I didn't feel any pressure. When Otoja (Abit) came to me with the script, we had met [years earlier] at the Labyrinth Theater Company during a table read for a play there. For me, a table read or full performance is the same thing. Unbeknownst to me, he enjoyed my work and my performance so much and made note of it to the point where 10 years later, he had me in mind for Jenny.
The biggest thing for me is "what are we trying to say with the story?" Is it reinforcing stereotypes or not? I'm always hyper-aware of that. What would the challenge be for me as an actor, and what do I want to say? For me, it's about creating responsibly.
What I loved about this script was wanting to lead with love. How can I be from a place of love in every aspect of this film? Jennifer is dealing with grief, both [of her] parents and her best friend and first love are deceased. Her mother-in-law is not the most inviting and her fiancé's life is a more affluent one. So for me, it was all of those things. What it means for loss, regret. What does it mean to possibly have a second chance?
(FM: Like the best films with alternate timelines, this one has an added twist.)
NF: I feel like there are some people in life who are truly angels because of the roles they played in my life. So when I think of Azrael and Jennifer, I see him like that; helping her to see some things and view them differently. She has to make the choice. To fear what could be or allow herself, for the first time, to just be in it?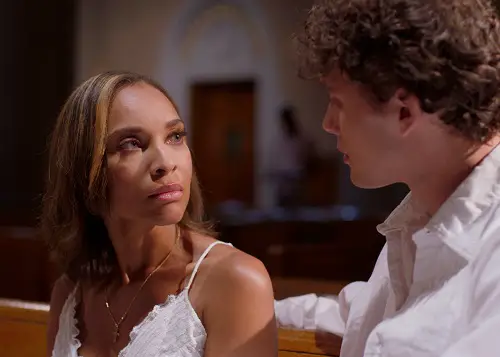 The heart of who Jennifer is what she represents and often matters most. As a storyteller, I get to contribute and give to the world. If other people have hang-ups about Jennifer, that's on them. I don't have those barriers to playing across a woman or a man, and I'm realizing now as you said it, I'm the first! I take great pride in that.
FM: Having worked in different genres, do you have a favorite genre? Are you excited to do something totally different next?
NF: I'm not sure if it's a genre as much as something that allows us to be brought into a world in a way that we didn't expect. I would love to do sci-fi on the psychological side. I love The Matrix and Get Out, exploring racism from the psychological and emotional effects it has on someone.
FM: How would that apply to your dream project? Do you have one?
NF: It's fascinating because my relationship with my work and career is more of a feeling of what I want to create and have experienced. Hmm, I haven't quite plotted out who would be involved, but I would love to do a period piece. If it could be in Ancient Egypt, that would be awesome. It would need to be a series so I could be on location for an extended period of time in Egypt, Morocco, and Northern Africa. Especially because I'm a geek when it comes to Ancient Egyptian history. 
I also love animation and would like to work in that space as well.
FM: Who would you want to work with?
NF: I have a long list. I recently watched the Small Axe series by Steve McQueen. His style of filmmaking is highly dramatic and very intense but feels like a documentary. Hunger (about the 1981 Irish hunger strike), or Shame (dealing with sexual addiction), you feel like you've watched a bit of history. 
FM: As you've been making a space for yourself as first-gen Caribbean American, who have been your inspirations?
NF: Well it is interesting because I don't get asked about being Caribbean until I do something that causes other Caribbean people to ask me. Sometimes you just recognize something, if I hear someone's accent, I'll say "oh I'm from the West Indies, where are you from?" 
Since I came into acting without any access to other actors, I read a lot of autobiographies and books based on the life of Black Actors and Artists. My mom loves Sidney Poitier. He's Bahamian, and I read his autobiography to understand the world of acting. Based on [who] he mentioned, I looked at them. I looked at Harry Belafonte who was also of Jamaican descent. Without being consciously aware, I was looking for people who had that duality to them.
Most people don't know, Cicely Tyson who is one of the most revered actresses, Kerry Washington, Nia Long, Derek Luke, there's so many actors who are Caribbean American. Here in the US…
FM: Hollywood just doesn't understand the complexities of life sometimes…
NF: I've written and re-written my bio because I had to think back on what may have contributed to my perspective and journey as an actor. Growing up in a diverse neighborhood where people were different, I didn't understand what half the people around me were speaking played a huge part! I spent so much time looking at human behavior, like an anthropologist.
In The Roe Effect, I'm the lead but have the least amount of words because it was all about what she's feeling and expressing. Even with Jennifer, that moment where she sees her father again is so quick for the first time and I was determined to live that because it is so important.
I don't have an issue with roles where people might perceive me differently because I'm inhabiting these roles that are real people.
I see my work as an opportunity to have those who don't often get represented to be seen and for those who didn't understand it, maybe they walk away with a little bit more understanding or acceptance.

– Nia Fairweather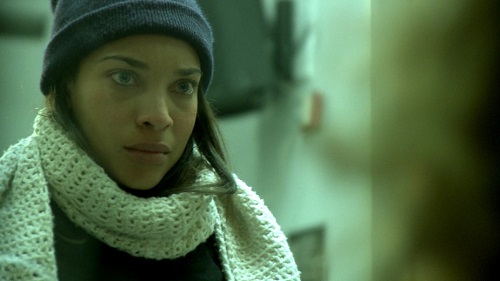 FM: Now that you're on Netflix and experienced filming a full length-feature, do you have any advice for anyone who wants to do this type of work?
NF: I've realized that you have to have a sense of what it is that you want to do and say in this medium. There were roles I simply was not interested in doing. Some because they were very harmful in what they were depicting. If I wasn't clear on what I want to do or say, I might have said "yes" which wouldn't have been fulfilling. 
Whereas thinking about what I want to put out in the world and what stereotypes I don't want to perpetuate anchors me. Entering this industry without knowing all the rules, and then reading Sidney Poitier's books, and his deciding to slap Endicott (Larry Gates) in The Heat of the Night. The first slap by Endicott was scripted but Mr. Tibbs (Poitier) slapping him back was not and it was the first time people had ever seen a Black man slap a white man.
(FM: You can read about the filming of this scene as explained by director Jewison to Robert Abele at the DGA website.)
You know seeing these actors who came into the industry with a sense of purpose were my examples. I encourage those interested in acting, to stay true to themselves; whatever that is for you whether that's your ethnicity, culture, however you identify as much as possible, even if it's not being reflected in the world. There may be things in the industry or those around who say that you have to do things this or that way, still, choose what is ultimately best for you.
FM: Well now that you've actually seen A New York Christmas Wedding, what else have you been doing during the pandemic?
NF:  I have been watching a lot of documentaries, revisiting a lot of books, plays, and novels. And, movies like all of The Matrix series and V for Vendetta. Finally caught up on Queen Sugar and watching a lot of opera. I have a wide range of interests.
FM: Finally, because it's the holidays. What's your favorite holiday meal?
NF: Oh wow, okay. Baked mac and cheese, spiced carrot cake (my uncle's recipe), the Caribbean drink sorrel made from hibiscus plants for sure. Fried plantains, cookies, and coconut ice cream! I have transitioned to a plant-based lifestyle in the last few years, but if I wanted meat, it has to be stewed oxtails.
Finally, you have to have tea (we do), either Earl Gray or black tea with milk and honey.
FM: Well to wrap up, I just want to thank you for talking to me! Is there anything that you'd like to add?
NF: Thank you for reaching out to me! I've really enjoyed sharing about my journey and talking with you has made me realize just how proud I am of everything that I've done so far. I'm excited for what's next!
---
You can find Nia Fairweather at her Instagram, Twitter, and website.
Have strong thoughts about this piece you need to share? Or maybe there's something else on your mind you're wanting to talk about with fellow Fandomentals? Head on over to our Community server to join in the conversation!
Images courtesy of Nia Fairweather