Imagine my surprise when I saw the trailer for A New York Christmas Wedding distributed by MarVista Entertainment? Far from the company's usual fare, this film is what Hallmark and Lifetime wishes it could air with their recent push towards more inclusive fare.
Produced by Conglomerate Media from a story by former basketball player Otoja Abit and Kory Apton, and directed by Abit, the film "has all the elements that Hallmark looks for" but is "gritty and urban" with Black and Latino leads and a romance between two women!
I caught it while it screened as part of the American Black Film Festival which took place from August 21 to 30 and overall really enjoyed it!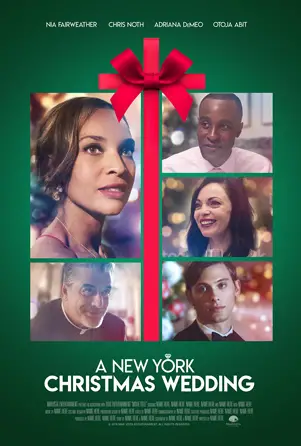 As seen in the trailer, A New York Christmas Wedding follows Jennifer Ortiz (Nia Fairweather) experiencing an alternate timeline when she leaves a dinner with her fiancé David (also Abit) and his parents Alison (Tyra Ferrell) and Jeremy (Tony D. Head) suggest a Christmas Eve wedding. Well, mostly Alison. Jeremy mostly passes the broccoli around.
Too bad Jennifer's mother and father have both passed, as has her best friend, making Christmas a really hard time for her. Alison makes a dig about Jenny quitting a job at Goldman Sachs to become a vet and how she needs to get over her grief because this wedding is a big deal!
Jenny leaves the dinner to go on a run and meets Azrael Gabison, who narrowly misses death after getting hit by a car. After Jenny opens up to him, Azrael tells her that when she wakes up she'll see endless possibilities.
And so goes the rest of the movie with Jenny waking up to a life with Gabrielle, (Adriana DeMeo) her best friend and first true love! This timeline also has an alive father (David Anzuelo) and Father Kelly (Chris Noth who also co-produced the film). We don't learn what this timeline's Jenny does for a living but I'm assuming it's not the Goldman Sachs job because she's still in her old neighborhood.
Watching Jenny navigate the alternate timeline is one of the best parts of the film because Fairweather's portrayal of Jenny's unease and fear really come through. When Azrael tells her that she has 48 hours to experience life with Gabby and her alive father, we see Jenny steel herself though she's clearly still befuddled about the whole thing. That unease never really lets up, which keeps the audience primed for anything to happen as the movie progresses.
We meet Father Kelly, who Jenny accidentally skipped a meeting with earlier, and learn that both Jenny and Gabby had their baptisms and communions in this church and it's important to Gabby (and by extension this timeline's Jenny) to get married in the church as well. Unfortunately, Father Kelly hasn't quite come around to the idea of presiding over a gay marriage, even though Gabby points out the newest Pope has eased the way for other priests to do the same!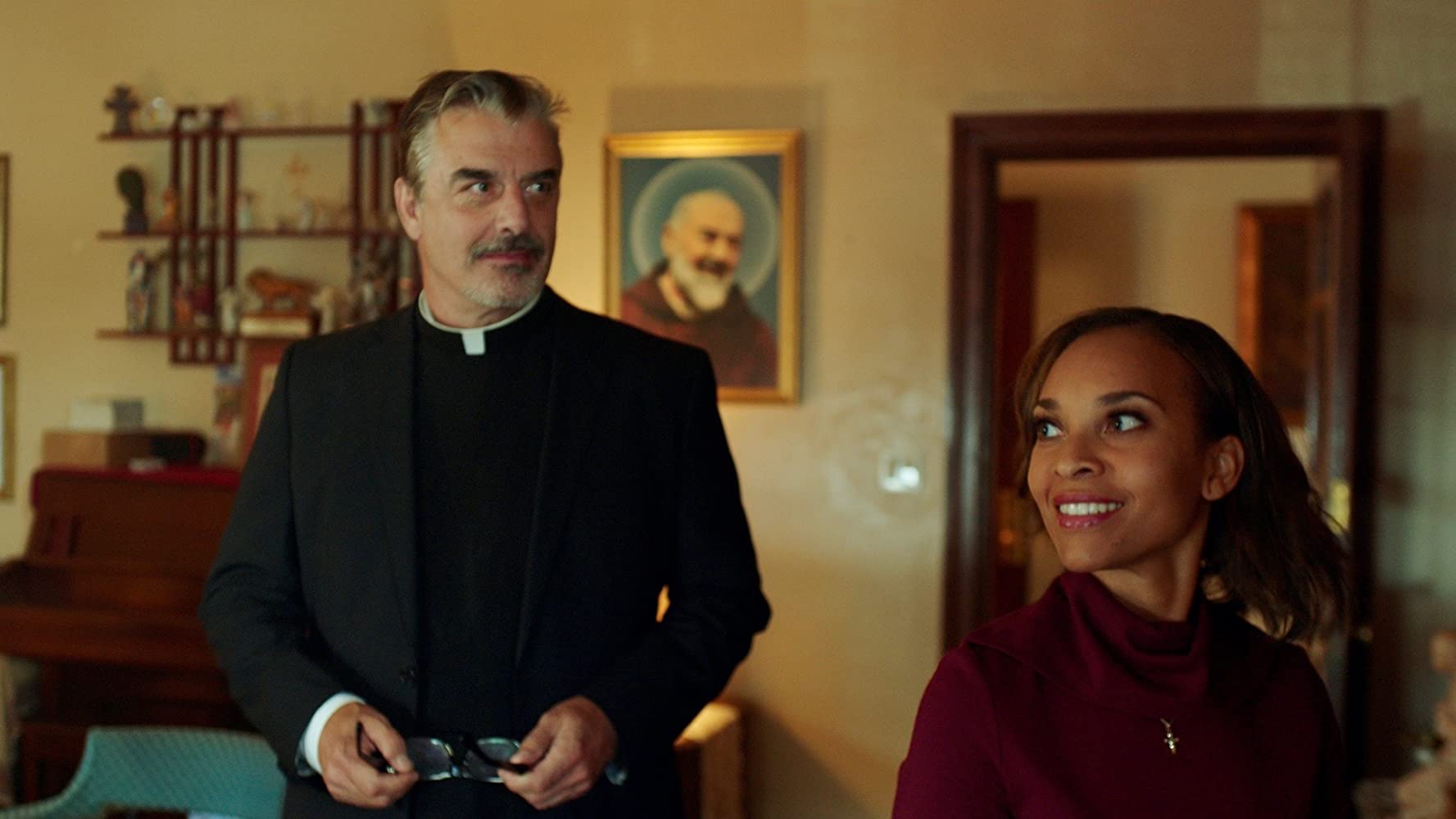 As the movie progresses the audience finds out that Gabby had been disowned by her parents after she came out and again after she found out she was pregnant. Plus Jenny had told Gabby to never talk to her again after Gabby skipped out on decorating the Christmas tree to spend time with Vinny.
In the alternate timeline, Gabby respected Jenny's wishes until she couldn't, and the next day during Christmas mass, Father Kelly tells the church that love is love, provides communion to a number of gay (and trans?) church goers before presiding over a surprise wedding for Gabby and Jenny!
Sadly, Jenny only gets to celebrate that one night before she wakes up to the real timeline where the audience and Jenny learn what happened when Gabby died. After Gabby and Vinny slept together, she became pregnant but the baby was stillborn. Later, Gabby died after a car struck her.
This all means that Jenny had spent twenty hears never knowing the truth about what happened to Gabby because no one would tell her and thus simultaneously suppressed her feelings about Gabby and likely guilt and grief about the whole situation. When Jenny wants to talk to Father Kelly, it turns out he's MIA because the church removed him after he kept marrying gay couples in secret!
Fortunately for Jenny and the audience, Azrael gives Jenny the option to go back in time, and you'll need to watch the film to find out what she decides. Just know that it's a good ending!
I won't give away the end or the major twist in the film, but I say this as a compliment, A New York Wedding Christmas could totally air on Lifetime which is made for twists in even holiday films. I don't think it can be on Hallmark because there's heavy making out.
All jokes aside, the film is really well done and highlights how even low-budget 14 day productions can culminate in a solid movie if everyone involved works together to make it happen. Importantly, the film looks and feels like New York City because it was entirely filmed on location with a truly inclusive cast. Just look at the church scenes!
Unfortunately it did have one of my least favorite tropes, which is dead mom. On the other hand, going back in time lets Jenny keep an eye on her father so that he doesn't die prematurely from implied health issues, and it's super refreshing to have an Afro-Latina character and main Black characters.
If either Hallmark or Lifetime make a movie half as inclusive and good at this, it'll be miles above their usual holiday offerings. To be fair, Lifetime had Twinkle All the Way last year with two men as a secondary romance, and Hallmark just this summer had two women get married in Wedding Every Weekend so I am excited to see what they have in store for the upcoming winter movie season.
Like Abit said in an interview, "people are craving diverse artists and stories. It's a feel-good movie, but we shake up the narrative a bit." I fully agree! With so many distressing things happening every day, this is the perfect feel good movie (even with Gabby dying in one timeline) and if you're into this genre, A New York Wedding Christmas is made for you. Especially if you don't want an explosion of Christmas as much as a smattering of it.
The film will also screen at the New York Latino Film Festival (September 14-20) and Urbanworld film festival (September 23-27) with future distribution through MarVista Entertainment.
Image courtesy of Conglomerate Media.
---
Have strong thoughts about this piece you need to share? Or maybe there's something else on your mind you're wanting to talk about with fellow Fandomentals? Head on over to our Community server to join in the conversation!