I recently had the chance to interview Mike Gradwohl of Showtime Custom Watch Works (thanks to Paul Robbins for putting me in contact!), and discuss his unique approach to "personalizing" your watches via chroming them.
FM: How did you get into the horology community?
Mike: When I was a kid my friend and I used to take apart our dad's old wristwatches. We'd trade back and forth. I loved trying to figure out how they worked. Then I collected some of the old antique pocket watches. After I got married I really wanted to get a nice wristwatch to wear. My wife bought me an Invicta sub-aqua Noma 3 and I was in love.
FM: Do you have a personal favorite brand or model?
Mike: My favorite is the Invicta sub-aqua Noma 3, mop dial, with a Valjoux 7750 movement. It has 4 ct of diamonds on the dial and is limited to 50 produced. It's quite stunning. Unfortunately, I don't own one….yet. My personal favorite that I own is an Android DMV prototype. It was built by Master Wing Lang. It was built around the movement and is the only one ever made. It has a 28 jewel flying tourbillion movement by Quixotic Watch Company in Las Vegas. They build custom watches for movie stars among others.
FM: What made you decide to try "chroming" timepieces?
Mike: I spent many years in the show car world with anything and everything I could get my hands on being chromed. When I got into watches, they were beautiful, but I needed a little extra pop. So I decided to high polish or "liquid chrome" one of my own. As soon as it was done I posted it on one of the Facebook forums I belonged to and people went wild.
FM: Can you explain the chroming process?
Mike: It starts with completely disassembling the watch followed by three stages of cutting the surface to remove the factory finish which is a rough scratched surface. I follow this with two rounds of a finer polish to remove the fine scratches still remaining. After that is two [more] rounds of two different compounds to create a soft luster. Then the final round of compounds to create the high luster known as liquid chrome. Everything is reassembled. The finished product will never dull or chip. Others have tried to do what I do but it's more than just the products used, it's an art that I have perfected.
FM: Do you chrome other items besides watches?
Mike: Yes. I've done bracelets, rings, necklaces and pendants.
FM: Is there a limit to the watch brands you will chrome, or are you able to chrome just about anything a client requests?
Mike: I can chrome just about anything a client requests. As of right now, I don't polish gold or colors. On a rare occasion, I have to limit how much of a watch can be polished due to the specific design, but I will always discuss the possibilities with the client before taking it on.
FM: What's the most unusual object you've ever successfully chromed?
Mike: A customer sent me a necklace that had two steel boxing gloves with inset diamonds. It was challenging but they turned out beautifully.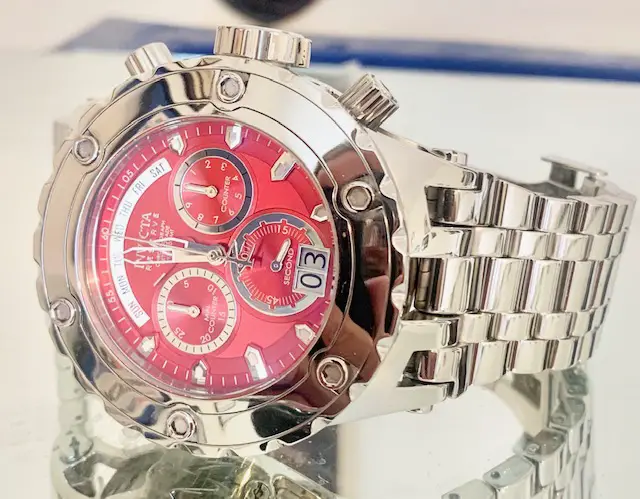 FM: Paul Robbins from InvictaWorldWild recently launched a partnership with you. Can you detail that venture a little bit?
Mike: This is a limited-time collaboration with Paul to offer his services [for] custom painting bezels and dials once I have liquid chromed a watch. It's just one more way for customers to customize their watch for a one-of-a-kind look. I've done other collaborations in the past with people who are trying to get new businesses up and running. It's a challenge to get their name and product out there. I come from a business background, my father was a college professor that taught small business courses, so I guess in a way that's how I carry on what he taught me.
FM: If a reader would like to get one of their own items chromed, where can they find you?
Mike: They can private message me at MG Gradwohl on Facebook messenger, my page Showtime Custom Watch Works on Facebook, and on YouTube, I have many videos under Showtime Custom Watch Works.
*Interview has been edited for clarity
Have strong thoughts about this piece you need to share? Or maybe there's something else on your mind you're wanting to talk about with fellow Fandomentals? Head on over to our Community server to join in the conversation!
Images courtesy of Mike Gradwohl