From Thames and Kosmos comes My City, a unique, family-oriented legacy gaming experience that is played in relatively short and charming episodes. Developed by Reiner Knizia (who won an award for the Lost Cities board game) and illustrated by Michael Menzel (Legends of Andor and over 40 others), this game is perfect for first time legacy game players and for seasoned city building game enthusiasts.
What's in the box?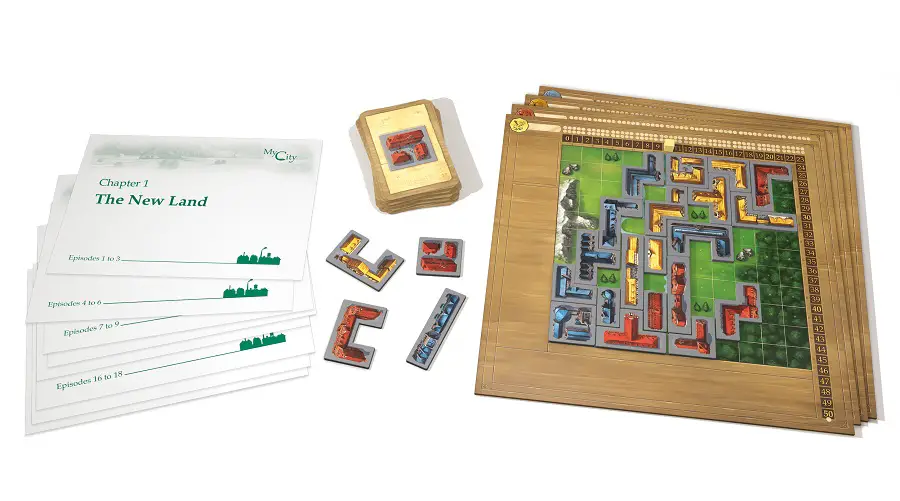 My City comes with 4 two-sided game boards, 8 game material envelopes, 4 scoring tokens, 24 construction cards, and 96 playing pieces (4 sets with eight buildings in three colors per set). Yellow buildings are residential, red are public, and blue are industrial.
The first side of the board is different on each board so players can work their way through the 24 episodes but if you want to, or have finished all 24 episodes, can flip over to the back for the same gameboard and play over and over! This is great because eventually you will have finished the 24 sessions and having the ability to keep playing makes this worth the purchase.
How's it play?
The game consists of 24 different episodes beginning with the development of a city in its early preindustrial stages and progressing through industrialization. During each game, players customize their experience by adding elements to their own boards. Players' choices and actions made during one session of gameplay carry over into the next session, creating a personalized gaming experience.
Like the Exit games (also from this publisher), My City involves adding stickers, developing new playing areas, and writing on the board, making it your own. No two games are alike and each playthrough lasts around 30 minutes or less. However, the game does get progressively harder as you progress making it an enriching and entertaining experience.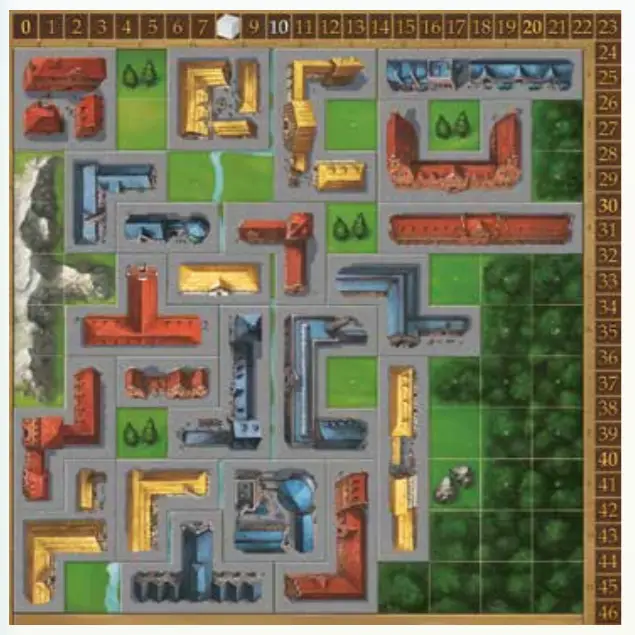 Generally, each episode consists of various rounds where you turn over the top construction card of the face-down deck, place it face up in a discard pile, and take the building matching the one on the construction card and place it on your board immediately. At the end of each episode you get points for your buildings and the person who has colored the most progress symbols is the overall winner.
The verdict?
Placing buildings on a board sounds simple enough, right? Well, there are construction rules including but not limited to: buildings can only go on the light green spaces, cannot go on the mountains, you shouldn't build on light green spaces with trees because trees get you more points, on the other hand rocks should always be built upon.
Other rules are similarly realistic in that you can't place a building over both sides of a river, but the first building you place has to go alongside the river and there are also rules about where and how buildings can touch. Oh and you can't move a building once it's built!
What elevates My City is how individualized each game is for each player. While you're competing against one another, since the game boards are different and there's so many possibilities for how you build, there is no way to be bored. Requirements like churches having to get built, wells, and gold appearing when everyone plays on the same board deign make it complex enough but not overly difficult. The art in this game is also gorgeous. While nothing is overly detailed, there's enough to tell building types apart and imagine what you're building in your city.
Honestly, I could spend some time just piecing as many buildings together as possible like in Tetris just to say that I did!
You can pick up My City from Amazon for $75. However, on the Thames and Kosmos site it will be available for $34.95.
Images courtesy of Thames and Kosmos
[rwp_box id="0″]
Have strong thoughts about this piece you need to share? Or maybe there's something else on your mind you're wanting to talk about with fellow Fandomentals? Head on over to our Community server to join in the conversation!