Trigger Warning for Disturbing Imagery and Blood
As a fan of horror, I was excited to receive a copy of Lamentum, a gritty pixel art survival Horror game from Obscure Tales. Strap in folks, and let's go to New England!
Set in Victorian times, you play as a rich young man named Victor, who, in a desperate bid to find a cure for his sick and dying wife, travels to visit the mysterious Count Steinrot, who lives far from civilization in his mysterious manor. So, obviously with names and a plot like that, Lamentum is a tribute to…Lovecraft.
Now, a quick word of warning. While Lamentum is a general cosmic horror game, rather than a specifically Lovecraftian one, it's still a dark and at times disturbing one. There's going to be some images in the game (and subsequently this review) that may be disturbing. So, before moving forward, just know that this isn't a game for the squeamish, pixel art or no.
Good? Good.
The count greets you, and asks if you're willing to do whatever it takes to save her. You confirm that you are, and things start getting weird almost immediately. Alissa is cold and strange, and then you see visions before waking up to find that the manor has…changed.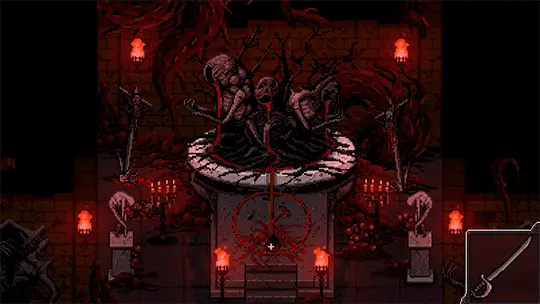 From there, your task is relatively simple. Find out what is going on and find your wife. But if accomplishing that seemingly straightforward task were simple, we wouldn't have much of a game.
The devs list Resident Evil as one of the inspirations for Lamentum, and that becomes apparent within the first hour of the game. This is not a 'navigate and hide' survival horror game, no, this is a 'solve absurd puzzles and fend off monsters with limited resources' survival horror game. Complete with inventory object puzzles!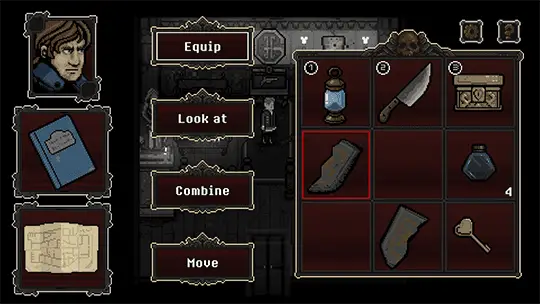 Now, do not mistake me, I love this. I'd much rather scramble around trying to find obtuse, needlessly artistic keys than hide in lockers. When I say absurd I mean it in the most honest but loving way possible. In order to obtain the pistol you have to find the broken pieces of the manor's crest. In order to obtain the saber you have to find a way to deactivate a spike trap. These are not logical things for a manor to have, but they're a ton of fun all the same, and give a distinct vibe to the overall gameplay.
Speaking of Resident Evil, Lamentum takes some other mechanics from that franchise as well. For example, there are safe rooms scattered throughout the manor that contain a chest to store excess inventory in and a desk to save at. Throughout the mansion you'll find vials of ink, which you can collect to save. That is the only method of saving in the game, which results in a rather oppressive, but classic, difficulty.
Of course, Resident Evil isn't Lamentum's only influence. Silent Hill was listed by the dev team as well. There's the psychological horror, the main character being a confused husband looking for his wife, and, well…the combat. Lamentum has the same philosophy towards you fighting that Silent Hill games do. Namely…don't.
Ammo is rare, even by the standards of the genre, and using guns can be a somewhat…frustrating experience in terms of hitting the constantly moving, squirming monsters. So you're going to want to use melee wherever possible. But health restoring potions are *also* rare, so you can't really afford to get hit too many times. So the best option is often to just run by.
Except, of course, that this is a Lovecraftian horror game, so being around the monsters takes a toll. Fortunately there is no sanity meter…but there is a harsh limit to how long you can run away from the monsters. Rather surprisingly harsh, actually, given that when there are no monsters nearby you can run endlessly.
And that is the crux of the issue. Lamentum is a tough game. One with no difficulty options or cheat codes or the like. And that's fine, those sort of things should be up to the developers. But this is not a game to play if you just want to enjoy the plot and the atmosphere.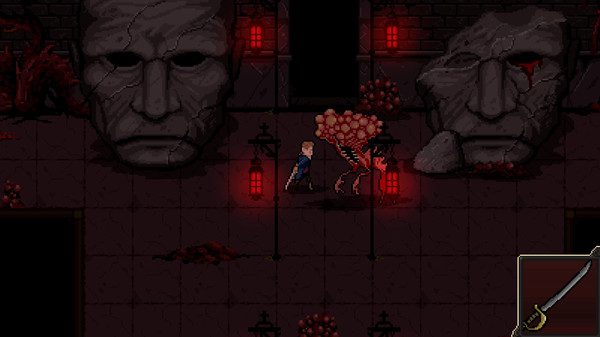 Lamentum is not an easy game. Not just for the combat. Everything is rather, well, obtuse. The manor is big, and a surprisingly large amount of it is open from the jump. There are doors locked behind special keys and mechanisms, of course, but it's still fairly easy to open up parts of the manor before you're at the point where you need them in the story. And due to the pixel art and indie nature of the game, what exactly you need is a bit harder to ascertain. If you need a special item to unlock something, it won't say 'you need the white dog head', it'll just say 'you need a special item' (paraphrasing, of course).
I don't say any of this to scare you or turn you off from Lamentum, mind you. Far from it. It's a very interesting, engaging game, with a good main character, and frankly fantastic art and sound design. On top of that, the game actually has multiple endings, adding plenty of replay value to the proceedings and putting it a step above many AAA survival horror games on that front.
However, while I'm not going to go and make a Dark Souls comparison or anything, I feel it's important to make clear that this is not an easy game. You need to be prepared to scramble away from enemies, to ration ammo and healing items, and to search every corner of every room.
As a fan of horror games, of pixel art, and inventory object puzzles, I genuinely loved my time with this game. I honestly and earnestly recommend it if you're a fan of those things. You just need to be prepared for a game that is very much not a casual experience. If that appeals to you, it'll be coming out on Steam this August 31st!
Images and game copy courtesy of Obscure Tales and Neon Doctrine
Have strong thoughts about this piece you need to share? Or maybe there's something else on your mind you're wanting to talk about with fellow Fandomentals? Head on over to our Community server to join in the conversation!
Lamentum
Summary
Ultimate Lamentum is a a beautiful but very difficult game. Those willing to work through the struggles of the game will find a rewarding experience, but those wanting to focus on the story or get into the genre will find themselves thrown in the deep end. Enjoyment of the game comes down to personal taste.