Welcome once again friends! The last board game I review this year, and we're returning to the realm of Disney games made by Ravensburger. Where last time we had an original game based on a specific piece of art however, this time we'll be looking at a classic game that's been given a brand makeover: Disney Villains Labyrinth.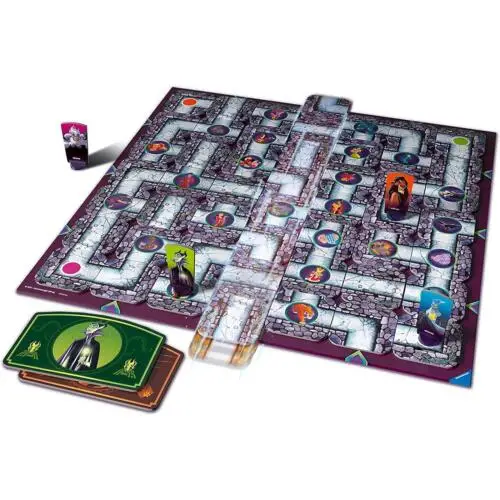 What Is Labyrinth?
Labyrinth is a phenomenal 1986 musical fantasy film directed by Jim Henson. Based on conceptual designs by Brian Froud, the film was written by Terry Jones, and stars Jennifer Connelly as Sarah and David Bowie as Jareth, The Goblin King. In the movie, Sarah embarks on a quest to reach the center of an enormous, otherworldly maze to rescue her infant half-brother Toby, whom she…wait a minute. Wrong Labyrinth. My apologies.
Labyrinth is a classic board game that first came out in…1986…huh. No connection however, as this game was designed by a German psychologist, and was, admittedly, initially released under the name THE aMAZEing LABYRINTH with the pun being dropped later.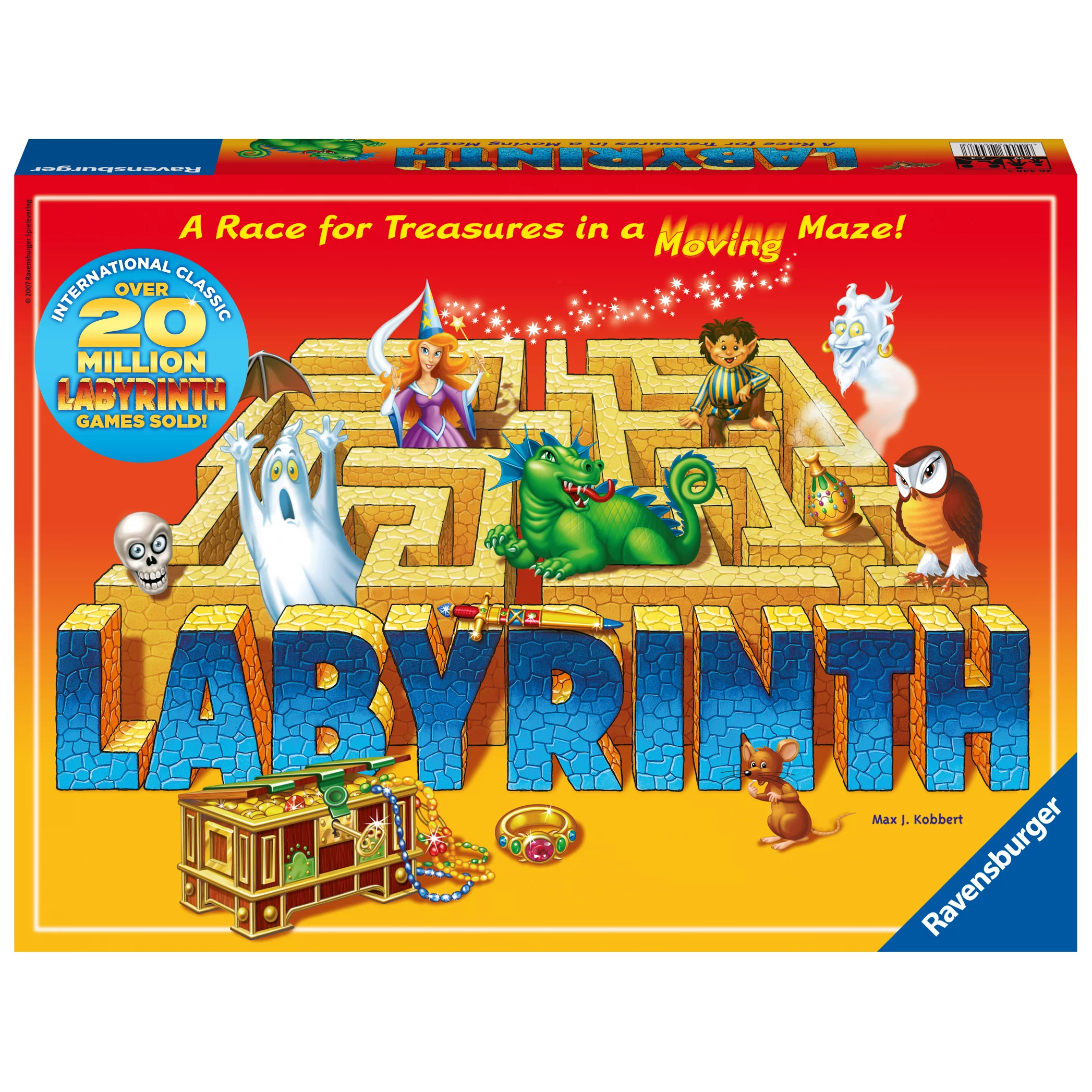 The game was a big hit, with many, many variations being released over the years. Not, to the degree of say, Clue, or Monopoly, but still, a fair amount. They all follow the same basic rules and gameplay however, so we won't be talking about them here. Instead, let's get on to the actual subject of this article, shall we?
How To Play
If you've played Labyrinth, you know more or less how this goes. For those of you that haven't, however, I'll explain the basics.
Two to four players gather around a square board that's laid out on a grid. Sixteen squares of said grid are fixed, while the rest are empty, drawing on the main gimmick of the game. You the player control the shape and paths of the labyrinth, inserting tiles and pushing them across the board to open new paths for yourself and block the paths of your opponent.
For example, we see in the picture above that the Maleficent player has moved the tiles forward, allowing them a path to the Cruella tile. Said tiles being the crux of the game mind you.
Simply put, each player picks one of the four playable, color-coded villains as their own, and is given a certain number of character cards beyond that (six to twelve, depending on the number of players) and your goal is to make it around the labyrinth, stopping at each tile that corresponds to a character on your card to 'assemble your team', and then make it back to your specific starting zone. First player to do this wins.
This is standard Labyrinth stuff, to be honest. You're looking for characters instead of treasures, but by and large there's not much difference.
Fear not, there is a unique aspect to this game, in that each of the four villains has a special ability that they can use once. Ursula moves herself onto the same space as another player, Hades takes, shuffles, and replaces one character card from each player, Scar can move twice, and Maleficent can fly to anywhere in the labyrinth. I haven't played every version of Labyrinth, so I can't say for certain whether or not this is an entirely new thing, but it does at least give something beyond aesthetics to this version of the game.
Beyond that though, this is pretty standard stuff for the series, I must admit.
Final Thoughts
Disney Villains Labyrinth is, well, Labyrinth with Disney Villains. Aside from the special abilities, there's not much else here. If you like Labyrinth you'll like this, but like Ticket To Ride: San Francisco you'll find it lacking in much beyond the usual fare. If you don't like Labyrinth, nothing here is going to change your mind on that front. And all the art is very stock, so I wouldn't recommend it solely on its merits as licensed merch either unless you're very thorough.
All in all, a good game, but nothing new, for better or for worse.
Disney Villains Labyrinth
Summary
Disney Villains Labyrinth doesn't try to fix what's not broken. Fans of the Labyrinth games will like it, and those who don't like that game won't. There's little new, but little bad either.
You can pick Disney Villains Labyrinth up at Amazon, Walmart, your FLGS, and some Disney stores. It'll run you about $37
Images Courtesy of Disney and Ravensburger
Have strong thoughts about this piece you need to share? Or maybe there's something else on your mind you're wanting to talk about with fellow Fandomentals? Head on over to our Community server to join in the conversation!