One of the boons of travel and technology during the last few years can be found in the innovative directions in world music. More artists than ever before have the opportunity to collaborate and create their own musical style. This process is reshaping the traditional definition of world music, that is, popular music that is outside the tradition of Western pop and rock music. In other words, this definition no longer applies to the contemporary sounds of today's globally-influenced bands.
One of today's most intriguing, entertaining, and unique globally-influenced musical groups is Kuwaisiana, a band whose musical inspirations emerge from Kuwait, Louisiana, and beyond.
Musical Style and Sound
The band's style and sound have been referred to as Indie Arab Rock, World Music, and Khaleeji Rock (in reference to the Khaleeji culture of Eastern Arabia).
However, their musical styles are more reminiscent of Habibi Funk, The Specials, Blur, Talking Heads, The Kominas, Galaxy Juice, and The Police.
The most important point to know about Kuwaisiana, though, is that before any other label or definition, it is a great band with a great sound.
The band includes saxophone, horn, percussion, guitar, and vocals. But listeners cannot pin this band down to just one genre; within the tracks of their album Chapter 1 we hear the rhythms of reggae and rock, the quartertones of Arabic music, and the smooth melodies of jazz.  
The other unique aspect of Kuwaisiana is that the lyrics are in English and Arabic — sometimes mixed within the same song.  The lyrics flow so smoothly with the musical arrangement that it is delightfully natural. Music is always enriching when it winds between cultural rhythms, words, emotions, and ideas.  
And the ideas are interesting.  Plus Aziz (also known as +Aziz) is the band's leader and lead vocalist. He is intent on exploring the human dimension of his experiences in Kuwait, the U.S., and other parts of the world.  There is a socially-relevant aspect to +Aziz' lyrics. One of Kuwaisiana's recent songs, Bara7a (براحة ),  is about bullying and the class differences he encountered as a boy in Kuwait.
+Aziz explains more about Bara7a (براحة) (Sandlot) in the video's notes:
This song captures the feeling of adolescence and dealing with bullies. It's about the tangibility of nostalgia, how learning something through your body (corporeally) it never really leaves you. Culture shock is typically associated with moving countries but I had my first major culture shock when I moved from a public school in Mishref to a private school in Salwa, and encountered bullies from different social classes, so I wrote a song about it.
Excerpt of lyrics from Bara7a (براحة) (Sandlot) by Kuwaisiana
The initial chapter of my teenagehood

Was tainted by the bullies of my neighborhood

?قالو ليش لابس اسود باسود

صابغ اظافرك كأنّك نثية

Translation:

The initial chapter of my teenagehood

Was tainted by the bullies of my neighborhood

They said why is he wearing black and white?

Dye your nails as if you were dying
Interview With +Aziz
With all of these influences merging into a wonderful collage, one is tempted to label Kuwaisiana as world music, but we might also think of it as a unique product of New Orleans, Louisiana.  I reached out to +Aziz to learn more about how members of this exciting new band define the unique sound and message of their music.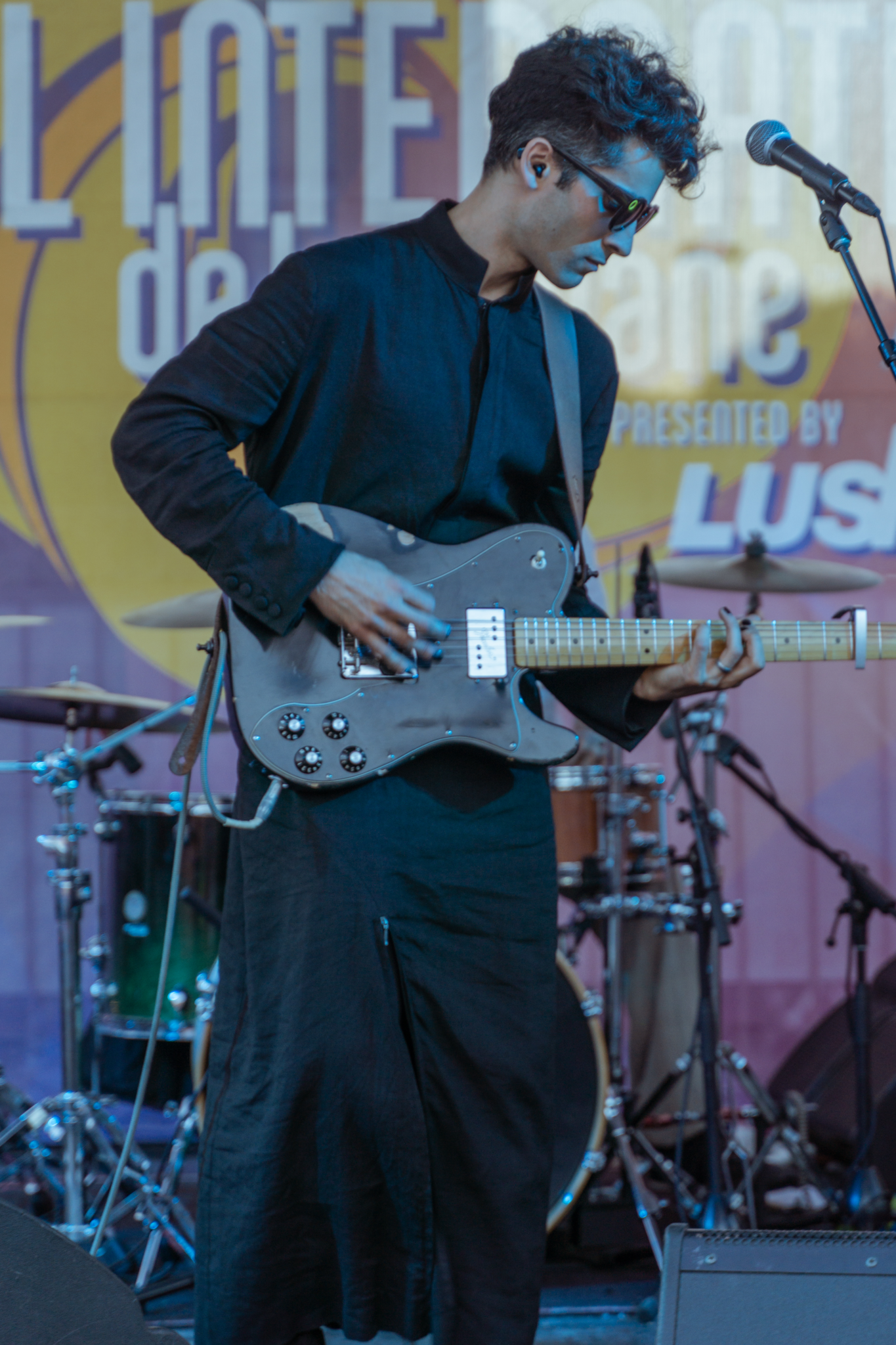 How did you and the other band members first connect with each other and decide to form the group? 
The idea for the band came together as I was preparing for relocation from NYC to New Orleans. I had secured a full-time job in 2014 that would relocate me. As you can imagine, Louisiana is significantly slower-paced than in New York, so I had time to discuss the concept and try it out with different people. My drummer Matthieu is really the one who recognized the potential and has been so patient and dedicated throughout the whole experience thus far.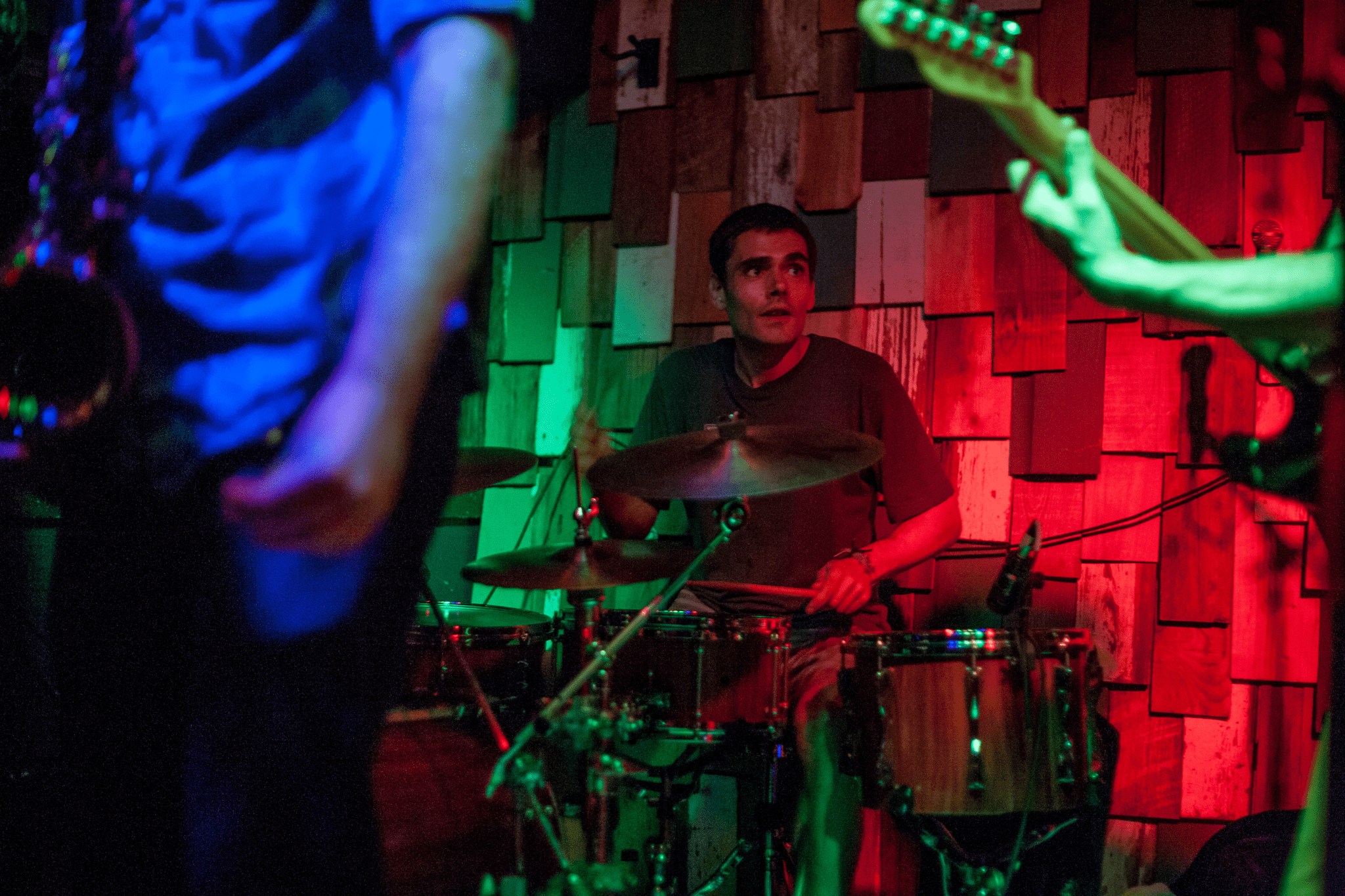 As a band, Kuwaisiana helps me ground complex experiences and translate feelings into dancy, catchy, songs. I tend to sing in Arabic but I did notice that a lot of the songs in English skew into having political messages (for example, The Journalist, Virgin, Orange Klan). The structures, grooves, and so much of the music is driven by my chemistry with the drummer Matthieu, who is French. He's always been the first touchpoint and the backbone.
So the first members who joined are Matthieu and Pat (hand-percussionist) both of whom I met through Craigslist. Nick (Sax) and Dehan (Trumpet) came in later through word-of-mouth. My rapport with the current band members traces back to 2016. We worked for two years and then released a debut release through Universal MENA in 2018. By then, we had lost our accordionist and people started dropping out for a mix of reasons, but it's been relatively consistent since then and I'm so thankful for it.
Do some members favor one musical style over another – or do each have knowledge of one particular style that contributes to the whole?
Absolutely! I'm so glad you asked that. I'm very focused on alternative rock, but Matthieu's influences are radically different than mine. He's more influenced by Brazilian music, ska, reggae and you know it's true what they say that the drummer is the heart of a band. Especially true for a rock band. I think we sound more like The Police or The Specials and that was not expected. It's strange, but I only started liking those bands once people started telling us we sound like them!
Our horn players are obviously heavily influenced by jazz. Our sax player is also big into R&B and hip hop stuff. He was known on campus for putting his boombox on blast when he was walking between classes. I wish I was there for that! They're also the youngest, and they were just students at Tulane University (one majoring in Math and the other is Biology). They play in numerous other bands and have been with me from the beginning in 2016. Everyone's grown so much already. Dehan has a full-time job at a local tech company. Nick bought a house and has been focused on teaching online. I got married three years ago, and my bassist had a small "COVID wedding."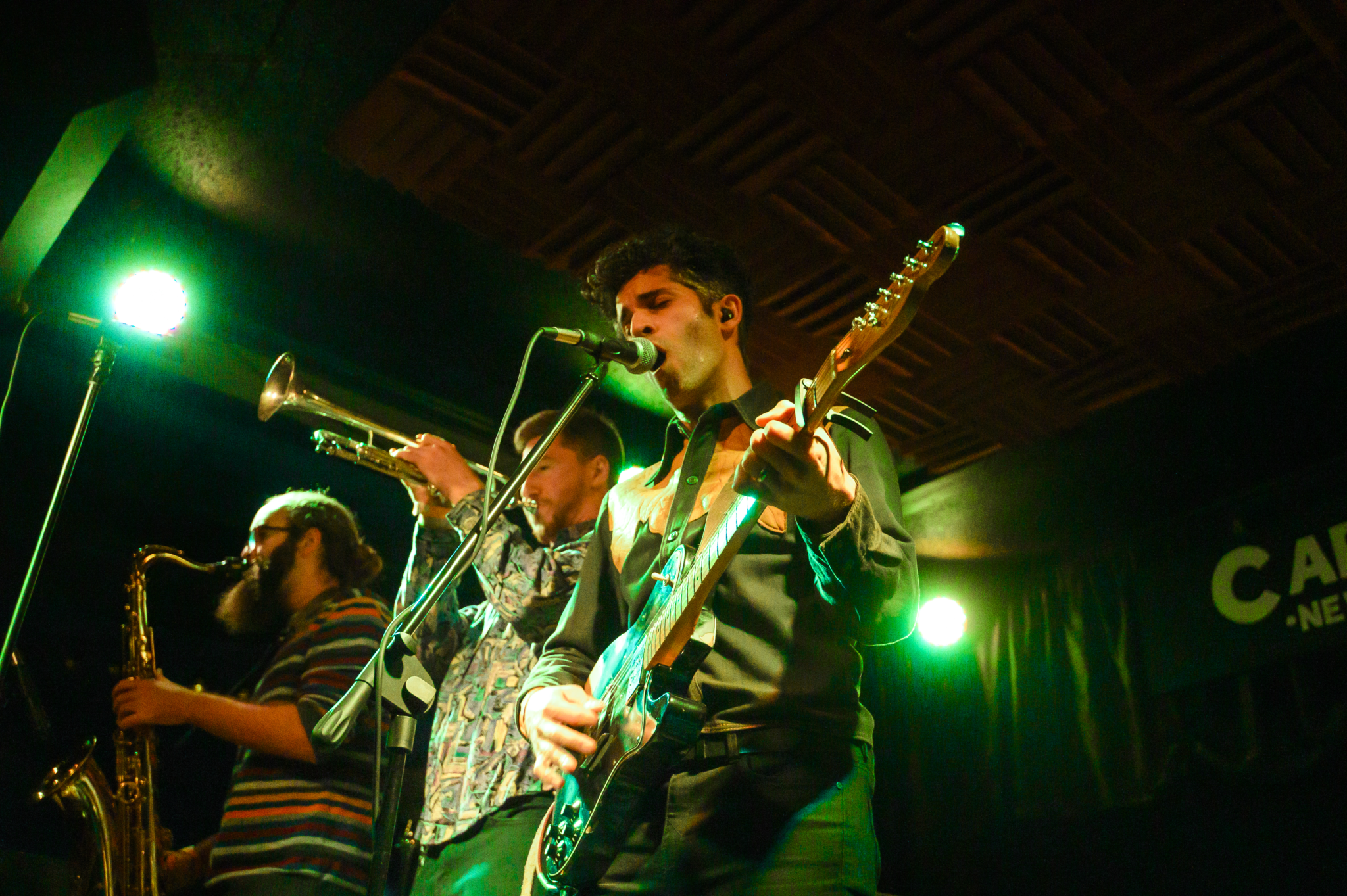 Who writes the lyrics?
I write my own lyrics but I do have some songs that were "gifted" to me. A Kuwaiti friend of mine had abandoned his dream of becoming a poet and gave me Nada and Murra. There is a new song on Chapter 3 that was gifted to me as well by another Kuwaiti.
I don't allow myself to develop lyrics in isolation anymore. I'm always asking for feedback from my Patreon supporters and people who can help me advance. I like to share my semi-finalized work and have them give me feedback on the language and my pronunciation. I know Kuwait is smaller than Rhode Island, but there are a handful of dialects or accents within!
Storytelling and control of language is one thing, where the focus is on the words. But I'm also interested in fine tuning the pronunciation and finding the inflection points that make the songs so enjoyable for me to perform.
For me, part of being Kuwaiti today means engaging with many potent thoughts with poetic confidence: xenophobia, censorship, money laundering, identity policing, Arab supremacy, faking history, nepotism, homophobia, the relationship between the powerful and their victims… failed democracy. This is to a large extent what I care about, so addressing some of these topics will be an achievement. 
There's certain absurdist despair embedded in the Kuwaiti identity (and perhaps the Khaleeji identity too) that I think warrants lots of artistic attention. It's not consistent, but we've seen it pop up in the work of Khalid Al-Mulla, Sulayman Al-Bassam (an incredibly sharp Kuwaiti playwright who runs a theater company called Sabab) or YouTube series Shino Ya3ni. I see my work as an articulation of many of the concerns on display in theater and comedy.
Who does the artwork for your promotional materials and albums?
San Antonio-based artist Shelby Criswell. She's phenomenal and has been a solid rock for me through all of this. I've honestly been maintaining a robust spreadsheet with over 100 illustrators and artists I've carefully vetted. Khaleeji illustrators' rates are bonkers; they charge me like I'm a franchise or a consumer brand. I've also pitched myself to Arab-American and Muslim-American illustrators and comic book artists, but have not had much luck moving things forward.
At this point, I would say that all Kuwaisiana artwork will sit with Shelby, but we will be publishing some fun comics with our new friend, Baby Fox. 
What have some fans said about your work?
I think of your music and lyrics as transnational – meaning something new that transcends borders has been created.  Would that be an accurate description?
Yes – I would definitely say it is doing that. I would say that it's new and unique to both the Khaleeji and New Orleans music scenes but not "new" in any kind of absolutist manner. We are all based in New Orleans, and the air here has a certain way of coloring the music you make.
When you look at more mature music scenes like what you have in Lebanon, Turkey or North African cities, you will find musicians engaged in this "world rock" type of music. It has so many manifestations that date all the way back to the 1970's when disco and psychedelic music trended not just in the Arab region, but also in Iran and South Asia.
I noticed that band members come from France, Turkey, the U.S. and Kuwait.  Are you all in one place now?
Yes, we all live in New Orleans!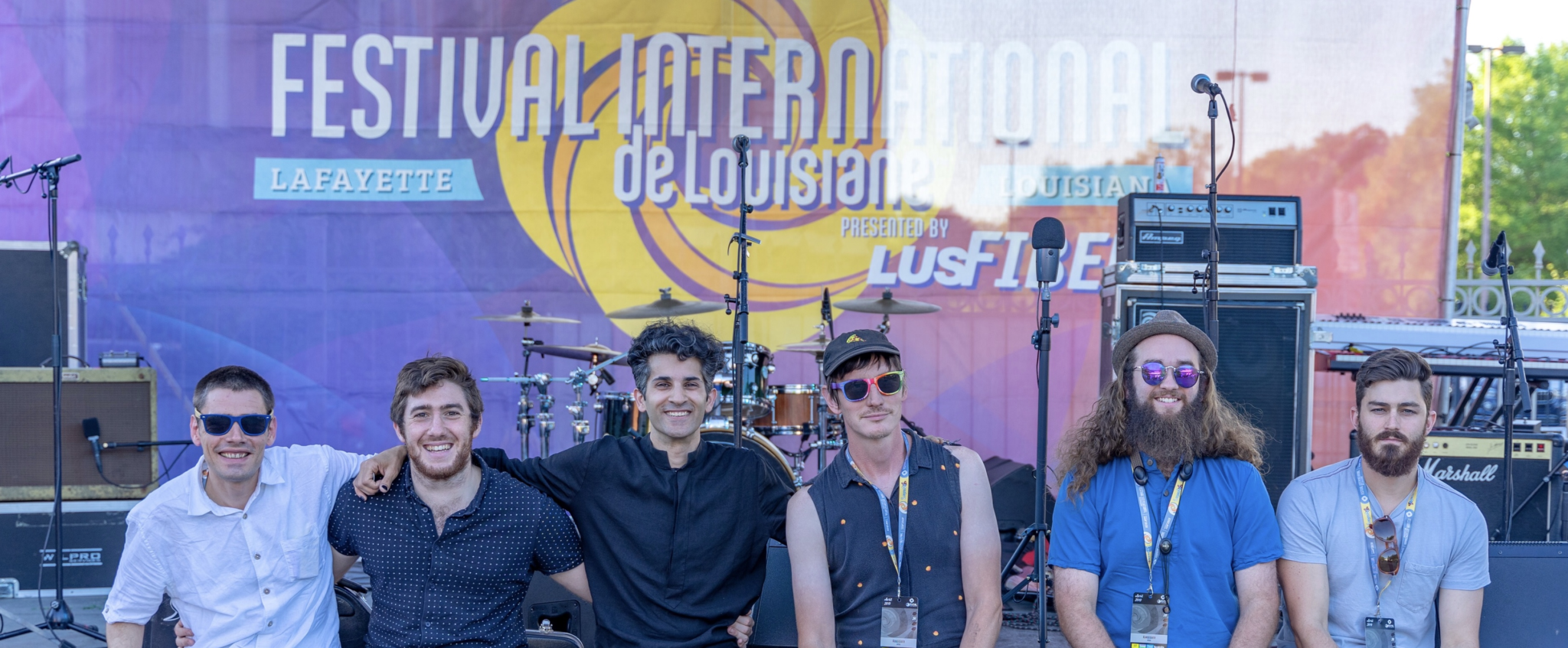 Do you ever work or collaborate online or do you meet as a group?
Our last performance together was a livestream we did in late May. I've been meeting with my drummer Matthieu semi-consistently since July. And then we started bringing in the bass and horn players in November. Right now, we're working on 5 songs for Chapter 3, which will be released in singles. We have four songs in Arabic and one in English.
I am exploring online collaborations, but not for Kuwaisiana. We're very much a live band and we have so many layers going that it doesn't make sense to add more. But I will be releasing a new music project in 2021 that mixes virtual and physical components.
Sonically, I think we reached a stability point in terms of band members. So it'll continue to be the same people for the upcoming releases. We started talking about our future right before COVID and the band is committed to making this journey a trilogy at a minimum. Chapter 3 will be released as singles.
I am interested in your song titled Bara7a. You mention class differences, and I wonder if you can describe how class differences made you aware of others. Also, do you think class differences in your home country are different than in other countries?  For example, are there also ethnic differences between classes so that Kuwaiti citizens are also considered a class on their own? How did class differences make you aware of others??
I'm sure there are nuanced differences. Bara7a is about bullying and there are bullies on all levels of society. I did go through a transition from public to private school that I think was a seminal moment for my self-actualization. Public schools are more MIddle/Lower class while private schools have more upper class folk, who are more Westernized. I assume this is universal everywhere in the world.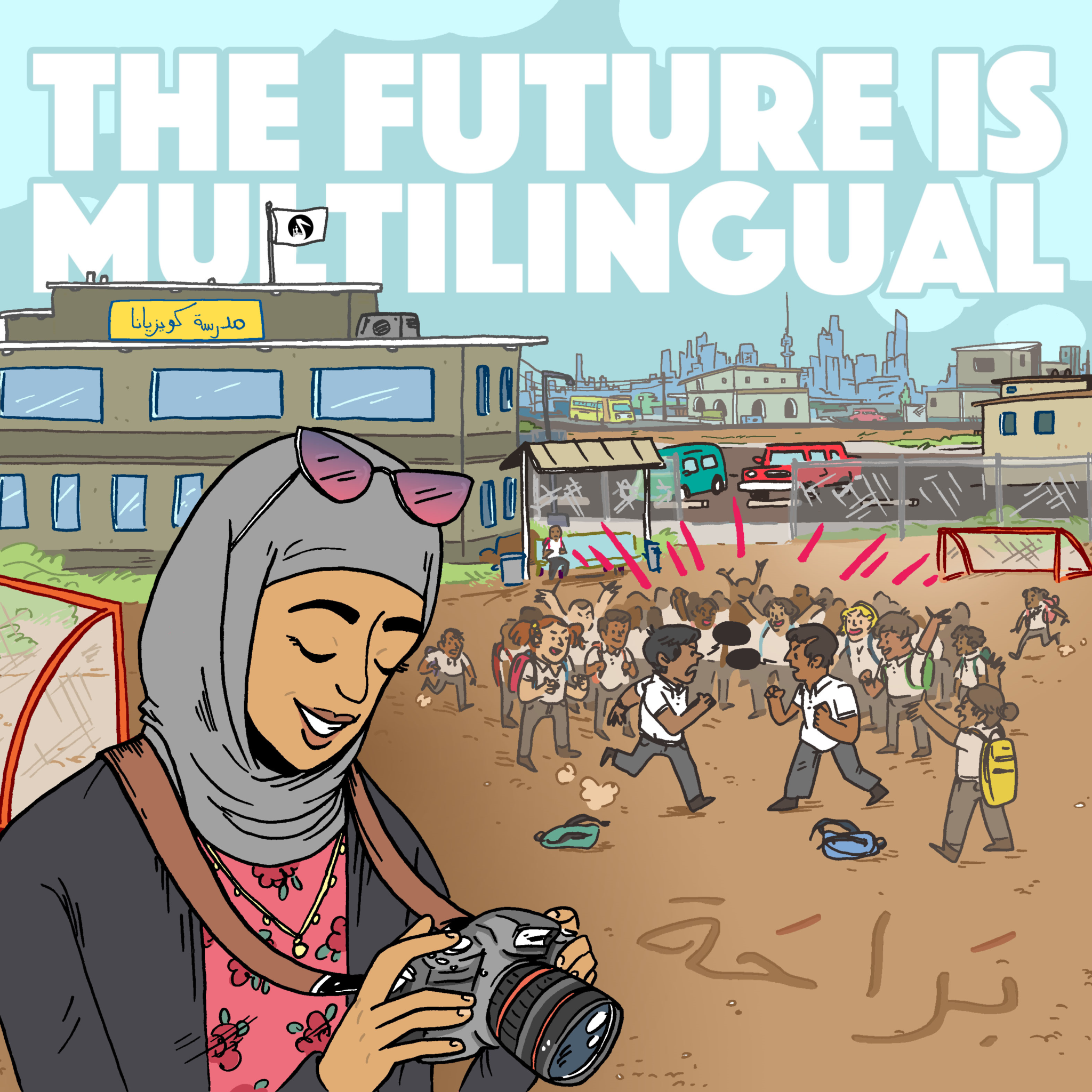 The setting for Bara7a is something that cuts through different points in my life. It's like when others look at these little deserts of Kuwait, they see nothing. But for me, I have all these emotions and memories associated with them. 
For the music video, We wanted to embrace that super popular aesthetic on Instagram (with the pastel pinks and vivid greens) and use it to accentuate different visual metaphors. We have vignettes to explore and show the emotions driving the song and perhaps it helps drive .
I began daydreaming about what "Khaleeji Rock" would sound like when I switched schools. I had already discovered rock music and I started paying attention to how Japanese rock musicians were embracing Western music to break their own social codes. It's commonplace now, but it came as a shock when I discovered this layer of people who lived in Kuwait all their lives and did not speak Arabic. I was already very Americanized since my family had lived in Connecticut 1992-1994 (right after the Gulf War), but I wanted to champion this cause I felt I was the only one who going to do this work. I wanted to express my take on Arab identity and give myself a shot at making a name for myself in music.
Throughout high school, I would daydream about hearing Sex Pistols in my dialect or a band like Tool with Khaleeji rhythms and hand-clapping. People have always told me I don't look, sound or behave like a Kuwaiti, but I still thought, this is who I am. I want to present my Arab identity on my own terms, even if others don't think it's such a good idea.
A Good Idea
While +Aziz humbly considers that some may not like his ideas, it is clear that the band and their lyrics have many fans. Kuwaisiana's music and lyrics are a very good idea. Recently, Professor Ramzi Salti, a lecturer at Standford University and Radio Host of Arabology interviewed +Aziz and complimented the innovative the direction of the band.
Up Next
Kuwaisiana's next album Chapter 2 will be out  Jan. 15, 2021. Follow this link to pre-order the digital album, Chapter 2.
Kuwaisiana's music can be found on Spotify and Soundcloud.
Find out more from the band at:  Facebook | Instagram | Twitter | Patreon | About +Aziz
—
Have strong thoughts about this piece you need to share? Or maybe there's something else on your mind you're wanting to talk about with fellow Fandomentals? Head on over to our Community server to join in the conversation!