Ever since Netflix announced the Selena: The Series was happening, interest in the 1997 movie arose. Simply titled Selena, the film came out just two years after the Tejano Queen's death and has since become a cult classic. It stars Jennifer López as Selena Quintanilla-Perez. The role arguably made waves for her and her career, and she herself has described it as a turning point.  
The consensus seemed to be that nothing could come close to that movie, and no one should even try. After the series came out, comparisons arose, largely favoring the film over the TV series.
I talked about the Netflix show in a recent article, and like I said back then, I find these comparisons mostly pointless. They are two different pieces of media trying to achieve very different things.
However, I did find myself thinking about Selena, the movie.
I was too young to know Selena the singer when she was alive. While she was famous in certain parts of Mexico, she had yet to be the phenomenon she became later. Most people I know who were old enough to have known her confess that they first heard about her when she died. I realized that the first time I heard of Selena was watching the movie.
Selena used to play on repeat on open television in Mexico. I must have watched it no less than a dozen times when I was younger. Thus, I recently realized, the first image that I have of Selena Quintanilla-Perez was actually of Jennifer Lopez!
It made me wonder if that was the case for other people. Upon a quick and not at all conclusive feeler, I found that yes. Many people that I know remember that movie as their defining image of Selena.
I have rectified the situation and now, my mental image is the real-life Selena. I tend to go on benders of her performances online occasionally. I had not seen the movie in ages, and upon seeing all these comparisons with the show which put it on a pedestal, I got to wondering whether the movie lived up to the nostalgia that lives in my heart for it.
So, I got some popcorn with lots of hot sauce and put on Selena for the first time in over ten years.
Yes, I Cried, Again
My findings were equal parts surprising and expected.
I felt exactly what I remember feeling when I was young. It is a warm, fuzzy feeling followed by gut-wrenching pain. The film is a portrait of a lovely, sweet young woman and the injustice and tragedy of her loss.
The performances are corny, yes. Jennifer Lopez plays Selena with a pep in her step. She is energetic and fun and big in her emotions, an energy she maintains throughout. Jon Seda plays a broody Chris Perez, who unironically says lines like "I'm not good for you", and is simultaneously romantic and also a little bit funny.
Edward Jones Olmos is this version's Abraham Quintanilla, and… *sigh* I must have full disclosure here: I do not particularly like the character of Abraham Quintanilla (in the movie or the series). It feels a bit weird to say, since he is a real person, and I do not know him. It does not mean I have no sympathy for him, I feel for him. I just struggle to understand him. Very much a me thing, I think. The rest of the characters orbit around Selena and seem to be just happy to be there.
Selena died just when she was about to release her first all-English record, something she had always wanted. The timing of her death just piles onto a tragedy that is hard to comprehend. She never got to see how her songs were received, and she never got to perform them live.
The writer/director Gregory Nava gave us the gift (or curse) of imagining what that might have looked like in a dream sequence in which Selena dreams herself at a possible future concert. This was the first time I cried.
The ending is just crushing. You must be a robot not to cry. I bet Wall-E would so cry.
A Memory Album
All that said, it is not a perfect movie. In some ways, it is not even a movie. Selena is very much a rosy-colored memory, presented in vignettes.
There are three distinct parts in the story, and they have nothing to do with one another, plot-wise. There is Selena's childhood and the struggle to become "Selena y los Dinos," and little Selena discovering she really wants this. This first part is dominated by the parents, Abraham and Marcela (Constance Marie). The second, and longest, bit focuses on Selena's relationship to Chris Perez, from meeting to eloping. Then finally, more than halfway into the movie, Yolanda Saldívar (Lupe Ontiveros) comes in, she steals from Selena's fans and then it is not long until the confrontation and Selena's death.
Yolanda comes out of nowhere already integrated into the story as if she has been there the whole time. I understand the urge not to make her a character and give her importance, but structure-wise it is a bit awkward.
Still, the movie is not trying to be a structured Hollywood standard. A rosy depiction of Selena is perhaps just what the world needed in 1997, so soon after losing her. Even so many years after, it has aged very well. Though the story does not have a single consistent arc, it keeps pace and is very entertaining to watch. It is also a bit sad all the way through, capturing that sense of loss and yearning with a very lovely depiction of Selena.
My conclusion is that the film is a great experience, and a very kind homage to a star taken from us too soon.  
Of course, I could not stop myself from mentally comparing the movie and the show. I don't want to make it into a thing, but here is a list of things I noticed and compared:
Both Selenas are rather one-dimensional.
Movie Selena does get a bit more of a rebellious streak and more brightness in her character, which comes from the writing.
The side characters in the movie are just… moons orbiting the sun, no one but Abraham and Chris get a personality.
Jennifer Lopez is a professional performer, and it does show.
Though she does pout her lips too much, trying to emulate Selena.
The lip-syncing scenes are not flawless in the movies, I was surprised to find. There are several obvious instances of it being off.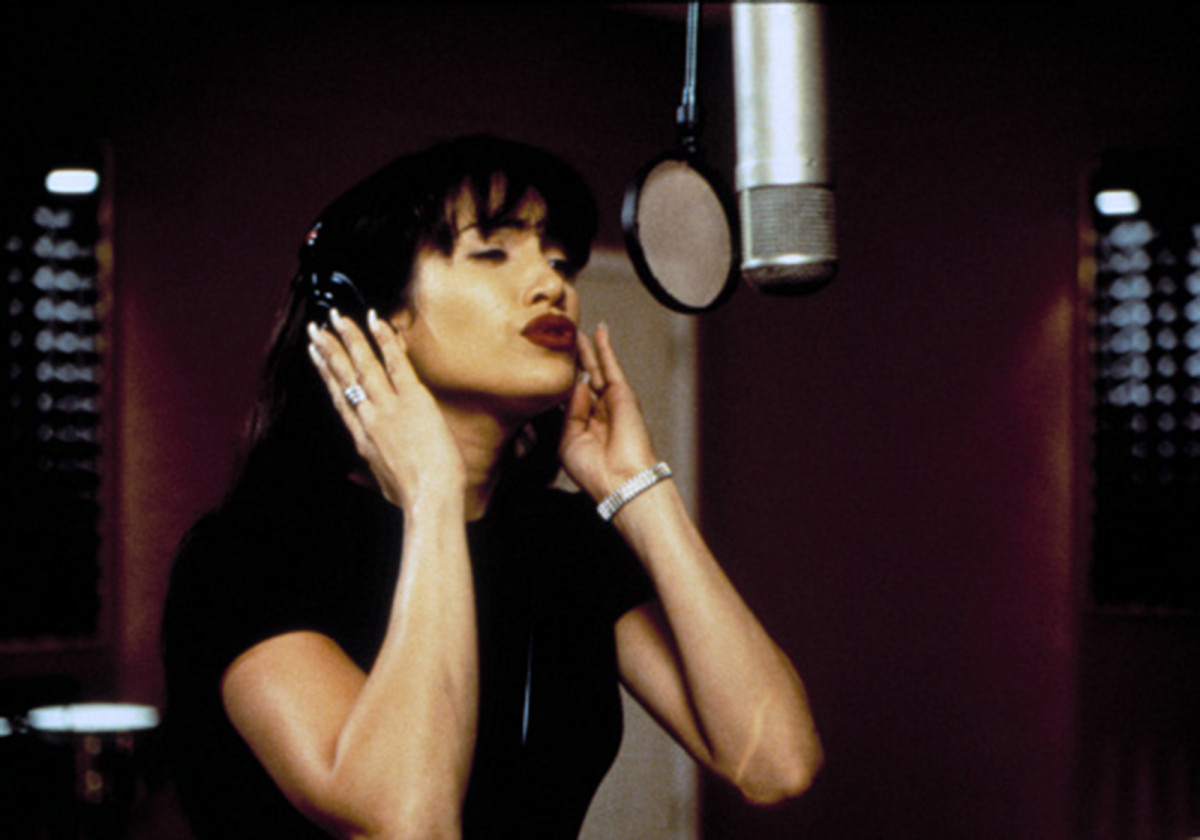 And that is all I have to say about that.
I was pleasantly surprised that Selena was not tainted by the nostalgia glasses, like so many movies and shows I have revisited have been. Things do not tend to be as good as I remember them, often.
Besides show and movie, there has been plenty of tributes and homages to Selena over the years (Becky G did it best, btw). But at the end of the day, I would say if you want the true Selena experience, go to YouTube! There is a wealth of material—performances, interviews, even some home videos. At the end of the day, Selena really was incomparable.
Images courtesy of Warner Bros.
Have strong thoughts about this piece you need to share? Or maybe there's something else on your mind you're wanting to talk about with fellow Fandomentals? Head on over to our Community server to join in the conversation!