Knock Knock, Open Wide weaves horror and Celtic myth into into a terrifying, heartbreaking supernatural tale of fractured family bonds, the secrets we carry, and the veiled forces that guide Irish life.
The book follows Ashling Mallen who refuses to let her girlfriend Betty Fitzpatrick near her family. The fact that Betty is a girl is not what worries her. It is that she has become convinced that the horrors inflicted on her family are connected to a seemingly innocent children's TV show, Puckeen, featuring a small black goat puppet who lives in a box and never comes out. Well, almost never. This multi-generational story weaves between time and point of view to create an unsettling mystery. Readers will mostly follow the Larkin/Mallen family at the center of the drama, but the stakes run much deeper. Ireland as a whole will be affected by what unfolds.
First, to address the box in the room: Puckeen is not a real TV show that I as an American reader was simply unfamiliar with. At least, as far as my research tells me, it doesn't exist. But it feels like it did. Sharpson's description is so evocative that I had to check. And the costumes, the plot (or lack thereof), the repetition—these things were all present in the shows I remember from my childhood. Clowns and boxes, what more do you need?
How about rings? Another detail that felt so real, but isn't. I think Sharpson has does this so well because these inclusions are just a step away from our reality. Any fan of Buffy the Vampire Slayer knows of the claddagh ring. Why wouldn't Ireland have more rings with specific iconography and a rich history? These details are so present throughout that I even began questioning the real ones. Heinz Haunted House, for example, was real. I just regrettably cannot buy this spooky canned spaghetti in 2023.
I've talked a lot about specific details that create a sense of unreality. That is because this is foundational to experience the book. Because this story has so many threads, the setting is the most consistent character I can tell you about. I don't fault the book for this. That's the nature of folklore, isn't it? There are characters in the tales, but they are predominantly about place.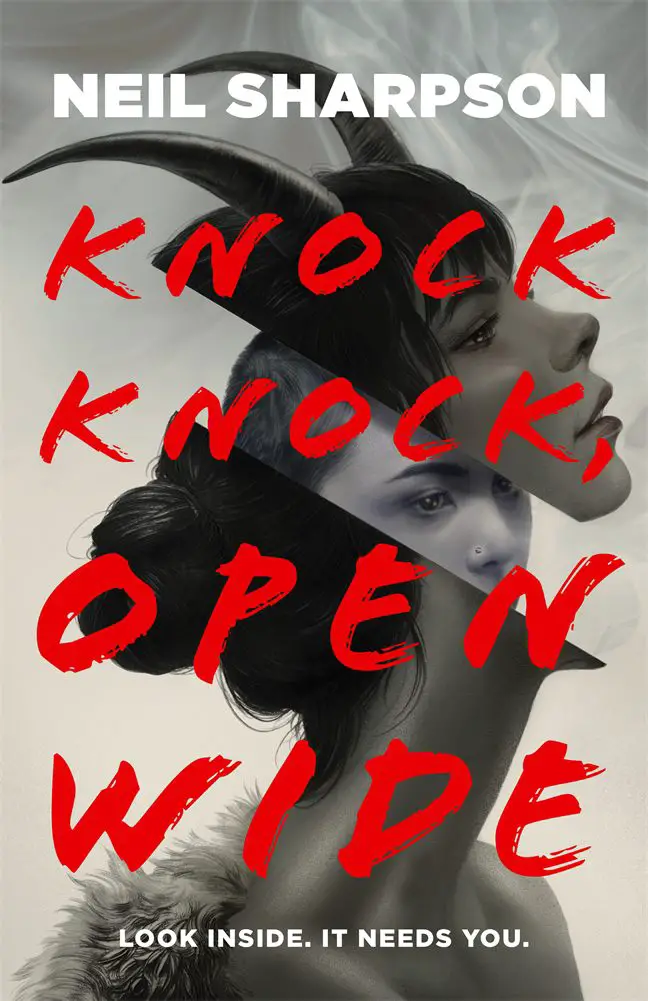 If you are wanting to pick this up due to the folklore connection, you won't be disappointed. The rules and details have changed, at least for certain things, but you'll recognize them. Betty Fitzpatrick is even a folklore student. The stories she studies–and hears firsthand–will help you out if you don't have the background knowledge. It's a clever framing device that I applaud Sharpson for utilizing.

And speaking of background knowledge, this book has its origins in a monologue. A monologue inspired by a very old story. Theater in Knock Knock, Open Wide is a connector. It bring Ashling and Betty together. It brings other stories to life within this world. The author's note may come at the end of the book, but to me, this knowledge brings so much to the book. It becomes a circle.
Knock Knock, Open Wide is a folktale. A dark and at times gruesome one, but that's a bit of a tradition too. It's a story in dialogue with what has come before and what will come after. And if you look inside it, follow the threads down, you may end up looking at a version of yourself.
Thank you to Tor Nightfire and the folks over at NetGalley for the advance copy. This book may not hit shelves til October 3rd, but you can pre-order it here. And if you're looking for more to read this spooky season, you can check out my list of upcoming releases. Knock Knock, Open Wide was one of the choices, but there is plenty more to love.

Image and synopsis courtesy of Tor Nightfire.

Have strong thoughts about this piece you need to share? Or maybe there's something else on your mind you're wanting to talk about with fellow Fandomentals? Head on over to our Community server to join in the conversation!