I did it. I just read my very first comic book.
I know what you're thinking… How can this be my first comic book when it's the eighth in the Teen Titans Rebirth series?
Weeeelll…maybe I should have said: "I just read my first comic book series." Because you're right. I couldn't possibly write a review of "The Lazarus Project, Part 2" without having at least read part 1! I definitely had my work cut out for me and I'm not gonna lie, the task was daunting. But when I finally decided to sink my teeth in, the bite was nothing like I expected. If comic books are an acquired taste, well, then I've acquired it!
Teen Titans is absolutely adorable. And I don't mean that in a condescending way. Even though this is my first official comic book experience, I've been tossing the idea around for quite some time now. I mean, I geek out hard over all things science fiction, so why shouldn't I add comics to my list of things to obsess over? Reading Kylie's article, "I just Comic'd and So Can You" finally pushed me over the edge. You've gotta start somewhere, right?
Speaking of starting somewhere, for those of you as new to Teen Titan's as I am, some background information might prove useful, yeah? The teens were originated in 1964 by Bob Haney and Bruno Premiani and first appeared in The Brave and the Bold, vol. #54. Two more appearances later, they were granted their own series and the rest, as you know, is history.
Ok, OK! Let's get ON with this review already! I'm as restless to talk about it as I'm sure you are to read about it.

This issue opens up on Kid Flash (a.k.a. Wally West) and he is dealing with some serious issues. He just found out that his mentor, Barry Allen (a.k.a. The Flash), had been keeping secrets from him. He also just found out that Reverse Flash, the world's fastest villain, was his father.
And of course, he found out not a moment too late…right after Reverse Flash died.
I can only imagine how hard it is to grow up not knowing your father, but can you imagine discovering who he was only to then find out that he's dead? Wally is experiencing immense feelings of guilt about missing the chance to meet his dad. He thinks that if his father was still alive, he'd be able to fix him.
Despite all that, Wally remains positive. He's determined to be someone others look up to, and believes he can accomplish that through his work with the Justice League. But before we can start rooting for Wally West's resolve, he rounds the corner into Central City and is distracted by a fancy sportscar. As luck would have it, the owner is having trouble with the engine. Wally, a self-proclaimed "gearhead," naturally offers to help. Within moments, he has the car's engine roaring to life. To thank him, the stranger buys him lunch.
Meanwhile, back at Teen Titan's Tower…
Raven is anxious. The Teen Titans meeting was scheduled to start five minutes ago. Kid Flash still hadn't arrived. He was never late. Raven thinks something is terribly wrong…but the rest of the team seems unconcerned. That is, except for Robin, the Teen Titan's fervent, quick-tempered leader.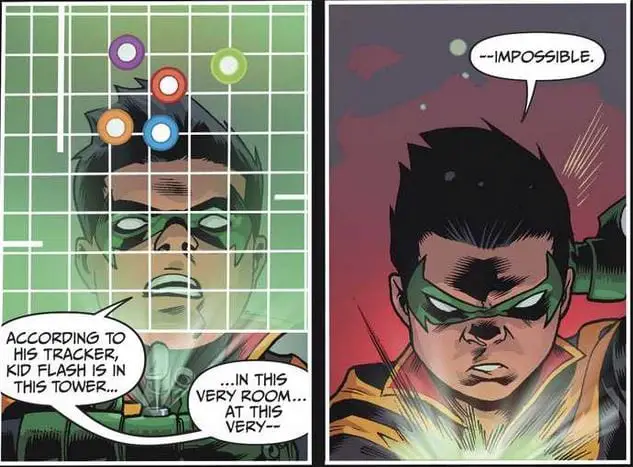 Projecting a map from his wrist, Robin reveals that he's been tracking his team. Before the rest of the Teen Titans can erupt with anger, he discovers that his surveillance systems have been hacked! There's only one person he knows that could possibly be responsible for this…
In the next scene, we see Wally as Kid Flash. You remember that nice stranger that bought him lunch for fixing his car? Yeah…that was actually Deathstroke, one of the Teen Titan's archenemies.
Wally's mentor, The Flash, has also been kidnapped by Deathstroke. He pleads with Kid Flash not to trust Deathstroke, but before Wally has the chance to respond, Deathstroke zaps him, knocking him unconscious. Deathstroke then appeals to Wally's biggest weakness: his guilt about his father. He manipulates Wally into believing that he can get Wally's father back. If Deathstroke can harness Kid Flash's power, he can save Reverse Flash.
Cut to the Teen Titans as they approach Titan Tower. Robin knows that their resident track star, The Flash, is missing too. He wants to get to the bottom of it; it doesn't matter whose toes he steps on. Once inside he confronts Nightwing, a Titan, and accuses him of colluding with Deathstroke.
Before a massive fight can break out between the Titans and their adolescent sidekicks, Nightwing confesses that he did, in fact, make a deal with their enemy.
The next scene brings us back to Deathstroke and Kid Flash. Deathstroke is appealing to Kid Flash's unresolved feelings about his father.  He pleads with Kid Flash to let him use the teen's powers so that he can manipulate time and save his children. He promises that he will save Reverse Flash as well.
Of course, Kid Flash falls for it. He can't help it. The desire to see his father and speak with him is too strong. Almost immediately after he gives consent, Deathstroke reveals his true intention. Kid Flash is devastated. Not only did he just betray his team for his own selfish reasons, he just lost his father for the second time. He knows Deathstroke never had any intention of saving him.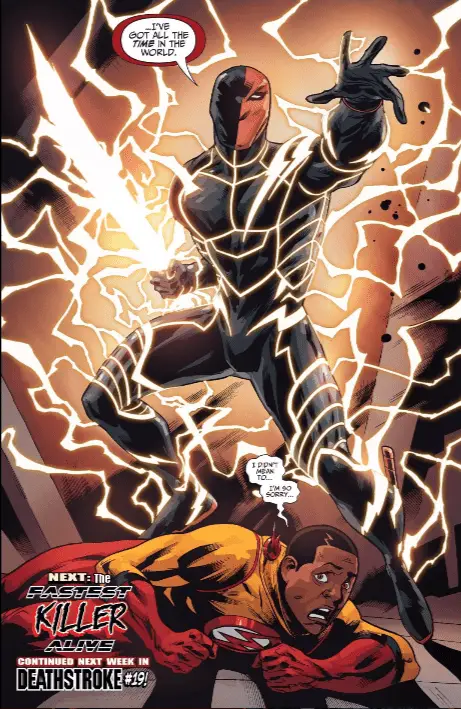 Robin may be a bit controlling, but when it comes to technology, he is brilliant. He uses his advanced skills to locate Deathstroke and his kidnapped friend, Kid Flash.
But they arrive too late. Deathstroke has already harnessed the power of The Flash and Kid Flash. He now has the ability to manipulate time.
Okay, I LOVE that the story opens on Wally. His background is so incredibly interesting. It's very "Luke Skywalker-Darth Vader-esque except for the fact that Wally never actually met Reverse Flash. Like I mentioned earlier, I can't possibly imagine the pain Wally is going through. I admire his resolve to stay positive because honestly, I don't know if I could do it. If I were hit with a whammy like that, I would probably be a pretty unpleasant person to be around.
Also, I must mention that the artists do an incredible job of illustrating Wally's devastation. His facial expressions match what I imagine anyone in that position would feel. The agony on his face is heart-wrenching.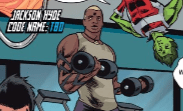 The artists also do an incredible job with Raven. Like I mentioned earlier, she is super worried about Wally, and the illustrations really accentuate that. There might be a romance starting to develop between Kid Flash and Raven, something the illustrations really draw out. Regarding the romance in the story, Raven's concerns about Kid Flash haven't gone unnoticed by other members of the team…and it will be awesome to see where the creators go with this.
Another cool thing about this episode is that they're starting to introduce a new character, Jackson Hyde. He doesn't know what his abilities are, he just knows he has them. This guy is so new that his code name is still TBD. Literally.
Lastly, I've got to talk about Robin. His character took a beating after the last episode of the series. I've read reviews calling him annoying, unnecessary, and irritating. Well, I beg to differ!!
I think Robin is awesome. He's passionate about the Teen Titans. Sure, his methods may be a bit maniacal, but his intentions are good. He wants to fight bad guys. How can you hate on someone like that? Plus, he's super smart and, I dunno, I've always had a thing for smart guys. If he weren't a teenager, Robin is someone I would date, FOR SURE.
Finally, I'm really gaga over how the episode ended. Deathstroke now has the ability to manipulate time. Like I mentioned earlier, I am a HUGE science fiction nerd. I read, watch, write, and breathe the stuff. In my personal opinion, time travel stories are the *hardest* to get right and practically impossible to master. Because time travel is complicated, I'm very curious to see how this part of the story is developed.
All in all, my first comic book experience was a good one. I'm really into the Teen Titans. I don't have much to go off of, but I can say I would recommend it to a friend. And when it comes to me and comics, that really does mean a lot.
---
Teen Titans #8
Writers: Christopher Priest, Benjamin Percy, and Dan Abnett
Art:  Wade Von Grawbadger and Khoi Pham
Cover by:  Mike McKone
Variant cover by:  Phil Jimenez
Images courtesy of DC Comics