I Just Comic'd and So Can You
You've probably noticed a bit of an increase in comic content here on The Fandomentals. In fact, sometimes Thursdays and Fridays can seem almost be dizzying with the number of issues being reviewed. When you then add in our deeper analysis pieces, it's only a matter of time before you might think, "ya know, maybe there's something to all of this."
Up until very recently, I'm what you would have called a comics novice. It's not that I had anything against the form, and in fact being such an auditory learner, I actually very much enjoy having visuals to accompany a story. But it's just…not something I read. I couldn't have told you where the "local comic book shop" was in my hometown, I only knew the big superheros through TV shows, movies, and toys, and about a month ago, this comprised my entire graphic novel library:
Thanks to Avatar: The Last Airbender and Adventure Time, I did at least have the experience of purchasing a digital comic book. But for the most part, I hid from the medium. Until I didn't.
Getting Over the Stigma
When I say "stigma", I'm in no way talking about the whole "comic books are for nerds" aspect of the industry. I spend hours gushing about anthropomorphized space rocks on a show written for 7-year-olds. Do your worst, Biff.
Rather, I'm talking about how positively daunting comics can seem. TV is easy: you start with the pilot episode. Once in a blue moon it might be a spin-off or sequel, and then all you have to do is determine if it's necessary/worth it to watch that first. But comics feel like an entirely different beast.
DC and Marvel have been around since what, the 1930s? And every time I've thought about diving in, I get completely stuck. Is there a hero I care about? A setting? These comics released five years ago are only a "soft reboot" of this one franchise, so how far back do I actually have to go? And what about this crossover where these other five characters come into play but the villain was actually introduced in this one run that was pulled, and aacctualllly you're not going to understand the group dynamics fully if you don't start from the 2004 issues, though you can skip the ones all written by…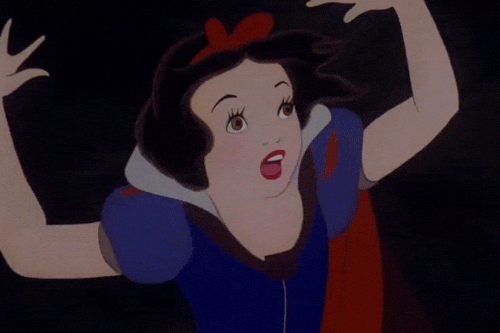 It could just be me, but there was always the feeling that I'd be starting at the wrong point no matter what, or at least missing out on some important context. Then, even if I read a volume and enjoyed it, how could I possibly think to engage with other fans before being called out as a "fake" fangirl? So I simply chose not to engage, out of both fear and laziness.
Then I read Griffin's pieces on Batwoman and I realized that was no longer an option—I had to find out more about this angry, Jewish lesbian woman out for justice.  
Now, I'm lucky in that he willingly held my hand through the process. But through it, I learned three truths about comic books.
1. They are written for the masses and meant to be read. In fact, they're rather easy to read. Take a look here:
See that writing on the left-hand side with "T" for Teen? Yeah, that means this is a series for ages 12 and up. 12. There is no reason why I, a fully-functioning schmadult, would not be able to figure this out, especially since publishers want to sell their comics.
Starting on a random issue probably doesn't make much sense, but the truth is you could start at the beginning of any "run" for any title, and you'll be able to follow the story. Those tend to have "#1" on it (some exceptions).
2. There is no wrong way to enjoy media. I've talked before about the shortcuts I've taken simply because there is too much stuff to consume. Guess what? I started watching Adventure Time by just going through "Bubbline" episodes. I'm only *now* watching season 1 of Supergirl despite season 2 destroying my soul…
Comics are not an exception. You want to faceplant into Batgirl: Birds of Prey #5 because the review sounded fun? Just do it. Chances are, if you find yourself compelled by a character or two, you'll naturally seek out other comics where they appeared. Do you want to only read an AU about multiple wlw characters fighting nazis during World War 2 that has no bearing on DC Comics canon? Great! Read it, enjoy it, and don't be scared to call yourself a "fan"!
You can only be "fake" if you are truly feigning excitement about something. Sure, there's always going to be curative fans on the internet who will give you a hard time. But then that leads us to…
3. There is always someone who knows more than you about comics. It's the nature of the beast. There have simply been too many issues for too many years, and you are not going to be the master of this field. Heck, this isn't even factoring in indie comics. Enjoy what you enjoy, and know what you know. From what I've found, being upfront about a lack of understanding for a character or situation usually just leads to a recommendation for another comic you could read—one that's likely to be engaging.
Taking the Plunge
So hopefully with that anxiety lessened (was it just me?), there's the pragmatics of how to begin. My recommendation: pick a series or character.
Picking a series goes back to that whole esoteric the-start-with-issue-#1 principle. You want to read Star Wars? It's a simple search on Marvel's site. Missing Avatar: The Last Airbender? The Wikipedia page on its comics is a font of knowledge. Remember, comics are like the Ring of Power—they want to be found!
My path was slightly more winding, since I was determined to get my hands on everything Kate Kane. Batwoman is what you might call a secondary character in the DC universe, and though her modern iteration was introduced in 2006, her self-titled series didn't come along for another five years. Griffin steered me towards Batwoman: Elegy, a Kate Kane-centric arc that began in Detective Comics #854 and ended 6 issues later.
"And then I go into the self-titled series, beginning with Issue #1?" I asked foolishly, still shaking from the emotional ending to Elegy.
"Well no, it's Issue #0," Griffin answered. "But you can simply get Batwoman Volume 1 and you'll be good to go."
"You promise?"
"Actually, do you want to first read a 3 issue stand-alone arc that serves as the perfect feed-in to the self-titled series?"
That's when the explicatives began.
But the truth is, it's not that complicated. Rule #1, remember? The Batwoman Wikipedia page (not even DC wiki…just the normal one) had this information, the "stand-alone" arc mentioned was actually just the next three issues in her Detective Comics run that was excluded from the trade paperbacks for some reason (which Griffin himself missed his first time through), and even if I hadn't had a Griffin to ask, a quick Google search would have also pointed me in the right direction.
Or I could have gone to a comic book shop and talked to someone in person, but it's hard to imagine that horror.
And this is the case for any comic book character. It just took me under a minute to figure out that Marvel relaunched Spider-Man in 2014 (and also 2015 maybe?), which seems like a fine jumping-off point. Meanwhile, DC has been rebirthing everyone over the past year, so there's a recent Issue #1 for almost any character you find yourself drawn to.
I feel bad ignoring indie comics, but given the fact that their universes tend to be less expensive, or at least given that there is a shorter history, they're almost inherently self-explanatory. For instance, Saga by Image Comics is a bit of a Fandomentals favorite, which Milan is currently working his way through. And…yeah. A quick search takes you to Image's website where it's pretty clear that all you have to do is count to seven.
The Rabbit Hole
The thing is, riding the learning curve is a very natural progression. You read a series and, assuming it's enjoyable, get caught up on it. Then you wait with baited breath for the next issue. Kind of exactly like anything else, be it a TV show or a book series.
However, here's the fun part: you can fill in the pieces in the meantime. And probably will want to.
Being the fool I was, I truly thought that I'd only care about Kate Kane as Batwoman. She's a relatively newer character in the general scope of things, and has a completely manageable number of volumes. I liked her enough from Detective Comics and her self-titled series where I picked up Bombshells, despite it being a stand-alone AU (the character voices are brilliant). But still, I figured that'd be the end of it—I would finally be caught up to where I wanted to be. And then it happened. Specifically this:
[slide-anything id="57410″]
I already knew of Renee Montoya's existence in the DC universe because of 1.) a flashback to Kate's former relationship with her at the end of Elegy, 2.) Gotham sticking their version on a literal bus, and 3.) Supergirl's interesting adaptational choices when it comes to the source material.
But I had never seen them in "heat rising from the asphalt sexual tension" mode before. I *had* to know more, especially in the canon timeline, leading me 52 (which heavily doesn't disappoint in this department), wherein I realized I needed Renee's backstory, found in Gotham Central (which happens to be everything I've ever wanted in a piece of fiction), and now I'm dutifully making my way through Crime Bible with Final Crisis – Revelations as my next stop.
Is what I'm saying making no sense to you? Doesn't matter, because I know what I'm talking about!
The thing is, the deeper into this I get, the more sense it starts to make. Which…duh. But along with that comes a huge lessening in that overwhelmed feeling I had at the start. I don't even think I'm a "fake" fan anymore, and can speak with some intelligence about timelines and writers. I'm also at the point where I've gotten a handle on enough pieces that whatever I read next will click into place somewhere. Comics are rather good at cross-referencing, probably because the writers want you to be compelled by the universe. It's almost like the point, or something.
But more than anything else? It's fun. It's brightly colored picture-stories broken down into 24-page issues. The only thing I should have been scared of was how quickly this took over my life. Now, I welcome the comic pieces around here. After all, it's a good week or two until my next issues are released.
---
Images courtesy of DC Comics, Disney, and Nickelodeon
The Antagonists Are Back in Sorceress of Darshiva
In my last article I said that there weren't concrete antagonists in Demon Lord of Karanda. Well, this book solves that problem, providing antagonists in spades. Sorceress of Darshiva, published in 1989, is the penultimate book of the Mallorean. It also brings a sense of danger and threat from our actual antagonists rather than secondary ones. Yes, Zandramas actually shows up in this novel. And as more than just a shadow at that, and it's everything the series needed. Eddings also does some fascinating stuff with un-rooting the Angarak people from the systems introduced by Torak. Overall, Sorceress of Darshiva is one of my favorite novels in the whole series, and for good reason.
Spoilers for all of Sorceress of Darshiva, and all of David Eddings's previous books.
What Happened?
Sorceress of Darshiva starts with our protagonists following Zandramas to Melcene. Melcene is a series of islands that house the commercial trading center of the east, and Silk is very at home there. Belgarath, Garion, and Beldin meet Senji, a clubfoot alchemist. He accidentally discovered sorcery in an attempt to turn lead to gold. Senji has one of the three original copies of the Ashabine Oracles. It's a McGuffin that they've been chasing for two books now, and the payoff is excellent, and will be discussed in depth below. Senji also tells them that Cthrag Sardius was kept at the University for a number of decades.
After the meeting with Senji, the company finds out that Zandramas brought Baron Otrath with her when she left Melcena. He's a cousin of Zakath's, and Zandramas plans to use him as the Angarak king for the prophecy. We also see several POV changes in this period. Queen Porenn calls a meeting of the Alorn council upon receiving news of what happened in Mallorea. The Council decides to fake an alliance with Urgit to bring some of Zakath's attention off of Darshiva and his attempt to location Garion and company.
Eventually, Zakath recaptures Garion and company traveling through Darshiva, on their way to Kell. Cyradis persuades him to join them, and they continue on their way to Kell. Zandramas fights with the ghost of Poledra, Belgarath's wife. Durnik smashes two demon lords and is officially a disciple of Aldur. At the very end of the book, Garion picks up she-wolf and her cub. Belgarath and Beldin remember that Grolim's can't enter Kell and that the location of the Place Which Is No More is in Kell. They deduce that they are finally ahead of Zandramas, and the book ends.
Three Antagonists
Torak, the Dragon God of Angarak
The novel begins with a prologue from a Melcene history book. It details the foundation of the Melcene nation and how it fused with the Mallorean Empire. Considering that it provides a summary of those nations since the beginning of the world, it obviously mentions the now dead god. It's been discussed before about how it's the systems that Torak set up that are evil, not the people in those systems. This prologue shows that in effect. The historians describe Mallorea and Melcena as almost a utopia before Torak shows up before Vo Mimbre.
"A reign of terror descended upon Mallorea. … In one stroke, Torak's disciples overturned millennia of military and bureaucratic rule and returned absolute dominion to the Grolims." (p. 6).
This moment shows most clearly how it's the systems that Torak set up that Garion and company despise. The forced conversion, which parallels a Western view of the totalitarian communism of the USSR. Generational indoctrination is a powerful thing, and it happened at Torak's behest. The god who wears a mask made of iron and cracked the world.
But Torak also shows up outside ancient history. When Garion finally finds a copy of the Ashabine Oracles, he discovers that Torak directly addresses him. Belgarath calls it Torak's one moment of sanity. It tells Garion that "what is foretold in these pages is an abomination. Do not let it come to pass." (p. 95). Torak admits that his side winning is an abomination and tells his would-be killer to stop it. Then, later, he destroys it. It's the willful self delusion that forms the central critique of the Soviet Union. That it broadcast the idea of the communist ideal while being otherwise.
Zandramas, the Child of Dark
In addition to the dead Child of Dark, we see the current Child of Dark as well. They're both antagonists, and they both have the same place in the prophecy, but this book makes them distinct. It does this by exploring Zandramas's history and by actually giving us two glimpses into her point of view.
In Zandramas's point of view, we see constellations rise beneath her skin. Zandramas attributes this to the Dark Prophecy exerting more of it's power over her. We can see that she's terrified. These moments also allow us to see Geran, the emotional center of this, for the first time since the first book. We see that Zandramas makes sure he's taken care of, but doesn't want him inconveniencing her. She leaves his care to Naradas and another priestess.
Zandramas's terror and her overall plan, as discovered by her history, make her distinct from Torak. She began life as a priestess of Torak, working under Naradas. Then, after Torak died, the Dark Spirit took control of her, and she ran wild for years. When she returned to the temple, she charmed everyone into working for her. She preached that a New God would come and she would be his bride.
Torak always wanted to be the center of everything. Kal Torak literally means king and god. He dominated Angarak and demanded human sacrifice, but he wasn't ever loved. Garion won because of that. Zandramas learned from the Dark Prophecy's mistakes. She doesn't want to be a god, she just wants to be the power behind the throne, both secular and spiritual. This corresponds to the transitional period of communism, where the USSR traded with capitalist countries before it collapsed.
Cthrag Sardius, the Sardion
Juxtaposed against the human motivations of our other antagonists, we see the Sardion. This book solidifies what the Sardion is. In essence, it's the evil counterpart of the Orb of Aldur. The two stones were originally one stone, but they were divided and now they war against each other.
But, unlike the Orb of Aldur, a band of 'savages' found the Sardion and their generations polished it, like Aldur polished the Orb. Eventually the Melcene Empire collected it for their library, and it stayed there for millennia. Then, when the Battle of Vo Mimbre happened on the other side of the world, a historian stole it. His ship sank, and the Sardion with it. Cyradis told everyone that the Sardion is in the Place Which Is No More, where the final meeting will take place.
But the real horror of Cthrag Sardius lies in what it will do to Geran. One of the requirements for the final meeting is a sacrifice. In this case, it's a person who will hold both the Orb of Aldur and the Sardion in their hands. With the both of them they'll have unlimited power to reshape the world. The new god of Angarak will either heal the world, or destroy it utterly. Zandramas wants Geran to destroy the world and make it in the image of the Dark Prophecy.
It is that image, Geran with both stones in his hands, that so terrified Torak. That is why Garion might have to kill his only son. The idea of the world falling to communism routinely terrified people during the Cold War. They taught their children to glorify America, as the anti-communist utopia instead. Geran's eventual fate takes that and twists it in a way that horrifies the characters and the readers.
The Final Un-Rooting of Systemic Evil
Secular
One of the subplots in Sorceress of Darshiva is how Urgit manages to finally reject and exile Agachak. He lays down the law, and Cthol Murgos transitions to one where the church's, and Torak's, lingering influence diminishes. Previously, Urgit's advisors, including Agachak and his father's generals, ruled his behavior. Now, after some advice from Garion, he's managed to root them out. Agachak goes to the absolutely stupid Gethel of Thull, and convinces him to join him in Mallorea. But it's still a victory for Urgit and for the light. It's the proactive nature of someone who won't be controlled again, and who won't allow his country to be controlled either.
Urgit also has a victory in his pseudo-alliance with the Alorns. While on the Alorn side, it is purely a diversion for Zakath, on Urgit's side it's something more genuine. He wants peace with his ancestral enemies, and he's taking steps to secure it and to step further away from the dark.
Zakath's transition to the light also takes place in this book as well. Once he recaptures Garion and the rest, Zakath originally wants to send them to Mal Zeth. With Cyradis's command, that changes. Cyradis reveals that Zakath is the Empty One, another figure of prophecy on the side of the light. After a few moments of internal conflict, Zakath agrees to go with them. Immediately afterwards, it's like a personality transplant. Zakath, Emperor of Mallorea, had been grim and shied away from doing violence himself. Zakath, friend of Garion, can only be described as Arendish. Laughing at everything, getting into every possible fight, and with some other indefinable Arendish quality to him. He's acting like someone from the 'civilized West' rather than someone from Angarak, and that speaks to this unrooting.
Sacred
The un-rooting of Torak's influence also plays out on sacred grounds as well. While Garion and company travel through Peldane and Darshiva, they see many different temples. All the masks above the temples, that once showed Torak's face, are now blank. Urvon and Zandramas fight all through Peldane and Darshiva over who the new god will be, but this change says more than that. It's a preparation for a new god, either Urvon, Geran, or whoever Garion chooses.
It's not only the people preparing for a new god, the possibility of the new gods are also preparing. Before their capture by Zakath, the company winds up in an abandoned farmhouse for shelter. An old Grolim comes to them, and offers them food and hospitality. He talks about how he heard the voice of the new god, and now he decorates the altar with flowers and repents everything he did for Torak. He believes that the Light god prepared him to be its first disciple. A Grolim, someone inside the power structure determined as evil, repenting and being a driving force for good is new, and excellent for the philosophy of the work.
The current existing Prophecy makes an appearance shortly after the Grolim disappears and says all of this. He then goes on to say, "when Destiny is reunited, there should be a new voice. … Millions of years of enmity between us have warped our perceptions a bit … I'm not suited to deal with a united universe. I've got too many old grudges. The new voice can start out fresh without any preconceptions." (p. 146). Those grudges and preconceptions are exactly why Eddings is being so careful to change the perception of the Angaraks by characters and readers alike. To accept the fictional and actual antagonists as people.
In Conclusion
In 1989, Eddings published Sorceress of Darshiva and the Berlin Wall fell. That symbolic fall prophesied the collapse of the Soviet Union in 1991. There's no mistake in the fact that he combines the final moments of un-rooting with preparations for a future afterwards. This book focuses heavily on the antagonists, yes, but it also finalizes that change in the people previously stigmatized by their association with them. That Torak's moment of sanity, Zandramas's fear, Zakath's acceptance, and Agachak's banishment all occur in the same book is important.
It signals all of that preparation for the future. By showing the quasi-human nature of our antagonists, except the Sardion, it makes the readers more likely to accept their followers as people with hearts and souls. By un-rooting the enemies turned allies from the systems that made them enemies, it does the same thing. That this all happens the year the Berlin Wall fell is hyper significant. It's a symbolic gesture, yes, but symbols and stories mean things. Who better to know that than an English teacher with a predisposition for archetypes? Eddings may not have realized that he was writing a metaphor for the Cold War, but it's there in his symbols and his philosophy nonetheless, especially here, and especially now.
---
Image Courtesy of Del Rey Books
Dr. Strange May Be A Truly Cult Movie
Watching Dr Strange was a truly strange experience for me. I sat before the screen expecting two hours of mindless fun as I watch a self-absorbed jerk become something like a decent guy. You know, this ever-present and ever-satisfying "break the haughty" narrative. A safe bet, not too harsh on the haughty (it's MCU, after all), but harsh enough we cheer him getting his comeuppance. What it turned into, was two hours of flashbacks as I watched a haughty jerk being broken and brainwashed into a cult.
Probably I wouldn't react that badly if this experience was not something from my personal past. Things I saw at the screen were excruciatingly familiar. I couldn't help rooting for the jerk, because I knew all too well what it is, feeling that you are nobody, that the world is crumbling around you—and then being handed something like a power over it.
And while I am sure that it was nowhere near authorial intent, I couldn't help wondering how many people—impressionable, vulnerable people—would buy into the narrative and turn to some secret knowledge to cope with their illnesses or insecurities. After all, Kamar Taj, both in appearance and in teaching, is very far from fantasyland. You can find dozens of wannabe Ancient Ones just around the corner, waiting for easy prey.
Yeah, sounds very purple, but let me show you why am I so agitated.
What Is a Cult?
A cult—also a totalitarian cult, toxic cult or destructive cult—is a religious or posing as a religious organisation which teachings and practice are designed to achieve and execute total control over its members' life and death. Not quite a lucid definition, and that's why the thin line between a cult and a new religious movement is so thin. The subject is controversial, the "cult" word is thrown around as a slur and generally only time we can safely use the definition is, while talking fiction or the cults that 100% exposed themselves as such via some drastic action. Mass suicide or terrorist attack, usually, and sometimes both.
But still there is a list (several lists, but they mostly talk the same things in different wording) of traits that may alarm you that the group is most probably toxic. Let me show how astonishingly well Kamar Taj fits the criteria. Then I'll try to demonstrate how typical dr Strange's situation actually is and what usual manipulative tactics were employed to guarantee his loyalty. I'll use the list provided by M. Kuzmin in his thesis.
1. A Teaching that Rationalises and Encourages Control and Manipulation
They don't just brainwash—they do it for the greater good and to prevent lesser ones from slipping on the path to salvation. Or something like that. It is prime trait of a toxic cult; a pity it is not easy to see it through, as the real teaching is not revealed until a person is considered "ready" (read: is totally broken).
Through the movie we hear Mordu describing his own path into Kamar Taj. He tells how he went there to get weapons and training sufficient to fight his foes and was promised to get those. Then he was made to go through usual training routine until he understood that his past—name included—was nothing and Kamar Taj was everything and he is destined to be its adherent. Though he recognises manipulation, he not only completely justifies it, but also expresses hope such would be dr Strange's fate, too.
And indeed, no one in the Kamar Taj is anywhere near ashamed of stringing along a desperate disabled person with promises of healing all the while basically training him as a cannon fodder for future battles.
2. The Leader, Regarded as an Absolute Unquestionable Authority
While there are some cults that have group leadership, this figure is almost inevitable when we talk about the cult, as they are built around them. The guru may proclaim themselves a literal god (or God), as Shoko Asahara or Maria Devi Christ did, or a prophet, as Jim Jones. They can even settle for indefinite "possessor of the knowledge", as Marshall Applewhite. No matter what they chose, entire existence of the cult depends on their very person and something only they know or can do.
Does Kamar Taj have such a person? Oh, certainly. The Ancient One is just that; an absolute, infallible guru who is right even when she is actually wrong, and whose actions are not for the lesser minds to judge. She wields absolute authority over her acolytes and can make them fight using real weapons or even leave for dead on a whim. All the while the very idea that she may be wrong is a heresy for the loyal Kamar Taj members, and a sign something is "unwell" with the person in question.
3. The Teaching Changes When Situation Changes, But It Is Never Acknowledged
They promised us the world's end and it didn't come? Oh, you see, it was not the real end. It was never about something like that. Or better: yesterday they taught absolute monogamy, but now the guru is caught cheating. So, as the guru is never wrong…
Well, we have an entire plot point, no less, dedicated to this exact rule of cult. So, the entire Kamar Taj had existed for ages on a premise that Dark Energy is bad and corrupting and everything Dark Dimension is vile. But lo! The guru used dark energy to sustain her all those innumerable years! She must be a crank, then? A liar, who forbid her loyal acolytes the thing she had been doing all along?
Nah. No way, You see, the rules exist to break them and cheat, and if you think the rules that you were manipulated to accept as a final truth matter, you are our next bad guy.
Or was it an instance of the next cult rule?
4. Each Subsequent Hierarchical Level Is Granted a Different Version of "Truth"
Basically this is the most glaring distinction between a religion, whatever new, and a cult. You join a religion, and you know what does it teach and what do you subscribe to. If it was one god, three goddesses and a ritual cup of tea every three hours when not asleep, that's it all along. With a cult, you join for a god, three goddesses and a cup of tea, but then learn that it's not tea but actually vodka, and when you progress in the ranks you may learn that there is one goddess and no god at all, and then – that gods are nothing, only guru matters. And then something.
The teaching of Kamar Taj does change from rank to rank, too. You come to them because they are healers and martial artists. If you are fit for them, you learn about astral and the source code of the Universe. Next level, and you learn the purpose of Kamar Taj is to protect Earth from a certain other dimension and you have to obey strict rules unless you would harm our world. Even next level, and the rules matter nothing and result is all. And then something.
And Others
To save time and space let me not delve into other very fitting criteria—like having a teaching that combines syncretic religion with pseudo-science, that justifies and even encourages violence towards critics and ex-members of the cult, that encourages active service in "do whatever you are told" way… Kamar Taj is already cult-like enough.
But nothing proves it as well as main character's story. Just look for yourself.
Cult Brainwashing 101
So, we have a man in his late thirties/mid-forties, the age of crisis. This man suffers an accident and is now disabled. As his only profession requires the very ability he's lost, he searches for rehabilitation and encounters a rumour of miraculous healer. Desperate, he goes for it and gradually becomes an active member of a group that presents itself as Earth's only hope and secret guardians. He never heals and is never able to go back to work. Also, he leaves the world forever, going on to live on the group's premises.
Huh, sounds familiar, doesn't it? But it can get worse.
Our hero roams the world in search of the healer, until he encounters a group of thugs. Those thugs beat him violently and destroy the last memento of his previous life: his wristwatch. Only then a member of the group intervenes and quickly saves the day. He waits, because he was told to wait. Because apparently our hero needs…something. Do you know what? He needs to lose everything and to be on his utmost vulnerable when presented with the cult teaching—and to be thankful for help. While not too common, the tactic is widely employed irl. It ensures bigger susceptibility of the adherent-to-be through combination of humiliation and gratitude.
Also, the very exhaustion he suffers because Kamar Taj remains hidden from him is quite helpful, too. Exhausted people are not quite able to think critically, as analysis and logic require much energy and all energy they have goes to sustaining them alive and upright.
And Then Some
Moving on, our hero is presented with some mumbo-jumbo and then graced with a very, VERY acid vision. While here it's magical in nature, it would be literal acid irl. Secretly feeding newcomers with hallucinogens is a very, very common tactic of those cults that emphasise and promise secret knowledge and spiritual experience. Bright, wild hallucinations make people believe that they were granted visions and have some supernatural power in them.
So, our hero's weakened mind is bombarded with mumbo-jumbo, followed by acid visions "proving" the mumbo-jumbo is actually true. Nice. But not perfect. To add a final touch, our hero is cast away and left on the street with nothing but his clothes, broken watch and a promise of miraculous healing. He has nowhere to go but to the c… Kamar Taj. But the Ancient One knows her manipulation 101 and makes him yell, beg, despair. He has to wish for acceptance with all his heart, to see no other way. He must beg, because nothing is as effective as humiliation.
Except for a death threat, of course. Being humiliated AND left in a mortal peril is much better. Do I need to remind our hero is subjected to it?
Conclusion (Or Lack Thereof)
My goal was not to imply the authors of the movie did all that on purpose. Never would I even dream of such a thing.
What I actually think is, that the authors used the same tropes the real-life cults use in recruiting new members and promoting their teaching. Those tropes are widely popular in popular culture—which is actually the very reason the cults use them. Familiarity is quite important when encountering something new. Things already at least seemingly familiar attract much more trust and attention than completely new ones.
Combined with several instances of what I consider authorial tone-deafness, this lead to a load of unfortunate implications. As with Thanos, the end result is horrifying idea no author would've supported as it is, but accidentally promoted.
DC Elevates Batwoman to Live Action, Cancels Her Book
In the span of less than a week, Kate Kane has reached the absolute height of her cultural awareness…and then had her entire foundation smashed into teeny-tiny pieces. To say that this is mixed messaging is quite the understatement. And also gross and infuriating, and why couldn't people just buy this fucking book, why does ever queer story have to have explicit romance to get anyone to care—what is
wrong with everyone!?
Ugh. Before anyone asks, no, there's no way to save Batwoman from cancellation. Again. Volume 3 is dead. If you're one of the ~25,000 people who bought and read Batwoman during the New52 era, in which her book reached a total of 45 issues (including two annuals, two #0s, and a crappy tie-in), but then just noped out reading Batwoman Rebirth…welp. Fuck you. 
Because yes, that's how frustrated I am.
The comics world didn't get less diverse between the first cancellation and the relaunch. Sure, we're sort of living in a Darkest Timeline scenario but that doesn't mean socio-cultural progress evaporates overnight! Especially when the kind of people that Kate's original ongoing managed to reach are only more numerous now. Which just begs the question: why did nobody read this book?
Unfortunately I suspect that I already know the reason. It's kind of the same reason people seem to be sleeping on Black Lightning despite it being streets ahead of every other DCTV production. The lesbian wasn't shtupping anyone (well, not in present day). Of course, in Black Lightning's case, there's also racism involved, but the more explicit and assertive Jewishness Bennett wrote in for Kate probably set off quite a few antisemite alarms. This attitude is unfortunately disturbingly common within queer spaces, because of course it is. Which means, yes, one can technically blame Nazis for Batwoman's cancellation. I know I am!
(Or DC suits mumbling about ROI.)
So where do we go from here? Apparently, we sit on our hands and wait for December to roll around and watch the CW likely take a giant dump all over Kate Kane. I'm not going into this hopeful, and it's not because I think it's impossible to do it right. Frankly, I don't even think it's that difficult to pull off. You just need to actually know who she is. Here's a list of people who have demonstrated that they fit that description:
James Tynion IV

Marguerite Bennett

Tom Taylor

Gail Simone

J.H. Williams III

Haden Blackman
Notice someone missing? It's Greg Rucka! Because apparently "his" Kate is entirely unrecognizable from the Kate we have now (and have always had), which means he's either pissed he didn't get to write this stuff and is being a jerk about it…or his original intent was absolute shit. Either way, not a great look for Greg.
Obviously, none of those people will be writing/advising/consulting for the DCTV yearly crossover event. Maybe there's someone on one of those four writing staffs that does get her, but the odds of that are exceedingly low. And even if someone does, the odds of them being able to adapt her right are basically zilch.
Why? It's not because I suspect they're only doing this as a palate cleanser/apology after the nazi-tastic crossover last year. It's also not because Kate's maybe being brought in to show off their stunning "progressivism". It's because the folks over at DCTV clearly lack one of the most fundamental understandings of how Kate can even be Batwoman: there needs to be a Batman.
For anyone who knows the story well, this should not be a surprise even if it does sound like a fanboy's wet dream. There will always be a Batman, regardless of who happens to be under the cowl, but there are so many ways that there wouldn't be a Batwoman. So many, in fact, that the entire running theme of Bennett's Batwoman run was about that explicit choice she made, and the one she continues to make every time she operates as Batwoman. Kate chose this. She was not compelled by a bat flying through the window, or the hands of fate. The Batwoman is not a universal constant.
Kate Kane wanted to protect innocent lives, and her country. Following in her family's long history of military service, she enlisted and attended West Point. Near the end of her second semester, she was dishonorably discharged under 'Don't Ask, Don't Tell' (watch them cut this and never elaborate on why she was kicked out aka the Andreyko Origin) because she refused to lie about who she was. The flag she wanted to serve tossed her into the dumpster, and that's where she forced herself to stay in a drunken stupor for years and years.
The Kanes are a very prominent family, so this made headlines. Kate was basically outed globally. She had money, and her father had no earthly idea how to help her find a new purpose in life since she'd dedicated her entire existence towards serving others and fixing the world from literally her twelfth birthday. That is, until she found a new flag.
If not for that one night in the alley—in which she was not saved by Batman, but rather offered a helping hand out of the rain—Kate would never, not in a million years, have considered vigilantism as an actual option for her. Because that's completely insane. The only way Kate becomes Batwoman is by meeting Batman. Thus, there cannot be a Batwoman without the Batman.
So, does that mean there is a Batman in the Arrowverse now? Is he dead? If Bruce is dead, why isn't Dick the new Batman? If Dick is dead too, why not Tim? Or a resurrected Jason? Or, shit, Damian? Jean-Paul Valley? There has to be a goddamn Batman, and ultimately it doesn't matter who it is, there just has to be somebody in the costume to inspire Kate and legions of others.
Tynion's run has been very explicitly about what the Bat means to different people. How it can manifest, and how people interpret the symbol. It's no accident that The Colony, Kate's father's black-ops group designed to operate like a literal army of Batmen in terms of effectiveness, exists in indirect opposition to Bruce's ideology…yet more or less consistent with Kate's. Because Kate doesn't wear a costume; it's a uniform.
So why the hell would Batwoman of all people be the focus of a DCTV four-part crossover? What possible plot contrivance could there be to remove every other vigilante from Gotham, because literally all of them are more inclined to interact with "tourists" than Kate? The answer is going to be stupid or shallow.
Whoever shows up on screen won't be Kate Kane. She may have the name, and the colors, and the look, and the mentality of a Navy SEAL/Green Beret/Marine, but it won't be her. Because at the end of the day, as far as DCTV is concerned, Kate is a lesbian and they got lots of good press from that Alex stuff, and hey Kate once dated Floriana Lima's "Maggie Sawyer" (who totally isn't a watered down Renee Montoya) so this all makes perfect sense!
Well, all of that stuff, but also a lack of emphasis on her Jewishness kind of breaks her character. Intentional or otherwise (great job, Greg!), Kate needing to scream for her own right to exist is kind of integral to how she operates and lives and you know…exists. Kinda speaks for itself considering what she had to do to find some sort of grounding in her life after the military shat her out.
All of that being said, the optics here are just…really bad. DC shoves Kate on the silver screen and then axes her book? Look, we've all seen Marvel do that over and over and over and over and over again with their movies, but this is just a new level of stupid. Considering how the only other queer lead book DC has in their primary line is the abysmal Wonder Woman by James Robinson (that is somehow getting a spin-off featuring the somehow not copyright infringing Wonder Man?!), this is a Bad Look.
Which makes me suspect that DC isn't so much as cancelling the book, as they are retooling for a relaunch around December with a new #1 and creative team. Probably with Kate Perkins because she's written two Batwoman stories for DC already, despite them being just…comically insincere.
Or maybe they'll give it to Gail. God, I hope they do. I mean, I'm heartbroken that Bennett lost her literal dream job because people won't consume queer media unless there's shipping, but I'm also terrified of Kate just…going up on the shelf. For a very, very long time. At least the solicitation for the series finale has Kate clearly getting back together with Renee. It's not much, but it's something.
Back in February of last year, I told you folks that this was likely going to be Kate's last chance at a solo book. Let's pray I'm not right.
---
Images courtesy of DC Comics