As mentioned previously, the Fandomentals is profiling the owners and chefs of small restaurants, across the country about the food they serve, their spirit of serving, and how COVID-19 has impacted their business. However, due to your feedback in suggesting we also profile other small business owners, we have begun to reach out to even more folks to profile in the coming weeks and months. In this interview, I was lucky enough to spend some time talking with creator Charlie Martin, and discuss in detail what they're doing during this time both as a creator, and to help their community.
FM: When did you become interested in jewelry and why?
Charlie: I fell in love with jewelry and self-adornment as a kid. To keep us busy as kids, my mom assembled a huge blue bin full of dress-up clothing and accessories, many of which were hers, my grandmother's, or my next-door neighbor's originally. Jewelry, especially the pieces worn by my mother and my grandmother, always felt like they contained magic and power because both women were symbols of strength and perseverance to me. They wore a variety of different styles of necklaces and earrings, many of which were bright and/or flamboyant, and on the occasion that they would give me or my sister pieces to keep, it felt like being gifted a secret, or a history of presence, almost like I was connected to their experiences while wearing each piece. Storytelling has always been a huge part of my life, and of my family as a whole, so each piece was given with an explanation of where it came from and what kinds of things happened while each woman wore the piece. Jewelry felt like another version of storytelling in its own right. I still carry that with me, wearing one of my grandmother's golden necklaces every day.
FM: What made you decide to start creating your own pieces?
Charlie: My parents used to give me things to keep me busy & to encourage my creativity, so I spent a lot of time taking Lisa Frank's jewelry-making kits & modifying them for my own purposes, holding onto special beads for later. Not sure about my motivations as a kid, but I've always been a collector of unusual things, or things that I like looking at, so I ended up with a lot of leftover beads from that time & other bits, like small toys. I carried this magpie stockpile with me for years after putting down my childhood habit of making, but was inspired to begin again when I was preparing to move out of Columbia, SC, where I'd recently completed my M.F.A.
I worked for an independently-run buy-sell-trade in the city called Sid & Nancy while I was in graduate school, which also sells work by local artists, & I always felt like there was an untapped market for pieces that were inspired by or contained truly retro elements (1980s/early 1990s in particular). I offered up a bunch of my work on consignment there and began selling earrings and chokers. I worked slowly on building pieces after moving to Brooklyn, but didn't really get back into a consistent practice until COVID-19 broke out in the city and the career trajectory I began right before lockdown became untenable for me for a few logistical reasons and I was alone in the city.
FM: Something you and I have talked about is the disruption of supply chains this year thanks to the COVID-19 pandemic. How has this impacted your art, and what have you done to adapt?
Charlie: One of the first things that I panicked about when the city was not taking the threat of COVID-19 seriously was supply chains across all fields of consumption. I was also stuck inside, knowing that I would be unable to replace any jewelry-making supplies by going to secondhand spots, where I normally get pieces to chop up and transform. I feared I would be unable to get supplies mailed to me at first, but I realized I still had a ton of jewelry-making supplies, since I hadn't been active in creating for months.
I decided to only work with what I had as much as possible, including chopping up old pieces from my personal jewelry collection and getting creative with what was available and what was free. I was already working on divesting from Amazon due to their criminal behavior towards their labor force, so when I realized I could still get mail without too much hassle (thank you USPS!), I shifted to only buying from independent sellers on eBay as a last resort for replacement pieces that I could not replicate in my own studio, like thin chain and fishhooks for earrings.
Due to people clearing out their apartments while in lockdown, as well as folks having to leave the city due to job loss, lack of resources, and predatory landlords, I also made my dog walks, my only time outside, into acquisition missions, seeking out curbed items, as well as findings & beads offered up on Craigslist. Friends of mine who knew I was getting back to work on jewelry also offered up things that I could cannibalize, like old earrings and findings. Definitely got really good at disinfecting tiny, tiny things during this time.
FM: You also mentioned that you've been using proceeds from the sale of your pieces to help support causes in need, in part, thanks to the pandemic. Would you share a little bit about these causes and how others could help?
Charlie: I became one of the people I reference in my previous explanation, a person who could not stay in my borough because I could no longer afford it. I was active in a group called Bushwick Mutual Aid, which assists in connecting community members so everyone can share resources and ensure as many people as possible are having their basic human needs met since the city was doing nothing to help at the height of the lockdown (and still isn't really supporting its residents). I knew I would have to leave, but I wanted to do as much as I could to help on my way out. So on one trip to grab jewelry supplies from a Craigslist poster, I thought: why don't I at least kick some of this back into the community?
I don't have much, but no one does right now. So, I looked to where I could send funds where they'd have the most impact and settled on the NYC BIPOC Family Fund, which does not appear to be active anymore, but I did get some funds to them to support families in my communities while they were accepting assistance. I put 20% of the proceeds from my jewelry, as well as clothing I was selling, towards this, to offset my own moving costs while also supporting the fund. I am currently in the middle of another move and most of my stock has been in storage, but when orders start coming in again (and I'm making more pieces, of course!), I will be donating 30% of my proceeds to the efforts by the good folks at Feed Columbia, a grassroots group based in Columbia, SC, that is deep in the fight to feed the community in the face of widespread food deserts around the city.
Because I could only raise so much money to support my neighbors financially in Bushwick and the borough at large, I also used to pick up things like unopened food and used children's books while out on my acquisition missions, as well as other things that community members could use, and brought them to Mil Mundos, which is a Bushwick bookstore but also became a community supply distribution center during the pandemic–they're the best! I also did drops of perishables at my local community refrigerator, many of which are popping up around NYC, as well as in other cities. These are fridges that are filled by anyone who has extra meals to spare, and anyone can take whatever and however much they need.
The biggest thing that I learned while supporting these efforts is that getting money and other resources directly into the hands of your community is more effective than donating to charities/nonprofits. Goodwill, for example, dumps a lot of what gets donated to them, whereas when NYCHA gave a bunch of our neighbor's faulty ovens and refused to replace them–in the middle of a pandemic–community members did a drive during which anyone with spare cooking appliances donated them and the point person with Bushwick Mutual Aid got these resources directly into the hands of our neighbors.
It is essential for everyone, if you're able, to engage your communities, and to get to know your neighbors, what they need, and how you can use what you have to support them. Your impact is more significant when you don't have bureaucracy taking a cut. Another example: if you live in Los Angeles, it's more impactful to freeze a bunch of water bottles and leave them at an encampment where your unhoused neighbors are staying than donating money to a large nonprofit, knowing much of your money won't be allocated for resources for those who need it the most during a heatwave.
Most cities and neighborhoods, especially now, have growing mutual aid networks, and I would encourage everyone to seek out the groups already doing the work, especially those who have been doing the work since before the pandemic, and see what you can do for them. Support the good work already being done and the organizers doing it. Know that any skills you have, any resources you have, no matter how small they seem to you, are essential. If we build a community with what we have, we build power.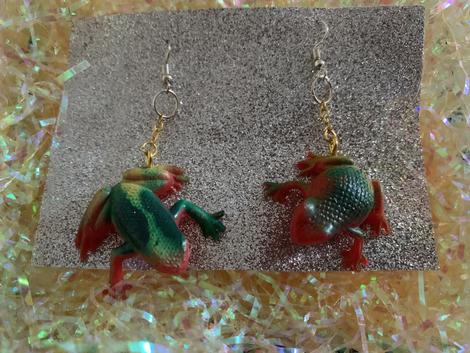 FM: Many of us have turned to art to help cope with our anxiety this year (yours truly took a swan dive into olfactory art). Do you find making your pieces is a way to help deal with this uncertainty?
Charlie: Oh yes! I have severe anxiety, ADHD, and am hypervigilant due to past traumas, so hyper-focusing and doing repetitive, albeit creative, tasks helps me stay grounded and focused, and keeps me off my phone. Knowing I am making something beautiful while breathing and giving myself space to not spiral helps my mental health immensely. And as I discussed with my initial interest in making jewelry and my connections to jewelry as a whole, I find self-adornment to be a really important part of my existence, and I know that during the pandemic, a lot of people have been performing self-adornment as a means to anchor themselves and to celebrate themselves, even if they are trying to avoid being out due to the still-present dangers of the pandemic.
The jewelry I make or transform is tangible, but it is also an extension of me, and of the stories I hold from how I found something, to how I wore something. It is a reminder, while I create, that I can still make beautiful things in the face of all of the horror, and that the journeys I've had up until this point still mean something. And if I can sell what I create to folks who can use it to empower themselves, and I can give part of what they pay me directly back to my communities, that shows I am empowering people on a few different levels.
FM: Where can we find your work if we'd like to buy something?
Charlie: I currently have my current completed work uploaded here: https://house-of-reptiles.myshopify.com/collections/all and I can be found on Instagram as @houseofreptiles_
I'm a bit of a dinosaur these days, but am working on getting everything online and even navigating online sales, since much of my selling has been person-to-person in the past.
FM: Do you accept custom orders at this time?
Charlie: I do take custom orders, though what I have to offer depends on what my stock looks like since I do not buy charms first-hand and try to avoid buying findings and chain that way as well. My next goal is to get my supplies online so that way folks can customize based on what I have and what kind of piece they'd like. Folks can contact me through the website or DM me on Instagram to talk further about what kinds of work I can do for them.
FM: Do you have any message for your community(ies)?
Charlie: I'd like to echo the importance of folks doing what they can to the extent that they can during this time and beyond, for themselves as well as for their communities. Mutual aid, in whatever form it can be from and for you, is essential. I, fortunately, can use the work I love doing to support my communities, even in a small way. Making beautiful things is a form of resilience. Giving what you can to others is a form of resilience. Based on what we are seeing in this country, it is up to all of us to be creative in our efforts to make things better for everyone. Don't give up, don't back down, and keep building.
Have strong thoughts about this piece you need to share? Or maybe there's something else on your mind you're wanting to talk about with fellow Fandomentals? Head on over to our Community server to join in the conversation!