It's not exactly a secret that I'm a big watch fan around these parts. I try to shoehorn in watch discussions wherever possible, be it our Holiday Gift Guides, using them as an example for "homage/inspiration" pieces, and more. You might have noticed most times I mention watches, I also bring up a particular brand along with it. Invicta Watches are a bit polarizing in the watch community. Watch snobs have long turned down their noses at what they feel are "gaudy" designs, but no matter how many of these "snobs" love to berate Invicta, this watch brand not only thrives, it has one of the most vibrant communities of fans you'll see just about anywhere.
From multiple groups, fan meetups, to even flocking to an annual cruise hosted by Invicta itself, Invicta watch fans are here, loud and proud, and rocking their favorite watch designs without a care for the more traditional snobs of the world. I do too! Sure, I have watches from classic houses like Oris, Tag Heuer, and Omega. And I really enjoy them. But they don't make Captain Marvel or Wonder Woman inspired pieces and when I wear my Invicta watches out, I always have at least one stranger going out of their way to say "Nice watch!". Invicta watches are fun.
So with all of that in mind, it was only a matter of time before I decided to interview people who share this hobby with me. And I was lucky enough to get a chance to talk to Paul Robbins, a man who actually runs one of the aforementioned Invicta fan groups. Thanks again to Paul for taking the time to answer my questions and explain how InvictaWorldWide came to be!
FM: How long have you been a watch fan? How did you get into the hobby?
Paul: I started collecting Invicta's in the mid 90's to mid 2000's after they stopped making them in Switzerland.
FM: How did you learn about Invicta watches?
Paul: I was watching tv late one night and surfed across shop NBC and was intrigued by the look, design quality, and price so I started buying and collecting them.
FM: What is it about Invicta watches in particular that draws you in?
Paul: From the beginning, it was the style & price point, which as time led on grew into meeting others with the same taste and interest. And now 25 years later involves the internet & Facebook, which led me to where I am today: less than a year and almost 1000 dedicated good quality family members, I am proud to say I did it on my own and continue to grow on a daily basis. 
FM: Do you have a favorite model?
Paul: Absolutely the 52mm sub-aqua specialty Swiss-made with the finest quartz movement on the planet: the Ronda 8040.N, which I trademarked, saying it was #theferrariofmovements. I have a very good friend out in Texas, his name is MG Gradwohl from Showtime Custom Watch Works, who does what's called liquid chrome, a 9 stage polishing process that gives the watch the look of chrome, but it's highly polished and will never chip crack or fade. MG has done over 50 of my grail piece Invicta's through the years.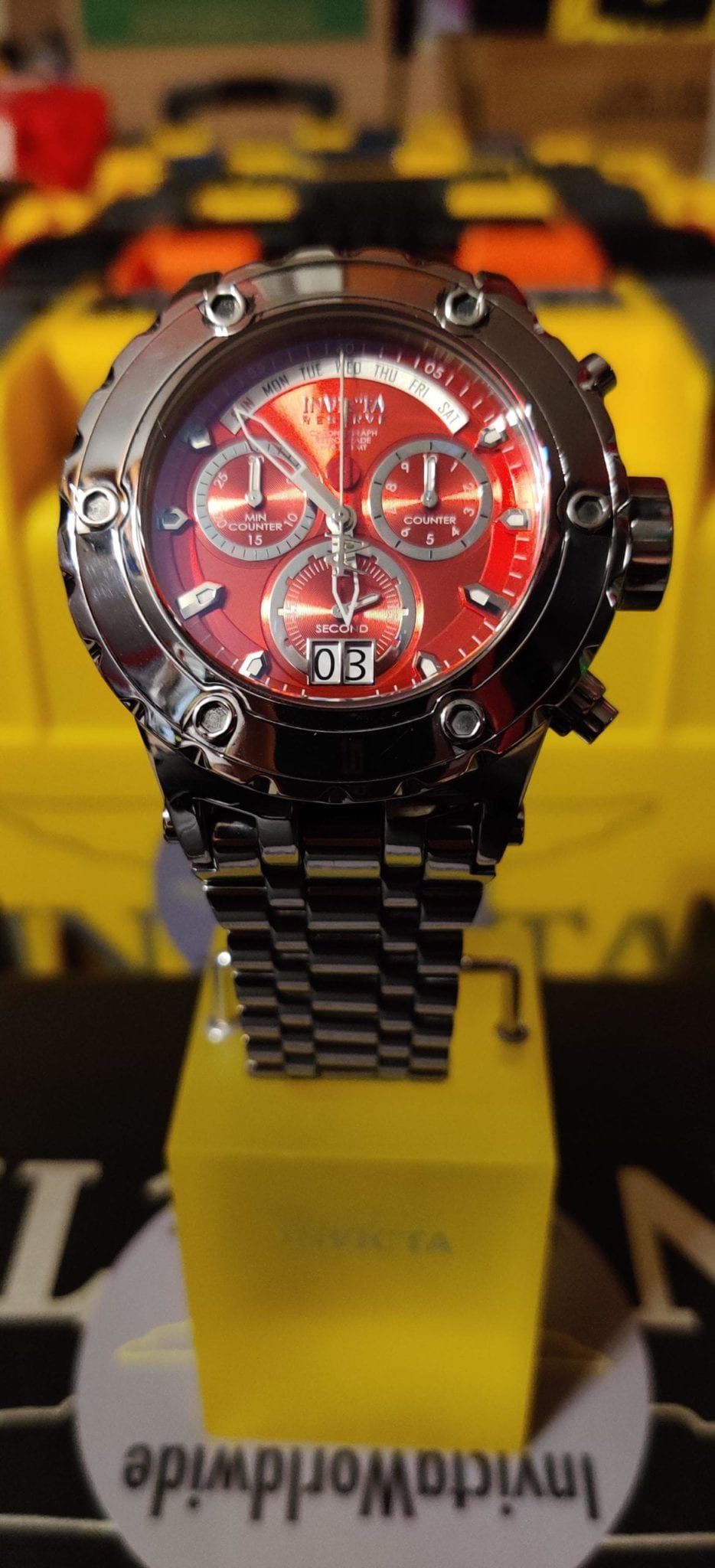 FM: Fan communities, or fandoms, for various watch brands have been around for some time. What is it about the Invicta watch fandom that you like in particular?
Paul: The people, the passion, the excitement, and just the closeness of those you have never met but feel as if you have known all your life.
FM: What led you to start a community of your own?
Paul: A couple of years back I was just a member of several Invicta watch club sites on Facebook, and I'd had an extensive following due to my old school collection… and I will say personality. People would gravitate towards me from my passion for the Invicta watch brand. Then one day my 25-year-old daughter Shelby says to me "Why don't you start your own watch collectors web group?". So me being a graphic artist, I came up with the name InvictaWorldWide Watch Collectors Group. I designed a logo, trademarked it, and opened up InvictaWorldWide. 
It's a closed group and can only be joined by applying, for which I came up with a series of questions that must be answered correctly and members must abide by the administrators' rules. And I have the option to accept or decline the applying member. 
We have members from all over the globe, not just the US. I'm talking India, the Middle East, Germany, Spain, The Netherlands, and so many more. I would like to mention a couple of names. One is Tommy Taylor, his group is BigAssWatches, and he's been at it a few years. I'm very friendly with him and I turned to him for advice on how to build the family. He, in turn, invited numerous friends and members of his family to join, and like wildfire, they came in herds. I was overwhelmed and excited at the same time, so Tommy I love you, brother! 
The rest is history… people joined, some stayed, some left but I would like to mention my right-hand man, Scott Linnane, who stuck by my side through the good times as well as the bad times. He has been a breath of fresh air to me, knowing he always has my back, and I love him for that! He's an exceptional one of a kind gentleman!
FM: What are some of the challenges and rewards of running this community?
Paul: Challenges? Waking up every morning at 7 a.M. Picking out the watch of the day taking my photoshoot of the watch, editing, giving the model number, watch name, any modifications, and anything you would like to mention about it. All of this knowing there are 1000's of family members from all over waiting to see what watch I am going to post, and then seeing all the replies, compliments, and exchanging of words from some of the finest people I have ever met online, and feeling the love & warmth as if we have known one another a lifetime.
I am 61 and retired, and this is great therapy for me as well as an exciting thrill because you never know who you're going to meet next. It's exhilarating, and I wouldn't trade it for anything else in this world. 
The one common bond that brought us all together is the Invicta watch brand. I also would like to add I had t-shirts, hats, and decals made with the InvictaWorldWide logo that have been selling at a steady rate–just another way for one to show the love for the Invicta watch brand, which leads me to the Aragon watch brand.
I also have an AragonWorldWide watch collectors group which is run by my man Scott Linnane. He too shares a passion for Aragon as do I, but I focus on Invicta and Scott focuses on Aragon. Aragon's creator, Wing Liang, is an incredible designer with a vision for color, style, fit, form, and function. So Scott and I have two families to take care of and run them 365 days a year, and we do it proudly and look forward to it on a daily basis. 
We have some of the finest, most genuine, warm-hearted family members that we are proud to say "yes, he is my brother, she is my sister"! It's a good, clean, fun hobby (and can get expensive). I dedicate this to all family members. Scott Linnane, I love you couldn't have done it without your selfless caring acts. 
I wanted to mention my daughter, Shelby Alexis Robbins, who lives in Lebanon (yes, the country). She has been a moderator for both watch families since the onset. She helps tow the line when Scott and myself are busy with other projects. Shelby & I lost her mom 8 years ago, and we are all each other has aside from our loving family members in both groups. Shelby, I love you and miss you like crazy; we may be continents apart but together in mind, body, and spirit!
 One one last note.  If there's anyone I or we left out, we love you all from the bottom of our hearts!
Images courtesy of Paul Robbins
Have strong thoughts about this piece you need to share? Or maybe there's something else on your mind you're wanting to talk about with fellow Fandomentals? Head on over to our Community server to join in the conversation!