Having realized that two of my favorite Hindi serials are remakes of Bengali ones, I wrote about how Indian companies remake their own shows in various languages. Here, I discuss what makes Imlie and Anupama successful (and not so successful) adaptations, with a focus on how the titular characters reveal the range of growth available to ITV heroines.
Like most Indian serials, they focus on a woman fighting against all odds for her future, which may or may not include a major Romance with a hero. In Imlie's (Sumbul Touqeer Khan) case, the second attempt at remaking Ishti Kutum (2011-2015), she was forced to marry her (now ex) husband Aditya (Gashmeer Mahajani) because they had to find shelter together during a storm. The show started November 2020 and is one of the only shows by 4 Lions Production to pass 400 episodes.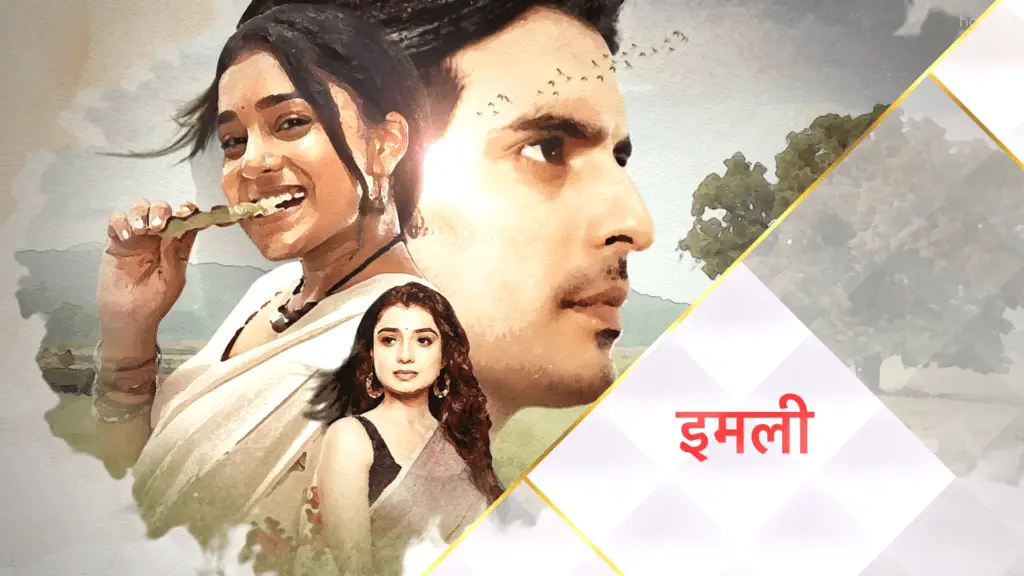 The plot is obviously a load of garbage and does not cast her village or the tribal community the original focuses on in a good light (the original show got sued!), but the global audience is always up for a maybe enemies to lovers story. Unfortunately for Imlie, Aditya sucks and introduces her as a maid to his family, and chaos ensues when they return to the city because his first love Malini (Mayuri Deshmukh) is, well, her half-sister!
Elsewhere Anupama started July 2020 and is adapted from Sreemoyee (2019-2021) also from Leena Gangopadhyay (who has a weird obsession with half sisters making up two points of the love triangle). This serial follows Anupama (Rupali Ganguly) who has always done right by her three children, husband Vanraj (Sudanshu Pandey), and in-laws finding out that her husband — who has never treated her right — has been cheating on her with Kavya on their 25th anniversary! The audacity of this man!
Having never watched Ishti Kutum but knowing how controversial it was, and having enjoyed Sreemoyee at times but not enough to find any of its adaptations, I wasn't planning on starting either series. Then I wanted to practice Hindi and an Instagram scroll showed me the edit below. It confused me because I knew the original plot and nothing in the video made it seem like the show I knew. That's when I learned that, unlike the original, they had introduced a new male lead opposite Imlie!
(Right before the light falls his mom asks their religious figure to bring light into his life!!!)
It turns out that Mahajani was going to leave so they brought on Fahmaan Khan as Aryan Singh Rathore. At the end of January, which also sees Imlie and Adi divorced and Adi remarried to Malini for the second time, they replaced Mahajani with Manasvi Vashist (and not even with a plastic surgery plot).
So I watched every episode that ARS had been in since his entry all in one night and haven't missed an episode since. Watching Imlie made me look up what else was available, which led to my watching Anupama from when when Anuj Kapadia (Gaurav Khanna) entered the show, and now I've gotten a bunch of people hooked on both shows! Thanks Hulu.
So why continue watching serials that air six days a week and therefore spend a lot of time on one day canonically? Serials obviously require a larger time commitment and their plot tracks can change on a whim in response to the weekly ratings, because they only film a few days out before a new episode airs.
Imlie and Anupama and the Range of Experiencing Growth
I'm learning Hindi! I mean yes, but the real answer is both shows are really compelling, though not for the same reasons. In adapting two very popular Bengali serials that were both controversial at different points, the writers adjusted these shows for a very picky Hindi speaking audience. In doing so consciously or not, the creative teams have depicted the full spectrum of growth available to ITV heroines.
On one hand, Imlie is (now) 19 and, having grown up under the shadow of not having her father's name and living in a village, is now going to college and, due to Aryan's support, is also the feature writer at Bhaskar Times. However, she doesn't always get to flourish, partly due to TRP and partly to the way 4 Lions shows are told. Thus, she and the show are stagnant at times.
Even though her ex-husband and his family treated her poorly, because for a short time in the show and her life they also showed her love, she feels beholden to them. She just spent a day trying to prove that Malini's many misdeeds so that Aditya wouldn't leave his family… Even though that's not something she should be responsible for. She's their ex-daughter in law, and she believes them to be her family but they've never actually been…family to her.
Then even though Aryan is constantly challenging her to be the best version of herself and has saved her life countless times, she's still cranky about him and doesn't understand why he gets frustrated with her. (He's totally falling for her and their upcoming romance is what got a lot of new viewers like me hooked onto the show, more on that next time.)
(Look at how happy they are dancing together!!!!)
In one way, Imlie is telling a very realistic story about what happens in codependent relationships and when there are unhealthy family expectations of a daughter in law. Imlie is your usual sunshine gal with a lot of spunk and love for life, plus potential! However, beliefs about identity (or lack of connection to a husband or father) and expectations around being the best daughter/daughter in law ever, makes her a great example of the sanskari (traditional homemaker) bahu.
She's expected to be perfect, love everyone, solve all her family's problems, but also never really stand up for herself, and essentially burn herself if it will keep her in-laws warm.
On the other hand, Anupama has been fascinating to watch precisely because of her delightful growth as a person and woman who went from letting people walk all over her due to societal expectations to someone who won't take anyone's crap. This is a normative trope in serials but holds much more weight because Anupama is a woman with three grown children re-learning how to live life, compared to young women who have just become married fighting their in-laws.
Even when heroines stick up for themselves, they are beholden to their in-laws (Imlie and Anupama) or never truly follow through when fighting evil relatives/the third point of a love triangle (see Imlie again because Malini is maybe pregnant so of course she can't go to jail or get punished). Plus, ITV doesn't seem to understand that there are other ways to get retribution or for bad guys to repent.
Indian society, like much of the world, is collectivist. Kinship isn't just about who is biologically related or who marries who. Two families are brought together in marriage and both partners are responsible to their in-laws. For the sake of drama, ITV of course takes this to an extreme, but it does reflect issues in real life, and there's a difference between healthy relationships where people support and are responsible to and for one another and much of what is shown in these shows.
Imlie then is a perfect depiction of when heroines aren't allowed to grow, held back by cultural expectations of always being a good daughter and daughter in law (worried about her ex-MIL and how the Tripathis will do if Adi does leave). This is the girl who burned her mangala sutra, stopped wearing sindoor, and moved out to live in a hostel. Burning your mangala sutra is pretty dang huge, but Imlie was still focused on her (at the time) husband and trying to patch things up.
The one bright spot in all this is that she has stopped calling Adi by Babusaheb and instead calls him Aditya sir. She even calls him by his full name (!) when she does not accept his apology after Malini is exposed in last week's episodes. (He's only apologizing out of guilt!)
Completely opposite to her is Anupama, a grown woman who at first takes her family's bad behavior to heart and doesn't stand up for herself and then divorces her trash husband, even makes him marry the other women instead of leaving her at the altar (this dude is the worst y'all), and moves into her own apartment. This last one in itself is a huge deal because finding rentals as a single woman is a pain.
Then, once Anuj Kapadia (the man who has loved her for TWENTY SIX YEARS) shows up and offers her a business partnership (because she actually deserves it, not because he's being a creeper), she continues to flourish, even standing up to her mother in law and all the nosy aunties (which is saying something)!
Recently the show even had a nuanced track about surviving domestic violence (physical or not) by introducing Anuj's sister Malvika (Aneri Vajani), who had survived violence from her husband and then spent ten years traveling the world. Only after returning to her brother does she finally breakdown and let all her pain out. The show explicitly supports Malvika's going to therapy and taking anti-depressants, which is huge in ITV.
Unfortunately, Malvika's storyline kind of fell flat because they spent too many episodes on Vanraj being the worst and manipulating her for the Kapadia business, which led to the TRP falling. Now we're just waiting to see if Mukku will realize Vanraj sucks and apologize to her brother for believing Vanraj's evil lies. Even so, Anupama as a whole has been a great show whose creative team really take to heart critical responses and incorporate them.
In fact, when the online audience took the writers to task for having Vanraj even witness Malvika's breakdown, they added in a flashback where Anupama tells Vanraj that even if he hadn't laid a hand on her, everything else he had done was abusive.
It was the first time Anupama truly got to say her piece, and I'm so glad that she did. Vanraj might have changed (and then recently gone back to being the worst), but he will have always been the person that instigated so much harm against her.
Ultimately, Imlie and Anupama reflect the spectrum of growth with Imlie at one end, and Anupama at the other, though I hope that by the end of the former, we'll see Imlie reach the heights Anupama has already. To be fair, we are seeing some growth (that should stick please) in Imlie now that she's walked away from Adi again and because of all the support and strength Aryan has given her.
Though the newest promo does have Arylie embarking on a fake marriage of convenience in order to ….save???? Aditya??? I have questions…We'll see how this goes the next few episodes.
Next up, a love letter to Aryan Singh Rathore and Anuj Kapadia, the only billionaires that I could ever want. (And how their entries to their shows reinvigorated them!)
Images courtesy of Star Plus and Star Jalsha
Have strong thoughts about this piece you need to share? Or maybe there's something else on your mind you're wanting to talk about with fellow Fandomentals? Head on over to our Community server to join in the conversation!